Toyota Corolla 2009-2013: lineup, fuel economy, interior photos, problems, maintenance tips
Updated: May 21, 2018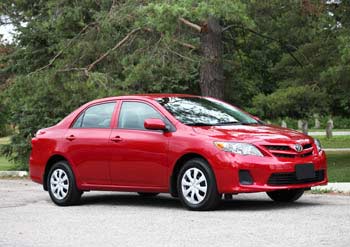 2012 Toyota Corolla
Toyota Motor Company started in 1937 as an offspring of the Toyoda Automatic Loom Works, the textile loom maker. Thanks to its famous production system, Toyota grew from a tiny company into the largest car manufacturer in the world. In the early 60's Japan economy was booming and Toyota recognized the need for a family car for people living in suburbs to get around. That's when the Corolla was born. The first model went on sale in November of 1966 and since then, the Corolla became the world's most popular car.

The 2009-2013 Corolla is in its tenth generation. True to its roots, it features a practical comfortable interior, fuel-efficient engine and smooth and quiet ride. In North America, the 2009-2013 Corolla comes only as a 4-door sedan with front wheel drive.

We researched this car from the point of view of a used car buyer with these questions in mind: is the Corolla reliable? How good is it on gas? How expensive is it to maintain? How it stacks up against competitors? Here is what we found.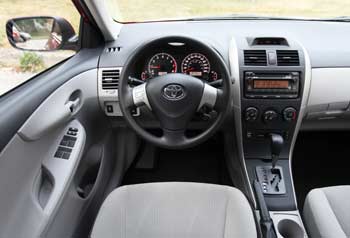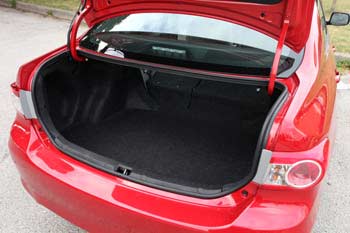 The trunk offers 12.3 cu. ft. of cargo space.
Interior: The interior is roomy. The seats are higher off the floor than in many other small cars, making entry and exit easier. The Corolla offers more rear seat space than Mitsubishi Lancer, Hyundai Elantra or Nissan Sentra. Rear seats fold down. The trunk is spacious with large opening. The audio auxiliary input is standard, the USB port is available on late models.

Model lineup: In the US, the 2009 Corolla was offered in base, S, LE, upscale XLE and sporty XRS trims. The XLE and XRS were discontinued for 2011 and the L trim became the base level for 2012. In Canada, four models were offered: CE, LE, S and XRS. The S and well-equipped LE are the most widely available trim levels on the used car market.

Powertrain: The base 132-hp 1.8L 4-cylinder DOHC 2ZR engine is simple and reliable. With good maintenance it can last for well over 200K miles. The Corolla XRS comes with the 158-hp 2.4L 4-cylinder, shared with the Camry and RAV4. Transmission choices include a 4-speed automatic (5-speed automatic in XRS) or 5-speed manual.

Timing belt or chain: Both, the 1.8L and 2.4L engines have a timing chain; there is no timing belt. A timing chain doesn't need to be replaced unless there is a problem with it.

Fuel Economy: The EPA rates the 2011 1.8L automatic Corolla at 26/34 mpg (9.0/6.9 L/100 km), which means that with mostly highway driving you can get up to 380 miles (612 km) to a 13.2-gallon (50.0L) tank.
The manual transmission offers even better fuel economy: 28/35 mpg or 8.4/6.7 liters per hundred kilometers. With a manual transmission, you will be saving around 100 dollars a year on fuel costs compared to the automatic.

RELATED: 2013-2017 Nissan Sentra review: roomy sedan with great city gas mileage. Read about reliability, common problems and more.

Mechanical: The Corolla XRS has disc brakes on all 4 wheels; other models come with rear drum brakes. The steering is electrically powered. Antilock brakes are standard. Vehicle Stability control is optional in early models; standard on all US models from 2010. The Canadian Corolla received standard Vehicle Stability Control for 2011.

Handling and ride: The Corolla is very easy to drive. The ride is soft and quiet; road imperfections are well absorbed by the suspension. The 1.8L engine has enough power for daily commuting. The electrical steering is light and feels fine in the city, but is a bit vague around the center position when driving on the highway.
Similar cars:
Among competitors, Mazda 3 offers sportier handling and rich interior, but only 2012-plus models come with the fuel-efficient Skyactiv engine. Mitsubishi Lancer is also more sporty, but is not as good on gas. Both, Mazda 3 and Mitsubishi Lancer have a stiffer ride compared to the Corolla. Honda Civic is reliable, but some buyers may find its seating position too low compared to the Corolla.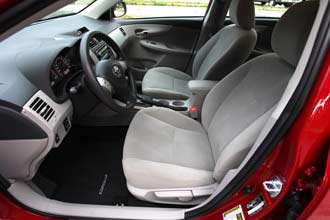 Seats are relatively high off the floor for easy entry and exit
Toyota Corolla reliability and common problems: The Corolla is reliable and with proper maintenance can last very long. Consumer Reports rates a used Toyota Corolla as 'Good Bet'. Common complaints include a leaking water pump, various noises, brakes wearing fast, suspension and minor engine issues. The cost to replace a water pump ranges between $250 and $550. When replacing a water pump, it's a good idea to change the drive belt as well. Symptoms of a failing water pump include pinkish coolant leaks around the water pump and whining / buzzing noise coming from the water pump area.
The service bulletin T-SB-0087-09 for the 2009 Corolla / Matrix describes a problem where a brief knocking /rattling noise from the 2ZR engine when started cold is caused by a faulty camshaft timing gear assembly (VVT gear). The gear must be replaced to correct the problem. According to the bulletin, the repair labor is estimated at 1.5 hours.
Several owners mentioned replacing an alternator ($400-$680). Aftermarket parts are cheaper.
Exhaust leaks are not uncommon too. Repairs are not very expensive.
Ignition coils can fail causing the engine to misfire. They are easy to replace. When replacing an ignition coil, it's best to change all the spark plugs as well. An OEM ignition coil is priced between $86 and $139 online. Aftermarket parts are cheaper.
A bad wheel bearing can cause a humming noise that is more noticeable when driving at highway speeds. Replacing a wheel bearing can cost from $260 to $370.
Front struts can leak at higher mileage. Replacing both struts can cost up to $780 with an alignment.

Safety: The 2009-2010 Toyota Corolla scored 4 stars for both the driver and the front passenger in the NHTSA frontal crash tests. In the side crash tests, the Corolla got 5 stars for the driver and 4 stars for the rear passenger. In 2011, the NHTSA introduced tougher tests, where the 2011 Corolla scored 4 stars in frontal and rollover tests, but only 2 stars in the side crash tests. The upgraded 2012 and 2013 Corolla has earned 5 stars in the side crash tests and 4 stars in the frontal and rollover tests.

Pros: Reliability, soft comfortable ride, fuel economy for 1.8L engine, conventional automatic transmission, crash test scores, easy to drive, practical spacious interior, low ownership costs, resale value.

Cons: Plain styling, interior plastic could be better, engine is a bit underpowered with a full load, not very exciting to drive.

Year to year changes: Toyota Corolla got minor face lift for 2011 with new front grill, head- and taillights, updated bumpers and trunk lid. For 2012, the Corolla received a few feature upgrades, including a new standard audio system with the USB port, Bluetooth and steering audio controls for the US and Canadian LE trim. The US Corolla L received power windows, power door locks and remote keyless entry.

What to look for when buying a used Toyota Corolla: Not all used cars are the same; look for the one that hasn't been involved in an accident and was regularly maintained. When checking the used Corolla, check the engine oil level; if it's very low, the engine may consume oil. If the engine makes loud rattling noise or smokes when started cold, avoid the car. Watch out for leaks in the engine compartment. A rattling noise coming from the passenger side of the engine compartment could indicate a bad belt tensioner or a failing water pump. Water pump failures were common in early models. Make sure to test all the electrical accessories, including the air conditioner and the audio auxiliary input (also common to fail). During the test drive, see how the automatic transmission shifts; all shifts should be smooth.
Guides for used car buyers:
Maintenance: To keep your engine in good condition, have your oil changes done regularly. The Scheduled Maintenance Guide for the US 2009 Corolla recommends changing engine oil every six months or 5,000 miles. The Owner's manual for the US 2009 Corolla recommends using SAE 0W-20 oil, which is typically synthetic. It's also important to check the oil level periodically and top up if needed, because some amount of oil is consumed as you drive. Check your transmission fluid regularly and have it changed if it gets too dirty. Rear brakes need to be inspected regularly and serviced as needed.
If you want better traction on snow, consider installing winter tires. You can find the electronic version of an owner's manual, maintenance schedule and how-to videos at the US Toyota Owners website.
More on maintenance:
Where to check for recalls:Safety Recalls - NHTSA or Transport Canada - Motor Vehicle Safety Recalls

Photos:
2011 Toyota Corolla specifications
Dimensions:
Overall length:
Overall width:
Overall height:
Wheelbase:
Headroom:
Front:
Rear:
Legroom:
Front:
Rear:


178.7 in (4540 mm)
69.3 in (1760 mm)
57.7 in (1465 mm)
102.4 in (2600 mm)

38.8 in - without sunroof
37.2 in - without sunroof

41.7 in
36.3 in

Turning circle:


37.1 ft. (11.3 m)


Tires:
CE:
LE and S:
XRS:


P195/65R15
P205/55R16
P215/45R17

Seating Capacity:


5


Cargo volume:


12.3 cu. ft (350 liters)


Engine:
CE, LE and S:



XRS:


1.8L 4-Cylinder, DOHC, 16-Valve, Dual VVT-i
132 hp @ 6000 rpm
128 lb. ft. @ 4400 rpm

2.4L 4-Cylinder, DOHC, 16-Valve, VVT-i
158 hp @ 6000 rpm
162 lb. ft. @ 4400 rpm


EPA Fuel Economy (US mpg, L/100 km):
1.8L Manual:


1.8L Automatic:


2.4L Manual:


2.4L Automatic:



city: 28 mpg (8.4 L/100 km)
hwy: 35 mpg (6.7 L/100 km)

city: 26 mpg (9.0 L/100 km)
hwy: 34 mpg (6.9 L/100 km)

city: 22 mpg (10.7 L/100 km)
hwy: 30 mpg (7.8 L/100 km)

city: 22 mpg (10.7 L/100 km)
hwy: 30 mpg (7.8 L/100 km)


Recommended Fuel:
87 Unleaded


Fuel Tank Capacity:


11.0 US gal (50.0 liters)


Engine Oil Capacity:
Drain and refill with filter
1.8L 4-cylinder (2ZR-FE) engine:
2.4L 4-cylinder (2AZ-FE) engine:



4.4 US qt. (4.2 L, 3.7 Imp. qt.)
4.0 US qt. (3.8 L, 3.3 Imp. qt.)