What you should know when buying a used car
Updated: December 22, 2019
There are obvious risks associated with buying a used vehicle, but if you find the "right" car, you can save a lot of money in the long run. The right car will keep its value longer and won't cost an arm and a leg to own. The right car has to be safe, reliable and offer features that are important to you. Since it's a pre-owned car, it also has to be in good mechanical condition and well cared for by previous owners. How do you find the right car among thousands of available choices?
How to pay less for a newer car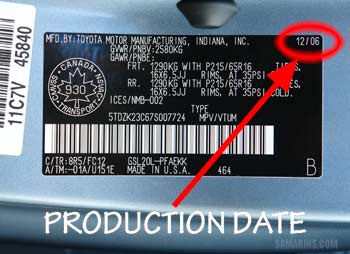 Check the production date on the VIN sticker
The price of a car is determined for the most part by the model year, mileage, options and the condition of the vehicle. However, it is not determined by the production date. That means the price for a 2017-model vehicle produced in September 2016, could be the same as for the 2017 vehicle, produced in July 2017.
All else being equal, would you rather buy the 2017 car produced in July 2017 or the same car produced in September 2016? Late-production vehicles often have improvements over early-production ones.
This is important for the first model year after the redesign. For example, crash test results are often improved in late-release vehicles of the same model year.
To find out the production date, check the
VIN sticker
(manufacturer label). In most cars you can find it on the driver's door or on the door jamb. The VIN sticker shows the date the vehicle was built. The 2007 car in the photo was built in December 2006.
How much value will the car lose?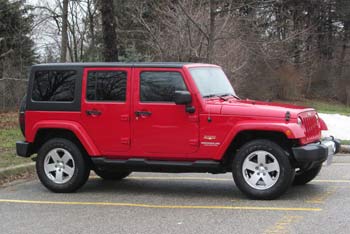 Jeep Wrangler is known to hold its value well
Some cars depreciate fast, others hold their value longer. Sam was looking for a used SUV that she was planning to keep for 3 years. She found two: the Jeep Wrangler and the Lincoln MKT. Both were 4-years old, both priced around $22,000. Sam wanted to know how much value she would lose in either one in three years.
Here is the trick on how to do it: check the current value of the same car that is three years older.
Sam checked the trade-in value of a 7-year old Wrangler and a 7-year old Lincoln MKT. The 7-year old MKT trade-in value was listed at $7,900, which means Sam would lose $14,100 in 3 years.
The trade-in value of the 7-year old Jeep Wrangler was estimated at $15,500, which means she would only lose $6,500 over 3 years or $2,166 a year. It's a huge difference! Guess what: Sam got herself the Jeep.
Avoid cars that lose on average more than $3,000 a year in their value. Here's where you can check the trade-in value:
KBB.com
or
CanadianBlackBook.com
in Canada. Other examples of cars that hold their value well include Toyota FJ Cruiser,
Honda CR-V
, Toyota Tacoma, Chevy Silverado, Toyota 4Runner.
Choose a safer car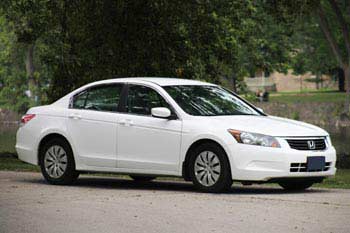 The 2008-2012 Honda Accord has been included in the recommended used vehicles for teens list by the IIHS
Liz was looking for a first car for her daughter who got into college. She would have to drive 30 minutes one way on a busy highway every day. Liz found the 2006 Nissan Sentra with low mileage. The car was in like-new condition, but when she checked its safety ratings at
IIHS
and
Safercar.gov
(NHTSA), she found they were poor. On top of that, this car didn't even have the Electronic Stability Control (ESC), a feature that is a must for her.
Liz continued shopping and found the 2008 Honda Accord, which is rated better and has ESC. This car has even been included in the IIHS recommended
Safe vehicles for teens
list. We recommend avoiding cars without the Electronic Stability Control, as this system reduces the risk of accidents during emergency maneuvers and in slippery conditions. Different manufacturers may have different name for this technology, but it's a must-have feature.
You found the car, but is it reliable?
Toyota Camry is one of the most reliable cars ever built
Some cars are known to have many problems, others are much more reliable. Even the most dependable car will need some repairs here and there, but you know you can count on it 99 percent of the time. Driving a vehicle that has poor reputation for reliability is taking a chance: today it starts, tomorrow it might stall in the middle of the highway or need a new transmission or some other expensive repair.
Where can you check reliability ratings? First, there is
Consumer Reports
. We find their ratings to be accurate. To access their ratings online, you would need a paid subscription, but you might be able to find a copy of their printed magazine in a local library.
J.D. Power
also offers dependability ratings. We publish
reviews on some popular used cars
that include a reliability information. Even if you google something like "Is Ford Focus 2017 reliable", you will find plenty of info.
Where and how are you going to service your vehicle?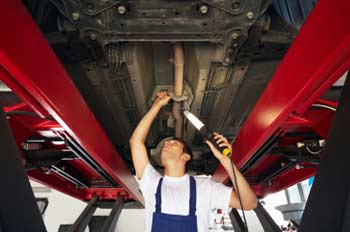 Find a mechanic you can trust
One of the key questions to consider when choosing a car is where and how are you going to service it? It's even more important if you are not familiar with car mechanics. Keeping the car running is not easy or cheap. If someone you know and can trust works as a mechanic at a Toyota dealership, then Toyota is your best bet; problem solved!
If you want to buy a BMW or Audi, where is the nearest reputable shop specializing in German cars? If it's one of the brands that have been discontinued, such as Saab or Suzuki, where are you going to get parts?
Check the common problems, so you know what to expect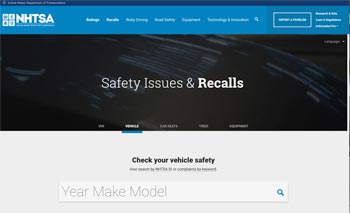 Check common complaints before buying a car, so you know what to expect.
All cars have common problems specific to that car. Often, one model year may have a major problem that is fixed in the next model year. In most cases, although not in all, it's the first model year since the redesign.
There are cars that have a known problem with the transmission in some model years. In some cars the A/C stops working on a long drive and starts working again only after the car is parked for 30 minutes. Some SUVs are known to lose coolant and if not caught in time, the engine overheats.
Knowing the common problems will help you weed out "bad" model years and you will also know what to watch out for when test-driving a car. Check the complaints for the specific model year on the
NHTSA website
, sometimes you will see over 1000 complaints for one model year and only 160 for another model year, so you know which one to avoid. Reading through complaints, you might see many pointing to the same problem. Read owner reviews, google "
Year Make Model common problems"
, we also post some common problems in our
Used Car Reviews
.
Set your budget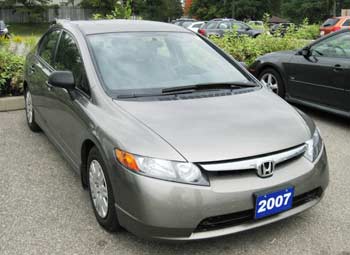 When the budget is tight, an older Honda Civic is one of the best choices.
We heard many stories from people who bought a car on an impulse and then struggled to pay it off. The rule is that if you cannot pay off a car within 3-4 years without straining your family budget, you cannot afford it. The ideal way is to save money and then pay the whole amount up-front, so you don't have to lock yourself into monthly payments and avoid paying the interest.
If you want to finance your car, financial experts recommend that your total debt payments should not exceed 36 percent of your gross income (total income before taxes and other deductions). For example, if you are making $40,000 a year, your total debt payments should not exceed $14,400 (40,000*0.36) a year, or divided by twelve months, $1,200 a month. If you are already paying $950 a month for all your debts, including mortgage or rent, credit cards, loans and other installments, you can afford to pay for a car up to $250 a month.
Avoid long-term contracts
Recently we spoke to one car owner; he works as a constructor. He bought a three-year old SUV for his job. The dealer locked him into an 84-month (7-year) contract. Four years later, his engine blew, leaving him with a big silver pile of scrap metal in his driveway. It wasn't worth fixing it. He had to pay off over $6,000 still owed before he could scrap it. Here is a good article from the Federal Trade Commission:
Financing or Leasing a Car
, it explains many aspects of vehicle financing, including how to find out how much you can afford.
Used cars to avoid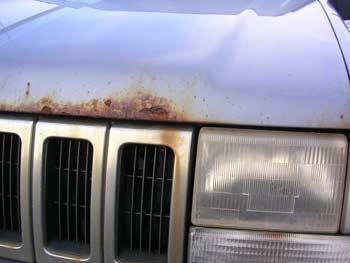 When a car is rusted like this on the outside, the frame, brake and fuel lines and underneath components might be in a bad shape
Avoid used luxury cars; they cost a lot to maintain, and many require premium gasoline. Before buying, check the insurance quote, some cars are very expensive to insure. Stay away from cars with engine or transmission problems, both are expensive to repair. Smoke from the exhaust is one of the signs of engine problems. Read more:
How to check the engine when buying a used car
. Avoid rusted cars, as the frame and other underneath components are likely falling apart. If the airbag (SRS) or other warning light is staying on, it might be very expensive to repair.
Don't buy cars restored after accidents, see these photo tips on
Signs of a collision repair, rust or paint job when buying a used car
. Steer clear of modified cars; if you like modifications, buy a stock car and modify it yourself. Rare and discontinued cars have one issue in common: parts are hard to find. Avoid cars that show signs of lack of maintenance. Read more:
how to check a used car before buying
.
Read also:
Pros and cons of buying a car with a continuously variable transmission or CVT
.
Should you buy a turbocharged car?
How old is not "too old"?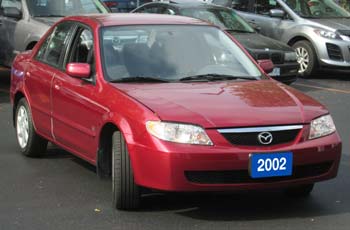 Avoid very old cars.
The problem with old cars is that no matter how many new parts you put into it, it will still be an old car that will need more and more repairs later. Many old cars don't have safety features, such as the electronic stability control (ESC) or even antilock brakes (ABS). Both systems are vital for safety. In addition, parts for old cars could be discontinued. We recommend staying away from anything older than twelve-fifteen years, or older than ten-twelve years if you live in the rust belt. Read also:
What mileage is OK for a used car?
Is it okay to buy a car "as is"?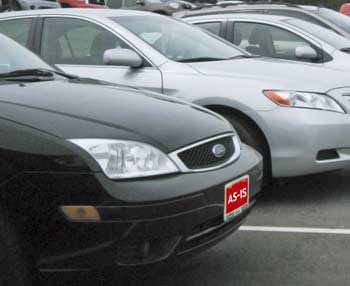 Buying a car "as is' you are taking the risk. A thorough mechanical inspection will help minimise the risks.
Some dealers sell older cars "as is". It means that it may have some problems, and it will be the responsibility of the buyer once the car is sold. Usually 'as is' means no warranty of any kind, in other words it's a gamble. Here are two real-life stories:
This story comes from Jay who works as a salesperson at a new car dealership: "We only sell relatively new used cars on our lot. When someone trades an older car in, we sell it to a wholesaler or scrap it. However, if someone is interested in a car while it's on the lot, we might sell it 'as is'. One day a buyer noticed the old Honda Civic on our lot and wanted to buy it 'as is'. He wanted our service department to inspect it, so he knows what it would need to get certified. During an inspection, a mechanic found that the heat wasn't working, and the coolant level was low. Knowing that it was a common problem in this car, he suspected the head gasket was blown, so we cancelled the deal and scrapped the car."
One of our buddies, Paul, found the 'as-is' Toyota Matrix with some minor body damage on a new car dealer's lot. He took it to his mechanic who did the repairs and certified the car for him. He later fixed the damage. In the end, he got the car for almost half the average retail price. He drove it for over two years now with no problems.
When buying a car 'as is' you are taking the risk. You can minimize it by having the vehicle thoroughly inspected, so you know what you are getting.
Check used car history records
Before buying a used car, check the history records. This will help you eliminate some vehicles with potential problems. A history report might show a previous accident claim or if the car was used as a rental.
Having the vehicle inspected will pay off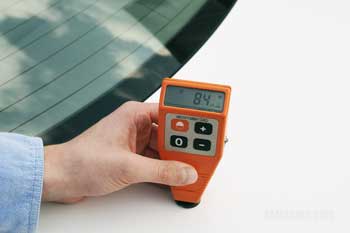 Many used car inspectors have a paint thickness gauge that can show if the part was painted or filler was used.
Inspect a vehicle carefully; take your time. It's a good idea to bring a friend who is more familiar with this type of cars. Test-drive for as long as possible to get a good feel. Watch out for noises, see if the car drives straight and holds the road well. Read more:
How to inspect a used car
.
Before signing the contract or giving a deposit, have the car inspected by a mechanic of your choice. Sometimes you can find a mechanic or used car inspector who can come with you to the dealer and inspect the vehicle on-site. Another choice is to arrange with the dealer to bring the vehicle to a repair shop or another dealer of your choice for an inspection.
When you get a used car inspected, try speaking directly to the mechanic who did the inspection and ask his or her opinion. Ask if it looks like the car has been well maintained or not and what kind of problems to expect.
Are all the outstanding recalls completed?
If there are recalls that are still outstanding, you can ask the selling dealer to arrange to have them completed by the authorized dealer before you pick up the vehicle. You can check for recalls here:
Safety Recalls - NHTSA
or
Transport Canada - Road Safety Recalls Database
.
Know your rights and legal process
Is there any period when you can return the car if you change your mind? What are your rights if something goes wrong with the car? What paperwork does need to be signed to transfer a car? Are dealers obligated to tell you if the car was in an accident or was used as a rental?
There are so many questions, but the answers could be different for different states or provinces. Find local information that explains the process in your state. Check your local vehicle registration website.
Do you need an extended warranty?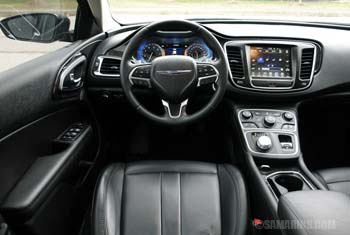 Modern cars like this Chrysler 200 have many complex systems that are expensive to repair.
On average, the cost of an extended warranty is higher than the repairs it would cover. It's not so much about saving money as it is about giving you peace of mind. Before, cars were simple and the most expensive repairs you would expect were the engine, transmission, some electrical components, airbags or catalytic converter.
Now, besides all that, many cars have hybrid systems, front sensing cameras, radar sensors, rear proximity sensors, blind spot monitoring sensors, LED headlights and expensive infotainment screens among other things. These features are not only expensive to repair, but most of them can only be serviced at an authorized dealer. We would recommend considering an extended warranty if:
1. The car you are buying is not rated well for reliability.
2. It has some expensive to repair features.
3. You won't have spare cash to pay for unexpected repairs.
We recommend opting for an extended warranty backed by a car manufacturer and getting repairs done at a trusted dealer with a good reputation. Check the fine print on the warranty contract to see what exactly is covered. Consider bumper-to-bumper coverage that will also cover towing and rental. The extended warranty price can be negotiated down, as dealers do have some leeway.