2009-2016 Toyota Venza: problems, fuel economy, pros and cons, AWD system
Updated: August 21, 2021
The Toyota Venza is a stylish, roomy 5-seater crossover with large wheels. The Venza comes with a 4-cylinder or V6 engine, with front- or all-wheel drive.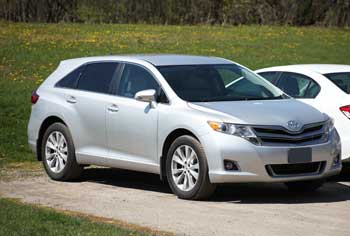 Toyota Venza.
According to Toyota, the name Venza is a combination of the words "venture" and "Monza," a city in Northern Italy famous for its race track, Autodromo Nazionale Monza.
Introduced for 2009, the Venza has been updated for 2013 and discontinued in the U.S. after 2015 (after 2016 in Canada). Is it a good vehicle to buy used? What are the pros and cons?
Some of the reported problems:
A failed
air/fuel ratio sensor
(oxygen sensor) can cause codes P0057, P0161, P0138 or some others. A bad sensor will need to be replaced.
A bad wheel bearing could cause a humming noise that is more pronounced when changing direction at higher speeds. Replacing one wheel bearing could cost from $270 to $420.
Struts may need to be replaced at higher mileage. Replacing both front struts could cost from $680 to $820.
A bad wheel speed sensor can cause the ABS warning light to come on. The car will need to be diagnosed to find which sensor has failed or if there is another problem. A wheel speed sensor is not a very expensive part.
Tire pressure sensors may need to be replaced if the stem is corroded.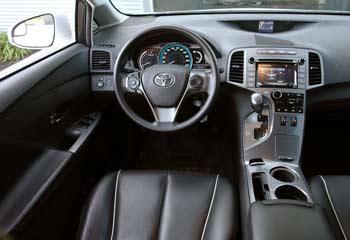 2015 Toyota Venza
Corroded battery terminals can cause a variety of electrical problems, including a no-start.
A bad gas cap can cause EVAP codes (e.g. P0441). Most of these problems are common in all cars.
Toyota has issued the ZE2 Warranty Enhancement Program to extend coverage for a leaking engine oil cooler pipe in the 2009-2011 Venza. We found these
videos
explaining the repair.
According to the Toyota service bulletin TSB-0041-13, a brief (about 1 sec.) knocking or rattling noise at a startup in the 1AR 2.7L 4-cylinder engine could be caused by a problem with the Camshaft Timing (VVT) Gear Assembly. Replacing it with an updated part should rectify the problem according to the bulletin. If out of warranty, this repair could cost from $380 to $590.
A low coolant level and pinkish-white residue near the water pump could be caused by a leaking water pump. An intermittent grinding noise from the water pump area can also be caused by a bad water pump, which is located on the passenger side of the engine. Replacing a water pump costs from $320-$580 in a 4-cylinder engine to more than $1,000 in a V6. Some Venza owners said the V6 engine has to come off to replace a water pump, but there are YouTube
videos
that show how to do it without removing the engine.
The Toyota service bulletin T-SB-0005-11 for the 2009-2011 Venza describes a rattle noise coming from the steering column when turning or driving on rough roads. The column assembly must be replaced to repair the problem. This is an expensive repair, as the part alone costs over $1,000, but the number of complaints related to power steering is fairly small.
We know of a number of cases where dealers repaired some expensive safety-related problems even after the warranty has expired. If you have a problem that is costly and safety related, check with the dealer first. Check for recalls at the
NHTSA
website.
Engines:
The base 4-cylinder 2.7L engine, model 1AR-FE is from the well-known Toyota AR engine family. The smaller AR engine that is used in the Toyota Camry and RAV4 is often considered one of the most reliable 4-cylinder engines. It's a lightweight double-overhead cam (DOHC) engine with dual variable valve timing.
The 268-hp 3.5L V6 2GR-FE motor is famous for its power and smoothness. It's also an advanced 24-valve DOHC engine with an aluminum block and variable valve timing on both cams.
Both engines are naturally aspirated (non-turbo), with a conventional fuel injection; both can last long with good maintenance. At higher mileage, any engine consumes some amount of oil between oil changes. For this reason, it's important to check the oil level between oil changes, and top it up if needed. Read more:
how to check the oil level
.
Toyota Venza EPA Fuel Economy:
mpg
city/hwy
L/100 km
city/hwy
2009, 2010 4-cyl FWD auto
21/29
11.2/8.1
2011, 2012 4-cyl FWD auto
21/27
11.2/8.7
2009, 2010 4-cyl AWD auto
20/28
11.8/8.4
2013-2015 4-cyl FWD auto
20/26
11.8/9.0
2013-2015 4-cyl AWD auto
20/26
11.8/9.0
2011-2012 4-cyl AWD auto
20/25
11.8/9.4
2009-2015 V6 FWD auto
19/26
12.4/9.0
2009-2015 V6 AWD auto
18/25
13.1/9.4
Fuel Economy:
The 2009 and 2010 4-cylinder front-wheel drive Venza gets 21/29 mpg city/highway, meaning that one tank of gas will last for up to 478 miles (769 km) on a long highway trip. The popular Venza AWD V6 is rated at 18/25 mpg city/highway or 21 mpg combined. See EPA ratings in the table.
Timing belt or chain?
According to Toyota, both the 2.7L 4-cylinder and the 3.5L V6 have a timing chain. The timing chain doesn't need to be replaced unless there is a problem with it. It's one less thing to worry about: replacing the timing belt would have been costly.
How does the Venza AWD system work?
An all-wheel drive system is available with both engines. It's a simple on-demand front-biased AWD system: the power is always sent to the front wheels. When needed, an electric clutch engages the rear axle. In terms of maintenance, the Venza AWD system has a transfer unit and a rear differential. The fluid (gear oil) in both units must be changed at regular intervals; both services are not very expensive. The transfer case and rear differential must also be inspected for leaks at every oil change.
Mechanical:
The Venza is based on the front-wheel drive Camry platform, with MacPherson struts in the front and a dual-link MacPherson strut setup in the rear suspension. The steering is electrically assisted. Rear disc brakes are standard on all models. The Venza comes with 19-inch rims in four-cylinder models or 20-inch rims in V6 models.
Similar cars:
Honda Pilot 2009-2015 review
Toyota RAV4 2006-2012 review
Toyota RAV4 2013-2018
Used Mazda CX-5 2013-2016 review
Chevrolet Equinox 2010-2017 review
Nissan Murano 2009-2014
Ford Edge 2007-2014 review
Pros:
Reliability, stylish look, easy entry and exit, cargo space, clever storage, easy-to-fold rear seats, comfortable interior with plenty of rear seat space, smooth optional V6, conventional 6-speed automatic transmission.
Cons:
19" or 20" tires are expensive to replace, the ride is a bit rough and bouncy, large turning radius, rear blind spots, original backup camera screen is small and hard to see, no third-row seat option.
Overall:
The Venza is a roomy practical 5-seater with ample cargo space. It's reliable, which means it can last long provided timely maintenance. Consumer Reports rates the Venza well. Both the 4-cylinder and V6 engines are solid. Unlike many other Toyota vehicles, the Venza has a firmer ride, thanks in part to its large wheels. Another issue that Venza owners mention is the rear visibility. Therefore, the backup camera is a must-have feature in this vehicle. If the vehicle is not equipped with a factory backup camera, there are plenty of aftermarket units available and they are not very expensive.
What to watch out for when buying a used Toyota Venza:
Used car buyers should check all the electric features carefully, including the power liftgate, sunroof and the infotainment system. The condition of the rims and tires is important as they are expensive to replace. When test-driving a used Venza on a rough road, watch out for a rattling noise coming from the steering column; the repair could be costly. A low engine coolant level in the expansion tank in the engine compartment could be an indication of coolant leaks. Watch out for abnormal noises coming from the engine or transmission. Hesitation, jerks and unstable RPMs when accelerating could be caused by transmission issues. A good transmission engages without delay and shifts smoothly without shudder or hesitation. Read more:
How to inspect a used car - illustrated guide
.