Toyota RAV4 2013-2018: problems, reliability, pros and cons
Updated: September 25, 2021
The name RAV4 stands for 'Recreational Active Vehicle with 4-wheel-drive'. The Toyota RAV4 is a popular 5-seater SUV with a spacious interior and comfortable driving experience.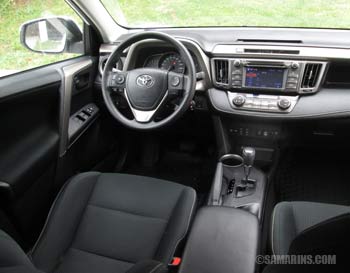 2013 Toyota RAV4 (XA40) interior.
It comes with a 4-cylinder engine and a proven conventional 6-speed automatic transmission. The rear 60/40 split seat reclines and folds down flat. With rear seats folded, the RAV4 offers 73.4 cu. ft. of cargo capacity.
The RAV4 Hybrid was added for 2016, but is rare and not covered in this review. Is the Toyota RAV4 reliable? How is the engine and AWD system? What are the reported problems?
Toyota RAV4 Reported Problems:
Compared to other similar SUVs, the Toyota RAV4 received a very low overall number of complaints.
Several owners mentioned that the navigation/rear view camera screen is difficult to see in daylight because of the glare. We found aftermarket screen shades sold on Amazon, but reviews are mixed.
There have been a few reports of water pump failures. Symptoms include drops of pinkish fluid on the parking spot, low coolant level and reddish-white residue around the belt area in the engine compartment; on your left when looking under the hood.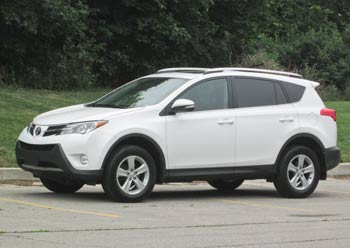 2013 Toyota RAV4.
Replacing a water pump costs $70-$150 part plus $200-$350 labor plus extra coolant.
We have found a number of complaints about the infotainment system failing in the 2014 model. The audio system may keep rebooting or simply stop working. Problems with the infotainment system are not isolated to Toyota. However, the repair is expensive if out of warranty. The replacement cost for an audio unit is over $1,000. Many owners suggested installing an aftermarket audio unit instead ($220-$500).
We checked reviews on Amazon; several RAV4 owners reported that the aftermarket unit sold for $229-$260 worked fine, but in a few cases, some of the functionality of the steering wheel buttons was lost. Another option is to visit a local auto electronics shop and see what they offer.
At higher mileage, delayed or harsh engagement of the 6-speed automatic transmission (U760E/U760F) when shifted into reverse may be caused by a worn-out valve and sleeve located in the valve body of the transmission. The part is not very expensive. A reputable transmission shop will have the service bulletin describing the problem and can repair the issue at a reasonable cost.
Toyota issued the warranty extension ZH1 to address problems with torque converter shudder at light acceleration. Read more at this
forum
.
Toyota RAV4 Engine:
The North American RAV4 comes with only one engine: the 176-hp 2.5L inline-4 2AR-FE. It's a lightweight double-overhead cam (
DOHC
) engine with an aluminum cylinder block and two small balance shafts.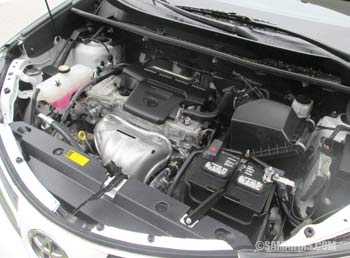 Toyota RAV4 2.5L 2AR-FE engine
It has four valves per cylinder and variable valve timing (VVT-i) on both intake and exhaust camshafts. This motor uses an old-school sequential multiport fuel injection, which is simpler and more reliable than direct fuel injection used in many modern vehicles. It's also a naturally aspirated (non-turbo) engine, which means it won't have many problems that turbo engines have.
One of the interesting features of this engine is that a timing chain tensioner can be replaced without removing the front cover; this improves serviceability.
Overall, the 2AR-FE is one of the most dependable 4-cylinder engines; it has been used successfully in many other Toyota vehicles. For this engine, Toyota recommends using SAE 0W-20 oil. The oil capacity is specified at 4.6 US qt. or 4.4 liters (oil change with filter). Spark plugs need to be replaced at 120,000 miles.
Timing belt or timing chain?
The 2AR-FE engine comes with a timing chain. There is no timing belt. The timing chain doesn't need to be replaced in regular intervals.
Mechanical:
The 2013-2018 non-hybrid RAV4 comes with a conventional six-speed automatic transmission (U760E or U760F). The front suspension uses MacPherson struts. The rear suspension is an independent multi-link layout. The steering is electrically assisted. Rear brakes are discs.
Toyota RAV4 AWD system:
The optional all-wheel drive system is fully automatic, but is not intended for serious off-roading. It is built around front wheel drive (front-biased). This means that front wheels are always powered. A compact transfer case directs the torque from the transaxle, through the rear driveshaft to the rear differential. The electromagnetic coupling in the rear differential engages the rear axle when needed. This simple lightweight setup allows for better gas mileage because the rear axle engages only when needed.
Fuel Economy:
There are several comparable non-hybrid SUVs that offer better gas mileage, such as Nissan Rogue, Honda CR-V and Mazda CX-5. However, the RAV4 is more fuel efficient than many other SUVs of the same size.
The 2013-2018 all-wheel-drive RAV4 is rated at 26 mpg combined (
22/28 mpg
city/highway). This means you can travel for up to 429 miles (690 km) on one tank on a long highway trip.
The front-wheel drive RAV4 is more economical: the EPA rates it at
23/30 mpg
(10.2/7.8 L/100km) or up to 461 miles (742 km) miles on one tank. Of course, the RAV4 Hybrid is the most fuel efficient among close competitors. The 2016 AWD Toyota RAV4 Hybrid gets
34 mpg
city and
30 mpg
highway, according to the EPA.
Related reviews:
Toyota RAV4 2006-2012 review
Honda CR-V 2007-2011 review
Honda CR-V 2012-2016
Mazda CX-5 2013-2016 review
Volkswagen Tiguan 2009-2017 review
Ford Escape 2013-2019 review
Jeep Cherokee 2014-2020
Nissan Rogue 2014-2020 review
Chevrolet Equinox 2010-2017 review
Pros:
Reliability, conventional six-speed automatic transmission, proven simple non-turbo engine, holds its value well, fuel economy, standard rearview camera, right size, rear seats fold flat.
Cons:
Interior materials could be better, paint chips easily, liftgate glass doesn't open separately.
Overall:
The Toyota RAV4 is simple, practical and easy to maintain.
A simple, proven 2.5L engine should help cut down repair costs at higher mileage. We spoke to the owner of the 2018 RAV4, who was very happy with the vehicle and said there have been zero problems with it.
With proper care, the RAV4 should easily last for over 200,000 miles. There are
YouTube videos
where an older RAV4 lasted for over 300,000 miles. The key is timely maintenance. Read:
Car maintenance checklist with photos
.
Is Toyota RAV4 expensive to maintain?
The RAV4 will cost more to maintain than a comparable car, like the Toyota Camry, because of larger tires and all-wheel drive parts. At the same time, the RAV4 is cheaper to maintain than many other SUVs because it's reliable and less likely to have expensive engine or transmission problems.
Top competitors include Honda CR-V,
Mazda CX-5
and
Nissan Rogue
. The Rogue is roomier and offers some interesting features, but it only comes with a CVT transmission. The Mazda CX-5 is sportier and is better on gas. The Honda CR-V offers a bit more interior comfort and cargo space. If you are looking for a more capable AWD system, check out
Jeep Cherokee Trailhawk
.
What to look for when buying a used Toyota RAV4?
Used car buyers should watch out for any issues with a transmission during a test drive and check all the functions of the infotainment system. Any signs of transmission problems during the test drive should tell you to avoid the vehicle. Test the A/C and all the power options. A clunking noise coming from the steering when driving slow on a rough road also indicates a problem. Read more:
How to inspect a used car - illustrated guide
. A front-wheel drive model will be less expensive to own in the long run.