2008-2012 Honda Accord: problems, fuel economy, engine, pros and cons
Updated: July 10, 2021
The Accord is one of the few sedans that offer an excellent driving experience, solid build quality, roomy cabin and top safety ratings.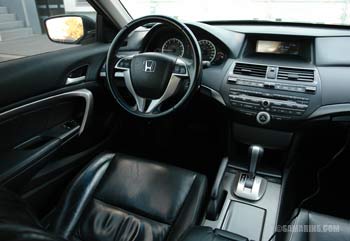 2009 Honda Accord coupe interior.
The Accord coupe is a hidden gem if you are looking for a sporty car. The interior is nicely finished. Front seats are comfortable on long trips. Engine choices include a 2.4L inline-4 or a 3.5L V6.
Handling is sharp, with precise steering thanks in part to the double-wishbone setup in the front suspension. The Accord's ride is on the firm side, but well-controlled and comfortable. Overall, it's a safe and reliable mid-size car, but there are a few problems to watch out for. We have researched problems that used car buyers should be aware of:
Reported problems:
In the 2.4L 4-cylinder engine, a loud rattling noise at a cold start could be caused by a faulty VTC actuator (the part that adjusts camshaft timing). The noise is noticeable when the car is first started after sitting for a few hours. According to the Honda service bulletin, the VTC actuator will need to be replaced. Parts and labor are estimated at $380-$520. Will this problem get worse if not fixed? It probably will, but we know of a couple of cases where owners have continued driving with this issue for many years.
Rear brake calipers may seize or leak. The low brake fluid warning light is one of the indications of a possible leaking brake caliper. You may also notice that one of the rear wheels is hotter than the other after driving. If you suspect that there is a problem with your brakes, have them checked out as soon as possible.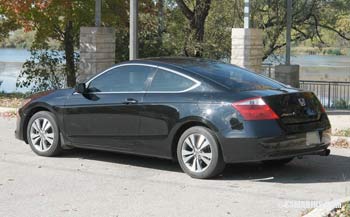 2009 Honda Accord coupe. See also:
2009 Honda Accord sedan
Read more about
brake calipers
. Replacement costs vary from $250 to $380 for one caliper. The brake pads and rotors may need to be replaced at the same time.
There are many complaints about excessive oil consumption. A simple solution is to check the oil level on a regular basis and top it up as needed. To properly address the problem, the engine will need to be rebuilt or replaced.
The two most common reasons for a no-start are a failed battery or a bad starter motor. The battery is not very expensive to replace. Changing a starter motor will cost from $490 to $680. Watch these
videos
on starter motor replacement.
A failing crankshaft position sensor could cause the code P0339. A bad sensor will need to be replaced; it's not a very expensive part and an easy repair.
A bad front wheel bearing can cause a humming noise at 40-50 MPH. The noise changes when the car changes direction of travel. Replacing the front wheel bearing will cost $310-$500.
In V6 models with VCM (variable cylinder management), oil consumption could be caused by "repeatedly switching on and off" when cruising on the highway, as per the Honda service bulletin. Honda recommends updating the PGM-FI (engine computer) software as a solution. We researched Honda Accord forums and found that several Honda owners confirmed that updating the engine computer software in V6 VCM models helps with oil consumption. Check for recalls at the
NHTSA website
.
Engine:
The Accord's base 2.4L
DOHC
K24 engine tops most of the 4-cylinder family sedans in power. The 2011 4-cylinder Accord EX and EX-L are rated at 190 horsepower, ahead of the 4-cylinder Toyota Camry (169 hp), Nissan Altima (175 hp), Mazda 6 (170 hp), Chevrolet Malibu (169 hp) and Ford Fusion (175 hp). The 2011 Accord LX gets 177 horsepower with the same engine.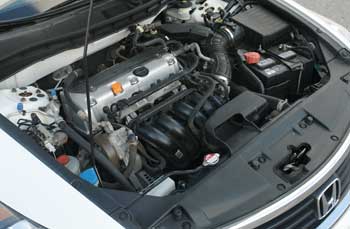 Honda Accord 2.4L 4-cylinder K24 engine.
Overall, the K24 is a very good engine; the only complaint that is mentioned is the excessive oil consumption. Mechanically, this engine hasn't changed much from the previous generation; it still comes with a maintenance-free
timing chain
.
The 3.5L SOHC V6 is one of the best engines in its class; it's smooth and powerful. The V6 has a
timing belt
that needs to be replaced at recommended intervals.
To keep your engine in good shape, check the oil level regularly. There is no light on the dash that will alert you about the oil level being low. Running the engine low on oil will cause many problems. Checking the oil level is easy. Read our
maintenance checklist
with illustrations. For the 2008-2010 Accord, Honda recommends using premium-grade 5W-20 engine oil; while the 2011-2012 Accord takes 0W-20 synthetic oil. The oil capacity (oil change including filter) is listed at 4.2 US qt. (4.0 L) for the 2.4L 4-cylinder engine and 4.5 US qt. (4.3 L) for the V6.
Fuel Consumption
EPA Fuel Economy:
mpg
city/hwy
L/100 km
city/hwy
2008 Accord 4-cyl, auto
21/31
11.2/7.6
2009 Accord 4-cyl, auto
21/30
11.2/7.8
2010 Accord 4-cyl, auto
21/31
11.2/7.6
2011-2012 Accord 4-cyl, auto
23/34
10.2/6.9
2008-2010 Accord 4-cyl, manual
22/31
10.7/7.6
2011 Accord 4-cyl, manual
23/33
10.2/7.1
2012 Accord 4-cyl, manual
23/34
10.2/6.9
2008-2010 Accord auto, V6
19/29
12.4/8.1
2011-2012 Accord auto V6
20/30
11.8/7.8
Fuel Economy:
The 4-cylinder Accord is rated around the middle of the class, however the V6 Accord bests many other V6-powered family sedans, see details in the table.
Pros:
Safety ratings, reliability, driving experience, holds value well, roomy interior, good visibility, comfortable seats, available as a coupe, solid 4-cylinder engine, powerful V6.
Cons:
Interior plastic could be better, USB is only available in 2011 and 2012 models, oil consumption issues.
Overall:
Despite the problems mentioned above, the 2008-2012 Honda Accord is one of the best family sedans on the used car market. As of February 2022, Consumer Reports rates the 2008 and 2009 Accord as 'average', while the 2010-2012 model years are rated 'above average' for reliability and marked as 'Recommended' for used car buyers.
Related reviews:
Honda Accord 2013-2017
Toyota Camry 2007-2011 review
Mazda 6 2014-2019
Nissan Altima 2007-2012
Honda CR-V 2007-2011
Honda Accord 2003-2007 review
Honda Civic 2006-2011
Honda Civic 2012-2015 review
Toyota Corolla 2009-2013
Among competitors, the
Camry
with its soft and smooth ride is another great option.
Nissan Altima
is a bit smaller, but handles well.
The 2014+ Mazda 6
is also not a bad choice overall.
When buying a used Honda Accord, the first important thing is to check the service records: was the engine oil changed regularly? Has the timing belt in the V6 engine been replaced? Has the transmission fluid been changed? Was the car serviced at a dealer? When checking the car at the dealer's lot, the best way to detect engine issues is to start it cold: if you notice the engine rattles when started, or there is a blue smoke from exhaust, avoid a car. When checking inside, try if all door locks work; a few people mentioned problems with door locks. During the test drive, watch out for noises. Read more:
How to inspect a used car
. Test driving on the highway may help, as many issues and noises are only noticeable at higher speeds. Check the engine oil level. If the level is low, it might be an indication that it consumes oil. Read
how to check the oil level
.