2014-2019 Jeep Cherokee: problems, 4WD system magic, engine options
Updated: May 03, 2020
After the 2009 bankruptcy, the "New Chrysler," now called Fiat Chrysler Automobiles or FCA, decided to place more bets on its iconic Jeep brand. SUVs were becoming more popular, so the FCA came up with the new Jeep Cherokee, which is now a car-based crossover.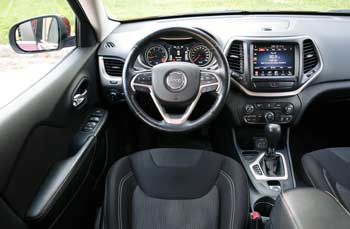 2015 Jeep Cherokee interior.
It's powered by a four-cylinder or V6 engine and offers a choice of front- or all-wheel drive. It's the optional 4WD system with a low range and locking rear differential that sets the Cherokee apart from the competition. When equipped with Trailer Tow Group, the V6 Cherokee can tow up to 4,500 lb.

Jeep Cherokee Problems: We found many transmission-related complaints for the 2014 and 2015 Cherokee on the NHTSA website. Many owner reviews also mention transmission issues. Chrysler issued several software updates, as well as the recall S55 / NHTSA 16V-529 for the 2014-2015 Cherokee, which addressed some of the concerns. Read this article. Another safety recall V69 for the 2014 Jeep Cherokee addressing transmission concerns was issued in 2019. We spoke to the owner of the 2015 Cherokee, who said the transmission was "hunting for the right gear and hesitating at times," but now shifts better after the last reprogram. There are still complaints about minor shifting issues with the 2016 Cherokee, but the situation is better; the number of transmission complaints for the 2016 Cherokee is smaller.
We also found the bulletin 21-032-18 REV. A, that mentions reprogramming of the TCM (transmission control module) in the 2016 Jeep Cherokee to address several transmission issues. Check for recalls on the NHTSA website.
The FCA bulletin 18-034-14 covers the problem with an oil pressure sensor that can trigger the Check Engine light with the trouble code P0520. To repair the problem, the oil pressure sensor needs to be replaced. If out of warranty, the part is sold for around $30-$60 online, plus the labor.

Oil leaks from the oil filter housing/cooler assembly have been reported; read this thread.

A ticking noise coming from the top of the engine (valve cover) in the 3.2L V6 could be caused by a bad rocker arm. If the problem is caught earlier, replacing a bad rocker arm might be enough. Your mechanic may recommend replacing all rocker arms as a precaution. Over time, a bad rocker arm can score the camshaft and it too might need to be replaced; this will cost extra. Watch these YouTube videos on the ticking noise.

Several owners mentioned sunroof rattle. Check out this discussion on jeepcherokeeclub.com.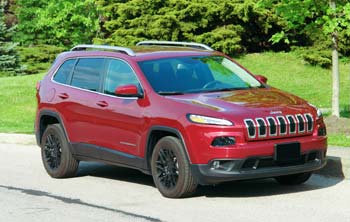 2015 Jeep Cherokee (KL).
The FCA bulletin 23-028-16 describes the repair of the rattle that comes from the rear seat.

A number of owners mentioned that the 2.4L MultiAir engine consumes oil between oil changes. Some owners reported that if the oil level is low, the engine can stall, often when turning. Some owners report that the engine has been replaced under warranty after failing the oil consumption test; read this thread. This also means that it's a good idea to check the oil level regularly and if it's getting low, to check with the dealer if it still under warranty or top it up. Oil consumption is a common problem in many modern vehicles and most cars don't have a warning light for low oil level; the oil level must be checked manually. Check your owner's manual for directions. Read more: how to check the oil level.

The bulletin 03-003-15 describes a lateral vibration (wobble) during low-speed acceleration in the 2014-2015 Cherokee. The bulletin recommends inspecting both half-shafts (front drive shafts) and, if needed, replacing them with updated parts.

Several owners on various forums mentioned that updating the Uconnect system software fixed some of its glitches. We also came across a couple of reports that the dealership did a hard reset by disconnecting the battery for a few minutes and it helped getting rid of some electrical issues.

Engine: The 4-cylinder 184-hp 2.4L SOHC Tigershark MultiAir is based on the previous-generation 2.4L motor, but with added advanced Fiat MultiAir2 variable valve timing and lift system.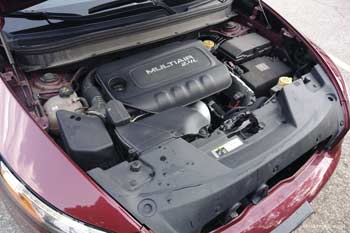 Jeep Cherokee 2.4L 4-cylinder Tigershark engine.

The 271-hp 3.2L Pentastar is a lightweight 24-valve DOHC V6. It's a pretty good engine but not without some minor issues. From the 2015 model year, it comes with Engine Stop-Start (ESS). The system includes a heavy-duty starter motor and a stronger battery. It works by turning the engine off when braking to a stop and re-starting when the brake pedal is released. The ESS can be disabled with a button on the dash.
For 2019, a 2.0-liter direct-injection turbocharged in-line four-cylinder engine with 270 horsepower has been added to the lineup. It's known as GME Hurricane engine.

Transmission: The only available transmission is the 948TE 9-speed automatic (also known as 9HP48), developed by the German company ZF. This transmission is used in many Fiat Chrysler vehicles, as well as in some Honda, Acura and Land Rover models. Looking at the technical diagrams, it's a complex device. There is a general understanding within the automotive world that complexity leads to more potential problems.

Fuel Economy: The 2019-2020 front-wheel drive Cherokee with a 2.0L turbo engine is rated at 23/31 mpg. The 2014-2018 2.4L 4WD Cherokee gets 21 mpg city, 28 mpg highway. The front-wheel drive 2014-2018 Cherokee with a 2.4L engine is rated at 21/30 mpg city/hwy. Front-wheel drive 3.2L V6 2015-2017 Cherokee gets almost the same mileage: 21/29 mpg. The 2015-2018 4WD 3.2L V6 Cherokee is a bit thirstier: 20/27 mpg.

Timing belt or chain: Here is the good news: the 2.0L turbo, the 2.4L MultiAir and the 3.2L V6 have a timing chain; there is no timing belt to worry about. A timing chain doesn't need to be replaced unless there is a problem with it.

Mechanical: Jeep Cherokee is built on a car-based platform with a sub-frame, control arms and some other components made of aluminum. This should eliminate some rust concerns that are common in cars with steel sub-frames. The front suspension rides on MacPherson struts. The independent rear suspension has a four-link plus trailing arm layout. Rear disc brakes have an electronic parking brake mechanism. The steering is electrically assisted.

Jeep Cherokee Trailhawk: Jeep Cherokee Trailhawk is a different beast.
You can recognize it by signature red tow hooks, raised suspension and all-terrain tires. The majority of Trailhawks we have found on the used car market have a V6, although 4-cyl models are also available. It has standard Active Drive Lock 4x4 system with a locking rear differential and electronic 4X4 low range. There is also a driveline neutral mode for flat towing. Despite being a crossover, the Trailhawk is a capable off-roader, see this video.

How does the Cherokee 4WD system work? The Cherokee 4WD system consists of two main components: the Power Transfer Unit attached to the transmission and the Rear Driveline Module (rear differential assembly). The propeller shaft connects these two components; see the illustration. There are three different variants of the 4WD system:

Active Drive I (optional in Sport, Latitude, Latitude Plus and Limited) is a simple AWD system similar to what is in most car-based SUVs: Front wheels are powered at all times and the rear axle engages when needed.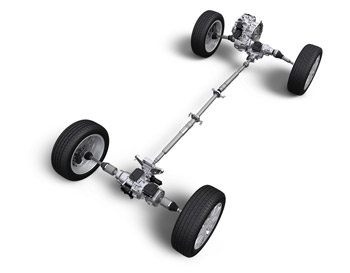 Jeep Cherokee Trailhawk driveline. The RDM is in the bottom left corner, the PTU is attached to the transmission in the front. Illustration courtesy of FCA US LLC.
To engage the rear axle, the system uses an electronically-controlled clutch pack inside the rear differential (RDM). The PTU is a simple mechanical power takeoff attached to the transmission.

Active Drive II (optional on Latitude, Latitude Plus and Limited) is a lot more complex and is based on quite an amazing technology: it consists of a two-speed power takeoff unit (PTU) and a two-speed rear drive module (RDM). The two-speed mode is accomplished by using a sun gear setup. When low range is selected, both, the PTU and RDM shift into the low range mode.

Active Drive Lock is standard on the Trailhawk. It's based on the Active Drive II components, only both the PTU and the RDM also have the added neutral/locking mode.
Technically, the two-speed PTU and RDM are a very clever solution to provide a low range without adding a separate central transfer case like in the Jeep Wrangler and many other trucks. Both, the PTU and RDM are controlled electronically and both are quite expensive. A new OEM PTU for the Trailhawk is sold online for around $1,600, while the Trailhawk RDM costs around $2,000.

Similar cars:
Pros: Looks, advanced 4WD system, Trailhawk off-road capability and equipment, available strong V6, towing capacity, 8.4-inch screen, comfortable driving experience

Cons: Quirky transmission, software glitches, questionable reliability.

Overall: There is an interesting trend, if you read Cherokee owner reviews: many people rate it with 1 star or 5 stars.
This "love it or hate it" relationship describes Jeep Cherokee well: on one hand, it's not very reliable; on the other hand it has the looks, comfort and features that make it very attractive. As of May 2020, Consumer Reports rated the 2018 Jeep Cherokee 'average' for reliability; prior model years were rated 'below average'. The 2014 and 2015 model years have received much more complaints than the later years. Considering the reported engine stalling issues, the 2014 and 2015 models should probably be avoided. Among similar SUVs, Toyota RAV4, Honda CR-V and Mazda CX-5 are more reliable. If you want to buy a used Jeep Cherokee, consider getting a good extended warranty and have the vehicle inspected by an independent mechanic familiar with FCA products.

Lineup: The Cherokee lineup consists of a barebone Sport, mid-level Latitude, upscale Limited and off-road-ready Trailhawk trims. The luxury Overland was added for 2017. For 2018, Latitude became the base trim, while Latitude-Plus was added as a mid-level trim.


You might also be interested:
Resources:
Recalls: Safety Recalls - NHTSA or Transport Canada - Motor Vehicle Safety Recalls.
DriveUconnect - Uconnect system updates, phone pairing help, map updates
Owner's Manuals for Jeep owners - User guides and videos, Warranty, Uconnect manual
JeepCherokeeclub.com - Cherokee owners forum.
Tech Authority - Mopar paid subscription-based service manuals, technical training and other info.
2016 Jeep Cherokee specifications
Engines:
2.4L Tigershark:

SOHC, In-line four-cylinder, 16-valve
MultiAir with multiport fuel injection
184 hp @ 6,400 rpm
171 lb-ft. @ 4,600 rpm

3.2L V6 Pentastar:

Chain-driven, V6 DOHC, 24 valves,
with sequential multiport fuel injection
271 hp @ 6,500 rpm
239 lb-ft. @ 4,400 rpm

Towing capacity:
All models without Trailer-tow Group and
equipped with aftermarket Class II type hitch:

2,000 lb (907 kg)
2.4-liter engine automatic transmission
with Trailer Tow Package (Class III):

2,000 lb (907 kg)
3.2-liter engine automatic transmission
with Trailer Tow Package (Class III):

4,500 lb (2,014 kg)
Cargo space:
24.6 cu. ft. (rear seats up) / 54.9 cu. ft. (rear seats folded)
Recommended fuel:

Unleaded regular, 87 octane

Fuel Tank Capacity:


15.9 US gal. (60.0 liters)


Engine oil capacity (with filter):
2.4L Tigershark:
5.5 quarts (5.2 liters)

3.2L V6 Pentastar:
6.0 quarts (5.7 liters)

By Samarins.com Staff
---