Chevrolet Equinox 2010-2017: problems to watch out for, engines, pros and cons, photos
Updated: June 30, 2022
The Equinox is the 5-seater SUV with a comfortable interior and good highway fuel economy.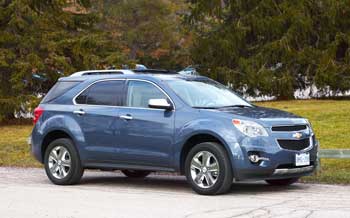 2012 Chevrolet Equinox.
It comes in front-wheel drive or all-wheel drive trims, with a 4-cylinder or V6 engine.
Compared to Honda CR-V and Toyota RAV4, a used Chevy Equinox or its twin the GMC Terrain are priced lower. Should you take advantage of a lower price? Are the Equinox/Terrain reliable? What are the common problems? We have researched this topic for you:
2010-2017 Chevrolet Equinox Reported Problems:
Stabilizer bar links are common to go bad and cause a knocking/clunking noise from the suspension when driving at a slow speed on an uneven surface. Stabilizer bar links are small parts in the front and rear suspension of the vehicle; read more about them in this
article
.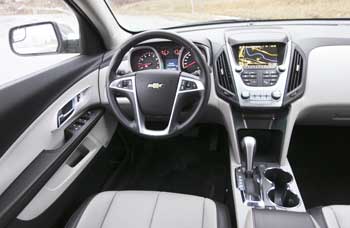 2012 Chevy Equinox LTZ interior.
Replacing front or rear stabilizer bar links is not very expensive. If you hear a clunking noise from the suspension, have the vehicle checked out as soon as possible, as most of the suspension problem can make the vehicle unsafe to drive.
Bad front lower control arm rear bushings can cause a looseness in the front end, clunking or creaking noises from the front suspension or shaking/vibration when braking. We found several
Youtube videos
explaining the repair. The part is not very expensive and is fairly easy to replace.
A bad wheel bearing (wheel hub assembly) can cause a humming noise that is more noticeable at higher speeds. Sometimes a bad wheel bearing can also cause the ABS or Traction Control warning light to come on. Replacing a front wheel bearing will cost 1.2-1.5 hours of labor (for one bearing) plus the part. There might be a diagnostic charge to check which bearing is bad. Read more about the
wheel bearings
.
A failed A/C compressor may cause the air conditioner not to work. Replacing the A/C compressor may cost from $550 to $750.
The GM bulletin 14882 dated March 2015 announces special coverage for the plugged/frozen PCV orifice in the intake manifold that causes an oil leak from the rear main seal. If you bought a used Equinox, it's a good idea to check with a GM dealer if this bulletin was done on your car.
The GM technical bulletin 17-NA-098 for the 2010-2012 Chevrolet Equinox/GMC Terrain with a 2.4L engine describes a problem where the engine runs rough, hesitates, is hard to start, and or stalls. During diagnosis, a technician may find codes P0010, P0013, P0011, or P0014.
According to the bulletin this problem could be caused by camshaft position actuator solenoid valve failure. The part is sold for around $48-$58 on Amazon and is fairly easy to replace. It's a very common issue in this vehicle. We found several
YouTube videos
describing this problem and repair.
Many Equinox owners mentioned timing chain kit replacement in the 2.4L 4-cylinder and V6 engines. If out of warranty, this repair might be quite expensive. Watch
these videos
describing the repair.
There are plenty of complaints about excessive oil consumption in early models. We noticed many of the reported engine problems are related to low oil level.
For this reason, if the Check Engine light comes on, or there is some noise from the engine, check the oil level first. It's a good idea to check the oil level on a regular basis and top it up as needed. More frequent oil changes also can help.
Check for recalls at the
NHTSA website
.
2010-2017 Chevrolet Equinox Engines:
Both the Terrain and Equinox come with a standard direct-injected 182-hp 2.4L 4-cylinder Ecotec engine (codes LAF, LEA or LUK).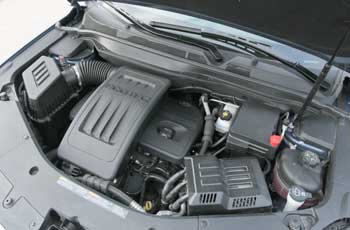 Chevrolet Equinox 2.4L Ecotec engine.
An optional direct-injected V6 is also available: The 2010-2012 Equinox and Terrain come with the 264-hp 3.0L V6 (LF1, LFW), while the 2013-2017 models have the 301-hp 3.6L V6 (code LFX).
Direct Fuel Injection means that the fuel is injected directly into the engine combustion chambers at high pressure, which improves the fuel efficiency. Read also:
Pros and cons of buying a car with Direct Injection
.
Timing belt or chain:
Both the 4-cylinder and V6 engines have chain-driven camshafts. There is no timing belt.
Mechanical: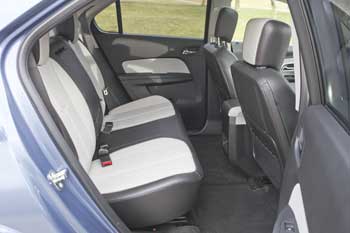 The 60/40 split rear seat reclines and slides
The Equinox and Terrain ride on the same GM Theta platform available with front- or all-wheel drive. Both vehicles have MacPherson struts in front suspension. The rear suspension uses an independent multi-link layout.
Front and rear brakes have ventilated discs. Anti-lock Brake System (ABS) is standard. In the 2.4L models, the steering is electrically assisted. The V6 models have a conventional hydraulic power rack-and-pinion steering. The only transmission choice is a 6-speed automatic.
Pros:
Interior comfort, rear seat space, fuel economy (4-cyl models), towing capacity (V6), comfortable highway ride, non-turbo engine, affordable price compared to other SUVs.
Cons:
Large turning radius, engine concerns, liftgate window doesn't open separately.
Is the 2010-2017 Chevrolet Equinox a good car to buy?
As of June 2022, Consumer Reports rates only the 2017 Equinox "better than average" for the overall reliability. The 2010-2013 models are rated poorly. The 2014-2016 Equinox is rated 'average'.
The majority of reported problems on the forums and at the NHTSA website are related to the 2010-2013 Equinox. Considering this, earlier model years should be avoided or must be carefully checked out during the pre-purchase inspection, especially the engine. The 2014+ Chevy Equinox is a better option. The
GMC Terrain
is the mechanical twin of the Equinox and is pretty much the same car with different badge.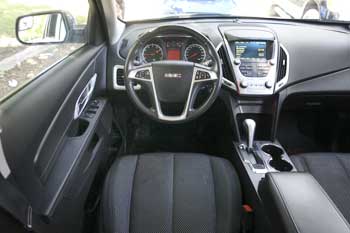 2012 GMC Terrain interior.
Given that many reported problems are related to the engine, consider buying an extended powertrain warranty that will cover engine failures. A front-wheel drive model is better on gas and will be less costly to keep on the road in the long run.
Using better quality engine oil, checking the oil level regularly and doing more frequent oil changes may help avoid some of the engine problems.
Safety:
The 2011-2017 Chevrolet Equinox and GMC Terrain have received a four-star overall rating in government crash tests: 4 stars in frontal tests, 5 stars in side impact tests and 4 stars for rollover resistance.
Related Reviews:
Ford Escape 2013-2019
Jeep Patriot 2007-2017
Subaru Outback 2010-2014 review
Toyota RAV4 2006-2012 review
Toyota RAV4 2013-2018
Honda CR-V 2007-2011 review
Honda CR-V 2012-2016
Mazda CX-5 2013-2016 review
Jeep Cherokee 2014-2020
Ford Edge 2007-2014 review
What to look for when buying a used Chevrolet Equinox or GMC Terrain?
When buying a used Chevrolet Equinox/GMC Terrain, we suggest having the vehicle inspected by a qualified mechanic or even better, a GM dealership (not the one that sells the vehicle).
The Equinox offers 63.7 cu. ft. of cargo space.
If possible, discuss the findings directly with the mechanic doing the inspection.
Watch out for oil leaks from the engine or transmission. A low oil level may be an indication that the engine consumes oil. Avoid the vehicle if the engine sounds noisy, even if it's a short rattle when started cold. The rough idle, stalling and the Check Engine light are other indications of engine problems.
Watch out for rust damage, especially if the vehicle comes from the Salt Belt. Read more:
How to inspect a used car - illustrated guide
. During the test drive, watch out for abnormal transmission noises or rough shifting between gears. Read more:
Signs of automatic transmission problems when test driving a used car
.