Honda CR-V 2012-2016: problems, fuel economy, engine, interior photos
April 28, 2019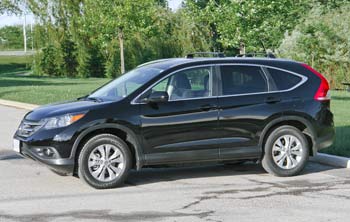 2013 Honda CR-V
This 4-th generation Honda CR-V is a 5-seater SUV available with front-wheel drive or all-wheel drive. It comes only with a 4-cylinder engine and an automatic transmission. For the 2015 model year, the CR-V got a facelift, with a new engine and a CVT transmission as well as updated chassis and other features.

The CR-V is known for its practical design. Even little details like a conversation mirror in the sunglass holder or the clever mechanism that folds the rear seats are well thought out. There are plenty of storage areas. With the rear seats folded, you get 70.9 cu. ft. of almost flat cargo space.

The front visibility is great and the standard rear view camera helps make up for thick rear pillars. The Bluetooth is standard.
Honda CR-V has a good reputation, but what are the reported problems? Is it reliable? Which model years to look for? Read further to find out.

Engine: The 2012-2014 CR-V has a proven 2.4L DOHC i-VTEC K24 engine with 185 horsepower and 163 lb-ft of torque. It's a fairly simple engine with a conventional fuel injection. It has been used in many Honda vehicles and is known to last long with regular care.

With the 2015 facelift, the CR-V received the new K24W Earth Dreams engine. It has a higher compression ratio (11.1:1) and a direct fuel injection. It's also rated at 185 horsepower, but offers more torque: 181 lb-ft. In a direct fuel injection, the fuel is injected under much higher pressure directly into the combustion chamber to improve fuel efficiency. Mechanically it means a different engine design and an added high-pressure fuel pump that is mounted on the engine and driven by the exhaust camshaft. Read also: Pros and cons of buying a car with Direct Injection.

In terms of maintenance, it's important to maintain the proper oil level for both engines. The Honda Maintenance Minder does not monitor the engine oil level. Driving low on oil might cause the engine to wear faster.

Fuel Economy: The EPA rates the 2012-2014 front-wheel drive automatic CR-V at 23/30 mpg city/highway, while the all-wheel drive model is rated at 22/29 mpg. The updated 2015 all-wheel drive CR-V with a CVT transmission gets 26/32 mpg, which gives it a 428-mile (689 km) range on one tank. Among SUVs of this size, it's one of the best ratings.

Mechanical: Honda CR-V has MacPherson struts in the front suspension and a multi-link independent layout in the rear suspension. For the 2015 model year, the chassis has been modified for wider track size. The rims in the 2015 CR-V are also half an inch wider. The steering is electrically assisted. Rear brakes are discs. The 2012-2014 CR-V comes only with a 5-speed automatic, while the 2015 and 2016 CR-V has a continuously variable transmission or CVT. Read also: Pros and cons of buying a car with a CVT transmission.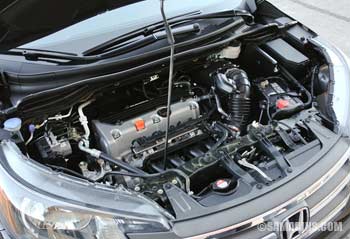 2013 Honda CR-V K24 engine
Timing belt or chain: Both the 2.4L K24 and the Earth Dreams 2.4L K24W engines come with a timing chain. There is no timing belt.

Driving experience: The CR-V drives comfortably, almost like a tall car. The front visibility is great. The ride is fairly smooth, and the 37.3 ft turning radius (2013 EX) makes it easier to navigate through tight parking spaces. One minor issue is that at higher speed, the road and engine noise is noticeable. According to one CR-V owner we spoke to, switching to better Michelin tires reduced the road noise.

Safety: The 2012-2014 Honda CR-V got 5 stars overall rating in government crash tests. After the facelift, the 2015 CR-V received a 4-star overall rating, with 4 stars in frontal and 5 stars in side crash tests. The 2016 CR-V again scored 5 stars overall.

Pros: Comfortable interior, practical design, front visibility, easy entry and exit, versatile storage options, fuel economy, runs on regular gasoline, easy driving experience, almost flat cargo space.

Cons: Small battery, rear visibility is a bit obstructed by rear pillars, noisy factory tires, road noise.

Problems: In 2012-2014 models, a bad VTC actuator can cause an intermittent rattling noise lasting for a couple of seconds when the engine is started ($380-$520 repair). A VTC actuator is the chain-driven gear bolted to the intake camshaft. Honda issued technical service bulletins on this issue (TSBs 09-010, 16-012). See these YouTube videos. While reading owner reviews, we noticed that several owners decided to live with the noise.

According to the Honda TSB 15-086, some 2012-2014 CR-V might experience judder or vibration under light acceleration. The fix, according to the bulletin is updating the A/T software and changing the automatic transmission fluid.

With the 2015 facelift and new powertrain came new problems. In the beginning, many owners mentioned a vibration when the vehicle is stopped and while driving. Read this note on the Honda US website for more information (TSB 15-046). Of course, by now, it looks like Honda has fixed this issue in most cars, but used car buyers should be aware. See these YouTube videos.

A weak battery or corroded or loose battery terminals can cause many electrical problems, including various warning lights, lack of steering assist, resetting of the infotainment system and a no-start. If you suspect the battery is getting weaker, have its capacity tested or replace if it is old.

A bad wheel bearing (common in all cars) can cause a humming noise when driving. The noise gets worse when entering or exiting the highway. Replacing a bad wheel bearing costs $270-$380.

Similar cars:
Overall: Despite the problems mentioned above, Honda CR-V is not a bad choice for a compact SUVs. As of April 2019, Consumer Reports rated the 4-th generation CR-V as 'Recommended'. If you compare the CR-V with Nissan Rogue, Ford Escape, Chevrolet Equinox, Jeep Patriot and Toyota RAV4, the RAV4 and CR-V hold their value better than others. The 2015 model year saw a spike in reported problems. If you prefer a conventional automatic transmission and a simpler engine, look for the 2012-2014 CR-V. Among competitors, we would highlight Toyota RAV4 and Mazda CX-5.

When buying a used CR-V, watch out for hesitation or jerky shifting of the transmission when accelerating gradually from a stop; several owners mentioned this issue. Watch out for a humming noise that might be caused by a bad wheel bearing. Watch out for vibration when stopped and when accelerating in the 2015 model, read this note from Honda. Check if the backup camera works and the image is not blurry. Check if all safety recalls have been completed.


You might also be interested:
Honda CR-V AWD System: Honda CR-V offers an optional Real Time AWD system. It's based on a front-wheel drive, which means front wheels are always powered. The power is sent to the rear wheels when starting from a stop, in snow and in other situations when needed. When cruising under light load, or in other conditions when it's not required, the rear drive is decoupled. This type of AWD system is more suitable for on-road use and will help in slippery conditions.

In terms of maintenance, the CR-V all-wheel drive system adds the transfer case fluid and rear differential fluid changes ($160-$300 for both). The AWD drive (propeller) shaft and rear axles need to be inspected regularly too. Honda doesn't offer a mileage-based maintenance schedule; instead, it relies on the Maintenance Minder system. If you want to know when to change the transfer case and differential fluids, ask your mechanic to inspect the fluid condition during an oil change. It's important to use only the recommended Honda fluid type, as a wrong fluid type can cause problems. By Samarins.com Staff
---