Toyota Camry 2012-2017: pros and cons, common problems
The Toyota Camry is a front-wheel drive mid-size sedan known for its reliability, comfortable interior, and fuel efficiency.
2012 Toyota Camry interior
The Camry comes with a 4-cylinder or a V6 engine. The V6-powered Camry is fast. The Camry Hybrid version is also available. The only transmission choice in non-hybrid models is a conventional 6-speed automatic.
The interior is stylish and practical. Large doors and elevated seats make entry and exit easy. The USB and Bluetooth are standard. The Camry's safety ratings are among the best in its class. Let's start with pros and cons:
Pros:
Reliability: The Camry can last for well over 250,000 miles with good maintenance.
Fuel Efficiency: The Camry offers competitive fuel economy, especially with the four-cylinder engine (25/34 mpg for the 2013-2016 2.5L 4-cyl auto model).
Comfortable Interior: The interior is spacious and comfortable, with a user-friendly infotainment system.
Smooth Ride: It provides a smooth and comfortable ride quality, suitable for long journeys or city driving.
Strong Resale Value: The Camry is known to keep its value well, which can be a benefit when it's time to sell or trade in.
Cons:
Bland Styling: Some may find the exterior and interior design to be conservative and lacking excitement.
Handling: The Camry's handling is not as sporty or engaging as some competitors.
Limited Standard Features: Base trims may lack some advanced tech and safety features that are increasingly common in newer vehicles.
2012-2015 Toyota Camry Common Problems:
The Camry's common problems are most minor, including Check Engine light issues, problems with brake calipers, battery terminals, tire pressure sensors, issues with the air conditioner and minor oil leaks. There are reports at the NHTSA website about problems related to the torque converter of the transmission, especially for the 2012 Camry, although not too many. Overall, it's a great reliable sedan. Here are the examples of the common problems:
The Check engine light with the code P0441 can be caused by a
bad purge valve
or gas cap. Either part is not expensive. To confirm, mechanics do an EVAP system test.
According to the service bulletin T-SB-0041-13, the brief knock/rattle at cold startup in the 2012 Camry 4-cylinder 2AR engine could be caused by a problem with Camshaft Timing Gear Assembly. To repair the problem, the gear assembly must be replaced. The bulletin quotes 2.6 hours for the 4-cylinder Camry. Check out this
discussion
at the Rav4world.com forum (the RAV4 has the same engine). Honda and a few other makes have the same problem in some engines too.
Another bulletin T-SB-0086-12 describes the intermittent shudder on light acceleration after an upshift in some 4-cylinder 2012 Camry vehicles.
Several Camry owners mentioned a musty smell right after the A/C is turned on. Toyota issued the service bulletin T-SB-0142-13 describing ways to minimize the odors. Recommendations include: set the HVAC system to "fresh" air mode when parking the vehicle, replace the HVAC filter (cabin filter) annually or every 10,000 miles. Use the High Performance Charcoal Filter. Do the A/C evaporator cleaning service once a year if the condition persists.
A number of owners complained about the power sunroof/moonroof switch not working intermittently in the 2012 Camry. We found the bulletin T-SB-0116-14 on this issue. It recommends checking the switch and, if defective, replacing the overhead console assembly with an updated part. The part is sold for around $100 online.
The overall number of complaints is fairly low compared to some other mid-size cars.
Engines:
The base 178-hp 2.5L 2AR-FE 4-cylinder engine delivers 178 horsepower. It's one of the best 4-cylinder engines on the market. The 268-hp 3.5L V6 (2GR-FE) is also well known. Both are
twin-cam
engines with variable valve timing. Either can run on regular gasoline. Toyota has used both of these engines for several years in many vehicles and they both have proven to be reliable. See photos below.
Timing belt or timing chain:
Both the 2AR-FE and 2GR-FE have a timing chain; there is no timing belt. The timing chain does not require regular replacements.
Summary:
The Camry is still the most comfortable, easy-to-drive family sedan on the market. It's also very reliable: as of December 2021, Consumer Reports ranks the Toyota Camry very well, with all model years from 2012 to 2017 rated 'Better than average' for reliability and listed as 'Recommended.' J.D. Power and Associates also rated the 2012-2017 Camry well. We have also checked many owner reviews: Several 2012 Camry owners mentioned a vague steering feel on the highway. Others complained about smaller and harder front seats. A number of owners mentioned that they can get the advertised fuel economy numbers. Overall, however, most Camry owners are happy with their cars. Read also:
Signs of automatic transmission problems when test driving a used car
.
Mechanical:
The steering is electrically assisted with 36.7 ft turning circle, curb to curb. The suspension design is similar to previous models, with MacPherson struts on all four wheels. Rear brakes are discs only. The Camry Hybrid is powered by a 2.5-liter 4-cylinder engine combined with a 105-kW electric motor. A powerful hybrid battery pack installed under the trunk floor stores the electric power. The 2012 Camry Hybrid LE gets 40 mpg combined.
2015 redesign:
For 2015, the Camry received a major redesign, although it's still considered the same generation known as XV50.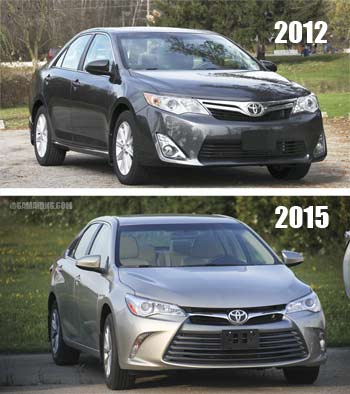 2012 versus 2015 Toyota Camry.
The 2015 Camry has a widened track (0.4 inches / 10 mm), better sound insulation and more features, but mechanically, it's not much different.
Handling and ride:
Driving the Camry is pure pleasure: it's soft, quiet and smooth. Road bumps and imperfections are well absorbed. Compared to the previous model, this Camry handles better and feels more stable in turns. The steering is light; the only downside is that it feels a bit vague around the center position. The 3.5L V6 is crazy fast; the Car and Driver magazine clocked the 2012 V6 Camry accelerating from 0 to 60 mph in 5.8 seconds; it's almost like a sports car.
Fuel Consumption
Toyota Camry EPA Fuel Economy:
mpg
city/hwy
L/100 km
city/hwy
2012-2017 Hybrid LE
42/38
5.6/6.2
2012-2017 Hybrid XLE
40/37
5.9/6.4
2013-2016 2.5L 4-cyl auto
25/34
9.4/6.9
2017 2.5L 4-cyl auto
24/33
9.8/7.1
2012 2.5L 4-cyl auto
24/34
9.8/6.9
2012-2017 3.5L V6 auto
21/30
11.2/7.8
Fuel economy:
The EPA rates the 2013-2016 Toyota Camry with a 4-cylinder engine at
25/34 mpg
city/highway or
28 mpg
combined. That means you can travel up 544 miles (875 km) on a tank of gas on a long highway trip. The 2012 Camry with a V6 gets 21/30 mpg; in mostly highway driving it can go for up to 476 miles or 766 km on one tank.
Related reviews:
Toyota Camry 2007-2011 review
Honda Accord 2013-2017 review
Honda Accord 2008-2012 review
Mazda 6 2014-2019 review
Mazda 6 2009-2013 review
Honda Civic 2012-2015
Toyota Corolla 2009-2013 review
Safety:
Stability control, traction control, antilock brakes, as well as 10 airbags are standard in all Camry models. The 2012-2017 Camry got a perfect 5-star overall rating in government crash tests.
The 2015 update included the addition of an optional Pre-Collision System, Adaptive Cruise Control, Lane Departure Alert with Auto High Beam Lane Departure Alert, and Blind Spot Monitor with Rear Cross Traffic Alert.
Maintenance tips:
In the Warranty and Maintenance Guide for the U.S. 2012 Camry, Toyota recommends changing engine oil every 10,000 miles/12 months with 0W-20 synthetic when driving in normal conditions. When the vehicle is driven under especially demanding conditions, including low temperatures, extensive idling, etc., the recommended oil change interval is every 5,000 miles/6 months. Of course, you know that your engine will last longer if you change your oil more often. Toyota recommends rotating tires every 5,000 miles, so if you take your car to a dealer every 5,000 miles for tire rotation, why not change the oil at the same time?
It's also important to check your oil level regularly, as some amount of oil is consumed as you drive and you don't want your engine to run low on oil.
According to the owner's manual, the 4-cylinder 2.5L engine uses a high-strength drive belt; make sure to use the right part when replacing it. The maintenance schedule is online at the
Toyota Owners
website. The owner's manual can be accessed at the same website.