Honda Civic 2012-2015: pros and cons, common problems
Updated: January 28, 2023
The Civic is famous for its low upkeep costs and a bulletproof engine. It's a sporty front-wheel drive compact, available as a sedan or coupe. The Civic offers a comfortable interior with a two-tier instrument panel with a digital speedometer.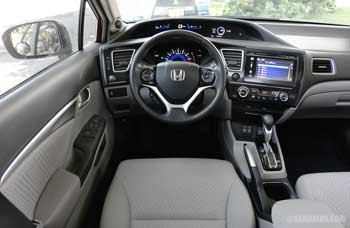 2014 Honda Civic interior.
The 2012 and 2013 Civic have a proven conventional 5-speed automatic transmission. From 2014, the Civic received a continuously variable transmission (CVT).
The sporty Civic Si (coupe or sedan) comes with a 2.4L engine mated to a 6-speed manual transmission. The 2014 Civic Si can sprint from 0 to 60 mph in 6.5 seconds. The Honda Civic hybrid is rare, so in this review, we will focus on the gasoline version. Is a used 9-th generation Honda Civic a good choice? What are the pros and cons and reported problems?
Pros:
Bulletproof engine that can last long with good care.
Reliability. This generation is even more reliable than the 2016+ Civic.
Fuel economy. The 2014, 2015 Civic auto gets 29/37 mpg city/highway.
Low maintenance costs. Small tires are not too expensive to replace.
The Civic holds its value well and is easy to sell.
2-tier gauges, dash design, available technology.
Driving experience, responsive handling, maneuverability.
Available sporty Si coupe.
Cons:
Small battery that can fail prematurely.
Paint scratches easily.
Low to the ground, not everyone will find seats comfortable.
Some road noise is noticeable.
2012-2015 Honda Civic Common problems:
Most of the common problems of this generation are minor, such as issues with the battery and the starter motor, cracked intake rubber tube (duct), A/C leaks, a bad thermostat, bad brake calipers, noisy wheel bearings and bad sway bar links and tire pressure sensors. These types of problems happen in almost all cars. Engine and transmission problems are rare. It's not uncommon to see this generation Civic last over 250,000 miles. Here are some of the reported problems:
A weak battery can cause many electrical problems, including various warning lights and a lack of steering assist. The battery should be tested first whenever diagnosing any electrical issues. If it's more than 5 years old, replace it if it looks like it's getting weak. Replacing a battery is not too expensive.
The code P0128 could be caused by a bad thermostat. When replacing the thermostat, the gasket must be installed carefully, not to interfere with the jiggle valve of the thermostat. Replacing the thermostat in a repair shop will cost from 1.0 to 1.3 hours of labor plus the part. Watch these
videos
on thermostat replacement.
A crack in the rubber intake boot (hose) can cause hesitation on acceleration and lean code
P0171 - System Too Lean
. If you have these symptoms, check the intake boot for cracks, see the
photo of the intake boot location
. It's an inexpensive part and is fairly easy to replace. Watch these
videos
on repairs.
The Honda service bulletin 14-029 describes a problem with a buzz or static noise during a HandsFreeLink call. According to the bulletin, the solution is to replace a microphone. Watch these
videos
explaining the problem.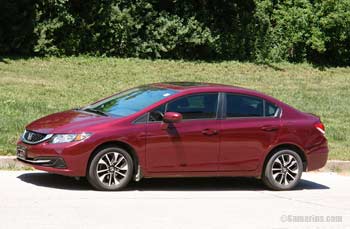 2014 Honda Civic sedan.
A bad wheel bearing can cause a humming noise at higher speeds. The noise is more pronounced when changing lanes. Replacing one front wheel bearing will cost from 1.5 to 2.0 hours of labor plus the part. Replacing the rear wheel bearing is even cheaper.
Failed TPMS (tire pressure) sensors are not uncommon. A dealership may charge for diagnostics to find which sensor has failed and another $120-$210 to replace one sensor.
A bad blower motor can make a squeaking noise. Replacing a blower motor is not very expensive ($120-$230).
Honda issued a recall for the CVT transmission in the 2014-2015 Civic: it's a software update to prevent damage to the transmission drive pulley shaft. As of September 2021, there are not that many complaints about the CVT in the 2014 Civic, which is a good sign. Read also:
Pros and cons of the CVT transmission
.
Overall, the number of complaints is small compared to other cars. Even the next generation, the 2016-plus Civic, received more complaints.
2012-2015 Honda Civic Engines:
The base 140-hp 1.8L R18 engine is a simple i-VTEC motor with a single camshaft (SOHC) and a conventional fuel injection. It's a well-designed, naturally aspirated (non-turbo) reliable motor. With regular maintenance, it can last for well over 200K. The Civic Si comes with the 2.4L 201-hp (205 hp from 2014) K24 DOHC i-VTEC engine and a 6-speed manual transmission. The K24 also has a good reputation and is known to last long. The key for either engine is to keep the engine oil and coolant clean and topped up.
Timing belt or chain?
Both the R18 and K24 engines have a timing chain, there is no timing belt. The timing chain doesn't need to be replaced at regular intervals. It only needs to be replaced if stretched.
Summary: Is the 2012-2015 Honda Civic a good car to buy?
Yes, the 2012-2015 Civic is a safe bet.
video
on YouTube of the 2013 Civic with half a million miles. The Civic sedan scored better in crash tests than the coupe. The 2012 and 2013 models with a conventional automatic transmission offer better highway fuel economy and are better suited for long commutes.
The 2014-2015 Civic with CVT transmission delivers better city gas mileage. As of January 2023, Consumer Reports rates the 2012-2015 Honda Civic '
above average'
for reliability. By the way, the next-generation 2016-2020 Civic has more problems and is not as reliable. If you drive this 2012-2015 Civic, you might want to keep it longer. Among competitors, we recommend the Mazda 3 or the Toyota Corolla.
Related reviews:
Toyota Corolla 2014-2018

Honda Civic 2006-2011 review
Mazda 3 2010-2013 review
Mazda 3 2014-2018 review
Honda Accord 2008-2012
Honda Accord 2013-2017
Toyota Corolla 2009-2013 review
Chevrolet Cruze 2011-2015 review
What to look for when buying a used Honda Civic:
If available, check the used car and service history. We found several complaints that the driver's seat is uncomfortable; see if it works for you.
If the vehicle has a manual transmission, it's important to check if the clutch is not slipping. Another issue to watch out for is worn-out synchros that can cause grinding when shifting into gear. Often it's the 2-nd or 3-rd gear that grinds. Read more:
Signs of automatic transmission problems when test driving a used car
.
It might be a good idea to have a used Honda Civic inspected at a Honda dealership and confirm that all recalls have been completed. Read also:
What mileage is OK for a used car?
.
Honda Civic Maintenance tips:
At higher mileage, the engine might consume some amount of oil. For this reason, it's important to check the oil level between oil changes. If it's low, top it up with the recommended oil grade. There is no warning light for low oil level; Honda recommends checking the oil level every time you refuel. Regular oil changes will help your engine last longer.
To keep your car safe, have it inspected in a repair shop at least once a year. At higher mileage, the engine valves might need to be adjusted if noisy. The valve noise comes from the top of the engine.
The Civic's small battery doesn't last very long. If the battery is older than 5 years, have it tested or replaced.
Engine oil capacity
(including filter):
1.8L: 3.9 US qt (3.7 liters).
2.4L: 4.4 US qt (4.2 liters).
SAE 0W–20 is the recommended engine oil viscosity.
How to reset the oil life display after an oil change?
From the 2014 Civic Owner's Manual:
1. Turn the ignition switch to ON.
2. Display the engine oil life by repeatedly pressing the (Select/Reset) knob.
3. Press and hold the knob for ten seconds or more.
The engine oil life indicator and the maintenance item codes blink.
4. Press the knob for five seconds or more.
The displayed maintenance items disappear, and the engine oil life display returns to 100%.
Fuel Economy:
The Civic is one of the leaders in its class. The 2014 Civic with a CVT transmission is rated at
29/37 mpg
, which gives it a range of 462 miles (744 km) on a long trip. See EPA ratings in the table.
Fuel Consumption
Honda Civic EPA Fuel Economy:
MPG
city/hwy
L/100 km
city/hwy
2014, 2015 1.8L CVT auto
29/37
8.1/6.4
2013 1.8L auto
28/39
8.4/6.0
2012 1.8L auto
28/38
8.4/6.2
2012-2015 1.8L manual
28/35
8.4/6.7
2012-2015 Si, 2.4L manual
22/31
10.7/7.6