2012-2015 Honda Civic: problems, fuel economy, pros and cons, photos
Updated: March 03, 2020
Honda started out as a motorcycle manufacturer, and succeeded in making great cars. The Honda Civic is one of them, thanks to its reliability, solid engine, fuel economy and low maintenance costs. The Civic is a front-wheel drive compact, available as a sedan or coupe.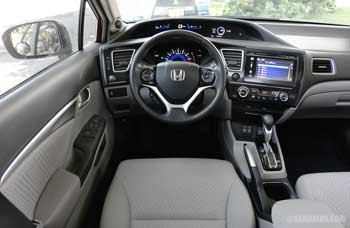 2014 Honda Civic interior.
It offers a comfortable interior with a signature two-tier instrument panel and a digital speedometer. The 2012 and 2013 Civic have a proven conventional 5-speed automatic transmission. From 2014, the Civic received a continuously variable transmission (CVT).

The sporty Civic Si is available as a coupe or sedan. It comes with a 2.4L engine mated to a 6-speed manual transmission. The 2014 Civic Si can sprint from 0 to 60 mph in 6.5 seconds. The Honda Civic hybrid is rare, so in this review, we will focus on the gasoline version. Is a used 9-th generation Honda Civic a good choice?

Honda Civic problems: An old, weak battery can cause many electrical problems, including various warning lights and lack of steering assist. The battery must be tested first whenever diagnosing any electrical issues. Replacing a battery is not too expensive: $110-$230 for parts and labor.
The Honda service bulletin 14-029 describes a problem with a buzz or static noise during a HandsFreeLink call. According to the bulletin, the solution is to replace a microphone. See these videos explaining the problem.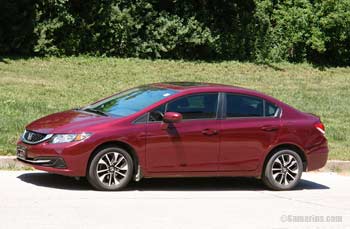 2014 Honda Civic sedan.
A bad wheel bearing can cause a humming noise at higher speeds. Replacing one wheel bearing will cost from $320 to $420.
Failed TPMS (tire pressure) sensors are not uncommon. A dealership may charge for diagnostic to find which sensor has failed and another $120-$210 to replace one sensor.
A bad blower motor can make a squeaking noise. Replacing a blower motor is not very expensive ($120-$230).
Honda issued a recall for the CVT transmission in the 2014-2015 Civic: it's the software update to prevent damage to the transmission drive pulley shaft. As of March 2020, there are not that many complaints about the CVT in the 2014 Civic, which is a good sign. Read also: Pros and cons of the CVT transmission.

Overall, the number of complaints is small compared to other cars. Even the next generation, the 2016-plus Civic, received more complaints.

Engines: The base 140-hp 1.8L R18 engine is a simple i-VTEC motor with a single camshaft (SOHC) and a conventional fuel injection. It's a well-designed naturally aspirated (non-turbo) reliable motor. With regular maintenance, it can last for well over 200K. The Civic Si comes with the 2.4L 201-hp (205 hp from 2014) K24 DOHC i-VTEC engine and a 6-speed manual transmission. The K24 also has a good reputation and is known to last long. The key for either engine is to keep the engine oil and coolant clean and topped up.


Honda Civic EPA Fuel Economy:
mpg
city/hwy
L/100 km
city/hwy
2014, 2015 1.8L CVT auto
29/37
8.1/6.4
2013 1.8L auto
28/39
8.4/6.0
2012 1.8L auto
28/38
8.4/6.2
2012-2015 1.8L manual
28/35
8.4/6.7
2012-2015 Si, 2.4L manual
22/31
10.7/7.6
Fuel Economy: The Civic is one of the leaders in its class. The 2014 Civic with a CVT transmission is rated at 29/37 mpg, which gives it a range of 462 miles (744 km) on a long trip. See the EPA ratings in the table.

Timing belt or chain? Both the R18 and K24 engines have a timing chain, there is no timing belt. The timing chain doesn't need to be replaced at regular intervals. It only needs to be replaced if stretched.

Owner reviews: We've read through hundreds of owner reviews online. Several Civic owners mentioned that the 1.8L engine is a bit underpowered when driving with a full load or in hilly terrain. Other dislikes include a small battery that fails prematurely, paint that scratches easily and the fact that the car is low to the ground. Road noise was mentioned by several owners for the 2012 Civic; later models got better sound insulation.
Overall, the majority of owner reviews are positive. Many compliment the reliability, low maintenance costs, handling, great gas mileage and overall value for the money.

Overall: A used Honda Civic is a safe bet. It has a simple and reliable 1.8L engine that can last long with good care. We found this video on YouTube of the 2013 Civic with half a million miles. The Civic sedan scored better in crash tests than the coupe. The 2012 and 2013 models with a conventional automatic transmission offer better highway fuel economy and are better suited for long commutes. The 2014-2015 Civic with CVT transmission delivers better city gas mileage. The long-term reliability of the Honda CVT is not yet known and there was one related recall already. As of March 2020, Consumer Reports rates the 2012-2015 Honda Civic above average for reliability. By the way, the next-generation 2016-2020 Civic is rated only 'average' so if you drive the 9-th gen Civic, you might want to keep it longer. Among competitors, we would recommend Mazda 3 which is a bit more sporty, and the Toyota Corolla, which is known for its softer ride.

Similar cars:
What to look for when buying a used Honda Civic: If available, check the used car and service history. We found several complaints that the driver's seat is uncomfortable; see if it works for you. Check the engine oil; if the level is low, it might be an indication that the engine consumes oil. Watch out for modifications. It's better to buy a well-maintained car in its original shape. If you like modifications, you can modify it to your taste yourself. The same goes for aftermarket rims; they bend easily.
If the vehicle has a manual transmission, it's important to check if the clutch is not slipping. Another issue to watch out for is worn-out synchros that can cause grinding when shifting into gear. Often it's the 2-nd or 3-rd gear that grinds. Read more: Signs of problems to watch out for when test driving a used car. It might be a good idea to have a used Honda Civic inspected at a Honda dealership and confirm that all recalls have been completed.


You might also be interested:
Maintenance tips: At higher mileage, the engine might consume some amount of oil.
For this reason, it's important to check the oil level between oil changes. If it's low, top it up with the recommended oil grade. There is no warning light for low oil level; Honda recommends checking the oil level every time you refuel. Regular oil changes will help your engine last longer.
To keep your car safe, have it inspected in a repair shop at least once a year. At higher mileage, the engine valves might need to be adjusted if noisy. The valve noise comes from the top of the engine.
The Civic's small battery doesn't last very long. If the battery is older than 5 years, have it tested or replaced.

Engine oil capacity (including filter):
1.8L: 3.9 US qt (3.7 liters).
2.4L: 4.4 US qt (4.2 liters).
SAE 0W–20 is the recommended engine oil viscosity.

By Samarins.com Staff
---