Mazda 3 2014-2018: problems, interior photos, engine, pros and cons
Updated: August 22, 2020
The 3-rd generation Mazda 3 is a sporty front-wheel drive compact available as a sedan or hatchback. The 3 offers a nicely-finished interior, excellent handling and a set of available high-tech gadgets.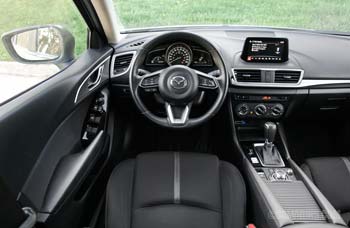 2018 Mazda 3 interior
Fuel economy and safety ratings are among the best in the class.

Mazda 3 comes with a 2.0L or 2.5L Skyactiv 4-cylinder gasoline engine and a conventional 6-speed automatic or 6-speed manual transmission. The overall reliability is not bad, but there are a few trouble spots. Some model years have more problems than others, read more below.

Problems: In models with manual HVAC controls, a small plastic arm that pops out of its place can cause the heater to blow cold air. The problem part is located behind the glove box. The fix is easy: the link set ($20 part) must be replaced.
In the early models, the screen of the Mazda Connect infotainment system becomes unresponsive in some areas or works erratically.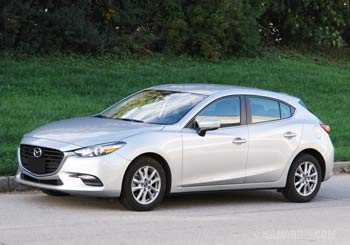 2018 Mazda 3 5-door
Some owners mention that a failed screen can cause the infotainment system to act on its own, switching different functions and dialing phone numbers. Replacing the screen is expensive (over $1,000) if out of warranty. When checking the 2014 and 2015 Mazda 3 with the Mazda Connect infotainment system, used car buyers should test all areas of the touchscreen carefully. Base models come with a simple audio system without a touchscreen and don't have this problem. 2019 Update: There is a word that the warranty on the Mazda Connect screen has been extended for some models (Google "SSPB6").

A failed mass air flow sensor can cause the vehicle not to start. An OEM sensor costs $130-$180; an aftermarket part is cheaper. The sensor is located above the air filter box and is easy to replace.
A leaking serpentine belt hydraulic tensioner may need to be replaced together with the serpentine belt ($250-$380 repair).
The Check Engine light with codes P011A Engine Coolant Temperature Sensor 1/2 Correlation and P2183 - ECT Sensor #2 Circuit Range/Performance could be caused by a bad coolant temperature sensor installed at the lower portion of the radiator (ECT sensor #2). The sensor is not very expensive.
A failed rear view camera might cause a blurred image. The camera is not very difficult to replace.
Noisy wheel bearings are not uncommon at higher mileage. Replacing a wheel bearing costs $260-$380.
Rear shock absorbers might leak at a higher mileage ($180-$290 to replace one shock absorber). Failing shock absorbers and wheel bearings are common in many cars.
A bad ignition coil can cause the engine to misfire. Replacing one ignition coil ($45-120 part) is easy. If an updated part is available, your mechanic may recommend replacing all 4 ignition coils as a precaution. At higher mileage, it is also recommended replacing all four spark plugs if the engine misfires.
As in any vehicle with direct injection, carbon deposits on the intake valve can also cause misfiring at higher mileage. Cleaning intake valves manually will cost $350-$480.
A dead battery in the key fob can cause the car not to start. To start the car, hold the fob close to the start button. The fob battery is cheap and easy to replace.
Mazda issued the recall 1217F for the rear parking brake actuators (part of a brake caliper), as well as a few other service campaigns/recalls. Check for recalls at the NHTSA website.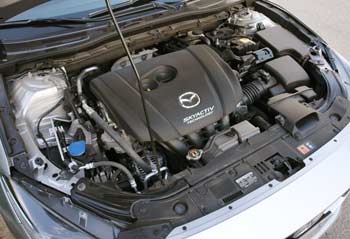 Mazda 3 2.0L Skyactiv engine
Engine choices: Mazda 3 comes with a 155-hp 2.0L or 184-hp 2.5L Skyactiv-G naturally-aspirated (non-turbo) inline-4 motors. The design of both engines is similar and even on the outside it's hard to tell them apart. Both are high-compression double overhead cam (DOHC) engines, both have Direct Fuel Injection.

In direct injection, fuel is injected under high pressure directly into the combustion chamber. Read also: Pros and cons of buying a car with Direct Injection. Both the Skyactiv 2.0L and 2.5L are excellent fuel-efficient motors and with proper maintenance can last for over 200K miles. Mazda recommends using SAE 0W-20 oil for either of these engines. The oil capacity (with oil filter replacement) is specified at 4.4 US qt. or 4.2 liters for the Skyactiv-G 2.0L engine and 4.8 US qt. or 4.5 liters for the Skyactiv-G 2.5 motor. What is interesting, while many modern cars suffer from increased oil consumption, Skyactiv-G engines don't have this problem.

Timing belt or chain: Both the 2.0L and 2.5L Skyactiv gasoline engines have a timing chain. A chain doesn't need to be replaced unless it is stretched or worn out. There is no timing belt.

Fuel Economy: For a sporty car with a conventional automatic transmission, Mazda 3 is remarkably good on gas. The 2015-2016 Mazda 3 sedan with a 2.0L engine gets 30 mpg city and 40 mpg highway (7.8/5.9 L/100 km) according to EPA estimates. This means that on a long trip you can drive for up to 487 miles or 785 km. The 2014-2016 5-door 2.0L auto is rated at 29/39 mpg (8.1/6.9 L/100km). Fuel consumption figures for the 2015-2017 4-door 2.5L automatic are estimated at 27/36 mpg (8.7/6.5 L/100 km).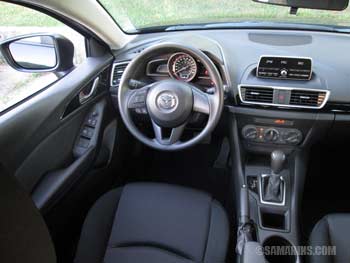 2014 Mazda 3 base trim level without Mazda Connect screen.
Mechanical: Mazda 3 has MacPherson struts in the front and an independent multi-link layout in the rear suspension. Transmission choice includes a 6-speed manual or a conventional 6-speed automatic. Rear brakes are discs. Late models offer an electronic parking brake.

Interior: The driver-oriented cabin is not what you would call spacious, but there is an upscale feel to it. Mazda Connect offers several interesting features and works well with the commander switch located on the center console near the shifter. The GT version is like a compact luxury car inside.

Pros: Sporty look, fun to drive, solid fuel-efficient non-turbo engines, conventional 6-speed automatic transmission, optional manual gearbox, above average reliability, crash-test ratings, available high-tech gadgets.

Cons: Firm ride, road noise, interior fabric and some plastic quality could be better, smaller trunk in a sedan, minor rattles, low front bumper is easy to scrape, issues with rear brakes and Mazda Connect.

Similar cars:
Overall: Mazda 3, is one of the top choices for driving enthusiasts; it offers crisp, sporty handling, but as a trade-off the ride is firm and not very quiet. The 3 is also good on gas. The 2014-2018 Mazda3 received 5 stars out of 5 overall safety ratings in the NHTSA crash tests.
Despite problems mentioned above, the reliability is above average and major components such as the engine and transmission are for the most part trouble-free. A Skyactiv engine should last long with proper maintenance.

Many complaints are focused on the infotainment system (Mazda Connect). Some of the problems were fixed by the updates done at the dealer. A base model without Mazda Connect is a better choice if reliability is more important. For navigation map updates, visit Mazdahandsfree.com website. Many potential Mazda buyers are concerned about the rust on body panels that was a common sight on older Mazda vehicles in the Rust Belt. From what we know, this generation so far doesn't have this problem.

When buying a used Mazda 3, check the Mazda Connect screen and features carefully. When opting for a top level model with Active Driving Display, Smart City Brake Support, Lane Departure Warning and other high-tech gadgets, used car buyers should consider a good extended warranty. Problems with any of these features will be expensive to repair. Among competitors, consider Honda Civic, Toyota Corolla, Subaru Impreza and Toyota Prius. By Samarins.com Staff
---
Guides for used car buyers:
You might also be interested: