Dodge Dart 2013-2016 pros and cons, common problems
Updated: February 04, 2023
Discontinued after 2016, this sporty compact is now rare and unique. Based on the expanded
Alfa Romeo Giulietta
platform, the Dart offers an American style with European handling.
Compared to other compacts, the Dart is wider and heavier.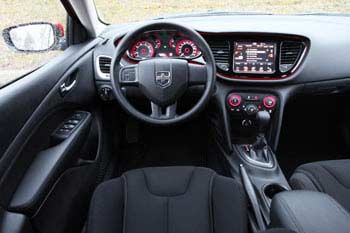 Dodge Dart 2013 interior.
As a result, the Dart's safety ratings are among the best in its class: five out of five stars overall in the NHTSA crash tests and Top Safety Pick from the IIHS.
The interior space is almost like in a mid-size car. The Dart feels solid and stable on the road. That's all good, but is it reliable? What are the common problems?
Pros:
Awesome exterior styling.
Sense of exclusivity. It's a rare sporty compact car.
Good handling, pleasant ride.
Dash design, interior spaciousness.
Uconnect infotainment system with the 8.4" display.
Top safety ratings.
Cons:
Engine and transmission issues.
Parts may be difficult to find.
Low trade-in value.
Fuel economy could be better.
Dodge Dart common problems:
Reported problems include multiple Check Engine light issues such as a failed thermostat,
ignition coils
and an oil pressure sensor, electrical problems, coolant leaks, Uconnect system glitches and some transmission problems. The 2013 Dodge Dart received many more complaints than other model years, most about the electrical systems, the engine and transmission. Here are a few examples of the reported problems:
Failed thermostat:
The Check Engine light with the trouble code
P0128
is often caused by a bad
thermostat
. Often the Check Engine light keeps coming on and off when the weather gets colder. Replacing a thermostat at a dealership may cost from $320 to $410. The engine computer (PCM) software may need to be updated too.
Wipers staying on:
A failed flat ribbon wire inside the SCCM module in the steering column can cause problems with wipers staying on. We would suggest to take the car to a dealer for this repair as the steering wheel and the airbag must be removed to replace the module.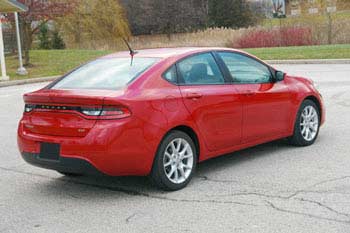 2013 Dodge Dart.
The dealer may charge $350-$420 to replace it. The module might also need to be programmed. We found this
video
describing the problem.
Oil pressure sensor:
TSB 18-034-14 REV. A recommends replacing the oil pressure sensor when the trouble code P0520 - Engine Oil Pressure Sensor Circuit is set in the 2013-2014 Dart. The oil pressure sensor (switch) is not very expensive.
Cooling system problems:
There are a number of reports of the engine overheating, especially with the 2.0L engine. There are several possible reasons for the engine to overheat. One of the reasons is a lack of coolant due to a leak. The heater hose is one of the common sources of the leak. Considering this, it's a good idea to check the coolant level regularly and if a leak is suspected, to repair it before it can cause overheating.
The FCA service bulletin (TSB) 18-023-16 REV. C for the 2013-2015 Dart recommends reprogramming the PCM to address several Check Engine light codes in the 2.4L engine.
Many owners mentioned oil consumption issues in the 2.4L Multiair engine. In some cars, the entire engine has been replaced during the warranty period. It's a good idea to regularly check the oil level as running the engine low on oil can cause problems. Excessive oil consumption is very common in many modern cars.
TSB 02-004-15 advises lubricating parts of the top strut mounts when there is squeaking/creaking noise while turning the steering wheel.
There have been complaints about problems with the clutch in a manual transmission or an automatic transmission failing.
FCA has issued several updates for the Uconnect software to fix various glitches. Read more at
DriveUconnect.com
. We found reports that hard-resetting the system by disconnecting the battery eliminates some of the glitches. Several recalls have been issued for Dodge Dart; check on the
NHTSA website
.
Summary: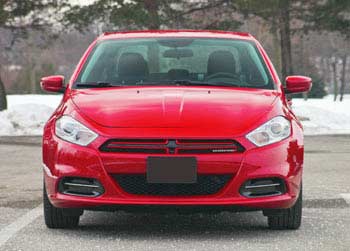 2013 Dodge Dart.
Very few compacts can compete with the Dart in sporty handling and styling. The exterior design is awesome. Available 17-or 18-inch wider 225 tires provide an excellent grip on the dry pavement. Safety ratings are also among the best.
The huge 8.4" Uconnect touchscreen is unique to the compact car class. The optional navigation is easy to operate. Plus, exclusivity is always worth more, now that the Dart has been discontinued. On the downside, it's not the most reliable car and will need repairs here and there. Parts are not always available.
We recommend avoiding the turbo engine and the dual-clutch transmission. Both are more likely to have problems. If you are buying a used Dodge Dart, consider an extended warranty that will cover repair costs. If you want a more reliable sporty compact car, consider the
Honda Civic
or
Mazda 3
.
Engine:
Three 4-cylinder engines are available: the base 160-hp 2.0-liter DOHC Tigershark is standard on SE, SXT, Rallye and Limited.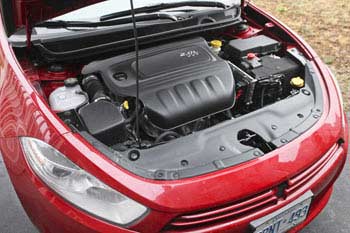 Dodge Dart 2013 2.0L engine.
It comes with a 6-speed manual or 6-speed automatic transmission.
For buyers looking for fuel efficiency, there is an optional 160-hp 1.4L MultiAir intercooled turbocharged motor available on SE, SXT, Rallye and Limited. It comes with either a 6-speed manual or a 6-speed dual dry clutch automated manual transmission.
The Dodge Dart GT is fitted with a 184-hp 2.4-liter MultiAir 2 Tigershark engine. Read also:
Pros and cons of turbo engines
.
Timing belt or Timing chain:
The 1.4L turbo engine has a
timing belt
that, according to the 2013 Dart owner's manual, needs to be replaced every 150,000 miles or 240,000 km. Both the 2.0L and 2.4L engines have a timing chain.
Mechanical:
The Dart has MacPherson struts in the front and European-styled bi-link independent rear suspension. The steering is electrically assisted.
Fuel Economy:
The 2013-2016 Dodge Dart with a 2.0L engine and automatic transmission is rated at 27 mpg combined or 24/33 mpg (9.8/7.1 L/100km) city/highway. This means you can get up to 430 miles (692 km) on one tank of gas. The 1.4L turbo Dart auto with Aero package gets 28 mpg city and 39 mpg highway (8.4/6.0 L/100km). The 2.0L and 2.4L motors can run on regular gasoline. For the 1.4L turbo, premium gasoline is recommended.
Fuel Consumption
Dodge Dart EPA Fuel Economy:
mpg
city/hwy
L/100 km
city/hwy
2013-2016 1.4L Aero manual
28/39
8.4/6.0
2013-2016 1.4L Aero auto
29/38
8.4/6.2
2013-2016 1.4L manual
28/39
8.4/6.0
2013-2016 1.4L auto
29/38
8.4/6.2
2013-2016 2.0L manual
25/35
9.4/6.7
2013-2016 2.0L auto
24/33
9.8/7.1
2014-2016 GT auto
22/31
10.7/7.6
2013 2.4L auto
21/30
11.2/7.8
Related reviews:
Toyota Corolla 2009-2013 review
Toyota Corolla 2014-2018 review
Mazda 3 2010-2013 review
Mazda 3 2014-2018 review
Chevrolet Sonic 2012-2016
Chevrolet Cruze 2011-2015 review
Honda Civic 2012-2015
What to look for when checking a used Dodge Dart:
Regular maintenance is very important, especially for the turbocharged engine. Check the vehicle's service records to verify timely oil changes. A low oil level and a burnt oil smell under the hood could be an indication of excessive oil consumption. In a turbocharged engine, watch out for white smoke or noisy turbocharger. A turbocharger is expensive to replace.
During a test drive, try driving slowly over small bumps to see if the suspension stays quiet. See if the vehicle doesn't pull to one side or the other on the highway.
Maintenance tips:
Check the engine oil level regularly and top up as needed; see
how to check the engine oil
.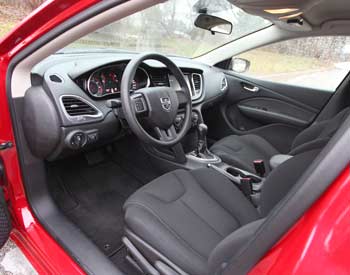 2013 Dodge Dart interior.
Running the engine low on oil will cause problems. According to the 2013 Dart owner's manual, Dodge recommends using 5W-40 synthetic oil in the 1.4L turbo engine and 0W-20 in the 2.0L and 2.4L engines.
What is the recommended oil change interval? The 2013 owner's manual doesn't specify the interval for regular oil changes. It says that the oil change indicator system will display the message 'Change Oil' automatically; the interval is calculated based on the driving conditions. The oil change indicator needs to be reset after performing the scheduled maintenance. The procedure to reset the oil change indicator is described in your owner's manual (page 297 in the 2013 Dodge Dart OM).
Should the timing belt be replaced earlier than the recommended interval? In our opinion, 150,000 miles is too long; we would recommend replacing it much earlier.