Chevrolet Sonic 2012-2016: fuel economy, problems and fixes, driving experience, photos.
February 27, 2018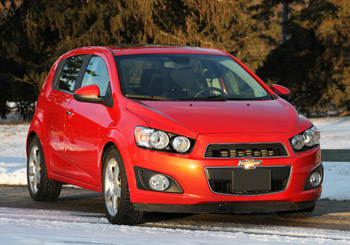 2012 Chevrolet Sonic.
Chevrolet Sonic came in 2012 as a replacement for the Aveo and is the first subcompact built in the US. It boasts top safety ratings and agile handling. With its "fearsome" look and an available turbocharged engine, the Sonic adds excitement to the subcompact category.

Chevrolet Sonic is a global car based on the GM Gamma II subcompact platform. It's sold in the US, Canada, Mexico, Brazil China, Russia, Thailand and other countries.

Surprisingly for a compact car, the Sonic's list of available features includes heated seats, remote starter, satellite radio and Bluetooth hands-free phone and audio connectivity. Is the Sonic reliable? What are the used car buyers should be aware? We did our research, read below, starting with the lineup:

Lineup: The Sonic is available as a 5-door hatchback or 4-door sedan. The US lineup consists of the base LS, popular LT and loaded LTZ trim levels. For the 2017, the Premier replaced the LTZ.

Engines: Two Ecotec engines are available: the 138-hp 1.8L and the 138-hp 1.4L-turbo. These are the same engines as in the Chevrolet Cruze.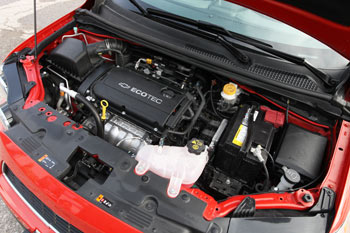 Chevrolet Sonic 1.8L Ecotec engine.
Timing belt or timing chain: The 1.8L engine has a timing belt. According to the owner's manual for 2012 US Chevrolet Sonic, the timing belt in a 1.8L engine must be changed at 97,500 miles (156,000 km). The 1.4L turbo engine uses a timing chain to drive the camshafts.

Mechanical: The Sonic comes with a 6-speed automatic or a rare manual gearbox (5-speed manual with 1.8L and 6-speed manual with 1.4L turbo). The Sonic has McPherson struts in the front and a torsion-beam axle in the rear suspension; the steering is electrically powered.

Handling and ride: On the road, the Sonic is fun to drive. The ride is surprisingly quiet, although you will hear the engine on acceleration. The car handles very well for its size. According to Motor Trend, the 1.4L turbo Sonic with a six-speed manual transmission races from 0 to 60 MPH in just 8.1 seconds.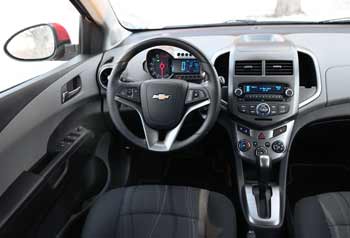 Chevrolet Sonic Interior.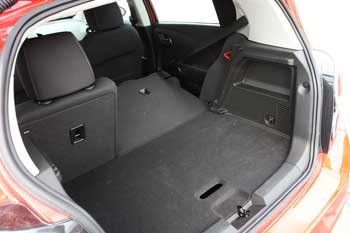 Chevrolet Sonic 5-door, rear seat folded down.
Fuel Economy: The EPA rates the 2012 Sonic with the 1.4L-turbo engine and an auto transmission at 27/36 MPG city/highway. The 2012 1.8L Sonic with an automatic transmission is rated at 24/34 MPG. To help you save on gas, the Sonic's Driver Information Center displays the average fuel economy.

Safety: Standard safety equipment includes Antilock brakes and StabiliTrak® Electronic Stability Control System with Traction Control. In the NHTSA crash tests, all 2012-2017 Sonic 5- and 4-door models scored five out of five stars overall rating, with 5 stars in the frontal and 5 stars in the side-impact crash tests. The Sonic also received a Top Safety Pick award from the Insurance Institute for Highway Safety (IIHS).

Interior: In line with other GM models, the Sonic has a dual-cockpit dashboard with matching front door panels. The small motorcycle-inspired instrument cluster looks very original. There are two convenient pockets on both sides of the center console. The storage above the glove box will hold your phone, as it hosts the second auxiliary input jack and an available USB port.
The Sonic's steering wheel tilts and telescopes. The front seats offer plenty of head and legroom. The rear headroom is OK in the hatchback, but the legroom is tight. The rear seats fold down for extra cargo space. There is also a large cargo compartment under the cargo floor.

Chevrolet Sonic photos:


Common problems: Oil and coolant leaks, as well as Check Engine light issues are not uncommon. A failed PCV diaphragm in the valve cover or a missing intake manifold check valve can cause Check Engine light with codes P0171, P0106, excessive oil consumption, rough idle and other issues in the 1.4L turbo engine. Check this thread at Cruzetalk.com for more details (The Cruze and the Sonic share the same engines).
The code P1101 in the 1.4L turbo engine could be caused by a faulty PCV pipe.
A faulty oil pressure switch may leak oil and cause the oil light to come on.
The water pump failures are mentioned by several owners. The GM service bulletin 14371A describes the issue with a leaking water pump in the 2012-2014 Sonic with the 1.4L engine. According to the bulletin, the coverage for the leaking water pump has been extended to 10 years or 150,000 miles; the solution is to replace the water pump.
Coolant leaks from the thermostat housing are also reported. Suspension problems are frequent too, including bad sway bar links and struts.
Overall, the 1.8L Ecotec seems less troublesome, while the 1.4L turbo requires more frequent maintenance.

Consumer Reports rates the Sonic "Average" or "Worse than Average" for reliability. The 2012 Sonic got the lowest scores. The 2014 Sonic is rated better than other years. (4 out of 5).
Similar cars:
2012 Chevrolet Sonic Specifications
Dimensions (five-door):
Overall length:
Overall width:
Overall height:
Wheelbase:


159.0 in (4039 mm)
68.3 in (1735 mm)
59.7 in (1517 mm)
99.4 in (2525 mm)


Turning radius:
Turning circle, curb-to-curb:


34.5 ft (10.5 m) - with 15- and 16-inch wheels
36.1 ft (11 m) - with 17-inch wheels


Cargo capacity: (five-door)
behind rear seats:
rear seats folded down:

19.0 cu. ft.
30.7 cu. ft.


Engine:
1.8L:



1.4L turbo:


1.8-liter, 4-cylinder, 16-valve DOHC with VVT
138 hp @ 6300 rpm
125 lb-ft @ 3800 rpm

Turbocharged 1.4-liter, 4-cylinder,
16-valve DOHC with VVT
138 hp @ 4900 rpm
148 lb-ft @ 2500 rpm


Recommended Fuel:


regular unleaded


Fuel Tank Capacity:
12.2 US gallons (46.2 liters)


Engine oil capacity:
Engine Oil with Filter:
1.8L L4 engine
1.4L L4 turbo engine



4.8 US qt (4.5L)
4.2 US qt (4.0L)