Nissan Pathfinder 2013-2020: pros and cons, problems
The 2013-2020 Pathfinder is a comfortable, roomy seven-seater SUV with a strong V6 engine. It is built on a car-based platform and is avalable with front- or all-wheel drive.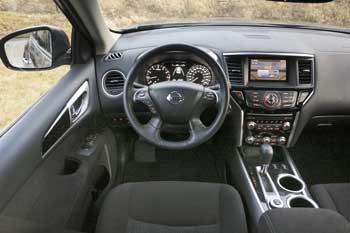 2015 Nissan Pathfinder interior.
The Pathfinder offers a comfortable driving experience and a quiet ride. For an SUV of this size, it is also surprisingly maneuverable, offering a 38.7-ft turning circle.
Our favorite feature is Around View Monitor, which is available in 2015+ SL, standard in Platinum. It shows a view of the vehicle and surrounding space from above on the center display. What are the common problems and model years to avoid? We test-drove the 2015 Pathfinder and did our research. Let's start with pros and cons.
Pros:
Strong reliable VQ engine.
Third-row seating, spacious interior.
Stylish user-friendly dash layout.
79.8 cubic feet of cargo space with second- and third-row seats folded.
Comfortable driving experience, quiet ride, good acceleration.
Available Around View Monitor.
5-star overall safety rating (2014-2020 Pathfinder).
Cons:
Long-term reliability of the CVT transmission is questionable and it is expensive to replace.
Higher than average maintenance and repair costs.
Fuel economy could be better.
Tires wear fast.
Some of the interior materials and plastic are not of the top quality.
2013-2020 Nissan Pathfinder common problems
include issues with A/C, bad wheel bearings, failing engine cooling (radiator) fan, a bad alternator, oil leaks, exhaust leaks and breaking door handles and sunvisors. Our main concern is that there are many reports of CVT transmission failures, especially in the 2013, 2014 Pathfinder. Some owners even report that the CVT transmission has been replaced more than once. If the CVT transmission fails, it is expensive to replace. Interestingly, the next generation 2022 Pathfinder has a German-made ZF conventional 9-speed automatic transmission instead; no more CVT. Here are a few examples of common problems: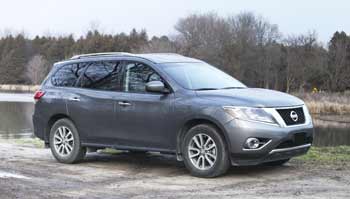 2015 Nissan Pathfinder R52.
Several owners mentioned issues with sun visors not staying in an upright position. The driver's sunvisor was listed for $115 on Amazon. Check out some
YouTube videos
on how to fix it. Besides that, many owners mentioned various trim pieces falling apart.
A bad wheel bearing can cause a humming noise that is more noticeable at higher speed and gets louder or quieter when changing directions. Replacing a wheel bearing costs $80-$180 for the part and $200-$350 for labor.
In the 2013-2015 Pathfinder, several owners reported that the air conditioner compressor had failed and the A/C stopped working. The A/C compressor had to be replaced and the system recharged. The OEM A/C compressor is expensive, but we found plenty of aftermarket options for $350-$560 (part only).
An inner door handle can break and stop working. The part is not very expensive and the repair is fairly simple. We found several
videos
describing the repair.
The engine cooling fan (radiator fan) can become noisy and might need to be replaced. The noise sounds like a card in spokes or clacking and is fairly loud, coming from the front of the engine. We found these
videos
describing the noise and repair. An aftermarket part (cooling fan assembly) costs from $170 to $450.
According to the bulletin NTB10-029e, vibration or judder feeling from the rear of the vehicle in 4WD Pathfinder when making slow turns on dry roads could be caused by a problem with the Electric Controlled Coupling for the rear final drive. The bulletin advises to follow the diagnostic steps and, if confirmed, to replace the coupling and perform "Unit Characteristics Writing." The part is quite expensive if out of warranty.
The CVT transmission in the 2013-2014 Pathfinder received a number of complaints. Owners describe intermittent lack of power and jerking/shaking or "judder" as Nissan calls it. Nissan has issued several bulletins on the issue. Solutions included reprogramming the TCM (updating the CVT software), replacing the control valve assembly (part of the CVT transmission), or replacing the CVT transmission. On the plus side, according to the NissanAssist.com Nissan has extended Non-Hybrid CVT warranty coverage on the 2013-2014 Pathfinder to 7 years/84,000 miles, whichever comes first. We also found many positive owner reviews that mention no CVT problems at all. We extensively test-drove the 2015 Pathfinder and took a quick drive in the 2016 Pathfinder, both with AWD. Neither had any problems.
Nissan has issued several recalls for some Pathfinder models that you can check at the
NHTSA website
with the VIN number of your vehicle. It's also a good idea to check the
NissanAssist.com
website. If you are having a problem with your Nissan, especially safety-related, and your warranty has recently expired, check with your dealer if they can help; we do know of a few cases where Nissan approved certain after-warranty repairs.
Summary:
The Pathfinder is a comfortable family hauler with a strong bulletproof engine. However, it's not as reliable as similar vehicles, such as the
Toyota Highlander
or
Honda Pilot
. We researched complaints at the
NHTSA website
: as of February 2023, the 2013 Pathfinder had 796 complaints (including 338 complaints related to the powertrain), while the 2016 Pathfinder had only 87 complaints. Given that, we think the 2013 and 2014 model years should be avoided.
We know that in some vehicles, the CVT has already been replaced while under warranty. However, if you are buying a used Nissan Pathfinder, consider getting a good extended powertrain warranty that has no limit per claim, so if the CVT fails it will cover the replacement. If out of warranty, replacing the CVT even with a used unit can cost over $4,000.
What to watch out for when test driving a used Nissan Pathfinder?
When checking out a used Nissan Pathfinder, test drive for as long as possible. Watch out for hesitation, slipping or shuddering during acceleration. Some owners describe a problem with the CVT where it engages hard when accelerating slightly after coasting for a while. If you can arrange for a pre-purchase inspection, ask a mechanic to check for leaks from the transfer case and from the transmission cooler lines, we found a few reports of these problems. It's a good idea to check with a Nissan dealer whether all the recalls have been done. Read more:
How to inspect a used car - illustrated guide
and
Signs of automatic transmission problems when test driving a used car
.
Engine:
Except for hybrid models, the Pathfinder is powered by a well-known 3.5L V6 VQ engine (VQ35DE) that has been used in many Nissan and Infiniti vehicles. It's a proven strong and reliable
DOHC
motor that can last for well over 200K with good maintenance.
Timing belt or chain:
The 3.5L V6 VQ engine has a maintenance-free timing chain; there is no timing belt. A timing chain only needs to be replaced if there is a problem with it, for example, when it's noisy.
Fuel Economy:
The 2015-2020 4WD Pathfinder is rated at 19/26 mpg. This means that, on a long trip, you can travel up to 485 miles (780 km) on a 19.5-gallon (74-liter) fuel tank. It's better than most mid-size and large SUVs.
Mechanical:
The Pathfinder has MacPherson struts in the front suspension and a multi-link setup in the rear. The steering is hydraulically-assisted. The engine is transversely-mounted. The only transmission choice is a continuously variable transmission or CVT. Read more:
Pros and cons of buying a car with a CVT transmission
. The Pathfinder 4WD system can be manually switched to 2WD, Auto or 4WD Lock modes using the
switch
on the center console.
Related reviews:
Toyota Highlander 2008-2013 review
Honda Pilot 2009-2015 review
Mazda CX-9 2007-2015 review
Nissan Murano 2009-2014
Ford Edge 2007-2014 review
Toyota Venza 2009-2015 review
Engine oil:
We checked the owner's manuals for the U.S. 2013-2018 Nissan Pathfinder (you can access it
here
. According to these manuals, Nissan recommends using
SAE 5W-30
oil for the 2013-2014 V6 VQ35DE engine.
The manuals for the 2015-2018 Pathfinder list
SAE 0W-20
as the recommended oil viscosity.
Approximate drain and refill engine oil capacity (with oil filter change) for the 3.5L V6 is listed at
5-1/8 US qt
or
4.8 liters
.