2007-2015 Mazda CX-9 review: engine, fuel economy, pros and cons
Updated: November 23, 2018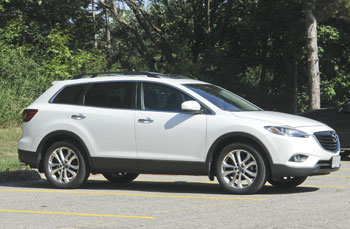 2014 Mazda CX-9
Can a family hauler be fun to drive? Mazda CX-9 is the answer. This stylish seven-seater is not only roomy and practical, but sporty and fast. The 3.7L V6 propels the CX-9 from 0 to 60 mph in 7.3 seconds. Despite its size, the CX-9 handles like a heavy sports sedan, and offers a smooth and refined ride. The CX-9 has a fully independent suspension with 18" or 20" wheels and comes with front- or all-wheel drive. This is the family vehicle you can actually enjoy driving.

Is a used Mazda CX-9 a good choice? The gas mileage is not great but that's expected from this type of vehicle. Maintenance costs are average for the class. Safety ratings are pretty good. Consumer Reports rates the CX-9 reliability as "Average", but there are few trouble spots to watch out for, please read further.
Engine: The 2007 Mazda CX-9 was equipped with the 265-hp 3.5L Ford-sourced V6 engine. All later model years come with the 273-hp 3.7L V6.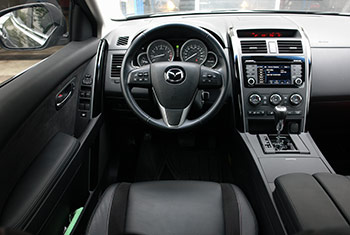 2014 Mazda CX-9 interior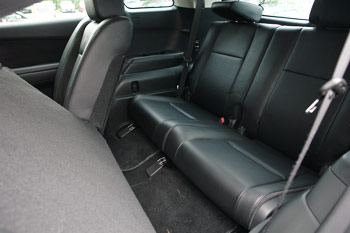 Mazda CX-9 third-row seats
It's a very strong low-maintenance engine with plenty of low-end torque. With proper maintenance this engine can last long without problems. The only problem is that if the water pump fails at higher mileage, it will be expensive to replace due to its location.

Timing belt or timing chain? The CX-9 V6 engine does not have a timing belt; it uses a timing chain instead. A timing chain doesn't need to be replaced unless it becomes stretched and noisy.

Interior: Inside, the CX-9 is very roomy, although the wide center console takes up some space in the front.  Three rows of seats are standard. The split second-row seats slide forward and backward. The third row provides reasonable space even for adult passengers. With the third row up, there is still 17.2 cu. ft of cargo space in the back, which is more than in Toyota Highlander, but less than in GMC Acadia/Chevrolet Traverse twins. The third-row seats fold flat for more cargo space. The second-row seats fold too, but not completely flat.

Handling and ride: The CX-9 handles extremely well and is a pleasure to drive on long highway trips. The ride is on the firm side, but refined and fairly quiet. The first impression is like driving on rails. Despite it's heavy weight, the CX-9 feels quick off the line and sporty and secure on the road. The steering is precise and well-weighted. The AWD system is fully automatic and does not require any input from the driver. One thing we noticed though, the CX-9 all-season tires are not very good in the snow.

Fuel Economy:
EPA Fuel Economy:
mpg
city/hwy
L/100 km
city/hwy
2011-2015 Mazda CX-9 FWD
17/24
13.8/9.8
2011-2015 Mazda CX-9 AWD
16/22
14.7/10.7
2007-2010 Mazda CX-9 FWD
16/22
14.7/10.7
2007-2010 Mazda CX-9 AWD
15/21
15.7/11.2
The 2015 AWD Mazda CX-9 is rated at 16/22 mpg. This means, on a highway trip, the CX-9 can drive up to 422 miles (679 km) on one tank of gas. See the fuel economy numbers in the table.

Safety: The 2007-2010 CX-9 scored five out of five stars in government crash test and has a four star rollover resistance rating. Antilock brakes and stability control are standard. Optional Blind Spot Monitoring system will alert the driver of vehicles that are in blind spots on either side of the car when changing lanes.

Why you should buy it: Sporty handling, good strong engine, plenty of room, refined ride, spacious third row, towing capacity, cargo space, safety ratings.

Why you shouldn't buy it: Thirsty, smart-card key system could be troublesome, 20" tires are expensive, transfer case (PTO) failures, expensive to repair at higher mileage.

Reported problems: The reliability is average. Front end (control arms, tie rods) repairs are common. Mazda issued a recall for lower control arms. Failed ignition coils and some minor electrical glitches are also often mentioned. A faulty blower motor relay can cause the front or rear blower motor to stay on after the ignition was turned off. The repair is very simple: replace both blower motor relays in the main fuse box. An A/C drain could clog up causing water collecting inside the HVAC unit. The first sign is a slushing noise from the blower fan when turning left. The repair is also simple, unclog the A/C drain.
Power transfer output unit (PTO) leaks and failures are often reported. A power transfer output unit is the part of the AWD system. The replacement is quite expensive ($800-$1100), although some owners report that the replacement was covered by the warranty.

According to several sources, the transfer case warranty has been extended for some model years; check with your local Mazda dealer. Early signs of transfer case problems include a burnt oil smell and dark oil leak in the area right behind the engine.
In some cases a failed transfer case gear that connects it with a transmission could wear out, causing the 4WD not to work.

A rear heat shield could separate and touch the propeller shaft, which could cause a screeching noise coming from the back. Other than that, it's a well-built vehicle. The engine and transmission are mostly trouble-free.

Overall: The CX-9 is a sleek 7-seater crossover with a strong engine. Cost-conscious buyers should consider opting for a front-wheel drive model, as it will be less expensive to own in the long run. Among competitors, Toyota Highlander is more reliable and has a softer ride, but its third-row and cargo space is limited. Acura MDX is an excellent vehicle, but it's more expensive. Ford Edge rides on the same platform as the CX-9, but it doesn't have the third row. Honda Pilot is roomy, but looks too "boxy." Chevrolet Traverse is more spacious but less reliable. The 2006-2010 Ford Explorer is better for towing as it rides on a rear-wheel drive truck-based platform.

Related reviews:
What to look for when buying a used Mazda CX-9: Check used car history records for previously reported accidents and service history. When checking the car at the dealer's lot, test all electrical features including the air conditioner, audio system, power liftgate and other features. If the vehicle has a smart key entry system (when you start the car by turning a knob or with a push button instead of a regular key), test it carefully, as this system is prone to glitches. Make sure the vehicle has two keys, as an additional key is expensive. During the test drive, watch out for humming and winning noises from the drivetrain. During the pre-purchase inspection, ask your mechanic to check for leaks. Consider buying a good extended warranty to protect yourself from unexpected repairs.


Maintenance tips: To keep your vehicle safe, have it regularly inspected; a quick check during a drive-through fast lube service is not enough. Recommended oil change intervals vary between 5,000 and 7,500 miles depending on driving conditions. The Mazda CX-9 engine uses the SAE 5W-20 oil type. A cabin filter is often neglected; it must be changed every 15,000-25,000 miles. Spark plugs need to be replaced every 60,000-100,000 miles, again, depending on driving conditions. This means that if you regularly drive in heavy city traffic, hilly terrains, dusty conditions, extreme hot or cold weather, your car needs more frequent oil changes, spark plug replacement and other maintenance. Timely spark plug replacement will help avoid more serious problems like failed ignition coils.

You might also be interested:
2012 Mazda CX-9 specifications
Dimensions:
Overall length:
Overall width:
Overall height:
Wheelbase:


200.2 in (5,086 mm)
76.2 in (1,936 mm)
68.0 in (1,728 mm)
113.2 in (2,875 mm)


Total Curb Weight w/AC :


FWD: 4,328 lbs / AWD: 4,546 lbs


Cargo volume:
2nd and 3rd row seat upright:
3rd row seats folded:
2nd and 3rd row seats folded:


17.2 cu. ft (487 L)
48.3 cu. ft (1,368.5 L)
100.7 cu. ft (2,851.5 L)


Towing capacity:
FWD:
FWD with Towing Prep Package:
AWD:


2,000 lbs
3,500 lbs
3,500 lbs


Curb-to-Curb Turning Circle (radius):


18.7 ft (5.7 m)


Engine:






V6 3.7L DOHC, 24-valve,
273 hp @ 6,250 rpm
270 lb-ft @ 4,250 rpm


EPA Fuel Economy* (US mpg, L/100 km):
2WD:
4WD:


city/hwy 17/24 mpg (13.8/9.8 L/100 km)
city/hwy: 16/22 mpg (14.7/10.7 L/100 km)


Recommended fuel:
87 Octane
Fuel tank capacity:


20.1 US gallons (76.0 liters)


Engine oil:
With oil filter change:



5.5 US qt (5.2 liters)



By Samarins.com Staff
---