What to look for when buying a used Ford Explorer
Updated: April 10, 2017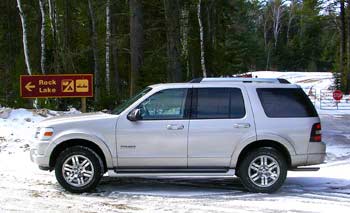 2006 Ford Explorer.
Ford Explorer is a mid-size truck-based SUV, available in 5, 6, or 7-passenger configuration, with V6 or V8 power. It offers a roomy interior and quiet comfortable ride.

The V8 Explorer is a good choice for towing. Maximum towing capacity ranges from 3,500 lb. to 7,300 lb. (when properly equipped) depending on the drivetrain, rear axle ratio and number of seats. Is a used Ford Explorer a good choice? How is the reliability and what are the common problems? Read further to find out.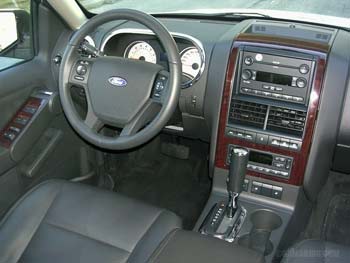 Ford Explorer 2006 interior.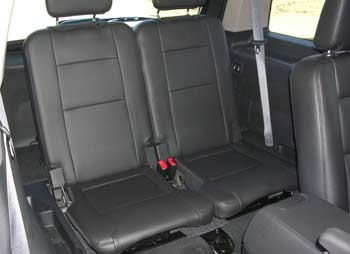 Ford Explorer third row seat

Interior: The 5- and 7-passenger models have a bench seat in the second row. The 6-passenger Explorer comes with second-row bucket seats and a large fold-out center console.
Seats are comfortable. Second- and third-row seats fold down flat. Third-row seats are low to the floor and have thin padding, but the head- and legroom is not bad. The liftgate glass opens separately. Available features include power-adjustable pedals, rear climate controls, rear DVD and power folding third-row seats.

Mechanical: The Explorer comes as a rear- or four-wheel drive, with an independent front and rear suspension. Powertrain choices include a V6 with a five-speed automatic or V8 with a six-speed automatic. The base 210-hp 4.0L V6 is adequate for daily driving. The optional 292-hp 4.6L SOHC V8 has more guts and is quieter. Both the V6 and V8 are solid engines and can last long if maintained well.

Fuel Economy: The EPA rates both the V6 and V8 4WD 2007 Explorer at 13/18 mpg (18.1/13.1 L/100 km) city/highway. This is about average for a truck of this size. On a highway trip, the 4WD Explorer can go up to 344 miles (554 km) on a full tank (22.5 US gallons or 85.2 liters).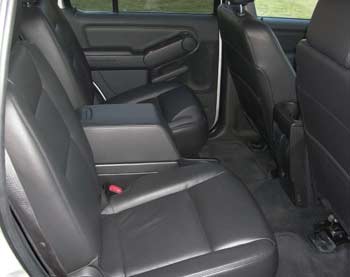 Ford Explorer 2006 interior.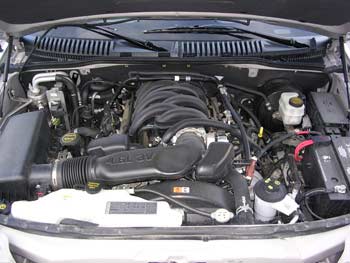 Ford Explorer third row seat

Handling and ride: The Explorer handles well, but not sporty. The ride is smooth and very quiet. Bumps, potholes and cracks in the asphalt are soaked well by the suspension.

We took the 4X4 Explorer on a few snow-covered trails with steep hills and it handled with confidence; the all-wheel drive system worked very well.

Safety: Antilock brakes and AdvanceTrac stability control system are standard. Side and side curtain airbags are available. Trailer Sway Control is standard from 2009.

The 2006-2010 Ford Explorer received five out of five stars in the NHTSA front and side-impact crash tests, but only three out of five stars in rollover tests.

Pros: Ride comfort, V8 power, quiet roomy cabin, available third-row seating, standard stability control, sound system, towing capacity, off-road capability, visibility.

Cons: Gas mileage, poor rollover ratings, reliability is not better than average, cup holders are too close to the transmission shifter, dirt from the front wheel splashes on the doors, limited cargo space behind the third row.

More reviews:
Ford Explorer reliability and common problems: Consumer Reports rates the Explorer poorly for reliability, with Transmission getting the worst marks. Only the 2010 Explorer is rated average as of 2018.
Common problems include various transmission issues, leaking radiators in the 2006 model, electrical problems, faulty ignition switch, bad wheel bearings, bad ignition coils, throttle body and emission control system faults.
We recommend avoiding the 2006 V6 Explorer, as the leaking radiators in them were causing the engine to overheat. Some of the 2007 models were affected by this issue too. An engine that has been overheated is more likely to have more problems in the future.
Check history records to find out if the truck had any reported accidents or other issues.
When inspecting the truck, watch out for low engine coolant level and coolant leaks from the radiator and thermostat housing. Check if the CD/DVD players work. Test all the heater and air conditioner modes.
Once the engine is started, all the warning lights on the dash should go out; if any of the warning lights stays on, there is a problem.
During a test drive, pay attention to the way the transmission shifts; there should be no jerks or jolts; all shifts should be smooth. There should be no clunk when coming to a stop. Unstable idle, stalling, hesitation are signs of problems. Watch out for noises from the drivetrain and suspension.
A humming or growling noise and looseness in the front end could be caused by a bad front wheel bearing. Before signing the contract, have the truck inspected by an independent mechanic. Ask to test the transmission and 4WD system.
Guides for used car buyers:
Maintenance: Have the oil changes done in recommended intervals to keep the engine in good shape. Regularly check the coolant level; if you notice coolant leaks on your parking spot or if the engine temperature starts rising more than usual, have the truck checked out.
The Explorer is a tall heavy SUV with high center of gravity. This type of vehicles have higher rollover rates, especially with a heavy load, so good tires as well as the proper tire pressure are very important. Check tire pressure regularly. Incorrect tire pressure can also cause problems with the 4WD system and the ABS. For the same reason, it's also important to have all four tires of the same brand and size.
If you have concerns with the way the transmission shifts, have it checked out before it gets worse. Some problems, if caught early, can be less expensive to repair.
If your truck needs a new ignition coil, it's a good idea to replace all the spark plugs as well. At least once a year, have your truck inspected in a repair shop on the hoist to keep it safe.
You might also be interested:
Resources:
Recalls: Safety Recalls - NHTSA or Transport Canada - Motor Vehicle Safety Recalls.
Ford Owners - check the maintenance schedule or download an electronic copy of the owner's manual.
Ford Trucks - Ford enthusiasts forum

More photos:
2007 Ford Explorer specifications
Dimensions:
Overall length:
Overall width:
Overall height:
Wheelbase:
Ground clearance:


193.4 in (4912 mm)
73.7 in (1872 mm) - excluding mirrors
72.8 in (1849 mm)
113.7 in (2888 mm)
8.2 in (208 mm)


Seating capacity:


5, 6 or 7 passenger


Engine:
V6:


V8:



4.0-liter, V6, 12-valve SOHC
210 hp @ 5,100 rpm, 254 lb-ft @ 3,700 rpm

4.6-liter, V8, 24-valve SOHC
292 hp @ 5,750 rpm, 300 lb-ft @ 3,950 rpm

EPA Fuel Economy (US mpg, L/100 km):
4.0L V6 engine, 2WD:


4.6L V8 engine, 2WD:


4.0L V6 engine, 4WD:


4.6L V8 engine, 4WD:


city: 14 mpg (16.8 L/100 km)
hwy: 20 mpg (11.8 L/100 km)

city: 13 mpg (18.1 L/100 km)
hwy: 20 mpg (11.8 L/100 km)

city: 13 mpg (18.1 L/100 km)
hwy: 18 mpg (13.1 L/100 km)

city: 13 mpg (18.1 L/100 km)
hwy: 18 mpg (13.1 L/100 km)


Recommended Fuel:


87 octane


Fuel Tank Capacity:


22.5 US gallons (85.2 liters)


Engine oil capacity:
4.6L engine
4.0L engine


6.0 US qt. (5.7L)
5.0 US qt. (4.7L)