Subaru Outback 2005-2009: problems, pros and cons, reliability, photos
Updated: January 22, 2022
During the increased interest in SUVs in the 90s, Subaru had no SUV in its lineup.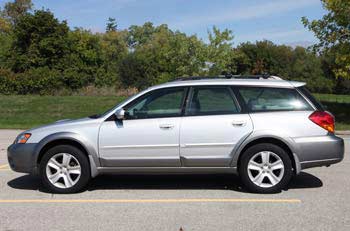 2005 Subaru Outback. Click for a
larger photo
.
Subaru came up with the stylish Outback, which is a more rugged Subaru Legacy with added ground clearance. The name "Outback" means Australian backcountry.
The 2005-2009 Outback comes with standard all-wheel drive and a horizontally opposed 4- or 6-cylinder "boxer" engine. It offers an upscale, feature-rich interior, competitive handling, fairly smooth ride and good crash test scores. In the Outback wagon, the roof rails can be outfitted to carry a bike, canoe or skis. The Subaru all-wheel drive system is one of the best out there. Is the Subaru Outback reliable? What are the common problems?
Reported Problems:
Exhaust problems:
A failed catalytic converter can cause the Check Engine light to come on with the code P0420. Exhaust leaks and loose/rattling heatshields are also common. A local muffler shop is probably the best place for these types of repairs. They can fabricate/weld some exhaust parts on the spot or fit a cheaper universal aftermarket catalytic converter. In some cases, a rattling exhaust heatshield can be easily secured with a worm gear clamp. Watch these
videos
on heatshield rattle repairs.
Misfiring:
A lack of power, engine shaking and the Check Engine light with code
P0301-P0306
are commonly caused by misfiring of one of the cylinders. Often it happens when the engine is first started in the morning. The misfiring can be caused by several different reasons including fouled spark plugs, worn ignition cables, oil leaking into the spark plug wells and cracked/rusted ignition coil pack. The repair will depend on the diagnosis. Spark plugs are typically checked first.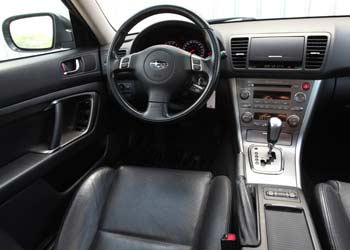 2005 Subaru Outback interior.
Head Gaskets:
The head gaskets are known to leak at higher mileage causing overheating, loss of coolant and oil/coolant leaks. Replacing the head gaskets is expensive: 9-11 hours of labor for both sides (in the 2.5L engine) plus the parts. On the other hand, many wear parts including the timing and drive belts, seals, gaskets, water pump, etc. can be replaced at the same time. If needed, the cylinder heads can also be sent out to a machine shop to be rebuilt at the same time. The overall cost of repair ranges from $1,500 to $3,700 depending on the scope of the repair. The quality of repair makes a big difference in the longevity of new head gaskets. There are many
Youtube videos
describing the DIY repair and it's even possible to replace a head gasket without removing the engine.
CV axles:
The Outback has four CV axles and over time the CV boots break and the CV joints wear out. A worn CV joint can cause a clicking noise when turning and a vibration when accelerating straight. Replacing one front CV axle will cost 1.4-1.6 hours of labor plus the part. The replacement of the rear CV axle is more expensive: 3.0-3.5 hours of labor plus the part for one side. In some cases if the CV boot is broken and the CV joint is still in good shape, the CV boot can be replaced separately, which is cheaper. Read more about
CV joints
.
Wheel bearings:
Many owners reported that the wheel bearings needed to be replaced. A typical symptom of a bad wheel bearing is a humming noise that becomes more pronounced at highway speeds. The car must be properly diagnosed to find out which wheel bearing is noisy. Replacing one wheel bearing will cost 1.3-1.5 hours of labor plus the part. In the Rust Belt, any repairs of underneath components may require more work and additional parts.
There are quite a few complaints, including on the NHTSA website about the rear suspension-related handling issues on icy or rough roads with a full load. This
thread
looks closely into this issue.
Engine:
The base 2.5-liter non-turbo
SOHC
engine offers a simple design, decent power and reasonable fuel economy.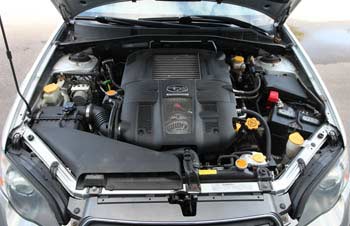 Subaru Outback 2.5-liter turbo engine
Click for a
larger image
The i-Active Valve Lift System, which was added for 2006, has increased the engine power to 176 horsepower.
The turbo-charged intercooled 2.5-liter
DOHC
engine is quick, however, as with any car, the turbo adds more stress on the engine. The turbocharged engine is more expensive to maintain and requires premium gasoline. Both 2.5L 4-cylinder engines have a
timing belt
that must be replaced at recommended intervals. Read also:
Pros and cons of turbo engines
.
The advanced 3.0L H6 DOHC is a good motor, but the 3.0R Outback is rare.
Pros:
Capable AWD system, upscale interior, smooth ride, tight turning radius, crash-test scores, visibility, decent ground clearance, low center of gravity, standard roof rails
Cons:
Fuel economy could be better, tight rear seat space, lack of the steering wheel telescopic adjustment in early models, body roll during cornering, handling when fully loaded, engine and driveline problems.
Overall:
The 2.5L non-turbo Outback is easier to maintain and can run on regular gasoline. As of January 2022, Consumer Reports rates the overall reliability of the 2009 and 2010 Subaru Outback as 'average', while the 2005-2008 model years are rated 'below average'. On the plus side, the Subaru AWD system is one of the best on the market. For this review, we test-drove the 6-year old Outback with 66K miles and it didn't have any issues. The Outback holds its value well, but with mileage, repair and maintenance costs could be higher than average, especially for turbocharged models.
Related reviews:
Subaru Forester 2003-2008 review
Subaru Forester 2009-2013 review
Subaru Outback 2010-2014 review
Toyota Camry 2007-2011 review
Honda Accord 2008-2012 review
Nissan Rogue 2008-2013 review
Toyota RAV4 2006-2012 review
Honda CR-V 2007-2011 review
Ford Escape 2008-2012 review
Jeep Patriot 2007-2017 review
What to look for when buying a used Subaru Outback:
Unevenly worn tires may indicate a problem with the wheel alignment. A low oil level may indicate that the engine consumes oil. Watch out for a coolant smell under the hood or low coolant level, as it might point to a coolant leak, possibly even from one of the head gaskets. For a manual transmission, check the clutch operation. During the test drive, if you feel that the wheels are "binding" during turns, there is a problem with a 4WD system. Check if the
timing belt
has been replaced on a 4-cylinder engine. A humming or growling noise coming from one of the wheels could indicate a bad wheel bearing. If you notice a blue smoke from the exhaust at startup, avoid the car. Watch out for the "Check Engine" or any other warning light coming on after the engine is started; this indicates a problem. Read more tips:
How to inspect a used car - illustrated guide
. Before making a final decision, have the car inspected by a mechanic, specifically to check carefully for head gasket issues.
Lineup:
For the 2005 model year, the Outback was available as a 5-door wagon or 4-door sedan (only 5-door wagon in Canada). In the US, the Outback sedan didn't sell well and was later discontinued. The Outback was offered in three basic models: 2.5i, 2.5XT, 3.0R and each model was available with different equipment levels. A manual transmission is only available in 4-cylinder models.
AWD system:
The Outback uses Subaru Symmetrical All-Wheel Drive. See how it works on Subaru website:
Subaru Engineering
. To distribute the torque between front and rear axles, the Outback models with manual transmission use a viscous-type locking center differential, while the 4-speed automatic models utilize an electronically controlled variable transfer clutch.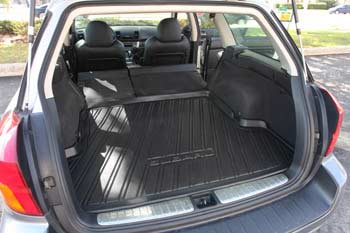 Rear seats fold flat.
Models with 5-speed automatic transmission use an electronically controlled variable transfer clutch in conjunction with a planetary-type center differential. A limited-slip rear differential is included with each setup.
Interior:
The Outback's interior is well designed with excellent fit and finish, and luxury feel. The controls are simple and well laid out. The center stack is tilted towards the driver. Front seats are comfortable, with good support. Large side mirrors and tall windows offer good visibility. The fit and finish is very good. Even the base models are well equipped. The split rear seat folds down almost flat, giving the Outback plenty of cargo space. On the downside, the rear seat space is tight and the steering telescopic adjustment was only available from 2008.
Fuel Consumption
EPA Fuel Economy:
mpg
city/hwy
L/100 km
city/hwy
2005-2009 Outback 2.5L auto
20/26
11.8/9.0
2005-2007 Outback 2.5L manual
20/26
11.8/9.0
2008 Outback 2.5L manual
19/26
12.4/9.0
2009 Outback 2.5L manual
20/27
11.8/8.7
2005-2006 Outback 2.5L turbo, auto, manual
17/23
13.8/10.2
2007-2009 Outback 2.5L turbo, auto, manual
18/24
13.1/9.8
2005, 2007 Outback 3.0L H6
17/23
13.8/10.2
2006, 2008 Outback 3.0L H6
17/24
13.8/9.8
Fuel Economy:
The non-turbo 2.5L 4-cylinder Outback is one of the most fuel-efficient vehicles with all-wheel drive. It also can run on regular gasoline. Turbocharged and H6 models are rated for premium gasoline.
Handling and ride:
The Outback handles well with a tight turning radius. The long-travel suspension absorbs even the large road bumps well, but as a trade-off, the body roll is pronounced during cornering. The ride is smooth and quiet.
Safety:
Anti-Lock brakes (ABS), side and side curtain airbags are standard. Vehicle stability control is only available on 3.0R VDC models. The 2005-2009 Subaru Outback received 5 stars out of 5 in the NHTSA front and side impact crash tests.
Maintenance:
To keep your motor in good shape, have your oil changed regularly. A turbocharged engine is more sensitive to oil quality; use only a good-quality oil. Regularly check the tire pressure. The Outback's handling is sensitive to problems with the wheel alignment, so it might be a good idea to have the four-wheel alignment done once in a while. Overheating the engine may cause serious damage. Check the coolant level periodically and keep it topped up. The 2008 Subaru Outback's owner's manual recommends using a genuine Subaru coolant. It says:
Use of improper coolants may result in corrosion in the cooling system
. In the 2.5L engine, the
drive belt
tension needs to be checked periodically and adjusted if needed. If any of the belts is loose, it will produce a squealing noise at a start-up or when turning the steering wheel to the limit. For the repairs, take your Subaru to a dealer or a mechanic closely familiar with Subaru products; there are many specifics.
Engine oil capacity:
2.5L models: 4.2 US qt (4.0 liters)
3.0L models: 5.8 US qt (5.5 liters)