Subaru Forester 2003-2008: problems to watch out for, fuel economy, AWD system, driving experience
Updated: October 30, 2018
No other SUV can compete with the Forester when it comes to a comfortable ride, fuel economy, AWD and excellent visibility. The Suby offers a 4-cylinder horizontally-opposed 'boxer' engine and standard all-wheel drive. Subaru all-wheel drive system is one of the best out there. The 2003-2008 Forester got 5-star ratings in the NHTSA crash tests.

The interior is simple and functional. Front seats are supportive and comfortable on long trips. An optional sunroof is huge. Available front and rear wiper deicers along with heated seats and mirrors are a big plus for winter conditions. Is the Forester reliable? Read more below.


Powertrain: The Forester offers two engines: the 173-hp 4-cylinder 2.5L SOHC and the turbo-charged 224-hp 2.5L DOHC. Both are flat Boxer engines with cylinders arranged horizontally; two cylinders on each side. Read also: Pros and cons of buying a car with a turbocharger

Both engines have a timing belt that must be replaced at recommended intervals. A turbo-charged DOHC engine requires premium gasoline. Transmission choices include a 5-speed manual with Hill Holder clutch or 4-speed automatic.

Fuel Economy: The 2008 AWD Forester with a non-turbo engine and an automatic transmission is rated at 20/26 mpg (11.8/9.0 L/100 km) by the EPA, with yearly fuel costs estimated at $2,550 with average driving. This means that on one full 16.9-gallon (64 liter) tank, the Forester can travel for 335 miles (538 km).
Handling and ride: On the road, the Forester is fun to drive. The flat horizontally placed engine gives the Forester a low center of gravity and as a result, the tall Forester feels very stable on winding roads. At the same time, the ground clearance is high enough not to worry about hitting curbs.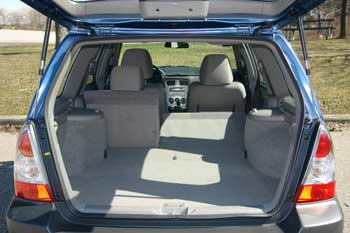 The Forester offers 64.5 cu. ft (1826 L) of cargo space
with the rear seats folded down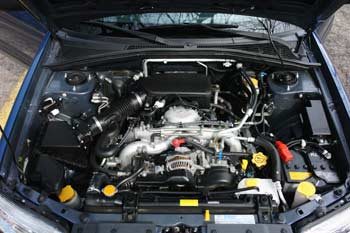 Subaru Forester 2.5-liter engine
Overall, handling is secure with minimal body roll even in tight corners. The steering is on the light side, but precise, with tight turning radius. The ride is fairly smooth. There is some wind and road noise at higher speeds, but not too intrusive. The non-turbo 2.5L engine has enough power for everyday driving. A turbo-charged engine is quicker, but is more expensive to maintain.

AWD System: What makes Subaru special is its Symmetrical All-Wheel Drive where left and right axles are of the same length. Models with a manual transmission have an AWD system with a central limited slip differential. In automatic models the torque distribution between the front and rear axles is controlled electronically by a hydraulic transfer clutch.

A viscous limited-slip rear differential is available. Although the Forester's AWD system is not designed for rock climbing, it works well on slippery roads or in moderate off-road conditions. We drove the Forester through foot-deep snow and the vehicle handled with confidence.

Safety: Anti-lock Brakes (ABS) are standard. The 2003-2008 Subaru Forester received perfect five-star ratings in the NHTSA frontal and side-impact crash tests and four stars in dynamic rollover tests. The Forester earned the 2008 Top Safety Pick award from the IIHS.

Pros: Good fuel economy for an SUV, safety ratings, capable AWD system, low center of gravity, car-like handling, compliant ride, tight turning radius, visibility, decent ground clearance, standard roof rail.

Cons: Engine problems, plain interior, road and wind noise, tight rear seat space, no telescopic adjustment on the steering column, small cup holders.


Similar cars:
Overall: The reliability was OK for a while, but with age, failed catalytic converters, blown head gaskets and other problems started to show up. Several owners mentioned that they opted for an aftermarket catalytic converter that is much cheaper than the OEM. At higher mileage the engine misfiring is often reported. Oil leaks from seals and gaskets are common. If a large amount of oil leaks out, the engine can get damaged from running low on oil.

There was also a recall for rusted control arms. Bad wheel bearings, CV-joints and struts are not uncommon. Rattling heat shields could be annoying but not expensive to repair.
On the plus side, the Forester has scored well in the crash-tests. It offers great all-around visibility and decent towing capacity for a small SUV. The AWD system is good too. Features like built-in roof rails and wiper deicers can be helpful.

You might also be interested:
What to look for when buying a used Subaru Forester: If the engine has been overheated in the past, avoid the car, overheating can cause many problems down the road. Watch for oil and coolant leaks; the repair might be quite expensive. A burn oil or coolant smell coming under the hood is an indication of leaks.
For models with a manual transmission, test the clutch. Watch for a piston slap noise (tapping or knocking) when the car is started cold. Check if the timing belt has been replaced. If you notice blue smoke from exhaust, or from under the hood, especially when the engine is started, avoid the car. Read more: what to look for when buying a used car. Have the vehicle inspected by a mechanic familiar with Subaru before signing a contract.

Maintenance tips: Have your oil changed regularly, for the engine to last. A turbocharged engine is more sensitive to the oil quality; use only good quality oil. Check your tire pressure regularly; unequal tire pressure will cause increased wear of the 4WD system components. Overheating the engine may cause expensive damage; check the coolant (antifreeze) level regularly and have it topped up if it's low. Subaru recommends using a special cooling system conditioner whenever coolant is changed, check with your Subaru dealer.

Resources:
Recalls: Safety Recalls - NHTSA or Transport Canada - Motor Vehicle Safety Recalls.
Subaru For Owners - Owner's Manuals and downloads, warranties and more. Subaru of America.
Subaru Forester short specifications (2008 US model)
Dimensions:
Wheelbase:
Overall length:
Overall width:
Overall height:
Non-turbo models:
Turbo models:
Ground clearance:
Non-turbo models:
Turbo models:


99.4 in (2,525 mm)
176.6 in (4,485 mm)
68.3 in (1,735 mm)

62.6 in (1,590 mm)
62.4 in (1,585 mm)

8.1 in (205 mm)
7.9 in (200 mm)


Seating capacity:


5


Cargo capacity:
Without moon roof:
rear seat backs up:
rear seat backs down:
With moon roof:
rear seat backs up:
rear seat backs down:




30.7 cu. ft. (869 L)
68.6 cu. ft. (1,943 L)

28.9 cu. ft (818 L)
64.5 cu. ft (1,826 L)


Towing Capacity:


2,400 lb. (1087 kg) - when towing a trailer with brakes.


Engines:
X-models



XT-models


2.5-liter, all-aluminum, horizontally opposed
4-cylinder, SOHC, 16-valve, with variable valve lift;
173 hp @ 6,000 rpm, 166 lb-ft @ 4,400 rpm

2.5-liter, all-aluminum, horizontally opposed,
turbocharged/intercooled
4-cylinder, DOHC 16-valve, with variable valve timing;
224 hp @ 5,600 rpm, 226 lb-ft @ 3,600 rpm



EPA Fuel Economy (US mpg, L/100 km):
2.5L Non-turbo, Manual:


2.5L Non-turbo, Automatic:


2.5L Turbo, Manual:


2.5L Turbo, Automatic:



city: 20 mpg (11.8 L/100 km)
hwy: 27 mpg (8.7 L/100 km)

city: 20 mpg (11.8 L/100 km)
hwy: 26 mpg (9.0 L/100 km)

city: 19 mpg (12.4 L/100 km)
hwy: 25 mpg (9.4 L/100 km)

city: 18 mpg (13.1 L/100 km)
hwy: 23 mpg (10.2 L/100 km)


Recommended Fuel:


Non-turbo models:
Turbo models:


Regular 87
Premium 91


Fuel Tank Capacity:


15.9 US gallons (60 liters)


Engine Oil Capacity:


4.2 US qt (4.0 liters, 3.5 Imp qt)


By Samarins.com Staff
---