2006-2012 Toyota RAV4 review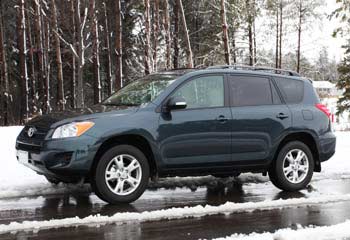 2011 Toyota RAV4
Toyota RAV4 is one of the best small SUVs on the used car market. The RAV4 is agile and fun to drive; it offers a practical interior and decent cargo space. A used Toyota RAV4 is reliable, but there are some issues to watch out for; read below.
The 2006-2012 Toyota RAV4 comes with either front-wheel drive or four-wheel drive and only an automatic transmission. The RAV4's on-demand 4WD system is not designed for off-roading, but should give you more stability and control in all weather conditions. Third-row seating was available, but this option is rare to find. Inside, the RAV4 is comfortable with more rear seat space than in some larger SUVs. Controls and gauges are simple and user-friendly. The steering tilts and telescopes. Front cup holders are illuminated. The 60/40 split second-row seat reclines, slides forward or backward or folds down for extra cargo space. There is a large storage under the trunk cover. A roof rack is optional.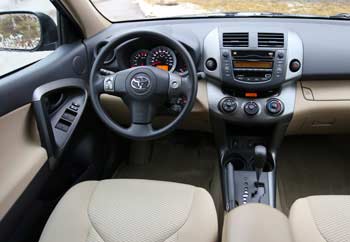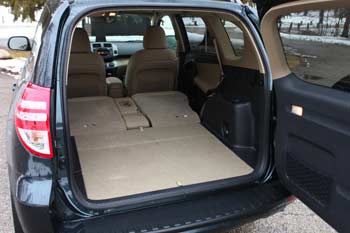 Rear seats folded down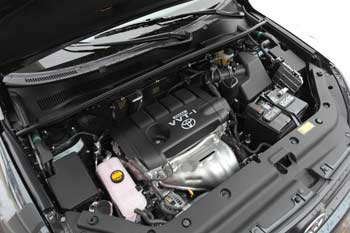 2011 Toyota RAV4 2.5L engine
Engine: The 2006-2008 4-cylinder RAV4 models have the 166-hp 2.4L DOHC (2AZ-FE) engine. Starting from 2009 model year, the 179-hp 2.5L 4-cylinder (2AR-FE) became the base engine.
The optional 269-hp 3.5L V6 makes the V6 RAV4 one of the fastest Toyota vehicles.
All three engines are very reliable and all three have a timing chain; there is no timing belt.

Fuel Economy: The 4-cylinder Toyota RAV4 has one of the best gas mileage ratings for a non-hybrid SUV with all-wheel drive.
The 2006-2008 2.4L 4-cylinder AWD Toyota RAV4 gets 20 mpg city and 25 mpg highway (11.8/9.4 L/100 km).
The 2009-2012 2.5L 4-cylinder AWD RAV4 is rated at 21/27 mpg (11.2/8.7 L/100 km).
With 20 percent city, 80 percent highway use, the 2009 AWD 4-cylinder RAV4 can drive up to 372 miles (599 km) on a 15.9-gallon (60 L) tank.

Mechanical: The RAV4 has four-wheel independent suspension with McPherson struts in the front and trailing double wishbone in the rear. The power steering is electrically assisted.  Four-wheel-disc brakes are standard. FWD models come with a standard limited slip differential.

4WD: The RAV4 all-wheel drive system has an electronic controlled coupling to distribute torque between the front and rear wheels. It allows the RAV4 to switch from FWD to 4WD automatically and seamlessly when needed. We drove the 4WD RAV4 in various snowy and icy conditions, and with winter tires it felt secure. All V6 RAV4 models as well as all 4-cylinder models with a third-row seat come standard with Hill-start Assist Control (HAC) and Downhill Assist Control (DAC).

Handling and ride: On the road, the RAV4 feels more like a tall car than an SUV. It handles easily and feels very agile. The ride is comfortable; road imperfections are nicely absorbed. The electrical steering is light and responsive. The turning radius is small. The visibility is very good in the front; rear pillars are thick but large side mirrors help make up for that.

Safety: Anti-lock Brakes (ABS), Vehicle Stability Control (VSC) with Traction Control (TRAC) are standard. In the government frontal crash tests, the 2006-2010 Toyota RAV4 received five stars for the driver and four stars for the front passenger. In the side-impact crash test, the RAV4 got five stars for both the driver and the rear seat passenger.

Pros: Fuel economy (4-cylinder model), reliability, comfortable ride and car-like handling, decent cargo space, plenty of storage areas, small turning radius.

Cons: Front seats lack support on long trips, no manual transmission available, rear gate opens toward the curb.

Similar cars:
Overall: Toyota RAV4 is a great choice if you need a practical, easy to drive SUV with good fuel economy. Unless you really need extra power, we recommend a 4-cylinder model, as it is better on gas and easier to maintain. The RAV4 is reliable and with good care it shouldn't have too many problems in the long run. Read about common problems and what to look for on the next page.