2006-2012 Toyota RAV4: fuel economy, engine, problems, photos
Updated: October 14, 2019
The name RAV4 stands for Recreational Activity Vehicle with 4-wheel drive. The 2006-2012 Toyota RAV4 comes with either front-wheel drive or four-wheel drive and only an automatic transmission. It's a practical compact SUV; one of the best one the market.
The RAV4's on-demand 4WD system is not designed for real off-roading, but works well in adverse weather.

The third-row seating option is available but rare. A used Toyota RAV4 is a safe bet, but there are some issues to watch out for; read below.

Engine: The 2006-2008 4-cylinder RAV4 models have the 166-hp 2.4L DOHC (2AZ-FE) engine. The 2009 and newer RAV4 comes with the 179-hp 2.5L inline-4 (model 2AR-FE), which is one of the most reliable engines.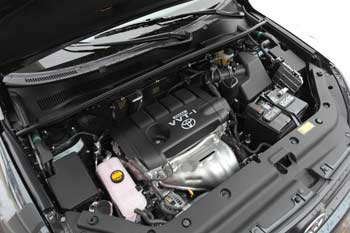 2011 Toyota RAV4 2.5L engine has a long-lasting timing chain, there is no timing belt to worry about.
The optional 269-hp 3.5L V6 turns the RAV4 into a rocket. All three engines have a timing chain; there is no timing belt.

Problems: There is a number of complaints about a leaking water pump (part of the engine cooling system). Replacing the water pump in a 4-cylinder engine could cost from $400 to $650. Judging by the Consumer Reports ratings, some of the 2006-2008 RAV4 were affected.
A clunking or knocking noise when turning the steering wheel left or right could be caused by a worn-out intermediate steering shaft. The intermediate shaft replacement costs $320-$480. We also found a few reports where the whole steering rack had to be replaced, which is more expensive. This forum has more info.
Failed ignition coils are quite common too. When replacing a failed ignition coil, it's a good idea to change all the spark plugs too.
In 2015, Toyota issued the Warranty Enhancement Program: ZE7 Extension of Warranty Coverage for 2AZ Engine Oil Consumption in the 2006-2008 RAV4 2.4L engine. Read more at this forum.
According to the service bulletin T-SB-0041-13, the brief knock/rattle noise from the 1AR-FE and 2AR-FE engine can be caused by a faulty camshaft timing gear assembly (VVT gear). To correct the problem, the gear must be replaced. The bulletin quotes 2.4 hours labor.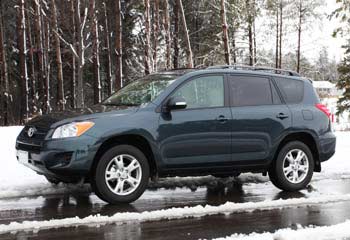 2011 Toyota RAV4
Fuel Economy: The 4-cylinder Toyota RAV4 has one of the best gas mileage ratings for a non-hybrid SUV with all-wheel drive.
The 2006-2008 2.4L 4-cylinder AWD Toyota RAV4 gets 20 mpg city and 25 mpg highway (11.8/9.4 L/100 km).
The 2009-2012 2.5L 4-cylinder AWD RAV4 is rated at 21/27 mpg (11.2/8.7 L/100 km).
With mostly highway driving, the 2009 AWD 4-cylinder RAV4 can go for up to 413 miles (665 km) on a 15.9-gallon (60 L) tank.

Mechanical: The RAV4 has four-wheel independent suspension with MacPherson struts in the front and trailing double wishbone in the rear. The power steering is electrically assisted. Four-wheel-disc brakes are standard. FWD models come with a standard limited slip differential.

4WD: The RAV4 all-wheel drive system has an electronic controlled coupling to distribute torque between the front and rear wheels. It allows the RAV4 to switch from FWD to 4WD automatically and seamlessly when needed. We drove the 4WD RAV4 in various snowy and icy conditions, and with winter tires it felt secure.
All V6 RAV4 models as well as all 4-cylinder models with a third-row seat come standard with Hill-start Assist Control (HAC) and Downhill Assist Control (DAC).

Interior: Inside, the RAV4 is comfortable with more rear seat space than in some larger SUVs. Controls and gauges are simple and user-friendly. The steering tilts and telescopes. Front cup holders are illuminated. The 60/40 split second-row seat reclines, slides forward or backward or folds down for extra cargo space (73 cu. ft. with seats folded). There is a large storage under the trunk cover. A roof rack is optional.

Driving experience: On the road, the RAV4 feels more like a tall car than an SUV. It handles easily and feels very agile. The ride is comfortable; road imperfections are nicely absorbed. The electrical steering is light and responsive. The turning radius is small. The visibility is very good in the front; rear pillars are thick but large side mirrors help make up for that.

Safety: Anti-lock Brakes (ABS), Vehicle Stability Control (VSC) with Traction Control (TRAC) are standard. In the government frontal crash tests, the 2006-2010 Toyota RAV4 received five stars for the driver and four stars for the front passenger. In the side-impact crash test, the RAV4 got five stars for both the driver and the rear seat passenger.

Similar cars:
Pros: Fuel economy (4-cylinder model), reliability, comfortable ride and car-like handling, decent cargo space, plenty of storage areas, small turning radius.

Cons: Front seats lack support on long trips, no manual transmission available, rear gate opens toward the curb.

Overall: Toyota RAV4 is a practical, easy to drive SUV with good fuel economy. Unless you really need extra power, we recommend a 4-cylinder model, as it is better on gas and easier to maintain. The 2.5L 4-cylinder engine in the 2009+ RAV4 is a better choice; it's more reliable and with good care it shouldn't have too many problems. There is a number of complaints about the oil consumption in the 2.4L 2AZ engine of the 2006-2008 RAV4. Considering this, it's a good idea to check the oil level regularly and keep it topped up.


You might also be interested:
What to look for when buying a used Toyota RAV4: During a test drive, watch out for a whining or humming noises from the drivetrain. This would indicate a problem.
Watch for knocking, clunking or rattling noise from the steering when driving over small bumps or rough road. When the car is parked, try shaking the steering left and right; there should be no clunking noises. Check for leaks. Check the engine oil level; low oil level could be an indication that the engine burns oil.
If any of the warning lights come on after the engine is started, this indicates a problem. Some of the issues causing the "Check Engine" light to come on could be quite expensive to repair. For example, some of the issues with an evaporative system could require a replacement of the charcoal canister; which is a few hundred dollar repair. Read more what to look for when buying a used car. Before buying a used RAV4, have it inspected by your mechanic and check for recalls: Safety Recalls - NHTSA or Transport Canada - Motor Vehicle Safety Recalls

Maintenance: Change engine oil regularly. Toyota recommends using 5W-20 or 0W-20 oil for the 4-cylinder engine and 5W-30 oil for the V6. Keep the engine coolant and other fluids clean and topped up. When adding or changing transmission fluid, make sure to use only the recommended type; wrong transmission fluid type can cause problems. In 4WD models you also have the transfer case oil and the rear differential oil that need to be changed at recommended intervals. By Samarins.com Staff
---