Toyota RAV4 2001-2005: problems, fuel economy, driving experience, photos, maintenance tips
Updated: February 27, 2019
The name RAV4 stands for Recreational Active Vehicle with 4-wheel-drive. The RAV4 is available as two- or four-wheel drive; it rides on a car-based platform with a 4-cylinder engine and a five-speed manual or four-speed automatic transmission. What is unique about this vehicle is that it has an optional full-time AWD system with a viscous limited-slip center differential.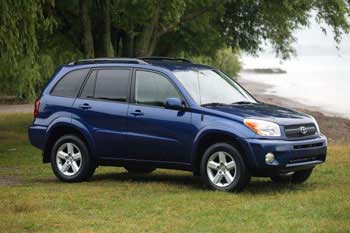 2001 - 2005 Toyota RAV4 (XA-20), (Photo: Toyota Canada)
This means the RAV4 AWD system is always on. The majority of modern compact SUVs have a front-biased on-demand AWD where the rear axle only engages when required.

The 2001, 2002 and 2003 RAV4 came with the 148-hp 2.0-liter 4-cylinder DOHC 1AZ-FE engine. Many owners report this engine lasting over 200K with good maintenance. Starting from the 2004 model year, the RAV4 received a 161-hp 2.4-liter 2AZ-FE engine. Overall, the RAV4 is a good little SUV, but not without some problems; read details below.

Timing belt or chain Both 1AZ-FE and 2AZ-FE engines have a maintenance-free timing chain; there is no timing belt.

Toyota RAV4 problems: A faulty ECM (engine computer) in 2001-2003 models can cause a problem with the way the automatic transmission shifts. According to many sources, the ECM warranty has been extended to 10 years or 150,000 miles. If you suspect having this problem in your RAV4, you might want to check with a Toyota dealer. The ECM needs to be replaced with an updated part to address this issue. Aftermarket parts are available, but check the ratings and reviews before buying.
Leaking engine valve seals can cause a blue or grey smoke at start-up.
An air/fuel ratio sensor is fairly common to fail, often causing the Check Engine light with the code P1155. Replacing the air-fuel ratio sensor costs $65-$320 part plus $50-$150 labor. The mass airflow sensor can get dirty causing hesitation on acceleration.
A worn-out steering rack can cause a clunking noise in the steering. Replacing a steering rack could cost from $600 to $1,000.
The hinges of the rear swing door can wear out due to lack of lubrication and heavy spare tire.
2005 Toyota RAV4 interior. (Photo: Toyota Canada)
This may cause the rear swing door to be difficult to close. That's why it's important to have the hinges well lubricated.
The difference in tire pressure or tire size can cause issues with the AWD system. It's important to keep the tire pressure up to the specs in all tires.
There is a number of reports of the stripped treads in the 2004-2005 2.4L 2AZ-FE engine cylinder block. The repair is quite expensive. Symptoms include coolant leaks on the back of the engine, overheating, misfiring at startup, running rough. We found the Toyota TSB T-SB-0015-11 on this issue that says to install Time Sert® thread repair inserts.

Inside: The RAV4's interior is simple and comfortable. High driving position offers very good all-around visibility. Controls are conveniently located and easy to use. The fit and finish is good. The rear swing door glass does not open separately as in the Honda CR-V, but the low cargo floor makes loading easier. On the downside, the cargo space is limited.

Handling: Toyota RAV4 is agile and fun to drive.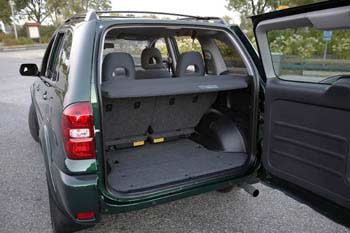 2005 Toyota RAV4. (Photo: Toyota Canada)
It handles like a car. The tight turning circle makes it maneuverable around town. The engine is a bit noisy and lacks highway passing power, but is very fuel-efficient.

Pros: Sleek styling, available full-time AWD, versatility, fuel economy, car-like handling, fun to drive, reliability

Cons: Front seats are not very comfortable, limited space, rear door glass doesn't open separately, lack of highway passing power, road noise, engine noise, rattles


Toyota RAV4 EPA Fuel Economy:
mpg
city/hwy
L/100 km
city/hwy
2001-2003 2WD manual
22/28
10.7/8.4
2004-2005 2WD manual
21/27
11.2/8.7
2001-2003 2WD auto
21/26
11.2/9.0
2001-2003 4WD auto, manual
20/25
11.8/9.4
2004-2005 4WD auto
20/24
11.8/9.8
2004-2005 4WD manual
19/25
12.4/9.4
Fuel Economy: The RAV4 is one of the class leaders in terms of fuel economy. With mostly highway driving, the 2005 FWD RAV4 with a manual transmission gets up to 346 miles (557 km) on a 14.8-gallon (56 L) tank.

Overall: The RAV4 is one of the rare small SUVs with a full-time AWD. The cargo space is limited, but a rooftop carrier can help. Maintenance costs are low compared to other SUVs. The 2001-2003 RAV4 has a better engine.
Despite the problems mentioned above, the RAV4 overall reliability is still above average. Competitors include Subaru Forester and Honda CR-V.


Similar cars:
Safety:
Toyota RAV4 NHTSA crash tests
Frontal
Driver
Frontal
Pass.
Side
driver
Side
Pass.
Rollover
2001
n/a
n/a
2002
2003
2004
n/a
2005
n/a
Antilock brakes, traction control and stability control are standard from 2004.

What to look for when buying a used Toyota RAV4: Before buying a used RAV4, check its history records, to verify that the vehicle wasn't involved in an accident or had other problems in the past. Watch out for a blue or grey smoke or misfiring on start-up after the vehicle was sitting for a while. Usually it's more noticeable when the engine is started cold in the morning. Commonly the smoke is caused by bad valve seals. A misfiring at start-up can also be caused by a leaking head gasket. For 2001, 2002 and 2003 RAV4, you may want to check if the ECM has already been replaced with an updated part. If the "Check Engine" light is on, have the problem checked out before buying a vehicle. When test-driving, make sure, the automatic transmission shifts properly and smoothly in all conditions. Watch out for a clunking noise coming from the steering. Read our illustrated used car checklist for more info. Have the vehicle properly inspected before buying. Consider an extended warranty at least for the powertrain to protect from unexpected repair costs.

You might also be interested:
AWD system: The RAV4's full-time 4WD system uses a viscous coupling center differential to distribute power to the front and rear wheels. When front wheels start slipping, more power is transferred to rear wheels and visa versa. The RAV4 is not a true off-roader, but its full-time AWD, light weight and compact size give this little SUV some advantage when leaving the pavement.

Maintenance tips: Keep your tires properly inflated, it's especially important for an AWD model.
Change transmission fluid regularly; it's best to use the genuine Toyota transmission fluid.
You can find transmission fluid capacity in the 'Specifications' section of your owner's manual. Keep all other fluids clean and topped up. In the 4WD models, transfer case oil and rear differential oil also need to be changed regularly. If you notice any issues with the way the automatic transmission shifts, have it looked at before the problem gets worse.
Regular oil changes will help your engine last longer. When replacing a faulty ignition coil, it might be a good idea to replace all the spark plugs if they are old. When doing any repairs, it's always better to use original Toyota parts.
Have your vehicle inspected in a repair shop annually to keep it safe. You can check the maintenance schedule online at the Toyota Owners website. The same website provides access to the electronic copy of the owner's manual.

Engine oil capacity: (with filter):
2.0L (1AZ–FE): 4.4 US qt. or 4.2 liters.
2.4L (2AZ-FE): 4.0 US qt. or 3.8 liters.
SAE 5W–30 engine oil is recommended.

By Samarins.com Staff
---