Mazda Tribute 2001-2011 problems, engine, driving experience, photos
Updated: October 12, 2019
As SUVs became more popular during early 2000s, Mazda came up with the Tribute, which was developed in association with Ford; the Ford Escape is built on the same platform.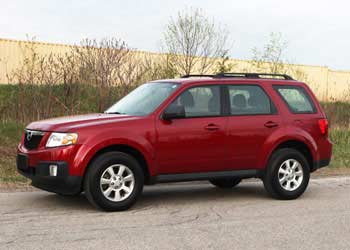 2010 Mazda Tribute
Mazda Tribute is available with front- or four-wheel drive, and is equipped with a 4-cylinder or V6 engine.

Being one of the last "truck-looking" SUVs on the market, the Tribute offers excellent visibility, spacious practical interior and easy driving experience. The split rear seat folds flat (with headrests removed) and the liftgate glass opens separately. Reliability is spotty, read more below. Maintenance costs are moderate. The Tribute was redesigned for the 2008 model year, although the platform remained the same. For 2012, the Tribute was discontinued and later replaced by a more efficient CX-5.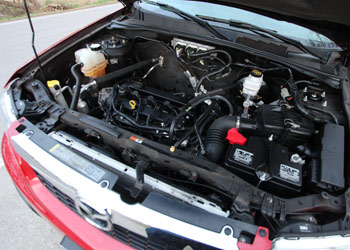 2010 Mazda Tribute 4-cylinder 2.5L engine
Engine: Earlier 4-cylinder models came with a 2.0L Ford Zetec motor. Starting from 2005, the 4-cylinder models are equipped with a 2.3L (2.5L from 2009) Mazda MZR engine. The V6 Tribute comes with a 3.0L Ford engine. Only the 2.0L Zetec engine has a timing belt that, according to the owner's manual, needs to be replaced every 144,000 km (90,000 miles). The 2.3L and 2.5L 4-cylinder and the 3.0 V6 have a maintenance-free timing chain that does not require regular replacements.
Mechanical: The Tribute has a frameless construction with front and rear independent suspension.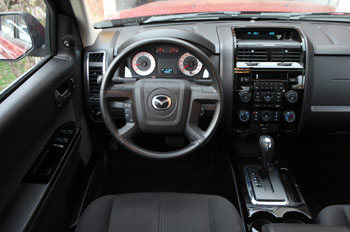 2010 Mazda Tribute
Antilock brakes (ABS) were optional (standard from 2006). Mazda Tribute has disc brakes in the front, drums in the back.

Handling and ride: The Tribute drives more like a car than a truck. There is some road noise, but otherwise the ride is very comfortable. The 2.5L 4-cylinder engine is responsive, but may feel a bit underpowered with a full load. The 3.0L V6 is smooth but thirsty. The available simple four-wheel drive system will help in bad weather, but is not made for off-road adventures.

Pros: Perfect size, reasonably priced, spacious interior, visibility, handling, maneuverable, available V6, rear seat folds flat, liftgate glass opens separately.

Cons: Poor gas mileage for V6 models, road and wind noise at highway speeds, interior materials could be better, conservative styling, some problems could be expensive to repair.

Similar cars:
Overall: A used Mazda Tribute is one of the few truck-like small SUVs that offers a roomy interior and good visibility. The 2009-plus 2.5L 4-cylinder model is the best option for reliability and fuel economy. The 2010 Tribute with the 2.5L 4-cylinder engine and automatic transmission is rated at 21/28 mpg city/hwy (402 miles to a tank). The V6 engine was reliable in earlier models, however the 2009 V6 Tribute had problems with the variable timing system.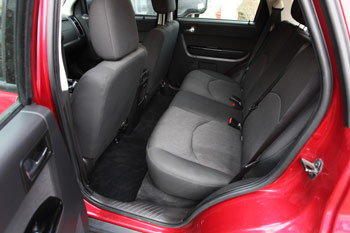 2010 Mazda Tribute rear seat
Common problems: A faulty liftgate release switch can cause the liftgate or the liftgate glass not to open. The liftgate release switch is located in the trim bezel above the license plate; the part is not very expensive and is fairly easy to replace.
A leaking left axle seal can cause loss of transmission fluid that may result in various transmission issues. If you have this problem, it's best to take your Tribute to a Mazda dealer for repairs, as they have updated parts and special tools.
Corroded liftgate glass hinges can break off causing a safety hazard. If your liftgate glass hinges look badly corroded, have them replaced.
Problems with an immobilizer chip in the ignition key may cause a no-start issue.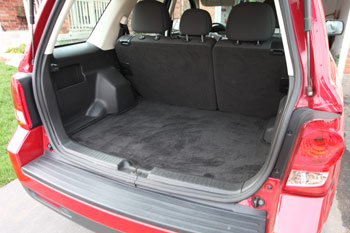 2010 Mazda Tribute cargo area
Your dealer can help you with that problem, but it won't be cheap.
If your blower motor only works at the highest speed settings, it could be caused by a bad blower motor resistor; the repair is not very expensive, the blower motor resistor is located behind the glove box.
Knocking in the front end when driving at slow speeds over small bumps could be caused by bad front sway bar links; have your front end inspected. Replacing sway bar links is not very expensive. Check for recalls, as there is a chance that more recalls are coming in the future. Visit the NHTSA website.


What to look for when buying a used Mazda Tribute: When checking the vehicle, watch out for leaks underneath the engine and transmission and burned oil smell under the hood. Warning lights staying on while driving indicate a problem.
Test the hand brake and the rear wiper operation. Check if both key fobs work and if the liftgate glass and the liftgate open and close properly. Watch out for rust, especially around the rear wheel wells. During the test drive, see if the engine holds idle well and runs smoothly when accelerated. Pay attention to the way the transmission shifts; abrupt shifting or slipping indicate transmission issues. Any issues with electric steering assist should tell you to avoid the car. Read more: How to inspect a used car - illustrated guide. Before buying, have the vehicle properly inspected by a mechanic.

Maintenance: Check your transmission fluid level regularly. The low transmission fluid level indicates a leak that needs to be repaired as soon as possible. A flashing Service Engine Soon light is an indication that the engine is misfiring. If your engine misfires due to a bad ignition coil, change all the spark plugs too. In a V6 engine, if one of the rear ignition coils failed, it's a good idea to change all three rear coils at the same time. If your Tribute stalls unexpectedly, visit your dealer, there might be an engine computer software update available to address this problem. Here is the link if you need an owner's manual for your Tribute: Where to download an owner's manual.

You might also be interested:
Mazda Tribute short specifications (2005 model)
Dimensions:
Overall length:
Overall width:
Overall height:
Wheelbase:
Ground clearance:
Track front/rear:
174.4 in (4,429 mm)
72.0 in (1,828 mm)
67.7 in (1,720 mm)
103.1 in (2,620 mm)
8.4 in (214 mm)
61.3 / 60.9 in (1,557 / 1,547 mm)

Cargo capacity:
(rear seat up / rear seat down) Tribute i:
Tribute s:

29.7 / 66.8 cu ft (841 / 1,892 liters)
29.7 / 66.9 cu ft (841 / 1,894 liters)

Base Curb Weight:
Tribute i 2WD Manual:
Tribute i 2WD Automatic:
Tribute i 4WD Manual:
Tribute i 4WD Automatic:
Tribute s 2WD:
Tribute s 4WD:


3,181 lb (1443 kg)
3,260 lb (1479 kg)
3,346 lb (1518 kg)
3,408 lb (1546 kg)
3,322 lb (1507 kg)
3,482 lb (1579 kg)


Maximum Towing Capacity:
Tribute i:
Tribute s:


1,500 lbs (680 kg)
3,500 lbs (1588 kg)


Engines:
Tribute i:


Tribute s:



16 valves 2.3L DOHC I-4
153 hp @ 5800 rpm, 152 lb-ft @ 4200 rpm

24 valves 3.0L DOHC V-6 aluminum block and heads
200 hp @ 6000 rpm, 193 lb-ft @ 4850 rpm.

Fuel Economy:
Tribute i 2WD Manual:


Tribute i 2WD Automatic:


Tribute i 4WD Manual:


Tribute i 4WD Automatic:


Tribute s 2WD:


Tribute s 4WD:


city: 24mpg (9.8 L/100 km)
hwy: 29mpg (8.1 L/100 km)

city: 22mpg (10.7 L/100 km)
hwy: 25mpg (9.4 L/100 km)

city: 22mpg (10.7 L/100 km)
hwy: 26mpg (9.0 L/100 km)

city: 19mpg (12.4 L/100 km)
hwy: 22mpg (10.7 L/100 km)

city: 20mpg (11.8 L/100 km)
hwy: 25mpg (9.4 L/100 km)

city: 18mpg (13.1 L/100 km)
hwy: 22mpg (10.7 L/100 km)


Recommended Fuel:


regular unleaded


Fuel Tank Capacity:


16.5 US gal (62.4 liters)


Oil capacity with filter:
Tribute i 4-cylinder engine:
Tribute s V6 engine:
4.5 quart (4.3 liters)
6.0 quart (5.7 liters)

By Samarins.com Staff
---