Nissan Altima 2007-2012: pros and cons, common problems
The stylish Nissan Altima comes with a 4-cylinder or V6 engine as a sedan or coupe. The Altima coupe of this generation was available from the 2008 to 2013 model years.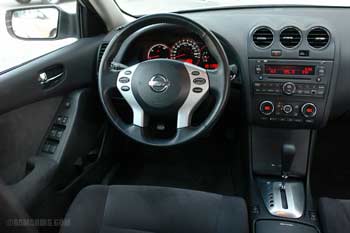 Nissan Altima interior.
It's a sporty mid-size car with a nicely finished snug interior. The Altima offers agile handling and a quiet, comfortable ride.
Transmission choices include a six-speed manual or a continuously variable automatic transmission (CVT). Both the 2.5L 4-cylinder and V6 engines have been proven reliable. Thanks to the CVT, the fuel economy is among the best in its class.
Pros:
Sporty looking sedan or coupe.
Reliable VQ35 and QR25 engines.
The 4-cylinder Altima is good on gas.
Nicely finished cabin with supportive seats. Even the fabric interior feels upscale.
Responsive handling, quiet ride.
Easy to maintain.
Good crash test scores combined with fuel efficiency make the Altima a good choice for a commuter car.
Comes with a manual transmission.
Cons:
The CVT transmission will be costly to replace if it fails.
Rear seat space is tight.
Rear visibility is partially obstructed.
Nissan Altima common problems:
Common problems are mostly minor such as oil leaks, bad wheel bearings, broken coil springs, exhaust leaks and rattles as well as Check Engine light issues caused by failed ignition coils and bad mass air flow sensors. More expensive problems include failed catalytic converters and leaking power steering racks. There were a lot more problems in the 2007-2009 Altima compared to 2010-2012 models.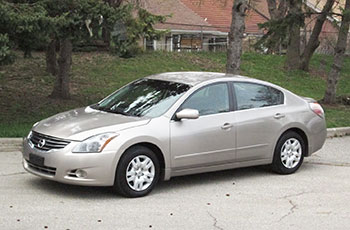 2008 Nissan Altima
The CVT transmission failures were also mostly reported in 2007-2009 models, although in limited numbers. Overall, it's a good car that can last long. Our main concern is that if the CVT transmission fails, it will be expensive to replace (over $3,500). If you are buying a used Nissan Altima, consider getting an extended powertrain warranty that will cover the cost of a potential CVT transmission replacement. The 2010-2012 were the best years of this generation. One of our friends who worked at a Nissan dealership said he was changing the CVT fluid in his Altima every 50,000 miles or so using original Nissan fluid and the car lasted for over 175,000 miles. Read more about some of the problems below.
Oil leaks for the oil cooler are often reported in both 4-cylinder and V6 engines. Oil drops appear on the driveway under the passenger side of the engine. In a 4-cylinder engine, the oil leaks from a paper gasket and rubber seal in the oil cooler, while in the V6, the O-ring behind the oil cooler is typically the culprit. The gaskets (or O-ring) are not expensive, but the access to the area is quite difficult and the job is messy. Watch these
videos
showing the repair. In a repair shop this job will require 1.5-1.8 hours of labor for a for 4-cylinder engine or 1.0-1.3 hours for the V6 plus the parts.
Tire Pressure Monitoring System (TPMS) can be troublesome. In the Rust Belt, tire pressure sensors stems can corrode and brake off. Replacing a tire pressure sensor is not very expensive ($120-160). We found the Nissan Service bulletin
WT13-005
that provides some aid in diagnosing TPMS issues. For example, according to the bulletin, radio frequency interference from a phone charger or other devices can also cause TPMS system not to work.
A faulty
brake light switch
can cause a variety of problems, including a no-start. This problem is easy to diagnose as the brake lights stop working when the switch goes bad. The repair is also not very expensive.
At higher mileage, coolant leaks are reported from the radiator, cracked plastic filler neck or the radiator hose. This means it's important to check the coolant level regularly and if there is a leak, to repair it before it causes the engine to overheat.
The engine misfiring could be caused by a bad
ignition coil
. Symptoms include shaking, Check Engine light with codes P0300-P0306 and lack of power. Ignition coils are not very expensive and are easy to replace in a 4-cylinder engine. In a V6 engine, the front ignition coils (bank2, cylinders 2, 4, 6) are easy to replace, while the replacement of a rear ignition coil (bank 1, cylinders 1, 3, 5) will cost at least 2.0 hours of labor plus the part. If spark plugs are old, it's recommended to replace all the spark plugs at the same time.
The Check Engine light with the code P0101 could be caused by a dirty or bad
mass airflow sensor
. The code P0171 could also be present. Other possible causes include a
vacuum leak
from a ripped intake manifold boot, cracked PCV hose or bad PCV valve. The repair will depend on the diagnosis.
Exhaust leaks and rattling loose exhaust heat shields are common. The muffler end pipe can break off due to corrosion. We advise visiting a local muffler shop for a repair quote, their prices are usually reasonable and they can weld/fabricate parts on the spot. The
catalytic converter
may fail at higher mileage; it's an expensive part to replace.
Several owners reported the brake master cylinder leaking brake fluid. The low brake fluid level can cause the brake warning light to come on. Nissan issued Voluntary Service Campaign
PC125
to address the issue.
A bad wheel bearing can cause a humming noise noticeable at high speed. The noise gets louder when changing lanes. The vehicle must be properly diagnosed and the noisy wheel bearing will need to be replaced ($280-$400 to replace one wheel bearing).
Nissan has also issued the Electronic Steering Column Lock (ESCL) Service Campaign PC516. Check for recalls at the
NHTSA website
.
Lineup:
The 2007-2012 Altima sedan was offered in base 2.5, 2.5 S, 2.5 SL trims with a 4-cylinder engine and 3.5 SE, 3.5 SL (3.5 SR from 2010) with a V6, as well as Hybrid. The 2.5 S is the most widely available trim level. The 2010 Nissan Altima hybrid is rated at 35/33 mpg (6.7/7.1 L/100 km) city/highway.
Engine:
The 170-hp 2.5L 4-cylinder
DOHC
QR25 is good on gas and has decent power.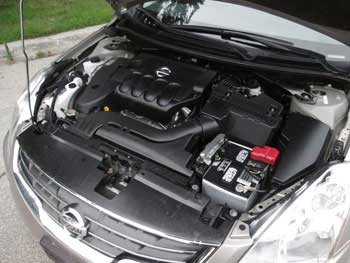 QR25 engine, 2008 Nissan Altima.
Overall, it's a solid dependable engine; it can last long with proper maintenance.
The praised 270-hp 3.5L V6 VQ is strong, smooth and refined. The VQ engine has been used in many other Nissan vehicles since the early 00's and is also proven to be very reliable.
Engine oil capacity (oil change including filter):
QR25DE: 4-7/8 US qt. (4.6 liters)
VQ35DE: 5-1/8 US qt. (4.8 liters)
Timing belt or chain:
Both the 2.5L 4-cylinder engine and 3.5L V6 have a timing chain; there is no timing belt. The timing chain doesn't need to be replaced at regular intervals.
What to look for when buying a used Nissan Altima:
Check all the accessories inside: the air conditioner, windows, the audio system, etc. Check the audio system display as with age parts of the display are known to stop working. During the test-drive, watch out for whining or humming noises that are more noticeable at acceleration or higher speeds; some of the noises could be caused by a worn out CVT transmission. If there are any signs of transmission problems, avoid the car. Read more:
Signs of automatic transmission problems when test driving a used car
. See if the driver's seat shifts during turns, there are some complaints about this issue. Read also:
How to inspect a used car - illustrated guide.
Before buying, have the car properly inspected by a mechanic. Read also:
What mileage is OK for a used car?
Related reviews:
Toyota Camry 2007-2011 review
Honda Accord 2008-2012 review
Toyota Camry 2002-2006 review
Toyota Corolla 1998-2008 review
Toyota Corolla 2009-2013 review
BMW 3-series 2006-2011
Honda Accord 2008-2012 review
Mazda 6 2009-2013 review
Fuel Consumption
EPA Fuel Economy:
mpg
city/hwy
L/100 km
city/hwy
2007-2010 Altima Hybrid
35/33
6.7/7.1
2010-2012 Altima sedan 4-cyl auto
23/32
10.2/7.4
2007-2009 Altima sedan 4-cyl manual
23/32
10.2/7.4
2007-2009 Altima sedan 4-cyl auto
23/31
10.2/6.9
2008-2011 Altima coupe 4-cyl auto
23/31
10.2/6.9
2010-2012 Altima sedan, coupe V6 auto
20/27
11.8/8.7
2007 Altima sedan V6 auto
20/26
11.8/9.0
2007,2008 Altima sedan V6 manual
19/27
12.4/8.7
2008-2009 Altima coupe, sedan auto V6
19/26
12.4/9.0
2009-2012 Altima coupe V6 manual
18/27
13.1/8.7
Fuel Economy:
The 2007 Altima with a 4-cylinder engine and a CVT transmission is rated at
23/31 mpg
(10.2/7.6 L/100 km) city/highway, which is better than most family sedans. For example, the 4-cylinder, automatic Toyota Camry gets 21/30 mpg; the 4-cylinder auto Honda Accord is rated at 21/31 mpg.
The 4-cylinder Altima with a CVT gets an estimated 522 miles (840 km) on one 20-gallon (75.6 liters) fuel tank in mostly highway driving. The V6 Altima is rated at 20/26 mpg (11.8/9.0 L/100 km) on premium gasoline.
Mechanical:
The Altima has disc brakes on all four wheels. Antilock brakes were optional on 2007 4-cylinder model, standard on the V6. Electronic stability control was optional in early models, standard on all trims from 2010.
Handling and ride:
The Altima handles well, with a good road feel. The ride is firm, but not punishing. The 4-cylinder engine is a bit noisy on acceleration; otherwise, it's a fairly quiet car.
Safety:
The 2007-2010 4-door Altima received five stars in government frontal crash tests. In side-impact crash tests, 2007-2010 models received five stars for driver protection. Rear passenger protection scores varied between four and five stars. In tougher NHTSA crash tests introduced in 2011, the 2011 and 2012 4-door Altima received four stars in frontal- and five stars in side-impact crash tests.