Toyota Corolla 1998-2002: fuel economy, common problems, maintenance, specs, photos
Updated: March 05, 2018
This Corolla was one of the most reliable cars ever built. The 1998-2002 Corolla comes with the 125-hp 1.8L 4-cylinder engine, model 1ZZ-FE. It doesn't have a timing belt; it uses a timing chain instead. This engine is proven to be reliable if properly maintained.

Transmission choices included a five-speed manual as well as a three- or four-speed automatic. The Anti-lock Brake System (ABS) and side airbags are available as an option but are rare to find.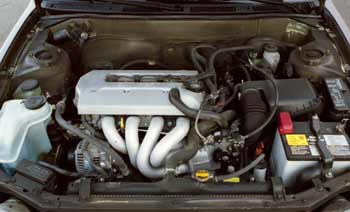 Toyota Corolla 1ZZ-FE 1.8L engine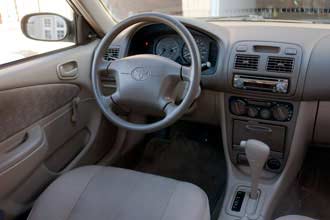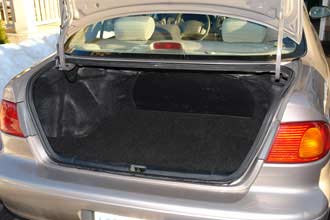 Inside the Corolla is simple and practical with basic instruments and easy-to-use controls.

On the road, the Corolla handles easily and has a soft, quiet ride. The suspension absorbs road bumps well. The steering is light although not as precise as in some sporty cars. The engine has a good pick-up and decent power for daily driving.

Safety: The 1998-2002 Corolla received four stars in the frontal crash tests and three stars in the side-impact crash tests performed by the NHTSA. Models with side airbags received four stars for the front seat protection in the side-impact crash tests.

The EPA rates the 2001 Corolla with a 4-speed automatic transmission at 26/36 MPG or 9.0/6.5 liters per hundred kilometers. This means that you can get up to 360 miles on one 13.2-gallon (50L) tank of gas. The 3-speed automatic model is rated at 25/30 MPG or 9.4/7.8 L/100 km.

Overall, Toyota Corolla is one of the cars that can last for a long time if maintained well. One thing to watch out is the engine oil consumption.
We recently spoke to the owner of the 2000 Corolla who bought it for $5,000 five years ago and drives it every day. With well over 200K it's still going strong and he swears by it.
"I've changed a couple of struts, the battery and the hood lock cable. Other than that, I didn't have any problems with it. I just change oil every 3K"
Similar cars:
Common Problems: A bad Daytime Running Light (DRL) module or a bad connection at this module can cause the lights to stay on. The DRL module is located behind the glove box.
Worn contacts in the starter solenoid could sometimes cause a problem when the car would click but won't turn over. A starter solenoid is the part of the starter motor. If the starter solenoid is bad, the starter motor needs to be rebuilt or replaced.
A faulty drive belt tensioner could cause rattling noise from the belt area (right side of the engine compartment).
Difficulty starting, rough idle, stumbling on acceleration, lack of power and the engine code P0171 could be caused by a bad or contaminated mass airflow sensor or vacuum leaks from the intake manifold. Often it's easy to see the dust on the airflow sensor wires once it's taken out. Sometimes cleaning the airflow sensor can help temporarily, although it's a delicate procedure. If you are replacing the airflow sensor, use the original Toyota part.

Guides for used car buyers:
Maintenance: The Corolla is generally very reliable, but if you want to keep it running longer, here are few maintenance tips: Change engine oil regularly. If your Corolla consumes engine oil, check the oil level more often, as running the engine low on oil can cause serious problems. Read here: car maintenance checklist. When the car is serviced, ask to check the PCV valve. A clogged PCV valve also can cause oil consumption. Change the transmission fluid at recommended intervals.
Use Toyota original air filters, they are not too expensive. When you change the air filter, make sure it's installed properly to prevent unfiltered air getting into the engine. Keep engine coolant (antifreeze) topped up, as low coolant level can cause the engine to overheat. No matter where you service your Toyota, use original Toyota parts; they are reasonable priced.

More on maintenance:
Resources:
Safety Recalls - NHTSA - check for recalls.
Transport Canada - Motor Vehicle Safety Recalls - check for recalls in Canada.
Toyota Owners - maintenance schedules, electronic owner's manual and how-to videos.

Related:
Honda Civic 2001-2005 review »
Toyota Corolla 2003-2008 review »


2001 Toyota Corolla Specifications
Dimensions:
Overall length:
Overall width:
Overall height:
Wheelbase:


174.0 in (4420 mm)
66.7 in (1695 mm)
54.5 in (1385 mm)
97.0 (2465 mm)


Maximum Towing Capacity:


1500 lb (680 kg)


Engine:
All-aluminum 1.8-liter DOHC 16-valve VVT-i 4-cylinder
125 hp @ 5,800 rpm; 125 lb-ft. @ 4,000 rpm


EPA Fuel Economy (US mpg, L/100 km):
With manual transmission:


With 3-speed automatic transmission:


With 4-speed automatic transmission:


city: 28 mpg (8.4 L/100 km)
hwy: 37 mpg (6.4 L/100 km)

city: 25 mpg (9.4 L/100 km)
hwy: 30 mpg (7.8 L/100 km)

city: 26 mpg (9.0 L/100 km)
hwy: 36 mpg (6.5 L/100 km)


Recommended Fuel:


87-octane unleaded


Fuel Tank Capacity:


13.2 US gallons (50 liters)


Engine Oil Capacity:
Oil change with filter:
Recommended oil viscosity:
3.9 US qt (3.7 L)
SAE 5W-30