2001-2005 Honda Civic: problems, engine, timing belt intervals, fuel economy
Updated: April 22, 2017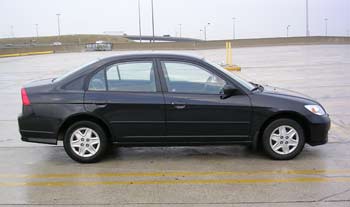 2005 Honda Civic
The 2001-2005 Civic is a fuel-efficient compact car, available as a four-door sedan or two-door coupe. The Civic handles well, but the ride is firm. The base DX, mid-level LX and top of the line EX are the most commonly available trim levels. Transmission choices included a five-speed manual or four-speed automatic. Anti-lock brakes (ABS) are standard on EX models.

Inside, the Civic is pretty roomy for a small car. Fit and finish is good; controls and instruments are simple and straightforward. Front seats are comfortable and supportive. Visibility is good all-around. The trunk is spacious and rear seat folds down for extra space. Honda Civic is fairly reliable, although at this age, you might have to check several cars before you can find one in mechanically sound condition. Common problems are mostly minor, although some repairs could be quite expensive; read more below. Maintenance costs are lower than average.
Engine: The Civic DX and LX come with a 115-hp 1.7-liter 16-Valve SOHC engine. The EX is equipped with the 127-hp 1.7-liter SOHC VTEC (Variable Valve Timing and Lift Electronic Control).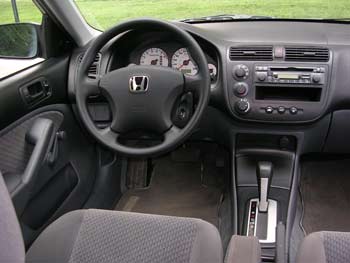 Honda Civic interior
Both these engines have a timing belt that must be replaced at recommended intervals. If properly maintained, either engine should not give you too many problems.

Timing belt: According to the maintenance schedule for the 2005 Honda Civic, a timing belt must be replaced at 110,000 miles or 176,000 km. However, if the car is driven in very hot or very cold conditions, it must be replaced every 60,000 miles or 100,000 km. The 1.7L engine in the 2001-2005 Civic is an interference engine, meaning if the timing belt breaks, the engine might be severely damaged. To replace a timing belt, you are looking at around $300-400.

Civic Si: The sporty Si (SiR in Canada) hatchback was added for 2002, but they are rare on the used car market.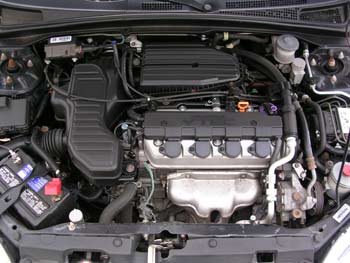 Honda Civic 1.7-liter VTEC engine
The 2002-2005 Civic Si comes with a high-revving 160-hp 2.0L DOHC i-VTEC engine, manual transmission (no automatic) and firmer suspension.

Safety: NHTSA awarded the 2001-2005 Honda Civic with a five-star rating for frontal crash tests. In the frontal offset crash tests performed by the Insurance Institute for Highway Safety (IIHS), the 2001-2005 Honda Civic received "Good" overall rating.

Handling and ride: Honda Civic handles well, although the ride is firm and the engine is a bit noisy on acceleration. The road noise is also noticeable at highway speeds. Overall, it's a fun to drive little car.


Honda Civic EPA Fuel Economy:
mpg
city/hwy
L/100 km
city/hwy
2001 DX, LX, EX auto
26/34
9.0/6.9
2002 LX, DX auto
26/34
9.0/6.9
2003 EX auto
26/34
9.0/6.9
2002, 2004, 2005 EX auto
26/35
9.0/6.7
2003-2005 DX, LX auto
25/34
9.4/6.9
2001-2002 DX, LX manual
28/33
8.4/7.1
2001-2002 EX manual
27/33
8.7/7.1
2003 DX, LX, EX manual
27/35
8.7/6.7
2004-2005 DX, LX, EX manual
27/34
8.7/6.9
Fuel economy: The EPA rates the 2004 automatic Honda Civic EX (1.7L VTEC) at 26/35 mpg or 9.0/6.7 L/100 km on regular gasoline. This means you can get up to 360 miles to a tank (13.2 gallons or 50 liters). A very few cars for this price can beat that.

Pros: Fuel economy, holds value well, interior comfort, low maintenance costs, reliability, trunk space.

Cons: Road and engine noise, firm ride, paint scratches easily.

Overall: Used 2001-2005 Honda Civic could serve well as a cheap commuter car. If you can find one that is good mechanical shape, it can easily last for three-four years without major issues. Great fuel economy, low maintenance costs and five-star frontal crash rating are a big plus. Overall reliability is above average. Among similar cars, the 1998-2002 Toyota Corolla is also reliable and it has a timing chain instead of the belt. The 2003-2008 Corolla is another alternative. Chevrolet Cobalt might not be as reliable, but you can buy it with lower mileage cheaper. Mazda Protege is also worth considering.
Similar cars:
Common problems: Leaking front struts could cause knocking or clunking noise in the front ($350-$600 to replace both front struts). Bad front lower control arm bushings (aka compliance bushings) could also cause clunking noise from the front end when driving over bumps ($350-$450 for both sides).
Automatic transmission problems are reported frequently; automatic transmission replacement with a used unit could cost over $1,000.
A faulty electronic load detector (ELD) can cause the code P1298; the repair is not very expensive. Problems with an electrical part of the ignition switch could cause the engine to stall or not to start.
There were also quite a few recalls; you can check for recalls at Safety Recalls - NHTSA

What to look for when buying a used Honda Civic: When inspecting a car, watch out for leaking front struts. During the test drive, watch for signs of problems with the automatic transmission; slipping, harsh sifting and other transmission issues should tell you to avoid the car. In Honda Civic with a manual transmission, watch out for noises from the transmission or the clutch. Check if the timing belt has been replaced; if not, you will have to have it done. Watch out for "racing" mods like a cold intake or lowered suspension; you don't want a car that could have been abused by previous owners. A blown head gasket is also fairly common, watch out for signs of overheating and low coolant level. A blue smoke at start-up indicates engine problems; avoid the car. Read our used car buyer's checklist with photos for more tips.

Guides for used car buyers:
Maintenance: Frequent oil changes are very important to keep your engine in good shape. Change transmission fluid at recommended intervals; use only original Honda transmission fluid. Overheating the engine may cause serious problems. It might be a good idea to replace a water pump when changing the timing belt. To know more about your Honda maintenance, visit Honda Owners website.
You might also be interested:
Resources:
Recalls: Safety Recalls - NHTSA or Transport Canada - Motor Vehicle Safety Recalls.
Honda owners: Maintenance Calculator - check the maintenance schedule online.
Honda-tech.com - Honda enthusiasts forum.

Honda Civic sedan specifications. (2003 US model)
Dimensions:
Overall length:
Overall width:
Overall height:
Wheelbase:
Track front/rear:


174.6 in (4,435 mm)
67.5 in (1,715 mm)
56.7 in (1,440 mm)
103.1 in (2,619 mm)
57.9 / 57.9 in (1,471 / 1471 mm)


Trunk cargo volume:


12.9 cu. ft (365 liters)


Base Curb Weight:
DX (manual / automatic)
LX (manual / automatic)
EX (manual / automatic)


2,449 / 2,500 lbs (1,111 / 1,134 kg)
2,513 / 2,557 lbs (1,140 / 1,160 kg)
2,601 / 2,652 lbs (1,180 / 1,203 kg)


Engines:
DX, LX


EX


1.7L SOHC 16-Valve Aluminum-Alloy In-Line 4
115 hp @ 6,100 rpm, 110 lb-ft. @ 4500 rpm

1.7L SOHC 16-Valve VTEC Aluminum-Alloy In-Line 4
127 hp @ 6,300 rpm, 114 lb-ft. @ 4800 rpm



Fuel Tank Capacity:


13.2 US gal. (50 liters)


Engine oil capacity:
Oil change, including filter:
DX, LX, Canadian SPORT
EX



3.4 US qt. (3.2L)
3.7 US qt. (3.5L)


By Samarins.com Staff
---