Toyota Matrix 2003-2008 problems, engine, fuel economy, photos
Updated: September 05, 2021
The Matrix is a tall wagon based on the popular Toyota Corolla.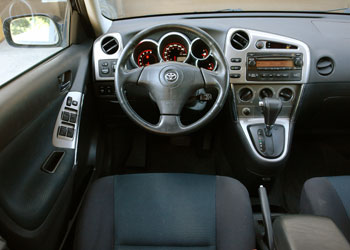 2005 Toyota Matrix interior
Inside, it's the definition of 'practical'. The upright front seats offer good visibility and easy entry/exit. Rear seats fold down flat, offering 53.2 cu. ft. of cargo space covered with plastic with built-in attachments for tie-downs. The front passenger seatback flips forward, if you want to haul long items. The tailgate window opens separately for easy access. A 115V power outlet is among the available options. Overall, it's a great little car, but not without problems; read the details below.
Reported problems:
A bad drive belt tensioner can cause squealing and/or rattling noise coming from the engine compartment. The recommended repair involves replacing the drive belt tensioner with an updated part. The aftermarket belt tensioner is priced from $30 to $60, the OEM part is more expensive: $140-$160. It's a good idea to replace the drive belt at the same time.
A leaking intake manifold gasket or can cause the Check Engine light to come on with the codes
P0300-P0304
, P0133 and
P0171
. Replacing the intake manifold gasket may cost $120-$280 in a repair shop. The service bulletin EG045-07 describes the repair.
A contaminated or failed air flow sensor can also cause the code P0171. The
airflow sensor
($120-150 for OEM part) is easy to replace.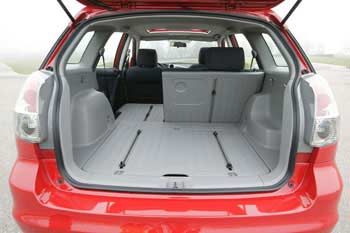 Toyota Matrix 2005.
Photo: Toyota Canada
The code P0441 could be caused by a bad gas cap, although the Evap system will have to be tested to confirm it.
A failed starter motor will cause the car not to start. The starter might produce a single click, but will not run. The starter motor will need to be replaced. Read more about the
starter motor
. Replacing a starter motor will cost from $250 to $420; it's a fairly simple job.
There are a number of reports about problems with a manual transmission due to a faulty bearing.
Harsh shift condition with the MIL light ON and the code P2716: recommended repair involves replacing the ECM (engine computer) with an updated part.
There was also a recall for a faulty ECM in 2005-2008 Toyota Matrix.
Mechanical:
The 2003-2008 Matrix comes with front- or all-wheel drive, and a choice of manual or automatic transmission.
The base 1.8-liter 4-cylinder
DOHC
engine (model 1ZZ-FE) is the same as in the Corolla. This engine uses a maintenance-free timing chain; there is no timing belt. The sporty Matrix XRS has a 180-hp 1.8L 2ZZ-GE motor borrowed from Toyota Celica mated to a six-speed manual transmission. Both engines are reliable and easy to maintain. Anti-lock brakes (ABS) are optional (standard on XRS).
Fuel Economy:
The 2005-2008 1.8L (1ZZ-FE) Toyota Matrix automatic is rated at
25/31 mpg
city/highway. This means you can travel up to 396 miles (637 km) on one 13.2-gallon (50-liter) tank of gas.
Handling and ride:
Toyota Matrix offers sharper handling and firmer ride compared to the Corolla. The base 1.8L engine is not very quick, but works fine in day-to-day driving.
Safety:
In the NHTSA frontal crash tests, the 2003-2004 Toyota Matrix received five stars for both the driver and the front passenger.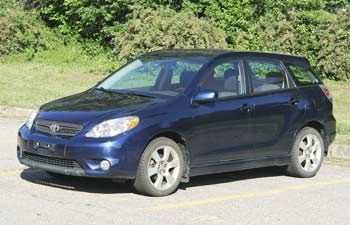 2005 Toyota Matrix.
The 2005-2008 models scored five stars for the driver and four stars for the front passenger.
Pros:
Practical, reliable, holds value well, good on gas, easy to maintain, flat cargo space with attachments for tie-downs, liftgate glass opens separately.
Cons:
Interior materials, outdated interior styling, sensitive to crosswinds, engine noise on acceleration, not the best car in snow.
Similar cars:
Ford Focus 2000-2011 review
Mazda 3 2004-2009 review
Honda Civic 2006-2011 review
Toyota Matrix 2009-2014 review
Pontiac Vibe 2003-2010
Toyota Corolla 2009-2013 review
Overall:
The Matrix is a simple reliable wagon. It's hard to think of any other vehicle that will be as practical and fuel efficient at the same time. The Matrix can last long with good maintenance. Pontiac Vibe is a mechanical twin of Toyota Matrix and can also be considered.
The Honda Fit
, although smaller is another good choice for a fuel-efficient car with decent cargo space. The Fit is also reliable.
What to look for when buying a used Toyota Matrix:
When inspecting a used Toyota Matrix, check the oil level; a low oil level could be an indication that the engine consumes oil. Watch out for engine noises. If the engine makes a loud rattling noise or there is a smoke from the exhaust when the engine is started, avoid the car. During the test drive, watch out for noises from a manual transmission; there are plenty of complaints about manual transmission problems. Read more:
How to inspect a used car - illustrated guide
. Before buying, have the car inspected by a mechanic of your choice. Read also:
What mileage is OK for a used car?
Maintenance:
How often should you change your oil? Toyota recommends changing your oil every 5,000 miles or 6 months, whichever comes first. If you want to keep your engine in good shape longer and given that it's quite common for the 1.8L engine to consume some oil, we recommend changing your oil every 3,500-4,000 miles. It's also a good idea to check the engine oil level regularly. SAE 5W-30 is the recommended oil viscosity.
A cabin filter needs to be replaced every 24 months or 20,000 miles.
What is the recommended interval to change automatic transmission fluid? Automatic transmission fluid should be checked regularly and changed when dirty. See
how to check automatic transmission fluid
.
The Toyota Matrix is a lightweight car; if you want better traction on snowy roads, consider installing winter tires.