Toyota Matrix 2009-2014: engine, fuel economy, common problems, specs, photos
July 06, 2015
The Matrix is the most reliable and practical small wagon on the used car market. Based on the Corolla platform, the Matrix offers 49.4 cu. ft of flat cargo space covered by a durable plastic. It's also one of the few small cars suitable for tall drivers, as it has plenty of headroom. The upright driving position makes the entry and exit easy and provides excellent visibility up front. To top it all up, the Matrix is one of the most fuel-efficient wagons.

Lineup: In the US, the 2009 Matrix came in Base, S and XRS trim levels, although for 2012, only the base L and sporty S models were available. In Canada, the lineup consisted of the Base, XR, XRS and AWD models. The 2013 was the last model year available in the US. In Canada, the Matrix was discontinued after 2014.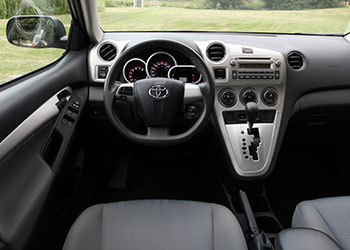 2012 Toyota Matrix interior.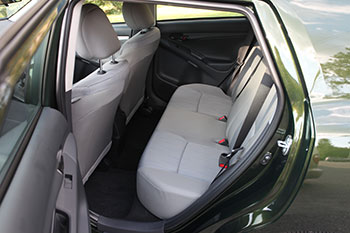 2012 Toyota Matrix.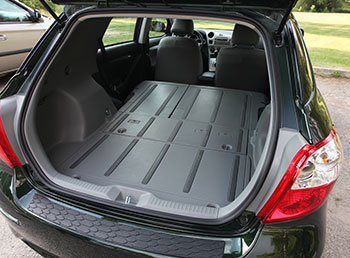 2012 Toyota Matrix rear seats folded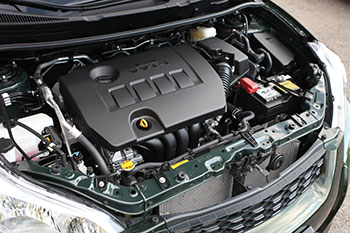 Engine: The Matrix comes with a 132-hp 1.8L (same as in the Corolla) or optional 158-hp 2.4L 4-cylinder engine. Both are low-maintenance, reliable twin-cam motors. Both engines use a maintenance-free timing chain; there is no timing belt.

Fuel economy The EPA rates the 2013 1.8L Matrix auto at 26 mpg (9.0 L/100 km) city and 32 mpg highway (7.4 L/100 km). On a long trip, the 1.8L Matrix is expected to go up to 409 miles (658 km) between fill-ups.

Handling and ride: The Matrix handles well, with responsive steering and good road feel. The ride is comfortable and fairly quiet, but you will hear some engine noise on acceleration. The 1.8L engine is peppy for daily driving, but feels a bit underpowered with a full load.

Mechanical: Transmission choices include a five-speed manual or four- or five-speed automatic. An all-wheel drive is only available with a 2.4L engine and an automatic transmission. Antilock brakes are standard. Vehicle Stability Control and Traction Control were optional in earlier models; standard from 2010 in US and from 2011 in Canada.

RELATED: 2013-2017 Nissan Sentra review: roomy sedan with great city gas mileage. Read about reliability, common problems and more.

Safety: In the NHTSA frontal crash tests, the 2009 and 2010 Toyota Matrix received five out of five stars for both the driver and the front passenger. In the side-impact crash tests, the 2009-2010 Matrix scored five stars for the driver and four stars for the rear passenger. The 2011+ models were not rated.

Pros: Reliability, plenty of headroom, up-right driving position, flat cargo space, fuel economy (for the 1.8L model), easy handling, comfortable ride.

Cons: Interior materials and quality could be better, sensitive to strong side winds, thick rear pillars create blind spots in the back, the A/C is not very strong.

Overall: The Matrix is a practical low-maintenance reliable small wagon. Not many cars offer a flat cargo floor with the seats down. The up-right front seats is another plus. The 1.8L engine is the better choice in our view, as it's good on gas and can easily last for 200K miles with good maintenance. Consumer Reports rates the used Toyota Matrix as Good Bet. Pack it up with camping gear and take it on a long trip, it won't cost a lot to fill up. With the addition of a roof rack and some special gear, the Matrix can easily transport two kayaks or a canoe.

Similar cars: Pontiac Vibe is the GM twin of the Matrix, but it was discontinued after 2010. Honda Fit is smaller and has firmer ride, but otherwise practical and reliable too. Toyota Corolla is pretty much the same car in a more refined sedan form. Mazda 3 is also reliable; it offers sportier handling and more upscale interior, but the interior space is tight. Honda Civic is also more sporty and has better highway mileage, but seats are low to the floor making the entry and exit more difficult. Nissan Versa and Sentra are less reliable. Dodge Caliber is a bit bigger but also less reliable. Mitsubishi Lancer is reliable and sporty, but not as fuel-efficient.


Common problems: The water pump failure is reported often. The cost to replace varies from $380 to $600. The symptoms of a bad water pump include pinkish fluid leaks on the passenger side of the engine compartment. Sometimes a bad water pump can become noisy. An updated part is available from Toyota.
Some 2009 models may exhibit a brief rattle/knock from the engine compartment when started cold. The repair involves replacing the camshaft timing gear assembly with updated parts. Minor oil leaks from the timing cover are reported often. Rear brakes can wear prematurely if not serviced regularly.

Maintenance: The 2012 Toyota Matrix owner's manual recommends using 0W-20 oil, which is synthetic. For the 1.8L 2ZR-FE engine, the US Toyota Matrix Warranty & Maintenance Guide recommends changing oil every 10,000 miles for normal driving conditions and 5,000 for special operating conditions (repeated short trips, excessive idling, etc.) if 0W-20 oil is used. Our advice: changing oil every 5,000 miles will help keep your engine in good shape longer. The Canadian maintenance schedule recommends changing oil every 8,000 km. Other common maintenance items include: tire rotation at every oil change, air and cabin filters every 20-30K miles, transmission fluid change every 40-50K miles, spark plugs every 80-120K miles. For details, check the full maintenance schedule or download an owner's manual at: Toyota Owners

You might also be interested:
Toyota Matrix specifications (2012 model)
Dimensions:
Overall length:
Overall width:
Overall height:
Wheelbase:
Headroom: (w/o sunroof)
Front:
Rear:
Legroom:
Front:
Rear:


171.9 in. (4365 mm)
69.5 in. (1765 mm)
61.0 in. (1550 mm)
102.4 in. (2600 mm)

40.5 in.
39.3 in.

41.6 in.
36.2 in.

Seating Capacity:


5


Cargo volume:


Behind Front seat: 49.4 cu. ft (1,400 liters)
Behind Rear seat: 19.8 cu. ft (560 liters)

Engine:
L (US), Base (Canada):



S (US), AWD and XRS (Canada):


1.8-liter, 4-Cylinder, DOHC, 16-Valve, Dual VVT-i
132 hp @ 6000 rpm
128 lb. ft. @ 4400 rpm

2.4-liter, 4-Cylinder, DOHC, 16-Valve, VVT-i
158 hp @ 6000 rpm
162 lb. ft. @ 4000 rpm


EPA Fuel Economy (US mpg, L/100 km):
1.8L Manual:


1.8L Automatic:


2.4L Manual:


2.4L Automatic:


2.4L Automatic AWD:


city: 26 mpg (9.0 L/100 km)
hwy: 32 mpg (7.4 L/100 km)

city: 25 mpg (9.4 L/100 km)
hwy: 32 mpg (7.4 L/100 km)

city: 21 mpg (11.2 L/100 km)
hwy: 28 mpg (8.4 L/100 km)

city: 21 mpg (11.2 L/100 km)
hwy: 29 mpg (8.1 L/100 km)

city: 20 mpg (11.8 L/100 km)
hwy: 26 mpg (9.0 L/100 km)


Recommended Fuel:
87 Unleaded


Fuel Tank Capacity:


11.0 US gal (50.0 liters)


Engine Oil Capacity:
Drain and refill with filter
1.8L 2ZR-FE engine:
2.4L 2AZ-FE engine:



4.4 US qt. (4.2 L)
4.0 US qt. (3.8 L)