Nissan Versa 2007-2011: problems, pros and cons
Updated: September 28, 2021
Small on the outside, roomy on the inside, the Nissan Versa is a compact fuel saver. It comes as a sedan or hatchback. The interior is simple: the steering tilts, but doesn't telescope.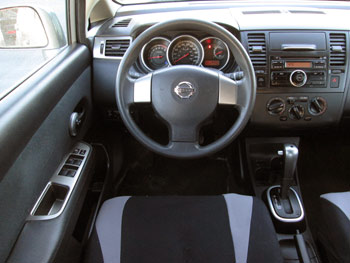 Nissan Versa 2010 interior.
Seats are comfortable and tall windows offer good visibility. In the hatchback, the rear setbacks fold down. In other markets this car is sold as Nissan Tiida. Is it a good car to buy? Which is a better transmission choice, CVT or 4-speed automatic? What are the reported problems?
Problems:
Compared to some other cars, the overall number of complaints for the Versa is fairly small. One of the problems that has been mentioned by many Versa owners is broken coil springs in the front suspension. Nissan issued recall campaigns
PM565 and PM701
to replace the front suspension coil springs on certain specific Model Year 2007-2012 Versa vehicles that are registered in States where heavy concentrations of road salt are used in the winter.
Exhaust leaks are the other common area of complaints. Examples include a rusted-out muffler flange or mid-exhaust pipe and rattling heat shields. A local muffler shop is the best place to get this type of exhaust repairs done for a reasonable price.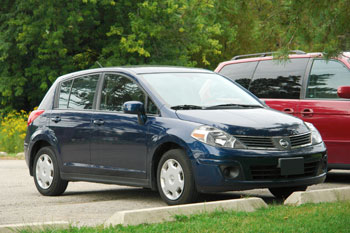 2008 Nissan Versa.
A failed fuel pump or faulty fuel pressure regulator can cause a long crank or no start. The problem must be properly diagnosed to pinpoint the defective part. Replacing a fuel pump is estimated at 1-1.5 hours labor plus the part.
The rear defroster or A/C button may stop working. Both are parts of the control module (one unit) which is expensive to replace. We found several Youtube
videos
showing a cheaper fix. Another alternative suggested by some owners is to buy a used part from a junk yard. This
tread
provides some details.
Rubber bushings in the front sub frame can go bad and cause banging metal noises when driving over bumps. Nissan doesn't sell sub frame bushings separately, but aftermarket bushings are available and they are not very expensive. They must be pressed into the sub frame. Watch these
videos
for more info.
A faulty
air/fuel ratio sensor
or stuck
EVAP canister vent control valve
are common reasons for the Check Engine light coming on.
One of the
door lock actuators
can stop working and might need to be replaced.
If your blower fan is working only at a high speed, it might be due to a bad
blower motor resistor
.
Engines:
The 2007-2011 Versa comes with a 1.6L (HR16DE) or 1.8L (MR18DE) engine. Both are double-overhead cam (DOHC) motors with a timing chain. Unlike a timing belt, a timing chain doesn't need to be replaced at regular intervals.
Pros:
Good visibility, interior space, headroom, good on gas, easy to maintain, no timing belt to worry about
Cons:
Plain interior, squeaks and rattles, road noise, exhaust issues, CVT transmission is expensive to replace if failed.
Overall:
The Nissan Versa is a simple, practical fuel-efficient commuter. The engine can last long, provided good maintenance. The CVT transmission will be expensive to replace if it fails, but the 4-speed automatic is mostly trouble-free and is a preferred choice. Read more:
Pros and cons of buying a car with a CVT
.
Related reviews:
Used Ford Focus 2000-2011 review
Used 2007-2008 Honda Fit review
Used Honda Civic 2006-2011 review
Mazda 3 2010-2013 review
Used Toyota Corolla 2009-2013 review
What to look for in a used Nissan Versa:
In addition to the common problems mentioned above, a few owners reported that the engine may produce a piston slap. It's a loud metal noise that is pronounced when the engine is started cold.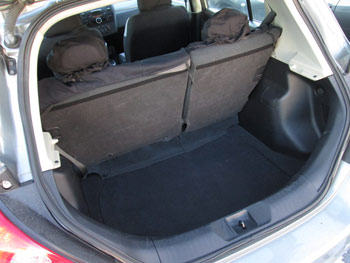 Nissan Versa 2010 interior.
Used cars that produce this type of noise should be avoided. We also recommend avoiding models that don't have antilock brakes (ABS); it's a must-have option.
How expensive is the maintenance?
Nissan recommends changing the oil every 3,750 miles, or 5,000 kilometers. The Versa requires 5W-30 mineral oil which is not very expensive. Tire rotation is recommended every 7,500 miles or every second oil change. Once a year or every 15,000 miles, the air filter ( $35-$50 part and labor) and cabin filter ($55-$80 part and labor) needs to be replaced. A drive belt is usually changed every 30,000-45,000 miles ($90-$160 part and labor). At 105K miles, the spark plugs need to be replaced ($160-$225). The transmission fluid needs to be checked regularly and changed if dirty. Usually it's done every 30,000-60,000 miles. Transmission fluid replacement may cost $160-$250. Overall, regular maintenance is not very expensive.
Fuel economy:
The 2009-2011 Versa with a 1.8L engine and a continuously variable (CVT) transmission is rated at 28 mpg city and 34 mpg highway (8.4/6.9 liters per 100 km). However, the most widely available model on the used car market is the 1.8L 4-speed automatic. It's rated at 24/32 mpg. This means, with mixed city/highway driving, you can travel up to 360 miles (580 km) on one tank (13.2 US gallons or 50 liters).
Safety:
Antilock brakes (ABS) are optional. Electronic stability control is available only on 2011 Versa as an option. Safety ratings are not bad: NHTSA safety ratings for the 2007-2010 Versa vary between four and five stars.