Mazda 3 2010-2013: common problems, fuel economy, driving experience, photos
Updated: October 12, 2019
The sporty and reliable 2010-2013 Mazda 3 comes as a sedan or hatchback, with a 2.0L or 2.5L 4-cylinder engine and manual or automatic transmission.

The interior is stylish and nicely finished. The seats are comfortable and supportive, the steering tilts and telescopes. Available features include heated leather seats, Bluetooth, push-button start, dual-zone climate control and navigation. The optional Bose 10-speaker audio system is one of the best you can find in a compact car.

The Skyactiv package became available from 2012; the Mazda 3 with the 2.0L Skyactiv-G engine is one of the most fuel-efficient in its class. Of course, Mazda 3 has its downsides. Does this mean that you should pass on this car? Let's look at it closer.


Engine: The Mazda 3 comes with three engine choices: the base 2.0L MZR DOHC is a simple and long-lasting motor. The 2.5L MZR DOHC is almost the same engine, but with more power.

The 2.0L direct-injected, high-compression Skyactiv-G engine, available from 2012, is much more technologically advanced and fuel-efficient. All three engines are very reliable and require minimum maintenance besides regular oil changes. All three engines run on regular gasoline and have a timing chain; there is no timing belt.
Skyactiv technology: Skyactiv is a collective name for the well-tuned package of technological advances that became available for 2012. The most impressive is the engine design, where better fuel economy is achieved without a hybrid drive or turbocharger.

With higher compression ratio and direct injection, the Skyactiv engine can run on 87 gasoline and is proven to last long with regular maintenance. Read also: Pros and cons of buying a car with Direct Injection. The Skyactiv transmission is another interesting story.
It delivers higher fuel efficiency without sacrificing driving experience.

The Skyactiv gearbox is based on a traditional automatic transmission, something that is disappearing in many other cars. Another part of the Skyactiv package is a lighter and more rigid body and light-weight chassis.

Handling and ride: Mazda 3 is the benchmark for sporty handling and road feel among compact cars. The vehicle holds the road well on twisty roads and on the highway. The steering is precise and readily snaps back to center when driving straight. The turning radius is tight, which is a big plus. The ride is on the firm side and some road and tire noises are noticeable. Overall, Mazda 3 is a good choice for driving enthusiasts looking for a small fuel-efficient car.

Pros: Reliability, Zoom-Zoom driving experience, rich high-quality interior, available fuel-efficient Skyactiv engine, tight turning radius, low maintenance and repair costs.

Cons: Firm ride, road noise, low seating position, tight interior space, tires wear fast if not rotated, fuel economy with the 2.5L engine.

Similar cars:
Mazda 3 NHTSA crash tests
Overall
Frontal
Crash
Side
Crash
Rollover
2011
2012
2013
Safety: The ABS, side and side curtain airbags are standard. Traction Control and Stability Control were optional for 2010; standard from 2011. The Insurance Institute for Highway Safety (IIHS) recognized all 2010-2013 Mazda 3 models except 2010 hatchback with the Top Safety Pick award. See NHTSA crash test results in the table.

Common problems: Tire pressure sensor valve stems can break off due to corrosion; the repair is not very expensive.

Rear tires can become cupped and noisy if not rotated in time. The rumbling noise from the tires may appear after tire rotation, as cupped tires are more noisy when placed in the front.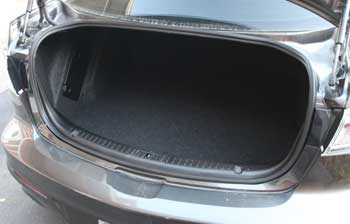 2012 Mazda 3 trunk
The solution is after installing new tires, rotating them at every oil change.

Welding at the driver's seat frame can fail, causing the seat to become loose and start 'rocking'; the repair involves replacing the seat frame. There was a recall on that issue, check at the NHTSA website.

HID headlights could fog up from the inside. When buying a used Mazda 3, it's best to avoid models with HID headlights as the repair is expensive.

In 2.5L models with manual transmission, premature clutch failures have been reported. Replacing the clutch could cost from $900 to $1600.

The issue with the headlights flickering while braking in the Skyactiv Mazda 3 can be resolved by reprogramming the engine computer with an updated software.

The little steel lever that connects the automatic transmission shifter cable to the transmission may rust, causing the vehicle not to start in Park, but start in Neutral. The lever can be replaced or lubricated to solve the problem. The part is not expensive (around $20).

The transmission control module (TCM) may fail causing the AT light to come on with the code for shift solenoids. A new TCM is expensive, but still cheaper than replacing the whole transmission. This problem affects a limited number of cars.

In Skyactiv models, the airflow sensor can fail causing a no-start. The part is not expensive and the air flow sensor replacement is easy.


Mazda 3 EPA Fuel Economy:
mpg
city/hwy
L/100 km
city/hwy
2011-2013 2.5L, manual
20/28
11.8/8.4
2010 2.5L, manual
21/29
11.2/8.1
2010-2013 2.5L, auto
22/29
10.7/8.1
2010-2013 2.0L, auto
24/33
9.8/7.1
2010-2013 2.0L, manual
25/33
9.4/7.1
2013 2.0L Skyactiv 5-door, manual
27/38
8.7/6.2
2012-2013 2.0L Skyactiv 4-door, manual
27/39
8.7/6.0
2013 2.0L Skyactiv 5-door, auto
28/39
8.4/6.0
2012-2013 2.0L Skyactiv 4-door, auto
28/40
8.4/5.9
Overall: Mazda 3 is a nimble, stylish small car. The cabin is tight, but the interior quality is among the best in its class. Low maintenance costs is another plus. A firm ride could be a deal breaker; make sure to test drive the Mazda 3 for as long as possible to get a good feel.

The 2.5L model is fast and has plenty of power, but it's not very good on gas. The 2.0L Skyactiv is the most fuel-efficient choice. Mechanically, Mazda 3 is a well-built car. It has a good engine, excellent brakes and strong suspension. Unlike the 2004-2005 models, this generation Mazda 3 doesn't have any issues with rust. Among competitors, the Toyota Corolla is softer and has a quieter ride.
The Honda Civic is similar, but the Mazda 3 has a stronger suspension. Mitsubishi Lancer is sporty, but not very fuel-efficient. Ford Focus shares some of the powertrain components with Mazda 3 and is a similar car.

What to look for when buying a used Mazda 3: Check the service records to make sure the vehicle was serviced in regular intervals. Running the history report can help avoid cars that have been restored after an accident. Test all the power options, CD changer, air conditioner and the sunroof. Watch out for uneven tire wear (typically on the inside). During the test drive, watch out for tire noise; cupped tires can cause a rambling or humming noise. Avoid the car if you notice blue smoke from the exhaust. If it's a manual car, make sure to test the clutch. Read more: How to inspect a used car - illustrated guide.


Maintenance: Change your engine oil at least every 5,000 miles or 8,000 km. For the 2010 Mazda 3, the 5W-20 is the recommended oil type. All 2011 and newer Mazda 3 models except Mazdaspeed 3 require synthetic 0W-20 oil. If you want your tires to last longer, rotate them at every oil change; if not rotated regularly, rear tires can become cupped and noisy. The cabin filter needs to be replaced at least every 25,000 miles (40,000 km) or two years. Transmission fluid needs to be changed when it becomes dirty. In all but Skyactiv models, you can check the transmission fluid condition using the transmission dipstick. Read more: how to check the transmission fluid condition.

You might also be interested:
Resources:
Recalls: Safety Recalls - NHTSA or Transport Canada - Motor Vehicle Safety Recalls.
Mazda Owners - Owner's Manuals, accessories, warranties and more.
2012 Mazda 3 specifications
Dimensions:
Overall length:
Sedan:
Hatchback:
Overall width:
Overall height
Wheelbase:



180.9 in (4,595 mm)
177.4 in (4,505 mm)
69.1 in (1,755 mm)
57.9 in (1,470 mm)
103.9 in (2,640 mm)


Seating Capacity:


5


Engines:
Base 2.0L:


2.5L:


Skyactiv 2.0L:



2.0-liter, 16-valve DOHC I4 with VVT, model MZR
148 hp @ 6,500 rpm, 135 lb-ft @ 4,500 rpm

2.5-liter, 16-valve DOHC I4 with VVT, model MZR
167 hp @ 6,000 rpm, 168 lb-ft @ 4,000 rpm

2.0-liter, direct-injected, high-compression ratio
16-valve DOHC I4 with VVT, model SKYACTIV-G
155 hp @ 6,000 rpm, 148 lb-ft @ 4,100 rpm


Recommended Fuel:


Regular unleaded


Fuel tank capacity:
MZR 2.0L, SKYACTIV-G 2.0L:
MZR 2.5L:


14.5 US gal. (55L)
15.9 US gal. (60L)


Engine oil capacity:
With oil filter change:
MZR 2.0L:
SKYACTIV-G 2.0L:
MZR 2.5L:



4.5 US qt. (4.3L)
4.4 US qt. (4.2L)
5.3 US qt. (5.0L)


By Samarins.com Staff
---