Mazda 6 2014-2017 problems and fixes, fuel economy, specs, photos
May 06, 2018
After Mazda ended its partnership with Ford, it had to come up with new in-house developed products to prove itself. The third-gen Mazda 6 is one of them. It's a sleek front-wheel drive family sedan with sporty handling. In the past, Mazda 6 offered an optional Ford-sourced V6.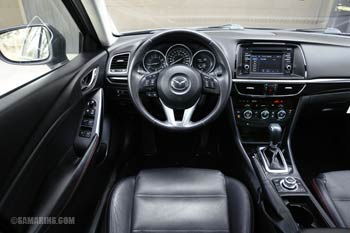 Mazda 6 interior
The 2014-2017 Mazda 6 comes only with the 2.5L Mazda Skyactiv 4-cylinder engine. Thanks to Skyactiv technology, Mazda 6 is one of the most fuel-efficient family sedans on the market. It's also one of the few cars that still comes with a conventional automatic transmission. The reliability is above average, but there are problems to watch out for.

Mazda 6 problems: There are several complaints about the mass air flow sensor failing. A bad mass air flow sensor can cause a no-start and stalling. The sensor is easy to replace. The part is sold online for $135-$160.
A sticking switch inside the transmission shifter lever mechanism can cause the vehicle to stay intermittently in the accessory mode with the audio system staying on and draining the battery. To repair the problem the switch or the whole shifter lever assembly must be replaced ($320-$550 repair).
Failed ignition coils can cause the Check Engine light to come on with misfiring codes. A bad ignition coil must be replaced with an updated part. It's a good idea to replace all the spark plugs at the same time.
At higher mileage, the carbon buildup on the valves can also cause the engine to misfire. This problem is common for direct-injected engines. The solution is to clean the valves with a special spray or manually. To clean the valves manually, the intake manifold has to come off.
Several owners mentioned various problems with Mazda Connect infotainment system. Some glitches were fixed with software updates or resets.
OEM tires wear out fast. Many owners opt for different tire brands.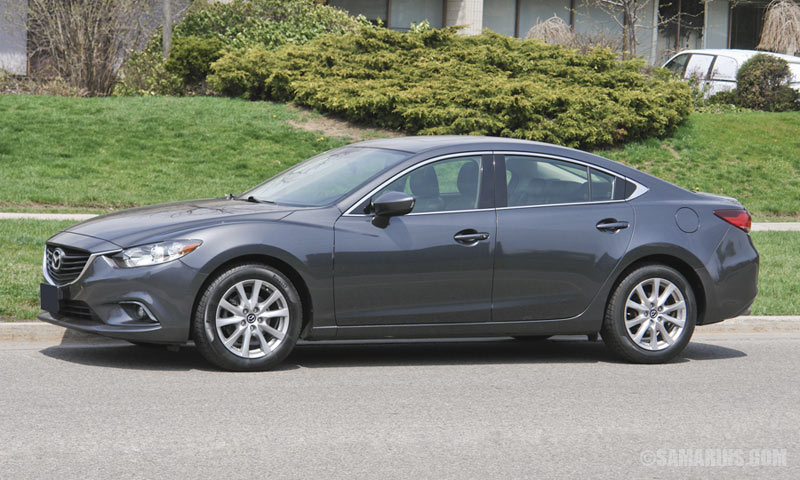 2016 Mazda 6, known as Atenza in other markets. See
larger image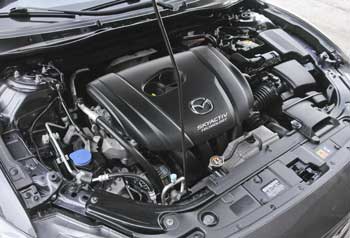 Mazda 6 2.5L Skyactiv engine
Engine: Mazda 6 offers only one engine: the 184-hp 2.5L DOHC 4-cylinder Skyactiv-G motor. It has higher compression ratio (13.0:1) and direct fuel injection. It's one of the best engines on the current market. It has been proven reliable if maintained well. Read also: Pros and cons of buying a car with Direct Injection.

Timing belt or chain: The 2.5L Skyactiv engine has a timing chain that doesn't need regular replacement. There is no timing belt.

Mechanical: Mazda 6 has front-wheel drive, with MacPherson struts in the front and independent multi-link layout in the rear suspension, with 17" or 19" wheels. Rear brakes are discs. The 2016+ models have electric parking brakes. The steering is electrically assisted.

Fuel Economy: The 2015 Mazda 6 automatic with i-ELOOP system is rated at 28/39 MPG city/hwy. The i-ELOOP system, available in the GT Technology Package uses a capacitor installed inside the front fender to recover the energy when slowing down to re-use later. It's like a very mild hybrid. The regular 2014-2016 Mazda 6 automatic gets 26 MPG city, 37 MPG highway. This allows Mazda 6 to travel up to 574 highway miles (924 km) on one tank of regular gasoline.

Handling and ride: Mazda 6 handles like a sporty sedan. The steering is precise and responsive, with 36.7 ft. curb-to-curb steering circle. The car holds the road very well. The 2.5L engine is not super fast, but has a generous amount of power. The ride is on the firm side.

Pros: Fuel economy, sporty handling, supportive seats, conventional 6-speed automatic transmission, available 6-speed manual, 5-star crash test rating, safety features, rich interior.

Cons: Road and wind noise, no V6, no AWD option, rear seat space, low front bumper is easy to scrape, OEM tires wear fast, not very large trunk.
Similar cars:
Overall: Mazda 6 is one of the best family sedans on the market. The reliability is above average, maintenance costs are low. If you can live with some road and wind noise, it's a great car to drive.


Safety: The NHTSA rated the 2014-2017 Mazda 6 with five stars out of five overall in its crash tests. Available safety technology includes adaptive cruise control, blind spot monitoring, rear cross traffic alert and lane departure warning. Antilock brakes and stability control are standard.

What to look for when buying a used Mazda 6: Check if the infotainment system works properly. Watch out for rattling door speakers.
Check if both key fobs work. Test the air conditioner and other features. Watch out for warning lights staying on after the engine is started. See if the power seat mechanism works properly. Watch out for signs of previous accidents, or lack of maintenance, read more here: How to inspect a used car.

Engine oil: The owners manuals for the 2014-2017 Mazda 6 list SAE 0W-20 as the recommended oil type. The engine oil capacity for the 2.5L engine is specified at 4.5 L (4.8 US qt, 4.0 Imp qt) with oil filter replacement.

Automatic transmission fluid: Mazda specifies Mazda Genuine ATF FZ, as the required automatic transmission fluid. The full automatic transmission capacity is listed at 7.8 L (8.2 US qt, 6.9 Imp qt), but only around 3.5 US qt (3.3 liters) can be drained from the transmission drain plug. We checked the owners manuals for the 2014-2017 Mazda 6 and none of them includes the automatic transmission fluid (ATF) change in the maintenance schedule. However, your mechanic may still recommend changing the ATF, as it degrades over time.

You might also be interested:
Resources:
Safercar.gov - Check for recalls by the VIN number
Mazda Connect - how it works, FAQ, How-to guides.
Mazda TomTom navigation - for 2013-2015 Mazda 6: help, map updates.
Fueleconomy.gov - compare gas mileage ratings