How do I get the best deal on a used car?
Updated: October 03, 2019
You decided to save some money and buy a used car instead of a new one. Great! How do you find the best deal? What to look for in a used car? What cars should you avoid? What car features will be expensive to repair? I helped many people in finding a good used car, let me share some of my knowledge with you.
You already know that you won't get a good deal without a clear idea what kind of car you are looking for.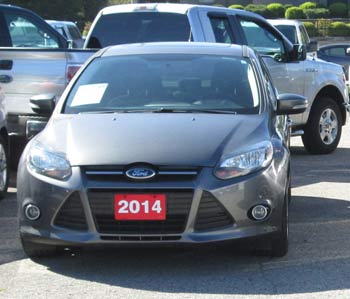 The used car market presents plenty of choices.
If you just come to the dealer and say that you want a good car for under $10,000 or 15,000, you are taking a chance, although a salesperson will be happy to see you.
How much are you looking to spend? $10,000? Let me show you this beautiful car! One owner - we just got it as a trade-in! It has low mileage too! We have a promo $500 REBATE ON A PRE-OWNED VEHICLE — but it ends tomorrow!
Sounds great, but if you google "common problems" for the year, make and model of this vehicle you may find hundreds and hundreds of complaints about engine problems or the transmission that keeps failing even after being replaced for the third time. Yes, there are cars like this. Of course it could be a good car too, but why leave it to chance?
Getting the best deal on a used car is a few-step process:
1. Do your research and choose one or two suitable car models that are within your budget.
2. If you are financing your deal, check what your bank offers before going to the dealer.
3. Select a few cars and check them out.
4. Once you find the one that you like, negotiate the best deal.
Look for used cars that are simple and less likely to require expensive repairs later. Examples of components that are costly to repair or replace include a turbocharger, adjustable ride height suspension, large-size low-profile rims and tires, HID headlights, hybrid battery, power liftgate, convertible top and head-up display on a windshield.
The "best deal" for a used car is a 3-7 year old vehicle, as the new car loses most of its value in the first two years. You want to limit your search to cars that are reliable and safe, won't cost a lot to maintain or insure, and that will hold their value longer, read more here:
What you should know when buying a used car.
Once you set your budget, check what cars are available on the AutoTrader or other website within your price range and narrow your search down to one or two models; it will be less confusing. For example:
I need a practical, reliable SUV that is good on gas. I've done my research and narrowed my choice down to a 4-5 year old Toyota RAV4 or Honda CR-V. Both are practical, reliable, good on gas and have plenty of cargo space. Both have all-wheel drive that is a must for me.
Limiting your search to one or two models will also help you recognise signs of problems during the test drive. It's a lot easier to spot if the engine runs smoother or if there is something wrong with the way the transmission shifts, because you just test drove the same car at another dealership. The same is true about negotiating the price. This way you can compare apples to apples.
Should you look for the cheapest price? No, when it comes to used cars, the "best deal" doesn't mean the cheapest price. The value of any used vehicle depends on its condition, mileage, options and other factors.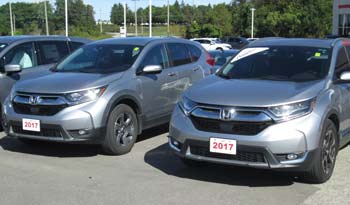 Two cars may only look the same.
Two cars may only look the same. One might have a noisy engine that consumes oil, cheap tires, rusty undercarriage and poor maintenance history. Another car might have been well taken care of and even rust proofed; it may have a quiet engine, new premium tires and a fresh battery. In this case, you would be right to pay a little more for the second car.
The "best deal" used car is the one that will serve you well over the long term without costly problems. This means the "best deal" used car should be well-maintained, with no previous accidents or major repairs, it should be in sound mechanical condition and have all the features you need.
It will help if the seller or a salesperson will be able to show you the service records to verify that the oil changes were done regularly. A one-owner car with all the maintenance done at the dealership is even better. It's preferably for a used car to have lower mileage, but don't put too much value on the mileage alone; the mechanical condition is more important. Read more:
What mileage is OK for a used car?
Don't be put off by minor cosmetic issues, like dents or scratches, unless it really matters to you. If it has some minor blemishes, you can use them to negotiate the price down.
The condition of the interior usually says a lot, so watch out for excessive wear of the driver's seat, steering wheel and driver's door inner handle. Avoid cars with engine or transmission problems, even if it seems like something minor. Read our article with photos:
How to inspect a used car - illustrated used car checklist
.
A good engine starts right away with no smoke and no loud noises and runs smoothly and quietly. It has enough power on acceleration and there is no hesitation. Read more:
How to check the engine when buying a used car
.
If you are looking for a used electric or hybrid car, besides the things mentioned above, ask the dealer for the report on the health and
capacity of the battery
. Over time, the electric or hybrid car battery loses some of its capacity and when it eventually fails, it will be very expensive to replace.
Look for a dealership with a good reputation. Take your business to a dealer that cares about good customer service and stands behind the cars they sell. Read through Google reviews; there are often many fake positive ones, but look for the negative reviews to know what tricks and pitfalls to be aware of.
How to negotiate the best deal:
1. See if you can bargain the price from the beginning, for example, when you call the dealer to confirm that the car is still available. If they ask $12,500, ask a salesperson if it is worth it for you to come if you only want to spend $12,000, considering that you are ready to buy. Usually, they won't say "No", which means that when you come, you can start negotiating down from $12,000.
2. Don't focus on monthly payments. Always ask to calculate what is the total amount after all the fees and taxes that you will have to pay in the end. "$115 By-weekly" sounds cheap, but if it's stretched over the 96-month period it's almost $24,000 in total. We found this YouTube
video
that explains well how dealerships are making money off of you.
3. Don't be afraid to make a lower offer. It's business. If they are asking $11,000, offer $9,000 or so if you like the car. There is nothing wrong with it, everyone bargains, why shouldn't you?
4. Nothing works better than competition. If there is a similar car that you like at another dealership, show it to the salesperson and mention that you will buy from whomever gives you the best deal. For example, if this dealer offers you $500 off, phone the other dealer and ask them if they can beat it.
5. Whatever is promised by the dealer, ask them to confirm in writing.
If the dealer promises to install new tires, make sure you agree on what kind of tires - cheapest available or of a well-known brand like Michelin. If there is any kind of warranty that comes with the car, make sure you understand the terms and conditions. "Don't worry, we'll take care of it!" doesn't mean much; see what's written in the contract.
6. Be prepared that a salesperson or finance & insurance (F&I) manager will likely try to sell you something extra, like tinting, rustproofing, service contract, paint protection, etc. Do your research before. If you don't want anything like this all you have to say is "No."
7. Don't give a deposit and don't sign anything until you have some time to review the deal without pressure and think it over. Don't buy a car if you have reservations about it. If the engine seems noisy, the transmission shifts a bit harsh, or there is something wrong with the papers, or a salesperson is too pushy, or something is added to the deal without your knowledge - leave. There are plenty of other cars available. There are many good dealers that care about their customers too.