Used BMW 3-series 2006-2011 review
March 29, 2015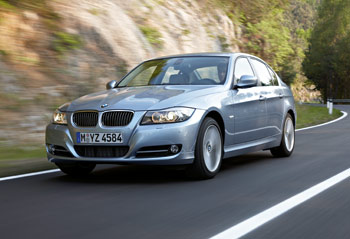 2009 BMW 3-series sedan. Photo: BMW
Not many cars can match the style and driving experience of the BMW 3-series.
It's a small sporty car with a strong engine riding on a classic rear-wheel drive platform.
The fifth-generation 3-series comes as a rear- or all-wheel drive sedan (E90), wagon (E92), coupe (E92) or a rear-wheel drive-only convertible (E93). All body styles are available with a manual transmission.
The 3-series interior is sporty-tight and nicely-finished. Front seats are very comfortable on long trips. Crash-test ratings are pretty good. Overall, it's a well-built car, but ownership costs could be expensive. Is this a good reason to pass on this ultimate driving machine? What model years and which engine is more reliable? Let's look closely.


Model line-up: For the 2006 model year, the US 3-series line-up consisted of the 325i and performance-oriented 330i sedan and wagon; the coupe and convertible carried over from the previous generation (E46). For 2007, the 325i and 330i were replaced by 328i and twin-turbo 335i and the fifth-generation coupe and convertible were added. The 335d turbo-diesel was added for 2009. Out of curiosity we checked the European market. The most widely available E90 model in the UK and Germany is the 320d with the 2.0L diesel engine and a manual transmission.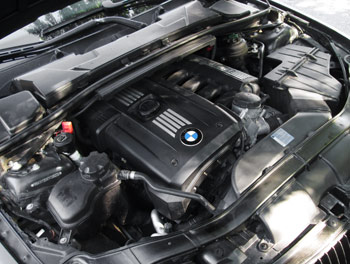 2007 BMW 3-series inline-6 N52 engine. Click for
larger photo
N52 Engine: The North-American 323 (Canada only), 325, 328 and 330 models come with the N52 inline-6 DOHC engine. The Canadian 323i has the 2.5L version (N52B25), while the 325i, 328i and 330i models come with the different versions of the 3.0L N52B30 engine (UL, M1 and OL respectively).
The N52 is a lightweight high-tech motor with 4 valves per cylinder, variable intake valve lift and variable timing. Its aluminum cylinder block is incased into a magnesium shell. It comes with hollow camshafts and electric water pump. This engine has a maintenance-free timing chain; there is no timing belt. Overall it's a solid performer.

The difference in horsepower between models is achieved by different compression ratio, intake manifold design and computer tuning. The 2006 BMW 325i (215 hp) and the 2007-2011 BMW 328i (230 hp) have a single-stage intake, while the 2006 BMW 330i (255 hp) comes with the 3-stage DISA intake manifold. Does this mean that you can add more power to 325i or 328i by upgrading to the 3-stage intake and re-flashing the engine computer? Read more below.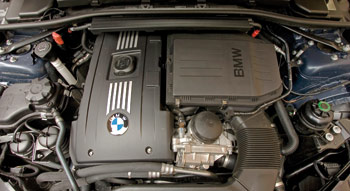 BMW N54 twin-turbo engine. Photo: BMW
N54 Engine: The 306-hp 3.0L direct-injected inline-6 DOHC N54 powers the high-performance BMW 335i for 2007-2010 model years. The N54 has a pair of small low-boost (8.8 psi) turbocharges, each powered by three cylinders (123 and 456).
Fuel is injected directly into cylinders by high-pressure piezo fuel injectors. Due to its complex design, the N54 could be expensive to maintain when out of warranty, but it has a lot more power. The stock 335i can accelerate from 0 to 60 mph in around 5 seconds.

Fuel Economy: The diesel-powered 335d is very fuel-efficient (36 MPG or 6.5 L/100 km on the highway) and can get up to 435 miles to a tank, however, it's very rare on the used car market. The two most common for the US market models, 328i and 335i get 18/28 and 17/26 mpg city/highway respectively on premium gasoline.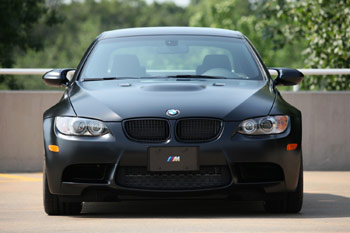 2011 BMW Frozen Black Edition M3 Coupe.
One of only 20 sold in the US. Photo: BMW
BMW M3: For the 2006, the E46 M3 carried over. The 4-th generation E9x M3 became available for 2008, as a sedan, coupe or convertible. The M3 has rear-wheel drive and comes with the naturally-aspirated 414-hp 4.0L V8 S65 engine. The 0 to 60 mph time is around 4.5 seconds. The M3 comes with a 6-speed manual or 7-speed dual clutch automatic transmission.
It might be difficult to find a used M3 in an "old-lady-driven" condition and it won't be cheap: at the time we did our research for this review, the average price in the US for a 5-year old M3 was around $39,000.

How well does the used 3-series BMW hold its value?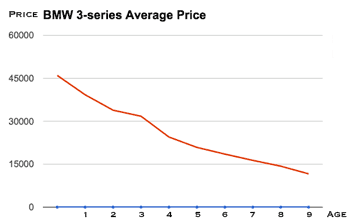 BMW depreciation chart
We have researched the US prices and it looks like the biggest drop in the value of the 3-series BMW happens in the first four years of ownership (see the chart). This means that you will lose less money in depreciation if you buy a 4-5 year old or older Bimmer. While the new BMW 3-series MSRP is in the $40,000-50,000 range, an average retail price for a 9-year old used vehicle is around $11,600.

Pros: Styling, excellent handling, comfortable ride, strong engine, rich interior, condition-based maintenance remainder, variety of available mods and enthusiast support, plenty of owner forums and do-it-yourself information.

Cons: Requires premium gasoline, expensive to maintain, potentially-costly problems, tight interior space, run-flat tires, no spare.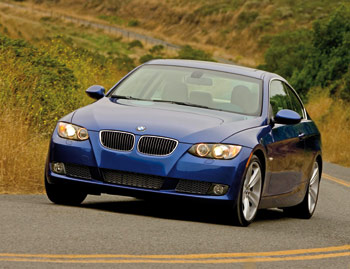 2008 BMW 335i Coupe Photo: BMW
Overall: It's not a secret that a used BMW will be more expensive to maintain than a Honda or Toyota, which means you have to have spare cash available. Opting for a certified pre-owned (CPO) BMW is a good idea, however, as of 2015, only the 2011 models qualify. An aftermarket extended warranty with good coverage is another option.

The twin-turbo 335i will probably need more expensive repairs in the long run, while the 2009-plus 328i is more reliable according to Consumer Reports. A repair shop that specializes in BMW is your best option for servicing. If you like working on your car, finding DIY information won't be a problem, thanks to a large amount of BMW enthusiasts.

Overall, the 3-series is an excellent car to drive. If you know what to expect and ready to deal with potentially expensive repairs, there is no other reason why it should be overlooked. We strongly recommend to have the vehicle inspected by an independent dealer or BMW specialist before purchase. After an inspection, ask a mechanic what problems to expect in the future.
Read about common problems and what to look for when buying a used 3-series on the next page.