Nissan Rogue 2014-2017: problems, fuel economy, engine, pros and cons
Updated: October 23, 2019
The second-generation 2014-plus Rogue is taller, roomier and more upscale than its predecessor. It also offers optional third-row seating. Nissan designates this model as T32. The Rogue comes as a front-wheel drive or all-wheel drive. The US lineup includes the base S, mid-level SV and top SL trim levels.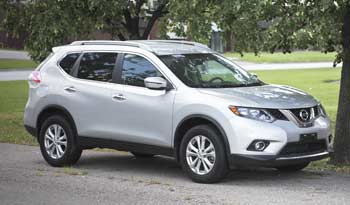 2016 Nissan Rogue (T32)
The more common Rogue S and SV come with 17" wheels. The SL comes with leather seats, a premium Bose audio system and 18" rims. Third-row seating is only available in S and SV trims.

One of the most interesting features is the Around View Monitor. It shows the view from above which is a great help when parking or navigating through tight corners. The Around View Monitor is standard in SL and is available in SV as a part of Premium Package.

The rare Rogue Hybrid was offered starting from 2017. The 2017 also saw the addition of the Nissan Rogue Sport. It's a different vehicle known as Nissan Qashqai in other markets and is not covered in this review. Nissan also sold the previous generation Rogue as Nissan Rogue Select through 2014 and 2015. We covered the first generation Nissan Rogue in a separate review.
Nissan Rogue problems: According to the bulletin NTB15-062, to repair a popping noise from the front coil springs when turning, both front coil springs and strut bearings need to be replaced. If out of warranty, the repair could cost between $450 and $750.
We have found several complaints about navigation, Bluetooth and audio system issues. There are a few reports that some of the problems are fixed after a firmware update.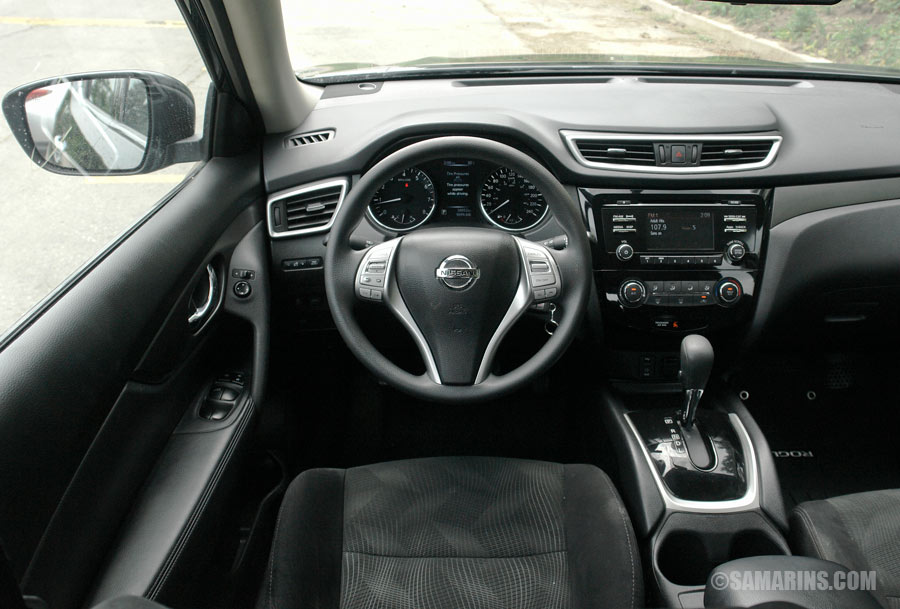 2016 Nissan Rogue interior.
Since Nissan introduced the CVT transmission in the 2003 Murano, there are still complaints about it, although not as many as in the previous generation. The Nissan Service Bulletin NTB15-084b for the 2014-2016 Rogue (T32) advises replacing the valve body (part of the CVT transmission) or the CVT unit if the vehicle exhibits a transmission judder or vibration and the trouble code P17F0 or P17F1 is stored in the transmission control module (TCM). Read more: Pros and cons of buying a car with a CVT transmission.
A number of owners mentioned various issues with the air conditioner not working properly. For example, read this discussion. Some owners say the A/C stops working after driving for some time, but starts working again after the car is parked for a while. One of the possible causes is icing up of the A/C evaporator. That part is located inside the dash. Once the A/C is turned off and the ice melts, the A/C starts working again. In other cars, the icing of the A/C evaporator is often caused by issues with the evaporator temperature sensor or its placement. Some owners said changing the evaporator temperature sensor fixed the problem in the Rogue.
The sunvisors that won't stay in place might need to be replaced. The repair is not expensive.
Nissan issued the recall for the fuel pump (NHTSA# 15V-197) and several other recalls for the Rogue, check at the NHTSA website


Nissan Rogue
EPA Fuel Economy:
mpg
city/hwy
L/100 km
city/hwy
2017-2019 Rogue Hybrid FWD
33/35
7.1/6.7
2017-2019 Rogue Hybrid AWD
31/34
7.6/6.9
2017-2019 Rogue FWD
26/33
9.0/7.1
2015-2016 Rogue FWD
26/32
9.0/7.4
2014 Rogue FWD
25/32
9.4/7.4
2017-2019 Rogue AWD
25/32
9.4/7.4
2014-2016 Rogue AWD
25/31
9.4/7.6
Fuel Economy: Nissan Rogue is one of the most fuel-efficient SUVs. The 2015-2016 front-wheel drive Rogue is rated at 26/32 mpg. The all-wheel drive model is not far behind at 25/31 mpg; see fuel consumption data in the table. The 2016 AWD Rogue can travel up to 435 miles (700 km) on one tank of gas on a long highway trip.

Engine: The Rogue's 170-horsepower 2.5-liter DOHC 24-valve 4-cylnder QR25DE motor has been used in many Nissan vehicles for more than a decade. It's a simple and reliable engine. If you maintain it well and regularly change your oil, this engine can last for over 200K.

Timing belt or chain: The 2.5L QR25DE engine comes with a timing chain. The timing chain only needs to be replaced if it's stretched or if there is some other issue with it. There is no timing belt.

Mechanical: The Rogue has MacPherson struts in front suspension. The rear suspension uses an independent multi-link layout. All 4 wheels have vented disc brakes. Anti-lock Brake System and Stability control are standard.
The steering is electrically-assisted. The only transmission choice is a continuously variable transmission (CVT).

4WD System: The Rogue's 4WD system features a simple design similar to most modern SUVs: the front wheels are powered at all times. The transfer assembly is mounted to the transmission case and powers the rear axle via the propeller shaft. The amount of torque sent to rear wheels is varied and controlled by an electrical coupling installed in front of the rear differential. The system is not designed for heavy off-roading, but will help maintain control in slippery conditions.

Driving Experience: The Rogue is one of the few SUVs that offer good handling and a comfortable quiet ride. The 2.5L engine offers reasonable power around town and on the highway.


Nissan Rogue NHTSA crash tests

| | | | | |
| --- | --- | --- | --- | --- |
| | Overall rating | Frontal crash | Side crash | Rollover |
| 2014 Rogue | | | | |
| 2015 Rogue | | | | |
| 2016 Rogue | | | | |
| 2017 Rogue non-hybrid | | | | |
| 2018 Rogue non-hybrid | | | | |
Safety: The NHTSA rates the 2014-2018 Nissan Rogue with 4 stars overall. See details in the table.

Pros: Exterior style, roomy interior, second-row space, good visibility, cargo space, available third-row seating, fuel economy, comfortable ride.

Cons: Models with third-row seating don't have a spare tire and come with more expensive run-flat tires, small towing capacity

Similar cars:
Overall: The Rogue is a comfortable spacious SUV with some good features. The CVT reliability is still not perfect, but so far there are less complaints than in the previous model.
As of August 2018, Consumer Reports rates the 2014-2017 Rogue as 'Average' although the engine and transmission reliability is rated above 'Above Average'. Fuel System, Climate System, Body Integrity and In-car Electronics are mentioned as trouble spots. If you are buying a used Nissan Rogue, we would recommend getting an extended warranty for the powertrain (engine and transmission) unless Nissan extends the warranty for the CVT. The CVT is also not very suitable for towing. That said, we test-drove the 2014 and 2016 Rogue and neither had any problems. There are also plenty of positive owner reviews on sites like Cars.com or Edmunds. Many Rogue owners praise the style, interior space, easy driving experience, fuel economy and cargo space.
Among competitors, Mazda CX-5 is also good on gas, reliable and has a conventional automatic transmission. Honda CR-V and Toyota RAV4 have a good reputation and are rated well overall.


You might also be interested:
Resources:
Recalls: Safety Recalls - NHTSA or Transport Canada - Motor Vehicle Safety Recalls.
US Nissan Owners website - Check maintenance schedule and download an electronic owner's manual.
Nissan Assist - read about CVT warranty and other issues.


2014 Nissan Rogue specifications
Dimensions:
Overall length:
Overall width:
Overall height:
Ground clearance:
Wheelbase:

182.8 inches (4,643 mm)
72.0 inches (1,830 mm)
67.5 inches (1,714 mm) - with roof rack
7.4 inches (188 mm)
106.5 inches (2,706 mm)

Towing Capacity:
1,000 lbs
Turning circle:
37.4 ft
Cargo space:
32 cu. ft. (2nd row seat upright) / 70 cu. ft. (2nd row seats folded)
Engine:
2.5L QR25DE 4-cylinder 16-valve DOHC
170 hp @ 6,000 rpm
175 lb-ft @ 4,400 rpm
Fuel Requirements:

Regular unleaded

Fuel Tank Capacity:


14-1/2 US gallons (55 L)


Engine oil capacity (with filter):
5-1/8 qt (4.6 liters)

By Samarins.com Staff
---