2009-2013 Subaru Forester problems, pros and cons, photos
Updated: February 26, 2020
The Subaru Forester is a tall compact SUV with standard all-wheel drive. Thanks to its upright shape, the Forester offers a spacious interior and excellent all-around visibility. It's powered by a flat-4 "Boxer" 2.5L engine mated to a 5-speed manual or 4-speed automatic transmission.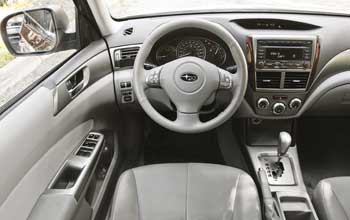 Subaru Forester interior. Click for a
larger photo
The Forester has a low center of gravity and handles well. With its tight turning circle (34.4 ft), it is easy to navigate around tight city corners. We test-drove the 2013 Forester and researched reliability, common problems, read owner reviews and checked Subaru technical service bulletins.
Subaru Forester problems:
Rattling exhaust shields are common. The symptom is an occasional metal rattling noise that comes at certain engine rpms. The repair is not very expensive: a loose exhaust heat shield needs to be re-secured. Most repair shops use worm gear clamps for this purpose.
A number of Forester owners have reported the catalytic converter failing at higher mileage. The symptom is the Check Engine light with the code P0420 or P0421. When out of warranty, the repair is expensive. The OEM converter may cost over $1,000 to replace, while the aftermarket catalytic converter may cost $350-$600 (for the part) plus $80-$200 labor.
Several owners reported leaking head gaskets at high mileage; the repair is expensive (over $1,000). One of the possible signs of a leaking head gasket is the coolant smell from the engine compartment and dropping coolant level.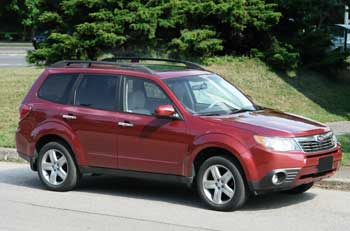 2013 Subaru Forester. Click for a
larger photo
.
With the introduction of a new non-turbo engine (FB25) in the 2011 Forester, there have been complaints about oil consumption in this motor. Read this
forum
for more info. Google 'Engine Oil Consumption Subaru bulletin 02-157-14R'. As of February 2020, Consumer Reports rates the engine poorly for all model years (2009-2013) of this generation Forester.
Various oil leaks are reported often too. The repair depends on the source of the leak.
Failed sway bar links and bushings are often mentioned. The repair is not very expensive.
Brakes need to be serviced regularly in order to prevent sticking and premature wear.
A/C problems are mentioned frequently.
Many owners mention various trim rattles inside the car.
Timing belt or Timing chain?
The 2009 and 2010 non-turbo Forester comes with an old-style EJ253 SOHC engine. It has a timing belt that needs to be replaced every 105,000 miles. For 2011 model, the non-turbo Forester models received a newer FB25B 2.5L DOHC engine that has a timing chain instead of a belt. The 2009-2013 Forester with a turbocharged EJ255 DOHC engine has a timing belt that also needs to be replaced at 105,000 miles.
Pros:
Visibility, cargo space, ground clearance, capable all-wheel drive system, handling in bad weather, low center of gravity, ride quality, tight turning radius.
Cons:
Engine problems at higher mileage, rattles, audio system and interior materials could be better.
Overall:
The condition of the engine is the key, when considering a used Subaru Forester. We recommend looking for non-turbo models, as the turbo motor is thirsty, requires premium gasoline and is sensitive to lack of maintenance. A good extended warranty for the powertrain may help dealing with unexpected problems. Considering the oil consumption issues in the 2011-plus FB25 engine (non-turbo models), it's important to regularly check the oil level and top up if needed. Among competitors, we would recommend
Toyota RAV4
and
Honda CR-V
; both are rated well for reliability. The 2013-plus
Mazda CX-5
is better on gas and should also be considered.
Related reviews:
Subaru Forester 2003-2008 review
Subaru Outback 2010-2014 review
Subaru Outback 2005-2009 review
Toyota RAV4 2006-2012 review
Toyota RAV4 2013-2018
Honda CR-V 2007-2011 review
Honda CR-V 2012-2016
Mazda CX-5 2013-2016 review
Volkswagen Tiguan 2009-2017 review
Jeep Patriot 2007-2017 review
Fuel Economy:
The 2013 2.5L non-turbo automatic Forester is rated at
21/26 mpg
, which translates to 422 miles (679 km) to a tank with mostly highway driving. A turbocharged engine is thirsty and requires premium gasoline. Read also:
Pros and cons of turbo engines
.
Fuel Consumption
EPA Fuel Economy:
mpg
city/hwy
L/100 km
city/hwy
2011-13 Forester 2.5L-turbo auto (premium)
19/23
12.4/10.2
2009-10 Forester 2.5L-turbo auto (premium)
19/24
12.4/9.8
2009-10 Forester 2.5L non-turbo auto
20/26
11.8/9.0
2009-10 Forester 2.5L non-turbo manual
20/27
11.8/8.7
2011-13 Forester 2.5L non-turbo auto
21/26
11.2/9.0
2011-13 Forester 2.5L non-turbo manual
21/27
11.2/8.7
Interior:
The first thing you notice inside the Forester is how great the visibility is. It's a concept lost on most modern SUVs. The up-right seating position, tall windows and large side mirrors offer an excellent all-around view. Overall, the interior is simple and practical. Rear seats fold almost flat, offering 68.3 cu. ft. of cargo capacity (in models without moonroof).
Handling and ride
Thanks to its flat "boxer" engine, the Forester offers a lower center of gravity than most compact SUVs. This results in better stability in turns and a comfortable ride. Tight turning radius is another plus. To make a U-turn, the Forester needs just 34.4 feet. Both 2011 Honda CR-V and Toyota RAV4 need more than 37 feet.
How good is the Subaru Forester in snow?
We didn't have a chance to test drive this Forester in winter, but we did test the previous 2008 Forester in a foot-deep snow. The car handled it with ease.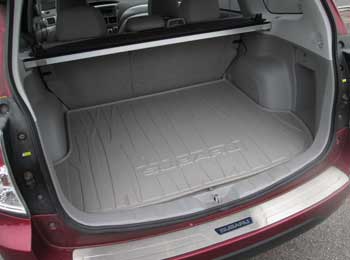 Rear cargo space. Click for a
larger photo
Given that the 2009-2013 Forester is not much different, we expect it to be as competent is winter. Here is a great
YouTube video
showing how the Forester can handle the snow. The ground clearance is listed at 8.7 inches for 2.5X models and 8.9 inches for the 2.5XT (turbo) model.
RELATED:
Subaru Outback 2010-2014 review: reliability, common problems, maintenance and more.
What to look for when buying a used Subaru Forester:
If you are buying from a Subaru dealer, checking the service history may reveal many potential problems, such as oil consumption. The low oil level could also be an indication of excessive oil consumption. Check if the A/C works. When started cold watch out for loud engine noises; avoid the car if the engine is noisy when started. During a test drive, watch out for jerking or rough shifting of the automatic transmission. A burnt oil smell under the hood may indicate oil leaks. The Check Engine light staying on must be investigated before buying a car, as some problems will be expensive to repair. We recommend having a used Subaru Forester inspected before buying by an independent mechanic familiar with Subaru products or another Subaru dealer. The engine needs to be checked thoroughly for leaks and other issues.
Towing capacity:
For the 2012 Subaru Forester, the towing capacity is listed at "up to 2,400 lb. (200-lb. tongue weight)" on a trailer equipped with trailer brakes. You can find more detailed information in your owner's manual under section 8 "Driving Tips".
Resources:
Subaru Technical Information System
- you can buy a temporary subscription and get access to a factory service manual and technical service bulletins. It's a great help for DIY enthusiasts.
Subaru of America Vehicle Resources
- Access owner's manuals online, Starlink FAQ, BlueConnect guides and more.
NHTSA
- check for recalls, safety ratings and search the complaint database.
Maintenance:
According to the 2009-2010 Maintenance schedule, the engine oil needs to be changed every 7,500 miles for non-turbo models and every 3,750 miles for turbo models. A turbocharged engine is very sensitive to oil quality. Longer intervals between oil changes can lead to problems. If you notice the engine consumes oil between oil changes, check the oil level more frequently and top up as needed. Running the engine low on oil will cause problems. Read here:
how to check the oil level
. Spark plugs need to be changed every 30,000 miles for non-turbo models and every 60,000 for turbo models. The drive belt and timing belt need to be replaced every 105,000 miles. For 2011, the Forester has received a new 2.5L non-turbo DOHC engine. It doesn't have a timing belt, but the spark plugs need to be replaced every 60,000 miles.
Engine oil capacity:
When replacing engine oil and oil filter:
2009, 2010 Forester 2.5 L non-turbo: 4.4 US qt. or 4.2 liters
2011-2013 Forester 2.5 L non-turbo DOHC: 5.5 US qt. or 5.2 liters
2009-2013 Forester 2.5 L Turbo: 4.4 US qt. or 4.2 liters.