Used Honda Pilot 2003-2008 review
Updated: August 4, 2013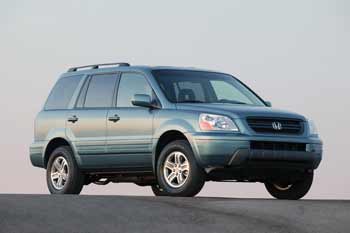 2005 Honda Pilot. (Photo: Honda)
The 2003-2008 Honda Pilot is a three-row 8-seater SUV. Thanks to its upright shape, it offers ample space and excellent visibility. With second- and third-row seats folded, the Pilot provides class-leading 90.3 cu. ft of cargo capacity.

Introduced for 2003, the Pilot was available only in a 4WD configuration. The FWD version was added later. Is Honda Pilot a good choice on the used car market? What are the common problems? We have done some research for you.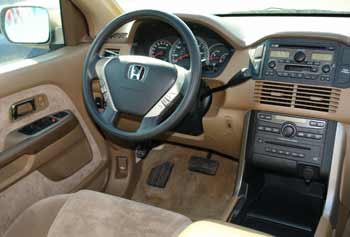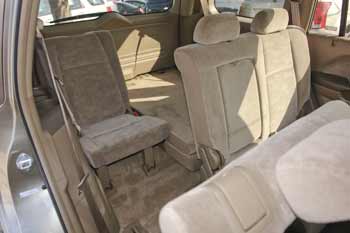 Honda Pilot access to the third-row seats.
Click for
larger photo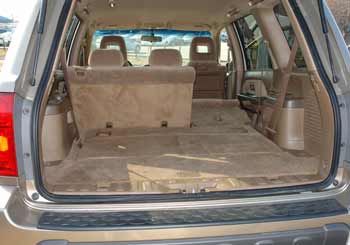 Second- and third-row seats
can be folded down. Click for
larger photo
Powertrain: The only powertrain choice is a strong 3.5L 24-valve SOHC V6 VTEC engine mated with a 5-speed automatic transmission. The 2003-2008 Pilot's engine has a timing belt that needs to be replaced in recommended intervals.

Fuel Economy: The 4WD Pilot gets up to 15/20 mpg (15.7/11.8 L/100 km) city/highway, which is about average for the class. That compares with 16/22 mpg in the 2007 V6 4WD Toyota Highlander. The 7-seater 2007 Mazda CX-9 gets 15/21 mpg.

Safety: The Pilot has disc brakes on all four wheels. The ABS is standard. The Vehicle Stability Assist (VSA) with Traction Control is available (standard on late models). The 2003-2008 Honda Pilot has received five stars out of five in both frontal and side-impact crash tests performed by the NHTSA. The rollover resistance is rated at 4 stars.

4WD system: The Pilot offers an electronically-controlled four-wheel drive system that Honda calls Variable Torque Management 4WD (VTM-4). This system doesn't have a low-range and is not designed for heavy off-roading, but it will give you more stability and control in all weather conditions as well as some off-road capability. The VTM-4 system uses computer-controlled wet clutch packs installed on both rear axles inside the rear differential and can vary the amount of torque sent to each rear wheel according to the demand.

When cruising under normal conditions, the Pilot is powered by the front wheels. When the vehicle is accelerating or wheel slip is detected, torque is sent to the rear wheels. For extremely slippery condition, there is a "VTM-4 Lock" mode, activated by a button on the instrument panel that effectively locks the rear differential to improve traction.

Handling and Ride: On the road, the Pilot handles comfortably and offers smooth ride. The Pilot feels stable and secure at all speeds thanks to the wide tracks and an automatic 4WD system. The 3.5L engine has plenty of power for any situation. The tight turning radius makes the city driving easier.

Pros: Good crash-test and rollover ratings, comfortable, spacious interior, seats eight, strong V6 engine, good handling, cargo space.

Cons: Road and wind noise, fuel economy, no telescopic adjustment on the steering, paint on some interior plastic trims wears fast, rear liftgate glass doesn't open separately.

Overall: With a roomy functional interior and seating for eight, the Pilot could serve as an alternative to a minivan. Don't expect the Pilot to be cheap on gas; if fuel economy is important for you, look for 4-cylinder SUVs. The 2003-2008 Pilot has been reliable for the most part, however early models had some issues with an automatic transmission. A failed ignition switch in the 2003 and 2004 Pilot has been reported by many owners. Suspension repairs are not uncommon at higher mileage, including control arms, struts, shocks and sway bar links. Front engine mounts can go bad.
Similar cars:
What to look for when buying a used Honda Pilot: During the test drive, if any of the warning lights come on with the engine running, this indicates a problem. Be aware, that some "Check Engine" light issues could be expensive to repair. Pay more attention to test automatic transmission; anything that doesn't feel right with the way the transmission shifts should put you on guard. A strong "thump" when shifting into reverse indicates a problem.
Check the front heater blower at all speeds, it often fails. Watch for loose battery cables. Make sure to test the rear climate controls and the A/C thoroughly; the rear blower power transistor is known to fail, there was a Honda bulletin on this issue. Watch for noises from the suspension when driving on a rough road; things like bad control arm bushings are not uncommon. It's a good idea to check with Honda dealer if all necessary recalls have been performed. Read more what to look for when buying a used car.
Before buying the Pilot, have it properly inspected by a mechanic familiar with Honda, for example, at a Honda dealership. Ask to check if the timing belt has been replaced. Consider an extended warranty, at least for the powertrain, to cover possible transmission issues.
Guides for used car buyers:
Maintenance: Your engine will last longer if you change your oil regularly. The owner's manual for 2008 Honda Pilot says: Always use a premium-grade 5W-20 detergent oil displaying the API Certification Seal. Be careful with the transmission, don't overheat it. If you planning to use your Pilot for towing, consider installing a heavy-duty transmission fluid cooler and changing the transmission fluid more often. The same owner's manual for the 2008 Pilot says: Always use Honda ATF-Z1 (automatic transmission fluid). Check this page if you need an owner's manual.
Check your tire pressure regularly; unequal tire pressure will cause increased wear of the 4WD system components. For winter driving, consider installing snow tires for better traction. If your "D" light is flashing at the shifter position display, there is an issue with your transmission, have it checked out.
Similarly, if your Malfunction Indicator Lamp (the engine-shaped icon) comes on with the engine running, have it checked out before the problem gets worse.
Take your Pilot for a mechanical inspection at least once a year to keep it safe; it's a good idea to do this when you bring it for tire rotation.
You might also be interested:
Resources:
Recalls: Safety Recalls - NHTSA or Transport Canada - Motor Vehicle Safety Recalls.
Honda Owner's Manual and Warranty - read an owner's manual online, check what's covered by the warranty.
Honda owners: Maintenance Calculator - check the maintenance schedule online.
Honda-tech.com - Honda enthusiasts forum.
Piloteers.org - forum dedicated to Honda Pilot.

2005 Honda Pilot specifications
Dimensions:
Overall length:
Overall width:
Overall height:
Wheelbase:


188.0 in (4775 mm)
77.3 in (1963 mm)
70.6 in (1793 mm)
106.3 in (2700 mm)


Ground clearance:


8.0 in (203 mm)


Seating Capacity:


8


Towing Capacity (trailer/boat):


3500/4500 lbs (1590/2045 kg)
See your Owner's Manual for proper towing operation.

Cargo volume:
behind 2nd row seats, 3rd folded:
with 2nd and 3rd rows folded:


48.7 cu. ft (1379 liters)
90.3 cu, ft (2557 liters)


Engine:
3.5L SOHC 24-Valve, 3-Rocker VTEC V6
255 hp @ 5,600 rpm (SAE net)
250 lb-ft @ 4,500 rpm


EPA Fuel Economy:



city: 15 mpg (15.7 L/100 km)
hwy: 20 mpg (11.8 L/100 km)


Recommended Fuel:
Unleaded, 86 or higher


Fuel Tank Capacity:


20.4 US gal (77 liters)


Engine oil capacity:
Oil change, including filter:

4.5 US qt (4.3L)