2009-2015 Honda Pilot: problems, engine, fuel economy, AWD system, pros and cons
Updated: January 17, 2020
The Honda Pilot is one of the best people movers you can find. It's also one of the few truck-like SUVs. The Pilot seats 8 with three rows of seats and has a roomy, well-equipped interior with plenty of storage options.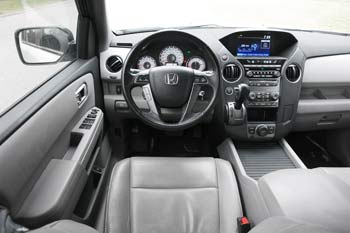 2014 Honda Pilot interior.
It comes with a strong V6 engine and is available with front- or all-wheel drive. The Honda Pilot rides on a car-based platform and offers up to 4,500-pound towing capability (4WD). With rear seats folded, you can get an enormous 87 cu. ft. of cargo space.

The Pilot handles well and has a comfortable and quiet ride. Reliability ratings are mixed. Is the Pilot good on gas? How capable is the AWD system? What are the reported problems? Which model years received the most complaints? Read below to find out.

Honda Pilot problems: Several Honda Pilot owners mentioned that the engine consumes oil and advised doing oil changes sooner than suggested by the Maintenance Minder. Considering this, we would recommend checking the oil level regularly between the oil changes (see how) and top up if needed. There is no warning light that would warn the driver if the oil level is low; it must be checked manually. There was a lawsuit in regards to engine misfiring due to oil consumption, as well as the warranty extension. Read more in this article. Also read this forum.
When the Check Engine light comes on and there is a misfiring code, spark plugs must be checked.
Warped front brake rotors can cause the steering wheel to shake ("shimmy") while braking. Warped brake rotors can be machined or replaced, depending on the wear of the rotors; it is not a very expensive job.
Wheel bearings can become noisy. Replacing one wheel bearing costs from $270 to $380; this problem is fairly common in many cars.
According to Alldata, the ticking noise at idle in the 2009-2011 Honda Pilot could be caused by an issue with rocker shafts. The suggested repair is easy. Read this article for details.
A sticking A/C relay can cause the battery to drain fast and the A/C not to work intermittently. It's an inexpensive part and is easy to replace. See these videos.
Like in many other heavy vehicles of this type, leaking struts and shock absorbers, bad lower control arm bushings, as well as bad sway bar links are fairly common at higher mileage. Replacing both front struts will cost from $700 to $1,150. Changing sway bar links and rear shock absorbers is not very expensive.
Lower control arm (compliance) bushings will cost $550-$720 to replace if out of warranty. According to the Honda TSB 15-045 the warranty has been extended for the 2009-2014 Pilot. Read more in this thread at Piloteers.org.
Many owners mentioned the center arm rest and door pad wearing off.
Honda has issued several recalls for the Honda Pilot; check on the NHTSA website.

Engine: The Pilot comes with the 3.5L J35 SOHC V6 engine with Variable Cylinder Management or VCM. The VCM helps improve highway fuel economy by shutting down two or three cylinders during steady cruising under low or moderate load. Of course, when you step on the gas, all 6 cylinders kick in and you get all 250 horsepower. Overall, it's a good engine, but it needs to be well maintained to last.
Timing belt or chain: The 3.5L J35 V6 engine has a timing belt that must be changed at recommended intervals. If you drive regularly in very high or very low temperatures, or tow a trailer, Honda recommends replacing the timing belt every 60,000 miles/100,000 km (sources: 2014 U.S. Pilot owner's manual).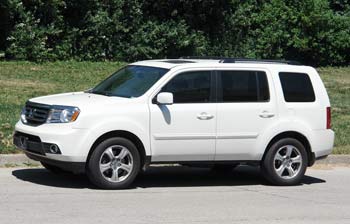 2014 Honda Pilot.
For normal driving conditions, the timing belt replacement is included in the Maintenance Sub-item 4 of the Maintenance Minder, which according to many owners comes on sometime after 100,000 miles. Replacing a timing belt (with a water pump and other hardware) costs from $820 to $1,400.

Fuel Economy: The 2012-2015 Honda Pilot AWD is rated at 17/24 mpg or 20 mpg combined, which is not too bad for an SUV of this type. The Pilot has a 21-gallon (79.5 liters) tank. On a full tank, you can expect to cover up to 462 miles (744 km) on a long trip. See the table for details.


Honda Pilot EPA fuel economy:
mpg
city/hwy
L/100 km
city/hwy
2012-2015 3.5L FWD auto
18/25
13.1/9.4
2012-2015 3.5L AWD auto
17/24
13.8/9.8
2009-2011 3.5L FWD auto
17/23
13.8/10.2
2009-2011 3.5L AWD auto
16/22
14.7/10.7
Pros: Practical, roomy interior, third row seating, cargo space and storage, liftgate glass opens separately, standard transmission fluid cooler, 4,500-lb towing capacity (AWD).

Cons: Interior materials could be better, no button to disable VCM, costly timing belt replacement, gas mileage, greater expected repair costs at higher mileage.

Similar cars:
Overall: The NHTSA has awarded the 2011-2015 Pilot a four-star overall crash test rating. As of January 2020, Consumer Reports rated the 2011, 2014 and 2015 Pilot 'above average' for reliability. The 2009 Pilot scored poorly due to engine issues. Overall, the 3.5L V6 engine is not bad, but several owners suggested that it would help if there was a button to disable the VCM, since some of the engine issues are related to this feature. There are plenty of discussions on the internet on this subject; google "disable VCM." Overall it's a great people mover, but it needs to be maintained well to last and repairs at higher mileage can be costly.


What to watch out for when buying a used Honda Pilot: When buying a used car, cosmetic issues like dents, scratches and peeling paint are not as important as the condition of the engine and transmission. Read more: How to inspect a used car - illustrated guide. The Check Engine light staying on, leaks, abnormal engine noise and hesitation on acceleration are some of the signs of engine problems.
The low oil level on the dipstick might be an indication of excessive oil consumption. Check the service history if available to see if the timing belt has been replaced.

If the vehicle has been used for towing a heavy trailer, the transmission might be worn; watch out for sagging rear springs and excessive wear of the trailer hitch. During the test drive on the highway, watch out for vibration. The vibration could be caused by many reasons including tires, CV-axles, issues with AWD system and engine mounts. If the vibration starts in the ECO mode, it could be related to the VCM operation. Read this thread. Before buying a used Honda Pilot, have it properly inspected, preferably at a different Honda dealer. Consider getting a good extended powertrain (engine and transmission) warranty. If low maintenance costs are important and having only two rows of seats is not a deal breaker, we recommend Honda CR-V, Mazda CX-5 and Toyota RAV4.

Honda Pilot VTM-4 AWD system: The Pilot VTM-4 is a front-biased on-demand AWD system, which means that front wheels are always powered and some amount of torque is sent to the rear wheels when needed. According to the Honda Pilot press release, the VTM-4 is designed for all-weather on-road and medium-duty off-road performance. This system works well if you have good tires; the extra weight of the V6 engine over front wheels gives enough traction and the rear wheels kick in when needed. We also found these videos showing Honda Pilot off-road capability. The Pilot AWD system maintenance includes regular inspection for leaks, changing fluids in the transfer case and rear differential, as well as the inspection of the drive (propeller) shaft. It's also important to have correct tire pressure in all tires.

How does the VTM-4 Lock function work? The VTM-4 LOCK works only in gears 1, 2 and Reverse. It doesn't lock the rear differential mechanically, but rather increases the amount of torque to the rear wheels. We checked the owner's manual for the U.S. 2014 Pilot. On page 354 it says "Do not use the VTM-4 LOCK button on dry, paved roads." The manual recommends using this function to help free your vehicle from being stuck in mud, sand, or gravel, but advises that when more torque is applied, the rear tires are not likely to spin. This is normal. You can check an online Honda Pilot owner's manual here: Honda Owners.

By Samarins.com Staff
---