2009-2019 Dodge Journey: problems, fuel economy, engines, maintenance tips
May 03, 2020
The Dodge Journey is a stylish mid-size crossover SUV sold in many countries. A roomy interior with plenty of storage, available third-row seating and easy driving experience make it a comfortable road trip vehicle. In the U.S. and Canada, the Journey is available with a 4-cylinder or V6 engine, with front- or all-wheel drive. For 2011, the Journey received a Pentastar 3.6L V6, Uconnect system and a few other updates.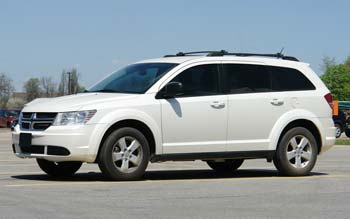 2011 Dodge Journey.
Compared to many other similar vehicles, a used Dodge Journey is not very expensive. That's good, but is it reliable? What are the problems that owners report?

Dodge Journey problems: As of April 2020, there are a large number (780) of complaints about electrical systems for the 2009 Dodge Journey on the NHTSA website.
Starting issues: Many owners of the 2009 and 2010 Journey mentioned that the engine wouldn't start at random; all you get is a click, as if the battery is dead. Of course, the battery must be checked first, as an old and weak battery can cause many electrical gremlins. Some owners said that the trick that worked for them was to try starting it in Neutral (with brakes applied) and if it starts, then the problem is related to the transmission range (PRNDL) switch or the shifter cable. Read more about the transmission range switch.
Some owners mentioned that the control wire terminal at the starter must be checked as it might be loose or corroded. The battery terminals must also be checked as they could be corroded too. One owner said that the problem got fixed after a mechanic cleaned all the electric connections from the battery to the starter motor, including the ground cable connection.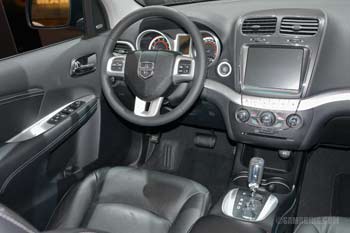 2011 Dodge Journey.
Some owners said that the starter motor had to be replaced. There are a couple YouTube videos where owners report that reinforcing the engine ground cable fixed the problem. According to the owner's manual, if the fob battery is weak and the system does not recognize the key, the car can be started by placing the fob against the Stop/Start button and pushing it to operate the ignition. Read also: What can cause a car not to start?

Fiat Chrysler (FCA) issued several recalls, including recall R03 / NHTSA 14V-373 for the wireless ignition node (WIN) module and the keys (FOBIKs) that can cause the engine to shut down. There were also a few other recalls and numerous software updates. Check for recalls at the NHTSA website.

Various other electrical issues have been reported, including with the radio, horn, power windows and locks, battery draining and Bluetooth; mostly in earlier model years.

In the 2009 and 2010 Journey, faulty rocker arms (Rocker Arm Assembly) in a 3.5L SOHC V6 can cause a tapping, knocking or ticking noise coming from under the valve cover. Replacing a rocker arm assembly in a repair shop can cost up to $1,000.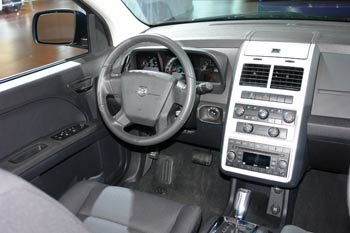 2010 Dodge Journey.
Of course, this type of noise can be caused by other problems and must be properly diagnosed first.

3.6L V6 tick: A similar problem with the 3.6L Pentastar V6 in the 2011-plus Journey is mentioned on various forums: A ticking noise coming from under the valve covers (top of the engine) might be caused by worn out rocker arms. We found several YouTube videos and this article explaining the issue. As long as the camshaft is not damaged, the repair is not too extensive. However, if the vehicle is continued to be driven with bad rocker arms, the camshaft(s) might get damaged too. This will require a more expensive repair. This means that if you hear a ticking noise coming from the top of the engine, have it checked out. Your mechanic may suggest replacing all rocker arms as a precaution even if only one or two are bad.

Left cylinder head: In the early 3.6L Pentastar V6, there have been problems with the left cylinder head causing the engine to misfire (trouble codes P0300, P0302, P0304 and P0306). FCA has extended the warranty on the 3.6L Left Cylinder Head in some 2011-2013 Dodge Journey (X56 Warranty Extension). The warranty extension coverage period is 10 years / 150,000 miles (240,000 km) (whichever occurs first) from the vehicles in-service date. It's not a recall and only applies if the vehicle has this particular defect. The repair involves replacing the left (front) cylinder head with related parts. If out of warranty, the repair will be expensive.

Oil filter housing: An oil filter housing in the Pentastar 3.6L V6 engine might need to be replaced if it leaks oil or if the oil by-pass valve is broken in the 2011-2013 Journey. Here is a good video explaining issues with this part.

The FCA bulletin 18-034-14 for the 2013-2014 Journey ( JC) mentions the problem with an oil pressure sensor (sending unit) that can cause the Check Engine light with the trouble code P0520. To repair the problem, the oil pressure sensor needs to be replaced. If out of warranty, the part is sold for around $30-$60 online, plus the labor.

Blend door actuator: A failed blend door actuator for the HVAC system can cause the A/C or heater to work only on one side. It can also cause a clicking noise under the dash.
We found several YouTube videos describing the problem and repair. The part is not very expensive, but it's located under the dash. This part is common to fail in many cars.

Several owners reported various axle seals in the transmission and rear differential (in AWD), as well as seals in the transfer case (PTU) leaking. If you notice oil drops on the parking spot or burnt oil smell from under the car, have it checked out, as lack of fluid/oil can cause the component to fail.

According to the service bulletin 02-001-13, the noise from the front of the vehicle when going over bumps or turning can be caused by bad front strut mounts/bearings. Read here about a strut mount. Replacing one strut mount in the shop should cost $150-$240 per side.

Premature brake wear was one of the top complaints in earlier model years at CarComplaints.com. Servicing brakes at least once a year may prevent brake calipers from seizing and overheating.

A bad wheel bearing can cause a humming or rumbling noise that gets louder with speed and in turns. Replacing a wheel bearing will cost from $220 to $460 for one.

FCA has issued several updates for the Uconnect software to fix various glitches. Visit DriveUconnect.com to check for updates. We also found reports that hard-resetting the system by disconnecting the battery fixes some of the glitches.

Coolant leaks from the Y-split portion of the heater hose assembly, cracked coolant reservoir and other sources have also been reported. Replacing a heater hose assembly can cost up to $700. A lack of coolant can cause the engine to overheat, so it's important to get the cooling system leak diagnosed and repaired as soon as possible.

Other reported problems include bad TPMS sensors, bad key fobs, various electrical, wiring issues and harsh shifting, shuddering or failures of the transmission.

Engines: The base engine is a 173-hp 2.4L DOHC inline-4 known as World Gas Engine.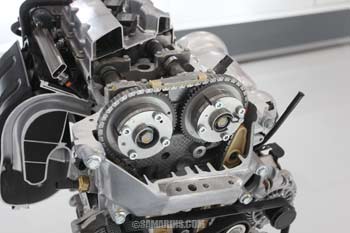 FCA World Gas Engine (GEMA).
For 2020, it's the only engine choice. It's a bit underpowered for a vehicle of this size and noisy when pushed, but otherwise it's solid. There are not that many reported problems related to this engine.
The optional V6 in the 2009 and 2010 Journey is a 235-hp 24-valve 3.5L SOHC V6 that Chrysler has used in many vehicles for years. With good care, this engine can last long. Here is an interesting post at Dodgejourneyforum.com
For the 2011, the Journey received a new 3.6L Pentastar V6 that was available until 2019. It's a modern high-tech DOHC engine with an advanced design. It offers 283 horsepower and 260 lb-ft of torque. Watch the video of Pentastar engine manufacturing at Mack Avenue Engine Plant in Detroit.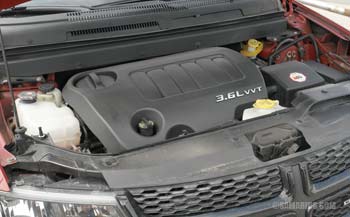 2015 Dodge Journey 3.6L Pentastar V6.
The Pentastar V6 was named one of Ward's 10 Best Engines, but it wasn't completely trouble-free, especially in early models.

Fuel Economy: The EPA rates the front-wheel drive Dodge Journey with a 2.4L 4 cylinder engine at 19/26 mpg for 2011-2013 models and at 19/25 mpg city/highway for all other model years up to 2019.
The 2011-2019 all-wheel drive Journey with a 3.6L V6 is rated at 16/24 mpg with an estimated range of 464 miles (747 km) on one tank of gas on a long trip.

Timing belt or Timing chain: The 3.5L SOHC V6 engine has a timing belt. According to the 2009 Dodge Journey owner's manual, it must be replaced every 102,000 miles or every 102 months (8.5 years), whichever occurs first. The 2.4L World Gas Engine and the 3.6L Pentastar V6 have a timing chain. The timing chain doesn't need to be replaced unless there is a problem with it.


Pros: Good looks, roomy practical interior, plenty of storage compartments, available 8.4-inch screen, easy to drive, good handling, comfortable ride, strong optional V6, usable third-row seating

Cons: Doesn't hold its value well, poor reliability, quirky electronics, interior plastic could be better, lack of cargo space when third seat is up, fuel economy

Overall: The Dodge Journey's reliability is not great. As of 2020, JD Power rated a used Dodge Journey for quality and reliability lower than many similar vehicles.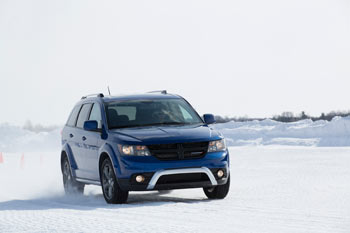 2016 Dodge Journey Crossroad Plus Photo: FCA.
Consumer Reports had ratings only for the 2012 Journey and they were poor. If you check owner reviews online they are mixed: many owners compliment driving experience and the interior, but mention various problems and high cost of repairs.
On the plus side, it's a good looking vehicle and it does have a stylish, practical and roomy interior. The Uconnect with a 8.4-inch screen is one of the best systems on the market in terms of design and features. The Journey is easy to drive and handles well for a crossover. The 3.6L V6 is smooth and has plenty of power. The 2.4L inline-4 is mostly trouble-free. On the used car market, a Dodge Journey is much cheaper than a comparable Toyota Highlander, which is one of the top choices in this segment.
However, we think that given the number of complaints, earlier models should be avoided. The 2014-plus Journey is less likely to have problems. Still, if you are buying the Dodge Journey, we advise to get a good extended warranty, at least for the powertrain. As much as we like this vehicle, it will need some repairs; your mechanic won't go out of business any time soon. If you want a reliable vehicle, consider Toyota Venza or Highlander.

Similar cars:
What to look for when buying a used Dodge Journey: If you want to buy a used Dodge Journey, check the history records to see if the car was used as a rental vehicle. Check if all recalls have been done. If it's a 3.5L V6 in the 2009, 2010 Journey, check if the timing belt has been replaced. Because some 2011-2013 Journeys with a 3.6L V6 may had an issue with the cylinder head that is not obvious during a test drive, we would recommend to have the vehicle checked by a mechanic familiar with Chrysler products and even scan the engine computer for pending fault codes and check for leaks underneath.

When checking the car, check for signs of water leaking from the sunroof area. See if the headrests and seats are comfortable for you. Test all the electronic features, such as the touchscreen, windows, locks, both key fobs and the air conditioner carefully, take your time. If you use Bluetooth, check if you can pair your phone; it's one of the common concerns. Check if the rear-view camera works; it also received many complaints. During a test drive, watch out for the way the transmission shifts. Particularly watch out for slipping, shudder, rough shifting or jolts when shifting or a whining noise. The transmission should shift smoothly. Watch out for a ticking noise from the engine. During the test drive, watch out for the engine temperature gauge showing signs of overheating. Overheating can cause many problems. Often, overheating is caused by a lack of coolant. One of the symptoms of coolant leaks is low coolant level in the coolant expansion tank and a coolant smell under the hood. Avoid the vehicle if the Check Engine light is staying on or if the engine runs noisy or if there is a smoke from exhaust or if there are signs of electrical or transmission problems. Read more: How to inspect a used car?

Maintenance tips: Change the engine oil regularly and keep the coolant and other fluids topped up. Read also: How to maintain the engine. In an AWD vehicle, the transfer case fluid and rear differential fluid need to be changed periodically too. The maintenance schedule for the 2015 Dodge Journey recommends changing the transfer case and rear differential fluids every 60,000 miles. You can find the maintenance schedule in the owner's manual that you can download from the Mopar website. The transmission lasts longer if the transmission fluid and the filter are clean. The owner's manual for the 2015 Dodge Journey recommends changing the transmission fluid and filter every 120,000 miles or every 12 years. In our opinion, it needs to be changed in shorter intervals. We spoke to two Chrysler technicians and they too recommend changing the fluid earlier, at least every 60,000 miles. If in doubt, check with your dealer. One mechanic advised getting the latest transmission software updates. Timely repairs of minor problems such as axle seal leaks, coolant leaks, engine ticking noise will help avoid more expensive repairs later.

You might also be interested:
2015 Dodge Journey U.S. specifications
Dimensions:
Overall length:
Overall width:
Overall height:
Wheelbase:


192.4 in. (4,887.6 mm)
83.7 in (2,127 mm) - with mirrors
66.6 in. (1,692.6 mm)
113.8 in. (2,889.8 mm)


Towing capabilities
2.4L I-4 with AT:
3.6L with AT, FWD or AWD:

1,000 lbs (450 kg)
2,500 lbs (1,135 kg)


Cargo volume:




67.6 cu. ft. behind first-row seat
39.61 cu. ft. behind second-row seat (5-passenger)
37.0 cu. ft. behind second-row seat (7-passenger)
10.7 cu. ft. behind third-row seat
Turning Diameter (curb-to-curb) :


38.5 ft (11.7 m) — 17-in. wheels and tires
39.0 ft (11.9 m) — 19-in. wheels and tires
Engines:
4-cylinder:


2.4L I4 DOHC 16V, VVT, SMPI
173 bhp @ 6,000 rpm
166 lb.-ft. @ 4,000 rpm

V6:


3.6L Pentastar V6 DOHC 24V VVT SMPI
283 bhp @ 6,350 rpm
260 lb.-ft. @ 4,400 rpm
Recommended Fuel:


2.4L I4: Unleaded regular, 87 octane
3.6L V6: Unleaded regular, 87 octane, Ethanol E85

Fuel Tank Capacity:
2.4-liter and 3.6-liter FWD:
3.6-liter AWD:
20.5 gallons (77.6 liters)
21.1 gallons (79.87 liters)


Engine oil capacity:
Engine Oil with Filter:
2.4L Engine:
3.6L Engine:


4.5 US qt (4.26 liters)
6.0 US qt (5.6 liters)

By Samarins.com Staff
---