2004-2009 Mazda 3: problems and fixes, fuel economy, specs
Updated: July 1, 2016
This fun-to-drive peppy compact is available as a sedan or hatchback. Mazda 3 has front-wheel drive and sport-tuned independent suspension at all four corners.

The 3 is available with a five-speed manual and four- or five-speed automatic transmission. Rear brakes are discs only.
Inside, the 3 is exciting and comfortable. Front seats are supportive. Fit and finish is good. The steering tilts and telescopes. The glove box is big enough to hold a laptop computer. The available Bose audio system sounds great. Mazda 3 is reliable, however there are some issues to watch out for. Maintenance costs are reasonable.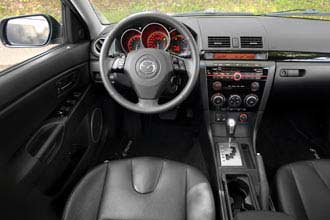 2009 Mazda 3 sedan interior.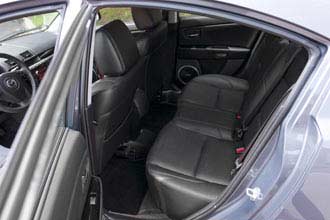 2009 Mazda 3 sedan.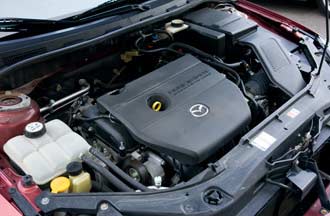 Engine: Mazda 3 comes with the 2.0-liter LF or 2.3-liter L3 4-cylinder engine. Both are solid reliable DOHC engines. Both have a timing chain instead of a timing belt. With good maintenance you won't have too many problems with the engine.

Fuel economy The EPA rates the 2006 Mazda 3 with a 2.0-liter engine and automatic transmission at 23/31 mpg (10.2/7.6 L/100 km) city/highway. With this fuel consumption, the 2.0L Mazda 3 is expected to go up to 405 miles or 651 kilometers on one 14.5-gallon (55 liter) tank. The 2.3-liter Mazda 3 automatic gets 22/28 mpg (10.7/8.4 L/100 km).

Handling and ride: Thanks to its sporty suspension, Mazda 3 feels lively on twisty roads and solid on the highway. The ride is firm but compliant. The steering is precise and responsive; the turning radius is small. Even the base 2.0L engine has plenty of power. On the downside, some road and tire noise is noticeable.

Mechanical: Mazda 3 has an independent suspension and disc brakes on all four wheels. Anti-lock brakes are available. Dynamic stability control (DSC), traction control, side and side curtain airbags are available on late models.

Safety: In the NHTSA frontal crash tests, the 2004 Mazda 3 received four stars for the driver (no passenger score available). The 2005-2008 Mazda 3 scored four stars for both the driver and the front passenger. In the side-impact crash tests, the 2004-2008 models without side airbags received three stars for both the front and the rear seat. The models with side airbags were not tested.
Pros: Fun to drive, reliable, sporty styling, rich practical interior, peppy engine, tight turning radius, available Bose audio system, huge glove box.

Cons: Road noise, models without side airbags scored poorly in side impact crash tests, no trunk release on the remote, some interior materials are not of top quality (e.g. carpet).

Overall: If you need an agile yet practical compact car, Mazda 3 fits the description. It's fairly reliable and offers spirited performance and sporty handling. Fuel economy is average for the class; if you want something more efficient, look for Honda Civic or Toyota Corolla. The Corolla is also more reliable. Read more about common problems and maintenance tips on the next page.
Similar cars: