Toyota Camry 2002-2006 review
Updated: October 3, 2013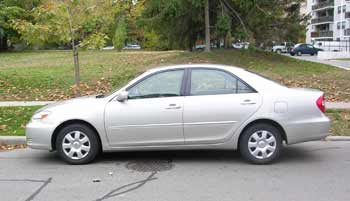 Toyota Camry 2006
The 2002-2006 Toyota Camry is a spacious mid-size family sedan with a soft smooth ride. A two-door version is sold as Toyota Camry Solara.
The Camry has front-wheel drive and comes with a fuel-efficient 4-cylinder engine or a smooth and powerful V6.
The Camry's interior is comfortable and very roomy with plenty of rear-seat space. The dashboard is somewhat plain but everything is well laid out. The instrument panel is very simple with large gauges. Front seats are soft, although somewhat lacking in side support. The trunk is large. The Camry is known to hold its value well; maintenance costs are below average for the class. Overall reliability is rated above average, but there are some trouble spots to watch out for. We've done some research on common problems, read more below.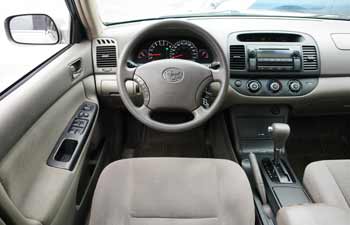 2006 Toyota Camry interior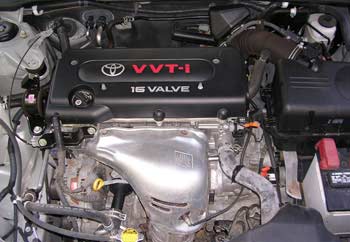 Toyota Camry 2.4-liter engine
NHTSA crash tests:
Frontal
Driver
Frontal
Pass.
Side
driver
Side
Pass.
2002 Camry
2003 Camry
2004 Camry
2005-2006 Camry
Powertrain: The base engine is the 2.4L 4-cylinder DOHC, model 2AZ-FE. This engine was widely used in many Toyota vehicles, including the RAV4 and Highlander SUVs. The optional 3.0-liter 24-valve V6 is smooth and powerful. From 2004, the 3.3-liter V6 DOHC VVT-i engine became available on SE V6 model.
A manual transmission is only available with a 4-cylinder engine.

Timing belt or chain: The 4-cylinder 2.4L engine has a maintenance-free timing chain. Both 3.0L V6 and 3.3L V6 have a timing belt that needs to be replaced at regular intervals. See more information on the next page.

Safety: Anti-lock brakes (ABS) were optional; standard from 2005. Side and side curtain airbags were optional on 2004-2006 models. The Insurance Institute for Highway Safety (IIHS) rated the 2002-2006 Toyota Camry "Good" for frontal crash protection, however models without optional side airbags received "Poor" rating in side crash test.
See NHTSA crash test results in the table.

Handling and ride: The Camry is a pleasure to drive, especially on the highway. The ride is very soft and smooth; road bumps and expansion joints are absorbed well by the suspension. The steering is very light too. The 2.4L 4-cylinder engine is pretty quick off the line and provides enough power for everyday driving; the V6 is strong and very smooth. The handling is good overall, but is not sporty by any means.

Toyota Camry EPA Fuel Economy:
MPG
city/hwy
L/100 km
city/hwy
2002-2006 2.4L manual
21/30
11.2/7.8
2002-2003 2.4L auto
21/29
11.2/8.1
2004 2.4L auto
20/29
11.8/8.1
2005-2006 2.4L auto
21/31
11.2/7.6
2002-2003 3.0L V6 auto
18/26
13.1/9.0
2004 3.0L V6 auto
18/27
13.1/8.7
2005-2006 3.0L V6 auto
18/26
13.1/9.0
2004-2006 SE 3.3L V6 auto
18/27
13.1/8.7
Fuel Economy: The Camry is among the class leaders in fuel economy. The 2005-2006 automatic 4-cylinder Camry gets 21/31 mpg. This means that with mostly highway driving, you can get up to 466 miles (670 km) to a tank; the fuel tank capacity is 18.5 gallons or 70 liters.

Pros: Good on gas (4-cylinder models), comfortable soft and quiet ride, roomy interior, spacious trunk, easy to maintain, resale value, above-average reliability.

Cons: Plain interior design, pricey compared to competitors, front seats lack lateral support, paint is easy to scratch, poor scores for side crash protection without side airbags.

Overall: The Camry is a natural choice if you are looking for a used family car. The 4-cylinder engine is good on gas; V6 is smooth and powerful. For a 4-cylinder model, consider buying an extended warranty, at least for the powertrain, as some engine repairs could be expensive. Make sure to have the car properly inspected before purchase. Consumer Reports rates Toyota Camry 'above average' for reliability. Competitors include Honda Accord, Mazda 6, Nissan Altima, Ford Fusion and Chevrolet Malibu. The Accord is also reliable, but has a firmer ride. Mazda 6 offers more sporty handling but is less roomy and a has wide turning radius. The 2002-2006 Altima is more sporty overall, but earlier 4-cylinder models were troublesome. The Malibu is cheaper, but is not as reliable. Read about Toyota Camry common problems and maintenance next.
Similar cars: