Honda Accord 2003-2007: common problems, pros and cons
Updated: October 28, 2022
The 2003-2007 Accord is a fun-to-drive roomy mid-size car. It scored well in the crash tests and offers a comfortable nicely-finished interior.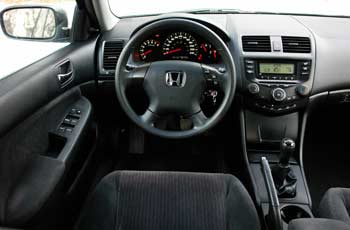 Honda Accord interior.
The Accord comes as a front-wheel drive sedan or two-door coupe, with a 4-cylinder or V6 engine. The 4-cylinder engine is good on gas.
When it was newer, the Accord was one of the top recommended cars, however with age, problems are showing up. Some model years fared better than others. Still, it's not uncommon to find this generation Honda Accord lasting for well over 300,000 miles. Is it a good car to buy? What are some of the reported problems?
The 2003-2007 Honda Accord Common Problems:
A bad rear oxygen sensor (Bank 1 Sensor 2) can cause the codes P0141 and/or P0138/P0139. Replacing the sensor solves the problem in most cases, although other causes are also possible, such as exhaust leaks, vacuum leaks, etc. To confirm a bad rear O2 sensor, your mechanic will have to test it with a scan tool. We found many
videos
on this problem. Replacing the rear O2 sensor will cost 0.8-1.0 hours of labor plus the part.
The starter motor can go at higher mileage. The symptom is the car won't start and the engine will not make a cranking sound when starting the car. Of course, a bad battery or another issue can also cause the car not to start. To confirm a bad starter motor, mechanics usually test the battery first and then check the voltage at the starter control terminal,
read more
. Replacing a starter motor in a 4-cylinder engine will cost 1.9-2.3 hours of labor plus the part. Watch these
videos
for more info.
The code
P0420
is typically caused by a failed
catalytic converter
.
The
air intake hose (duct)
that connects the air filter to the throttle body can crack/break, causing a lack of power, stalling and the Check Engine light with the code
P0171
. It's a cheap part and is easy to replace. Read more about it here:
Vacuum leaks
. See these
videos
.
The audio & HVAC display not working is another common issue in early models. The solution is to replace an audio unit, although there are many
YouTube videos
describing the repair of the circuit board inside the audio system. This
thread
provides some pictures.
A bad A/C clutch or clutch relay can cause the A/C not to work. The relay is cheap and easy to replace. Watch these
YouTube videos
. A/C system leaks are also common at higher mileage.
There are numerous complaints about automatic transmission failures, mostly in the 2003 and 2004 V6 models, although there are some transmission complaints in the 4-cylinder models too. Replacing the transmission with a used unit or rebuilding it can cost up to $3,000.
Excessive engine oil consumption is mentioned often. If you notice that the engine oil level drops as you drive, check it regularly and top up as needed. Driving with low oil level will cause the engine to wear faster as well as timing chain failures.
2003-2007 Honda Accord Engines: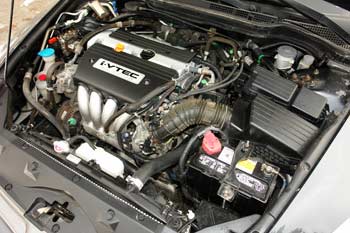 Honda Accord 2.4L 4-cylinder i-VTEC engine.
Two engines were offered: the 166-hp 2.4L 4-cylinder K24 and the smooth and powerful 244-hp 3.0L J30 V6. Transmission choices included a 5-speed automatic or 5-speed manual. A 6-speed manual transmission was available in late EX V6 models.
The K24 engine is well known and is used in many Honda cars. It is a fuel efficient low-maintenance workhorse, but you need to make sure it's not running low on oil. It's known to consume oil at higher mileage.
Timing belt or chain:
The K24 4-cylinder engine has a timing chain. The 3.0L V6 has a
timing belt
that needs to be replaced at recommended intervals.
Fuel Economy:
The 2007 4-cylinder automatic Accord is rated at
21/31 mpg
city highway or 25 mpg combined. The 2007 4-cylinder automatic Accord can travel for up to 431 miles (693km) on one 17.1-gallon (64.7L) tank of gas. The 2007 V6 Accord with an automatic transmission is rated at 18/26/21 mpg city/highway/combined.
Is the 2003-2007 Honda Accord a good car to buy?
The 2003 and 2004 Accord have the most reported problems, and failing transmissions in the V6 Accord have been mentioned by many sources.
2003 Honda Accord.
As of June 2021, there are 918 complaints for the 2003 Accord and only 111 complaints for the 2005 Accord under the 'Powertrain' section at the
NHTSA website
.
This means that the 4-cylinder 2005-2007 Accord is a better option. As of August 2022, Consumer Reports rated the 2003 Accord 'Average' for reliability, while the 2004-2007 Accord was rated 'Above Average'.
Overall, yes, the 2003-2007 Honda Accord is a good car to buy. if you find the Accord in good shape and maintain it well, it should last for well over 200,000 miles. Even if the engine or transmission will need to be replaced, used units are widely available. We found this
YouTube video
of the 2003 Honda Accord hitting 400,000 miles.
Pros:
Fuel economy (4-cylinder), V6 power, solid handling, responsive steering, crash test ratings, roomy interior, comfortable seats, available with a manual transmission, easy to maintain, part availability, replacing an engine or transmission with a used unit can be done within a reasonable price range.
Cons:
Road and wind noise, paint chips easily, automatic transmission problems in early models, the K24 engine is known for oil consumption.
Handling and Ride:
On the road, the Accord handles well. The steering is responsive and precise and provides a good road feel. The ride is firm but comfortable. Some road and wind noises are noticeable at higher speeds. The 4-cylinder engine is strong enough for daily driving, while the V6 is one of the most powerful in its class.
Honda Accord Crash Test ratings:
In the NHTSA frontal crash tests, the 2003-2007 Honda Accord received five stars for both the driver and the front passenger. In frontal offset crash tests performed by the Insurance Institute for Highway Safety (IIHS), the 2003-2007 Honda Accord received "Good" overall rating.
Related reviews:
Honda Accord 2008-2012 review
Toyota Camry 2002-2006 review
Honda CR-V 2007-2011
2006-2011 Honda Civic
Toyota Corolla 1998-2008
What to look for when buying a used Honda Accord:
Don't buy a car if the "Check Engine" light is on before you know what the problem is; once we have been contacted by a person who bought a Honda Accord over eBay with the "Check Engine" light on. After further diagnostic, It turned out that the engine needed to be rebuilt due to lack of compression in one of the cylinders.
Check the automatic transmission fluid. If it smells burnt or looks very dirty, avoid the car. During a test-drive, watch out for anything irregular with the automatic transmission; it is a weak spot. If there is a "clunk" or a long delay when shifting into Reverse, avoid the car.
When inspecting a car, check the engine oil level; low oil level could indicate possible oil consumption.
Watch out for a noisy power steering pump or timing chain. Make sure to test the CD changer. Check if the stereo and the heater control lights are working; if not, the repair could be expensive. Read more:
How to inspect a used car - illustrated guide
. Before buying a car, have it inspected by an independent mechanic. Read also:
What mileage is OK for a used car?
Honda Accord Maintenance Tips:
The Accord's paint chips easily; repair the chips and scratches in the paint before they get corroded. In the Rust Belt, it's a good idea to rust proof the underneath of the vehicle to protect important components.
Check the engine oil level regularly, especially if the engine uses oil between the oil changes. When checking engine oil, If it appears too dirty on the dipstick, get the oil change done. Checking the oil level is easy. Read our
maintenance checklist
with illustrations.
With a V6 engine, be easier on your transmission. Change the transmission fluid at recommended intervals, using the original Honda transmission fluid. Once a year, have your car inspected in a garage to keep it safe.
Engine oil capacity:
Oil change, including filter:
2.4L 4-cylinder engine: 4.4 US qt. (4.2L)
3.0L V6 engine: 4.5 US qt. (4.3L)
Recommended oil viscosity: 5W-20.