Toyota Highlander 2001-2007: common problems, maintenance, fuel economy, photos
Updated: October 16, 2019
The 2001-2007 Highlander is a mid-size SUV riding on the Toyota Camry platform. It offers good handling and soft quiet ride. The third-row seat option is available in the 2004 and newer models.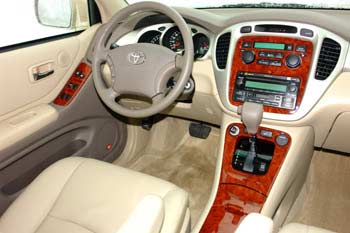 2007 Toyota Highlander interior.
The Highlander comes with front- or all-wheel drive. Engine choices included the 3.0L V6 (3.3L V6 from 2004) or 2.4L inline-4. Only an automatic transmission was offered.
The Highlander hybrid was added to the lineup for 2005. The 2007 AWD Highlander hybrid is rated at 27/25/26 city/highway/combined. See the fuel consumption data for other models in the table below. Toyota Highlander is one of the most reliable SUVs, but there are some problems to watch out for, read below.
Common problems:
Check engine light issues are fairly common, especially with the EVAP system. Often the repair involves replacement of the charcoal canister, which is quite expensive. Reports suggest that replacing only the EVAP vacuum switching valve (VSV) mounted at the canister can fix the problem in some cases. Replacing the VSV only is a lot cheaper. Read more:
Evap code P0446
.
Brake calipers seize if not serviced regularly. Read more about
disc brakes
. In the 2001, 2002 V6 models, lack of oil changes could cause the engine to sludge up.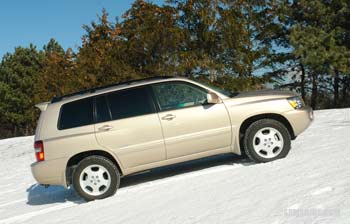 2007 Toyota Highlander.
Loose solder joints at the circuit board behind the temperature control knob can cause heater and A/C issues where the air temperature changes by itself. See these
YouTube videos
for more info.
Some airbag issues are also reported in earlier models. There are several reports about water pump failures in 2006 and 2007 models. Don't get the wrong picture looking at these issues, overall the Highlander is a very good vehicle. Even as we were updating this review in October 2019, Consumer Reports still lists the 2001-2007 Highlander as 'Recommended'.
Mechanical:
Toyota Highlander has an independent suspension with MacPherson struts on all four wheels. All four wheels have disc brakes; the ABS is standard. Traction control and vehicle stability control are standard from 2004.
The Highlander's full-time 4WD system is capable for some off-roading. Check these videos:
Highlander off-roading
. We test-drove the V6 4WD Highlander during a bad snow storm and with winter tires it felt very secure and surefooted.
Timing belt or chain:
The 4-cylinder engine has a timing chain, but both the 1MZ-FE 3.0L and 3MZ-FE 3.3L V6 has a
timing belt
. According to Toyota.com FAQ, a timing belt should be replaced every 90,000 miles or six years, whichever comes first. Replacing the timing belt with the water pump costs from $500 to $950.
Pros:
Reliability, perfect size, car-like handling, soft comfortable ride, visibility, holds value well.
Cons:
Liftgate glass doesn't open separately, no telescopic adjustment for the steering wheel, third-row seat room is limited, only tan and gray interior colors are available.
Overall:
Toyota Highlander is the best choice among comparable SUVs. The Highlander offers space, versatility and other benefits of larger SUVs combined with car-like handling, smooth ride and reasonable gas mileage. The Highlander is proven to be reliable if maintained properly.
Fuel Consumption
EPA Fuel Economy:
mpg
city/hwy
L/100 km
city/hwy
2001-2003 Toyota Highlander FWD V6
17/21
13.8/11.2
2004-2007 Toyota Highlander FWD V6
17/23
13.8/10.2
2001-2003 Toyota Highlander AWD 4 cyl
17/22
13.8/10.7
2001-2003 Toyota Highlander AWD V6
16/21
14.7/11.2
2005 Highlander AWD 4 cyl
19/23
12.4/10.2
2004, 2006, 2007 Highlander AWD 4 cyl
18/23
13.1/10.2
2004-2007 Toyota Highlander AWD V6
16/22
14.7/10.7
What to look for when buying a used Toyota Highlander:
Avoid cars after accidents and those that appear to be neglected. It's a big plus if you can verify through the service records that recommended maintenance has been followed. The V6 Highlander has a
timing belt
; if it has not been replaced by the previous owner, you are looking for additional $500-900 to spend. If there are any signs that the engine has been overheated, avoid the vehicle. Blue smoke from the exhaust and oil leaks are other signs of potential problems. We strongly recommend having the vehicle inspected by your mechanic before purchase. Read also:
What mileage is OK for a used car?
Interior:
The steering wheel tilts, but lacks telescopic adjustment.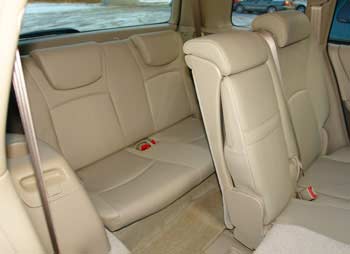 Third row seat access.
The high driving position, wide liftgate window and large side mirrors offer excellent all-around visibility. Front seats are comfortable and supportive. There is plenty of headroom. The second-row space is sufficient. The 60/40 split second-row seat reclines and slides back and forth. The third row is small and more suitable for children. Second and third-row seats fold almost flat.
Handling and ride:
On the road, the Highlander drives like a car. The soft suspension absorbs road bumps and potholes very well. The steering is soft. The ride is smooth and quiet. The V6 is silky-smooth and responsive. Overall, the Highlander handles well and is a great pleasure to drive.
Related reviews:
Subaru Outback 2005-2009 review
Toyota RAV4 2006-2012 review
Nissan Murano 2003-2007 review
Toyota Venza 2009-2015 review
Toyota Highlander 2008-2013 review
Subaru Outback 2010-2014 review
Maintenance:
Overheating can result in a very expensive engine repair. If you notice the temperature gauge rises more than normal, have the issue checked out before it causes a major problem. Regular oil changes will ensure your engine will last longer.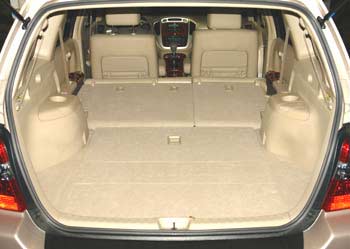 2007 Highlander - second and third row seats fold almost flat.
Toyota recommends 5W-30 oil for both 4-cylinder and V6 engines in the 2001-2006 Highlander. However, in the 2007 model, 5W-20 or 0W-20 is the recommended viscosity for the 2.4L 4-cylinder 2AZ-FE engine. The 2007 V6 Highlander still needs 5W-30 oil. You can find details in "Specification" section of your owner's manual. An electronic copy of the owner's manual can be accessed at the U.S.
Toyota Owners
website.
Check your tire pressure regularly; unequal tire pressure between tires will cause increased wear of 4WD system components. The 4WD system in the non-hybrid Highlander employs a transfer case and the rear differential. Both need fluid changes at least every 60,000 miles.