Used Toyota Highlander 2001-2007 review
Updated: April 14, 2017
The 2001-2007 Highlander is one of the most comfortable mid-size SUVs. It's based on the front-wheel drive Toyota Camry platform; it's essentially a Toyota Camry in an SUV body. Competitors include the Ford Escape, Mazda Tribute, Nissan Murano and Honda Pilot.
The Highlander offers good handling and soft, quiet ride. For 2001, only a five-seat model was offered; the seven-seater with three rows of seats became available from 2004. The Highlander comes as a front- or all-wheel drive. It has a 3.0L V6 (3.3L V6 from 2004) or 2.4L 4-cylinder engine and an automatic transmission. No manual transmission was offered. The Highlander hybrid was added to the lineup for 2005. The 2007 AWD Highlander hybrid is rated at 27/25 mpg or 8.7/9.4 L/100 km (hwy/city). A used Toyota Highlander is priced higher than many of the competitors, but it's worth the extra money thanks to its interior comfort and reliability.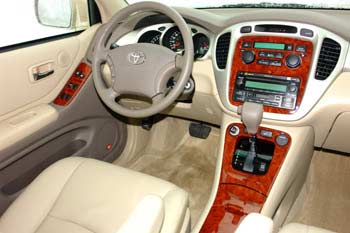 2007 Toyota Highlander interior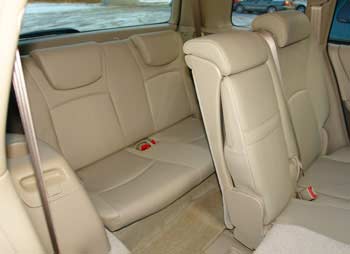 Third row seat access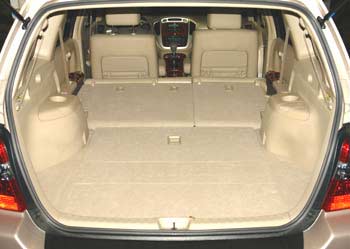 2007 Highlander - second and third row seats fold almost flat.
Interior: The steering wheel tilts, but lacks telescopic adjustment. High driving position, wide rear glass and large side mirrors provide excellent all-around visibility. Front seats are comfy and supportive. There is plenty of headroom. The second row space is sufficient. The 60/40 split second-row seat reclines and slides back and forth. The third row, available from 2004 is more suitable for children. Second- and third-row seats fold almost flat. An optional roof rack is available for extra cargo.

Handling and ride: On the road, the Highlander feels very stable. The ride is smooth and fairly quiet; it actually feels more like driving a mid-size sedan than an SUV. The steering is light. The soft suspension absorbs road bumps and pot holes very well. The V6 engine is silky-smooth and responsive, although somewhat lacking low-end torque. The 4-cylinder engine provides enough power for daily driving.

Mechanical: Toyota Highlander has an independent suspension with McPherson struts on all four wheels. All four wheels have disc brakes; the ABS is standard. Traction control and vehicle stability control are standard from 2004.
The Highlander's full-time 4WD system is not designed for real off-roading, but is very helpful in slippery conditions. We test drove the V6 4WD Highlander during a bad snow storm and with winter tires it felt very secure and sure-footed.

Timing belt or chain: The 4-cylinder engine has a timing chain, but the V6 has a timing belt. According to Toyota.com FAQ, a timing belt should be replaced every 90,000 miles or six years, whichever comes first. Replacing a timing belt with the water pump can cost $500-800.


Toyota Highlander NHTSA crash tests
Frontal
Driver
Frontal
Pass.
Side
driver
Side
Pass.
Rollover
2001
n/a
n/a
n/a
n/a
n/a
2002
2003
2004
n/a
2005-2007
Safety: The Insurance Institute for Highway Safety (IIHS) awarded the 2001-2007 Highlander with "Good" overall rating.

Pros: Reliability, perfect size, car-like handling, soft comfortable ride, visibility, holds value well

Cons: Liftgate glass doesn't open separately, no telescopic adjustment for the steering wheel, third-row seat room is limited, only tan and gray interior colors are available

Similar cars:
Overall: Toyota Highlander is one of the best mid-size car-based SUVs on the market. The Highlander offers space, versatility and other benefits of larger SUVs combined with car-like handling, smooth ride and reasonable gas mileage. The Highlander is proven to be reliable if maintained properly. Read about fuel economy, common problems and reliability on the next page.