2003-2008 Mazda 6: problems, engine, fuel economy
Updated: September 2019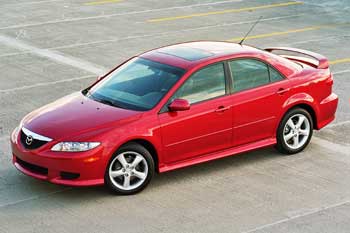 2006 Mazda 6. Photo: Mazda
The first generation Mazda 6 is a sporty mid-size car. The 6 comes as a sedan, hatchback or a sleek-looking wagon; with a 4-cylinder or V6 engine. The wagon comes only with the V6. Mazda 6 rides on the same platform as Ford Fusion.

For stick shift enthusiasts, a manual transmission is available in both 4-cylinder and V6 models. Inside, the 6 feels sporty and sharp. Front seats are comfortable. The visibility is good all around. The BOSE audio system with the subwoofer, available in top models sounds excellent.

True to its sporty image, Mazda 6 delivers a great driving experience, especially on the highway. The ride is comfortable too. Is a used Mazda 6 worth considering? Will it be expensive to keep? What are the common problems? Read on.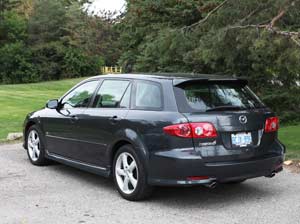 2004 Mazda 6 Sport Wagon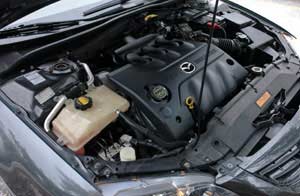 Mazda6 3.0L V6 engine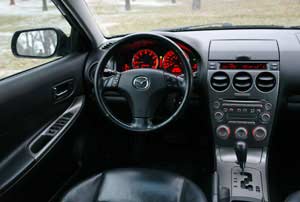 2004 Mazda 6 interior
Powertrain: The 4-cylinder 2.3L 160-hp DOHC is a very good simple engine. It has a timing chain and with proper maintenance shouldn't give you too many problems.
The Ford-sourced 220-hp 3.0L V6 is known for minor oil leaks, but otherwise is reliable too. It's also equipped with a timing chain; there is no timing belt to worry about. Transmission choices include a five-speed manual and a four- or five-speed automatic. Late models have a 6-speed automatic.

Handling and Performance: As we already mentioned, the Mazda 6 handles very well thanks to its sporty suspension. The ride is smooth and quiet, yet you still have excellent road feel. The steering is precise and responsive, with a well-defined center position. Mazda 6 is one of those cars that is very comfortable on long highway trips.  The one thing that could be better is the turning radius, which is quite large: 38.7 ft. curb to curb.

Pros: Sporty styling, sharp interior, excellent handling, comfortable ride, comes as sedan, sporty hatchback or wagon, available Bose audio system, affordable price, available with a manual transmission.

Cons: Fuel economy, turning radius, poor crash test scores without side airbags.

Fuel Economy: According to the EPA, the 2007 4-cylinder Mazda 6 sedan is rated at 21/28 mpg or 11.2/8.4 L/100 km city/highway, which means you can get roughly 414 miles or 660 km to a tank. The 2007 Mazda 6 V6 automatic gets 17 mpg city,  25 mpg highway (13.8/9.4 L/100 km).

2006-2007 Mazdaspeed6:
2006 Mazdaspeed 6. Photo: Mazda
The Speed6, although rare, should not be overlooked if your are looking for a fast reasonably-priced sports car with all-wheel drive. Mazdaspeed6 comes only as a sedan; it's equipped with a manual transmission and a turbocharged 274-hp 2.3L direct-injected (DISI) engine. The 0 to 60 time is 6.2 seconds. Overall, it's an excellent car to drive, however expect to pay more for maintenance. The turbocharged engine is also very sensitive to lack of regular oil changes or poor oil quality. You will be well advised to use premium synthetic oil to avoid problems. Read also: Pros and cons of buying a car with a turbocharger


Mazda 6 overall: Although not the most spacious or fuel efficient in its class, Mazda 6 offers a unique combination of sporty styling and handling with reasonable maintenance costs and should not be overlooked. Among competitors, Ford Fusion is the closest; it's equipped with the same 4-cylinder and V6 engines. Toyota Camry is roomier and offers softer, quieter ride, although it's definitely not as sporty. Honda Accord is better on gas and more reliable, although it's also more of a family sedan than a sporty car. Nissan Altima is somewhat similar, although not everyone likes its continuously-variable transmission (CVT). Chevrolet Malibu is less expensive, but its reliability records are poor. Acura TL is another mid-size sedan that is sporty and reliable, but it is more expensive.

Safety: Mazda 6 has disc brakes on all four wheels. Antilock brakes (ABS) were optional in early models, standard from 2005. Traction control, side airbags, side curtain airbags are standard from 2007. In the NHTSA frontal crash tests, the 2003-2008 Mazda 6 got five stars for both the driver and the front passenger. In the side-impact crash tests, the 2003-2006 Mazda 6 without side airbags received three stars for the front and four stars for the rear passenger protection. The 2006-2008 model with side airbags was given four stars for both the front and the rear.


Similar cars:
Mazda 6 reliability and common problems: For the most part, Mazda 6 has been reliable, but transmission issues are reported often. It might be a good idea to stay away from the 2003 model. In a V6, engine misfire could be caused by bad ignition coils. If one of the coils failed, it's a good idea to replace all the spark plugs if they are old.
A faulty or clogged purge valve (solenoid) can cause the "Check Engine" light to come on. A purge valve is easy to replace and is not very expensive.
Oil leaks are common in a V6. Completely eliminating all the leaks could be quite expensive, so we would recommend starting from replacing the valve cover gaskets.
A failed wheel bearing may be the source of a humming noise that gets louder at higher speeds.

Some plastic cooling system pipes become brittle with age and can break easily.

A ripped intake snorkel can cause a vacuum leak, which can result in the engine stalling and the Check Engine light staying on. The repair is very simple, the snorkel must be replaced.

In some 2006, 2007 Mazda 6 the passenger side window might stop working after the battery was disconnected or drained. The power window initialization procedure must be performed: with the ignition "ON" open the driver's window fully, then close holding the switch up for two more seconds after the window is fully closed. Repeat with each window.

The clunking or popping felt in the steering wheel could be caused by the lack of lubrication in the intermediate steering shaft splines in the steering column. There was a technical service bulletin (TSB) on this issue and the repair is very simple; the steering shaft splines need to be lubricated. The steering shaft in question is located above the pedals under the steering column.

Change your transmission fluid if you notice it becomes dark and dirty. Read out simple maintenance checklist to learn how to check the automatic transmission fluid and more.
Faded headlights may be restored using a very simple technique. Here are a few Youtube videos.

More on car care:
What to look for when buying a used Mazda 6: When checking a used Mazda 6, test the air conditioner, see if the center display works. We noticed that in some high-mileage models parts of the center display don't work. Check under the hood; a burnt oil smell in a V6 is a sign of oil leaks. Check the engine oil level, low oil level may indicate that the engine consumes oil, which is something to avoid in a used car. During the test drive, watch out for a humming noise that may indicate a bad wheel bearing, which is fairly common in these cars. Pay attention to how the automatic transmission shifts between gears. If there is a jolt or delay, avoid the car. Read our illustrated used car checklist for more tips on what to look for. Watch out for rust. Have the car properly inspected by an independent mechanic before buying.

Guides for used car buyers:
Resources:
Mazda 6 club - plenty of DIY instruction and other information.
Mazda USA - download owner's manual; maintenance schedule, references.
Safety Recalls - NHTSA
Transport Canada - Road Safety Recalls

2005 Mazda 6 specifications
Dimensions:
Overall length:
sedan, 5-door:
wagon:
Overall height:
sedan, 5-door:
wagon:
Overall width:
Wheelbase:



186.8 in (4,745 mm)
187.8 in (4,770 mm)

56.7 in (1,440 mm)
57.3 in (1,455 mm)
70.1 in (1,781 mm)
105.3 in (2,675 mm)


Turning circle: (curb to curb)


38.7 ft. (11.8 m)


Engines:
4-cylinder


V6


2.3-liter DOHC 16-valve 4-cylinder with VVT
160 hp @ 6,000 rpm, 155 lb-ft @ 4,000 rpm

3.0-liter DOHC 24-valve V6 with VVT
220 hp @ 6,300 rpm, 192 lb-ft @ 5,000 rpm




EPA Estimated Fuel Economy:

2.3L 4-cylinder, manual:


2.3L 4-cylinder, automatic:


3.0L V6 manual:


3.0L V6 automatic:




city: 21 mpg (11.2 L/100km)
hwy: 28 mpg (8.4 L/100km)

city: 20 mpg (11.8 L/100km)
hwy: 26 mpg (9.0 L/100km)

city: 17 mpg (13.8 L/100km)
hwy: 24 mpg (9.8 L/100km)

city: 17 mpg (13.8 L/100km)
hwy: 25 mpg (9.4 L/100km)


Recommended Fuel:
Regular unleaded


Fuel Tank Capacity:


18.0 US gallons (68 liters)


Engine oil capacity:
With oil filter change:
2.3L 4-cylinder:
3.0L V6:



4.5 US qt. (4.3L)
6.0 US qt. (5.7L)


* subject to change
By Samarins.com Staff
---