Used Honda CR-V 2002-2006 review
Updated August 13, 2013
Introduced for 2002 model year, the second-generation Honda CR-V is one of the top picks among small SUVs. The 2002-2006 CR-V offers a roomy and functional interior, car-like handling, above-average reliability and decent fuel economy. Inside, the CR-V feels surprisingly roomy for a small SUV. The tall driving position provides commanding view of the road. The instruments are simple and straightforward. The dashboard has numerous storage compartments, but the glove box is small. Both front seats have armrests. The tray between front seats folds down for easy access to the rear seat. Rear seats are adjustable and can be folded forward offering a huge cargo space in the back. According to Honda, CR-V's 72.0 cu. ft. of rear cargo room can accommodate two fully assembled, full-size mountain bikes. The rear liftgate window opens separately. As in the previous model, there is a foldable picnic table under the floor carpet that also serves as a cover for a large storage in the back.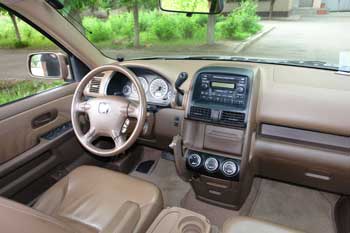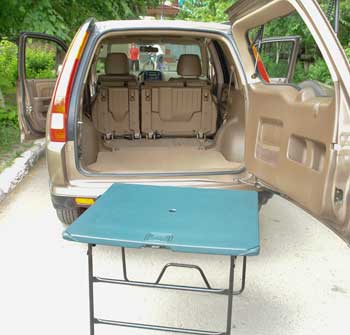 The CR-V comes with a built-in picnic table
that also serves as a cover for rear cargo area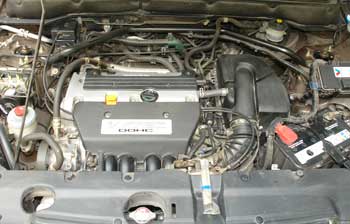 Honda CR-V 2.4L 4-cylinder engine
Powertrain: The 2002-2006 CR-V is available as front- or all-wheel drive (only AWD in Canada) with a manual or automatic transmission. The only engine choice is a strong and reliable 160-hp 2.4-liter 4-cylinder DOHC i-VTEC. This engine doesn't have a timing belt; a long-lasting timing chain is used instead.

Fuel Economy: Honda CR-V is one of the most economical SUVs. The EPA rates the 2005 AWD Honda CR-V with an automatic transmission at 20/25 mpg or 11.8/9.4 liters per hundred kilometers. This means that you can drive for 303 miles or 487 kilometers on one full 15.3-gallon (57.9L) tank of gas.

Mechanical: The CR-V's all-wheel drive system is helpful on slippery roads, although it's not designed for off-roading. In normal conditions, Honda CR-V is powered by the front wheels. If the front wheels start slipping, the rear wheels kick in to help.
The CR-V has disc brakes on all four wheels; the ABS is available (standard on all models from 2005). From 2005, side and side curtain airbags, ABS, Vehicle Stability Assist (VSA) with Traction Control are standard on all trim levels sold in the US. The 2002-2006 Honda CR-V received five stars in both frontal and side-impact crash tests performed by the NHTSA. In the offset frontal crash test performed by the IIHS, the 2002-2006 Honda CR-V received "Good" overall rating.

Handling and Ride: On the road, the CR-V offers almost car-like handling. The ride is firm but comfortable, although you will hear some road noise. Tight turning radius is great for city driving or parking maneuvers.

Pros: Fuel economy, car-like handling, crash test scores, practical spacious interior, cargo space, liftgate window opens separately, tight turning radius, resale value.

Cons: Firm ride, road and engine noise, front seats are not very comfortable on long trips, boxy look.

Overall: The 2002-2006 Honda CR-V offers roomy functional interior, car-like ride, strong 4-cylinder engine, good crash test ratings and decent fuel economy for an SUV. Add to this a picnic table and you got a great road trip vehicle.
The 2002-2006 CR-V has been pretty reliable, although not completely trouble-free, and some problems, e.g. with the air conditioner compressor, could be quite expensive to repair. Look for models from 2003; first-year models always have more problems. You also may want to look at Toyota RAV4, which is very similar small SUV and likewise offers good fuel economy.

Similar cars:
What to look for when buying a used Honda CR-V: Checking the history records is a good first step. A history report may show some previously reported problems such as accidents, flood damage or rolled back odometer. Have look at the service records if they are available. It's good to know how regularly the vehicle has been maintained.
If the "Check Engine" light is on, have the problem checked out before buying a vehicle. Check the engine oil level; low oil level could be an indication that the engine consumes oil. Make sure to test the air conditioner, as judging by the number of complaints, it's one of the weak spots; the repair could be expensive. Read our illustrated used car checklist for more tips on what to look for. Before buying a vehicle, have it properly inspected by a mechanic.
Guides for used car buyers:
Maintenance: Regular oil changes are important to keep your engine in a good shape. Winter tires will provide much better traction on the snow. Change transmission fluid in recommended intervals using original Honda transmission fluid. Noise coming from the rear end at slow turns could be caused by deteriorated rear differential fluid; have it checked. If it needs to be changed, use only original Honda fluid. A faulty air/fuel ratio sensor (A/F sensor) can cause the Check Engine light with the trouble code P0134. Replacing the air/fuel ratio sensor with an OEM part often solves the problem if there are no other issues. Use original Honda parts. At least once a year have your vehicle inspected to keep it safe. Many components (e.g. brakes, steering, suspension) cannot be properly inspected by simple visual inspection at fast lube places; the vehicle must be on the lift.
You might also be interested:
Resources:
Recalls: Safety Recalls - NHTSA or Transport Canada - Motor Vehicle Safety Recalls.
Owner's Manual and Warranty - read an owner's manual online, check what's covered by the warranty.
Honda owners: Maintenance Calculator - check the maintenance schedule online.
Honda-tech.com - Honda enthusiasts forum.

Honda CR-V short specifications (2004 US model)
Dimensions:
Overall length:
Overall width:
Overall height:
Wheelbase:


178.6 in (4537 mm)
70.2 in (1782 mm)
66.2 in (1682 mm)
103.1 in (2620 mm)


Ground clearance:


8.1 in (205 mm)


Seating Capacity:


5


Towing Capacity:


1500 lbs (680 kg)


Cargo volume:
with rear seats up:
with rear seats folded


33.5 cu. ft (949 liters)
72.0 cu, ft (2039 liters)


Engine:
2.4-Liter, DOHC 16-Valve, Aluminum Alloy 4-cylinder
with i-VTEC (Intelligent Variable Valve Timing and
Lift Electronic Control with VTC and VTEC)
160 hp @ 6,000 rpm, 162 lb-ft @ 3,600 rpm


EPA Fuel Economy (US mpg, L/100 km):
2WD Automatic:


4WD Automatic:


4WD Manual:


city: 23 mpg (10.2 L/100 km)
hwy: 29 mpg (8.1 L/100 km)

city: 22 mpg (10.7 L/100 km)
hwy: 26 mpg (9.0 L/100 km)

city: 21 mpg (11.2 L/100 km)
hwy: 25 mpg (9.4 L/100 km)


Recommended Fuel:
Regular Unleaded


Fuel Tank Capacity:


15.3 US gal (58 liters)


Engine Oil capacity

(with filter):


5.3 qt (5.0 liters)