Used Toyota Corolla 2003-2008 review
Updated: August 11, 2013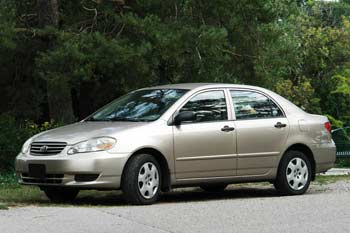 2008 Toyota Corolla. Click for
larger photo
(Photos: Toyota)
Toyota Corolla is a simple fuel-efficient small car with a soft ride and comfortable roomy interior. The Corolla is one of the most reliable cars on the used car market. Toyota Corolla has front-wheel drive and comes with a manual or automatic transmission. The interior is simple, practical and conservatively styled. Front seats are comfortable, but lack side support. Front head- and legroom is good; rear seat space is generous for a small car. The trunk offers 13.6 cu. ft of cargo space and the rear seat folds down to accommodate longer items. On the road, the Corolla handles well but not sporty. The ride is soft, smooth and fairly quiet. Overall, the Corolla is an excellent choice for a simple reliable transportation; it's good on gas and easy to maintain. The Corolla holds its value well and if one day you decide to sell it, you should have no problem finding a buyer.


Engine: The base engine is the 130-hp 1.8-liter 16-valve DOHC with variable valve timing (VVT-i). This engine uses a long-lasting timing chain; there is no timing belt. The sporty Corolla XRS (available only for 2005 and 2006) offers a 170-hp 1.8-liter 4-cylinder VVTL-i engine and a 6-speed manual transmission borrowed from Toyota Celica. Either of these two engines shouldn't give you too many problems with good maintenance.

Fuel Economy: The Corolla is one of the most fuel efficient cars in its class. The EPA rates the 2007 1.8L automatic Corolla at 26/35 mpg or 9.0/6.7 L/100 km, which means you can drive up to 345 miles (554 km) on one tank of gas. The annual fuel cost is estimated at $1,950.

Safety: Anti-lock brakes and side airbags are optional. The 2003-2008 Corolla scored five stars for both the driver and the front passenger in the NHTSA frontal crash tests. It's also received "Good" overall rating from the Insurance Institute for Highway Safety (IIHS).

Pros: Fuel economy, reliability, holds value well, easy to maintain, comfortable ride, roomy interior, easy to sell.

Cons: Interior styling, engine is noisy on acceleration, paint chips easily, no telescopic adjustment on the steering, interior materials could be better

Similar cars:
Competitors: Mazda 3 is more sporty and fun to drive; it is also reliable, but less fuel efficient. Toyota Matrix and its mechanical twin Pontiac Vibe could be a good choice if you need a utility of a wagon; both cars are based on the Corolla platform. Nissan Sentra was unfortunately plagued by engine problems. Honda Civic is another top contender if you are looking for a small fuel-efficient car. The Civic offers better handling and firmer ride. Chevrolet Cobalt is less expensive, but it's not as reliable.
What to look for when buying a used Toyota Corolla: If available, have a look at the service records to see if the car was regularly maintained. When inspecting a car, check the oil level; low oil level could be an indication of excessive oil consumption, which is a fairly common problem with the Corolla. A blue smoke at start-up should tell you to avoid the car. Read our illustrated used car checklist for more tips on what to look for. Before buying a car, have it inspected by a mechanic.
Guides for used car buyers:
Maintenance: Toyota recommends changing oil every 5,000 or 7,500 miles depending on the driving condition. Of course, at this age, the 5,000-mile interval seems to be more reasonable. Toyota recommends using the SAE 5W-30 oil type. Periodically check the engine oil level, as the Corolla engine is known to consume some oil between oil changes. Driving with the engine low on oil will cause problems. Have your automatic transmission fluid inspected at every oil change too; change it if it looks dark or dirty. You can find the maintenance schedule under 'Warranty and Maintenance Guides' at the US Toyota Owners website. The same website offers access to how-to videos and an electronic copy of an owner's manual.
You might also be interested:
Resources:
Safety Recalls - NHTSA - check for recalls.
Transport Canada - Road Safety Recalls - check for recalls in Canada.
Toyota Owners - maintenance schedules, electronic owner's manual and how-to videos.

Toyota Corolla Specifications (2004 model)
Dimensions:
Overall length:
Overall width:
Overall height:
LE, S:
CE:
Wheelbase:


178.3 in (4529 mm)
66.9 in (1699 mm)

57.7 in (1466 mm)
57.5 in (1461 mm)
102.4 in (2601 mm)


Wheels and tires:
Wheel size:
Tire Size:


6.0 x 15 inches
P185/65 R15 (CE) 195/65 R15 (S, LE)


Maximum Towing Capacity:


1500 lb (680 kg)


Engine:
1ZZ-FE 1.8-liter, 4-cylinder, in-line twin-cam, EFI
16-valve, VVT-i, aluminum alloy block and head
130 hp @ 6,000 rpm. 125 lb-ft @ 4,200 rpm


Performance 0 to 60 mph:


9.3 sec. (with automatic transmission)


EPA Fuel Economy (US mpg, L/100 km):
With manual transmission:


With automatic transmission:


city: 32 mpg (7.4 L/100 km)
hwy: 40 mpg (5.9 L/100 km)

city: 29 mpg (8.1 L/100 km)
hwy: 38 mpg (6.2 L/100 km)


Recommended Fuel:


87-octane unleaded


Fuel Tank Capacity:


13.2 US gallons (50 liters)


Oil capacity:
Oil change including filter:
3.9 US qt. (3.7 liters)