Honda Fit 2015-2020: pros and cons, common problems
The Honda Fit is a zippy fuel-efficient subcompact. It has a spacious interior with plenty of headroom. With the seats folded it offers 52.7 cu. ft. of cargo space, which is comparable to some SUVs. You can even fit a smaller bicycle without removing wheels. Second-row seats also flip up to provide space for tall objects.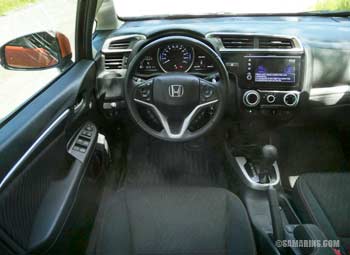 2019 Honda Fit
The Fit is nicely equipped and boasts a 5-star overall safety rating from NHTSA.
Thanks to tall windows, the Fit provides excellent visibility all-around. On the road, the Fit is nimble and fun to drive. It comes with a 1.5-liter engine and a continuously variable (CVT) or a 6-speed manual transmission.
Mechanically, the Fit is built with simplicity in mind, which means there are not too many parts that can go bad. Rear drum brakes, for example, can last for over 100,000 miles without replacement. Smaller tires of the Fit are inexpensive to replace too. All in all, it's probably the most practical vehicle you can find.
Pros:
Good on gas.
Zippy to drive, maneuverable, easy to park.
Plenty of headroom, good visibility
52.7 cu. ft of cargo space with seats folded.
Versatility of different seat configurations.
Can last for over 200K miles.
Small tires are not too expensive to replace.
Rear drum brakes last very long.
Low maintenance costs.
Easy to work on.
Cons:
Road noise is noticeable on the highway.
Limited engine power.
Small battery can fail prematurely and cause some electrical issues.
Quality of some interior materials.
Low to the ground.
2015-2020 Honda Fit common problems:
The two areas that received more complaints are the engine and electrical systems. Problems are mostly minor: a bad VTC actuator can cause a rattling noise from the engine at a start-up. Problems with fuel injectors, ignition coils or carbon buildup on intake valves can cause the engine to misfire and result in multiple warning lights on the dash.
The Start/Stop switch malfunction or a failing starter motor can cause the vehicle not to start. There are reports about the right-side display of the instrument cluster having intermittent problems. A small 12-volt battery can fail prematurely and also cause some electrical issues. Several owners on the NHTSA website reported issues with the CVT transmission in the 2015 Fit.
Overall, the Fit is a great versatile little car. The majority of the complaints are about the 2015 Honda Fit, as it was the first model year of this generation. Later model years fared better. We also know some of the common problems have been repaired under warranty and for some issues Honda has extended the warranty. Let's look at some problems in more detail:
Honda Service Bulletin 16-034 talks about the engine misfiring problems with codes DTC P0300 (random misfire detected) or P0301–P0304. The bulletin describes the diagnosis and repair procedure. Depending on the diagnosis, spark plugs,
ignition coils
or fuel injectors may need to be replaced. Here is the link to the
bulletin
on the NHTSA website.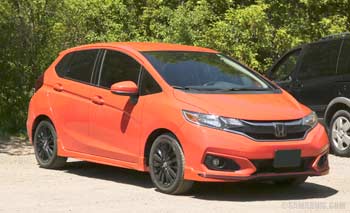 2019 Honda Fit
Service Bulletin
16-088
mentions the problem where the engine rattles loudly for about 2 seconds at cold start up. According to the bulletin, the valve timing control (VTC) actuator needs to be replaced to repair the problem. The VTC actuator is a timing chain driven gear attached to the camshaft. This is a several hundred dollar repair.
The problem with the engine misfiring with codes P0300-P0304 can also be caused by carbon buildup on intake valves. The Honda Service Bulletin
21-007
describes the process of cleaning the intake ports of any carbon buildup. Your Honda dealer will have the required equipment to complete this repair.
Related reviews:
Honda Fit 2007-2008
Honda Civic 2012-2015
Toyota Matrix 2009-2014
Toyota Corolla sedan 2014-2019
Honda HR-V 2016-2022
Nissan Kicks 2018-2023
Mazda CX-3 2016-2021
Honda Civic 2012-2015
What to look for when buying a used Honda Fit:
Check if the driver's seat is comfortable as several Honda Fit owners mentioned that the driver's seat lacks support on long trips. Verify that all outstanding recalls have been completed; check for recalls on the
NHTSA website
. Watch out for a rattling noise when the car is started cold, as it's a sign of a potential VTC actuator or timing chain problem. Check if the instrument cluster display works in all areas. Check the A/C and heater performance. During the test drive, watch out for whining/humming noises from transmission. Normally, the transmission should work smooth and quiet. Read more:
How to inspect a used car - illustrated guide
. Before buying, have the car properly inspected by a mechanic. Read also:
Pros and Cons of CVT transmission
.
Signs of engine problems when test-driving a used car
Signs of automatic transmission problems when test driving a used car