Nissan Kicks 2018-2023: pros and cons, common problems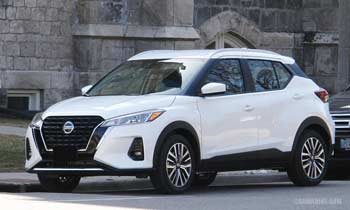 2021 Nissan Kicks
The Nissan Kicks is a small front-wheel drive crossover. It offers a stylish interior with plenty of headroom and good visibility. The Kicks boasts a set of advanced safety features and good safety ratings from the IIHS.
Mechanically, the Kicks is rather a tall compact car than a crossover. It has a simple, lightweight construction and comes with a proven non-turbo 1.6-liter 4-cylinder engine and a continuously variable transmission (CVT).
Pros:
Stylish looks, nicely-done interior.
Good on gas (31/36 mpg. city/hwy).
Simple non-turbo engine.
Maneuverable and easy to park.
Plenty of headroom, good visibility
Decent cargo space with the rear seats folded.
Low maintenance costs.
Easy to work on.
Cons:
No all-wheel drive.
The cargo floor is not flat with the rear seats folded.
Interior fabric and plastic are not of the top quality.
Some road noise is noticeable.
CVT transmission could be expensive to replace if it fails.
Not a lot of engine power.
As any tall car, the Nissan Kicks is sensitive to strong side winds.
2018-2023 Nissan Kicks common problems:
Most of the problems reported so far are related to electronics: We found many owner complaints saying that multiple warning lights, including the forward collision warning light, randomly illuminating on the dash, often for no apparent reason. Multiple Nissan Kicks owners have also reported on the NHTSA website that the vehicle stalls randomly. A number of owners also mentioned issues with the rear view camera. So far, there are not too many mechanical problems that have been reported.
Let's look at some of the reported problems deeper:
This issue with the random Automatic Emergency Braking warning light could be caused by dirt or condensation on the front radar sensor or on the lane camera viewing window on the windshield, as well as a bad or misaligned sensor, or several other possible problems. Multiple owners report this issue happening in snowy or humid weather or under direct sun light. According to some owners, the car can go into a limp mode, lack power or the AEB system slows the car at random times. There are lots of discussions on various Nissan forums about this issue. For example, here is a
thread
on this issue at the NissanKicksForum.com.
We found this Nissan service bulletin
NTB19-042C
that recommends inspecting the windshield if the AEB (Automatic Emergency Braking) light is blinking and also provides a diagnostic flow chart.
According to Nissan Service bulletin
PM945
, stalling when coming to a stop could be caused by wrong Engine Control Module (ECM) calibration. The bulletin advises to reprogram the ECM as a solution.
The code P0101 could be caused by a bad mass air flow sensor or low battery. The Nissan service bulletin
EC21-008
advises to test the battery and if necessary recharge or replace it if there is a code P0101.
Summary:
Overall, the Nissan Kicks is a practical fuel-efficient car. As of 2023, there are not that many complaints about the CVT transmission. However, we have our doubts in the CVT transmission longevity. Also, if it fails, it will be expensive to replace. Our advice: if you are buying a used Nissan Kicks, consider getting an extended powertrain warranty that will cover the full cost of the transmission replacement (potentially over $4,000) if it fails. Possible problems related to front collision warning light could also be expensive to repair if you don't have any warranty.
Related posts:
Ford Escape 2013-2019
Toyota RAV4 2013-2018
Honda CR-V 2012-2016
Mazda CX-5 2013-2016
Nissan Rogue 2014-2020
Jeep Cherokee 2014-2020
Honda Fit 2015-2020
Mazda CX-3 2016-2021
What to look for when buying a used Nissan Kicks:
When buying a used Nissan Kicks, check for outstanding recalls on the
NHTSA website
. If possible, check the service records to insure the vehicle has received regular maintenance. During the test drive, watch out for warning lights on the dash. Check the A/C and heater performance. Watch out for whining/humming noises from the CVT transmission. Normally, the transmission should work smooth and quiet. The acceleration also has to be smooth, without shuddering or hesitations. Read more:
How to inspect a used car - illustrated guide
. Before buying, have the car properly inspected by a mechanic.
Read also:
Pros and Cons of CVT transmission
.
Signs of automatic transmission problems when test driving a used car