Mazda CX-3 2016-2021 review: pros and cons, problems
The Mazda CX-3 is a small fun-to-drive SUV. It offers a reliable powertrain and good fuel economy. The CX-3 comes with a 148-hp 2.0L Skyactiv 4-cylinder engine and a conventional 6-speed automatic transmission, with front- or all-wheel drive.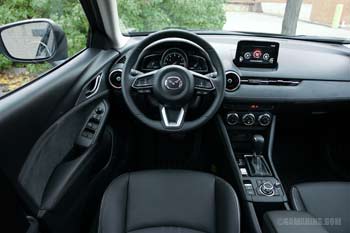 2018 Mazda CX-3 interior.
#SUV reviews
The interior is tight, but well equipped. Mazda Connect infotainment system with a 7-inch touchscreen and Bluetooth is standard.
Advanced safety features such as rear cross traffic alert, radar cruise control forward obstruction warning, lane departure warning are available on top trim levels. Apple CarPlay and Android Auto can be retrofitted if the vehicle is not already equipped.
Pros:
Stylish, sporty looks.
Fuel economy: The AWD Mazda CX-3 is rated at 29 mpg combined or 27/32 mpg city/highway.
Quick, responsive handling.
Maneuverable and easy to park.
Good reliable engine, conventional 6-speed automatic transmission, available all-wheel drive.
5-star overall safety rating from NHTSA.
Available advanced safety features.
Risk of expensive problems such as engine or transmission failures is low.
Cons:
Road and engine noise.
Limited interior space.
The quality of fabric seats could be better.
The infotainment system can be glitchy.
Reported problems:
Common problems include a leaking A/C condenser, bad wheel bearings, minor Check Engine light issues such as a failing mass air flow sensor or a bad ignition coil, as well as infotainment system glitches. The engine and transmission are generally trouble-free.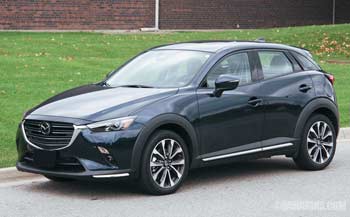 2018 Mazda CX-3
Overall it's a zippy, reliable small SUV. Read more about the problems:
The air conditioner condenser which is a heat exchanger located in front of the vehicle, behind the grille tends to leak causing the A/C not to work. Sometimes, you can see an oily spot on the condenser through the front grille. Mazda has extended the warranty on the condenser for the 2016 and 2017 model years; google 'SSPB8 CX-3 A/C condenser warranty extension' for more info. If out of warranty, the repair can cost from $380 to $650.
Infotainment system issues:
The screen of the Mazda Connect infotainment system can become unresponsive in some areas or work erratically. A failed screen can cause 'ghosting' of the infotainment system, when it switches different functions and dials phone numbers on its own. Replacing the entire display unit is expensive if out of warranty. However, we found the touchscreen sold separately on Amazon (Touch Screen Glass Digitizer). Replacing the touchscreen is not too difficult but it's a delicate work. Check Youtube for how-to videos if you want to replace it yourself.
A failed rear-view camera might cause a blurred image on the screen. The rear-view camera is common to fail and is not very difficult to replace. Check with your dealer.
In some cars, a bad navigation SD card can cause the infotainment system to reboot, especially in cold weather. If the problem stops when the SD card is removed, it's the most likely culprit. Mazda issued the service bulletin
09-001/18
that advises to check the SD card lot number and replace the SD card if the number matches one of the numbers provided in the bulletin.
For navigation map updates, visit
Mazdahandsfree.com
website.
Check Engine light problems:
A failed
mass air flow sensor
can cause the vehicle to stall or not to start. An original Mazda sensor costs $130-$200. The sensor is located above the air filter box and is easy to replace.
A bad
ignition coil
can cause the engine to
misfire
. Replacing one ignition coil is easy, the part is cheap.
Noisy wheel bearings are common. The wheel bearing humming noise is more noticeable at highway speeds; the noise changes when the vehicle changes direction of travel. Replacing one wheel bearing (hub assembly) costs $290-$470.
Moisture condensation in one of the door lock actuators can cause the liftgate intermittently not to open. If drying up the interior doesn't help, a faulty door lock actuator may need to be replaced. Often, the liftgate starts working after opening and closing the affected door.
Check for outstanding recalls at the
NHTSA website
using the VIN number or your car.
Summary:
The CX-3 is a practical, reliable small SUV. It's fuel efficient and easy to maintain. The risk of the engine or transmission going bad is small. The Mazda CX-3 scored overall 5-star rating from NHTSA, although there is a warning for the rear passengers. Check NHTSA website for details. When buying a used Mazda CX-3, test the air conditioner as it's a trouble spot. Test the touchscreen and watch out for unresponsive areas or lagging Check if all recalls have been completed. Watch out for moisture inside the headlights or taillights. Test if the liftgate opens and closes without issues. Test the rearview camera. If you want a bit more space, the Mazda CX-5 is a good choice.
Related Reviews:
Mazda CX-5 2013-2016 review
Toyota RAV4 2013-2018
Honda CR-V 2007-2011 review
Jeep Cherokee 2014-2020 review
Jeep Patriot 2007-2017 review
Ford Escape 2013-2019 review
Maintenance tips:
Change oil every 5,000 miles. Change your transmission fluid every 100K miles using the original Mazda transmission fluid. Keep the coolant level topped up. Have your brakes serviced at least once a year.
If you want to install Android Auto/Apple CarPlay, check with your dealer. The Mazda Connect software needs to be updated to the latest version first. Then a new USB adaptor and cables need to be installed. The retrofit kit is available on Amazon if you want to do it yourself, but make sure the software update is done first. It's not a very difficult job. Watch
these videos
.