Honda HR-V 2016-2022: pros and cons, common problems
The Honda HR-V is a compact crossover with a coupe-like styling. It is smaller than the Honda CR-V and offers a bulletproof 1.8-liter engine and a CVT automatic or a manual transmission.
2019 Honda HR-V interior
The interior is nicely done. Front visibility is great. The rear "Magic Seat" folds down and flips up allowing for multiple cargo configurations.
The Honda HR-V dives comfortably, although the acceleration is a bit slow. It offers good visibility and is maneuverable and easy to park. It's generally reliable and cheap to maintain. Let's start with pros and cons.
Pros:
Fuel economy - the front wheel drive HR-V is rated at 28/ 34 mpg city/hwy.
5-star overall safety rating from the NHTSA.
Bulletproof engine that can last for over 200K miles.
Low maintenance costs.
Available all-wheel drive.
Good visibility.
Fairly comfortable ride.
Versatile rear "Magic Seat" that not only folds down, but lifts up.
Easy to park and maneuver.
Cons:
It's not very quiet inside.
Small engine is a bit slow on acceleration.
Interior materials are not of the top quality.
Tight rear seat space.
CVT transmission.
2016-2022 Honda HR-V common problems:
The Honda HR-V is generally reliable and not that many problems are reported. There have been some CVT transmission failures reported in earlier models although not too many. Honda has updated the PCM software to improve the longevity of the CVT transmission.
Minor electrical problems have also been reported; one example is the failing Start-Stop switch. Other than that, it's a great little car, we especially like the 1.8-liter engine, because in our experience it's very reliable and good on gas. Let's look at some of the problem areas:
Should you worry about the Honda HR-V CVT transmission?
According to the service bulletin
21-047 Warranty Extension: 2016-20 HR-V CVT Premature Belt Deterioration
American Honda is extending the warranty coverage on the 2016-2020 Honda HR-V CVT models to 7 years from the original date of purchase or 150,000 miles, whichever comes first. The service bulletin
21-046
explains the reprogramming of the PCM to reduce the load on the CVT transmission belt.
This means that if you have the Honda HR-V or are buying a used HR-V, check with a Honda dealer if the software update has been completed. In addition, the transmission fluid needs to be changed when the Maintenance Minder will show Sub item 3. The CVT transmission will last longer if it's not frequently overloaded and the fluid is changed regularly. If you are buying a used Honda HR-V that is outside the warranty coverage, consider buying an extended warranty that will cover potential transmission failure.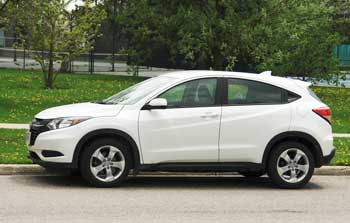 2019 Honda HR-V.
A failed Engine Start/Stop Switch is known to go bad. The symptom of a failing switch is when you have to press it multiple times to get the vehicle started or to turn the ignition on. On the plus side, it's not an expensive part and is easy to replace. According to the service bulletin
20-116
for the 2016-2018 Honda HR-V, the warranty for the keyless start system on these vehicles has been extended to 9 years from the original date of purchase or 125,000 miles, whichever comes first.
Other common problems are similar to many other cars and include minor oil leaks from the engine, a failed drive belt tensioner that rattles, bad wheel bearings, and a prematurely failed battery.
Summary: Is the 2016-2022 Honda HR-V a good car to buy?
Yes, we especially like the simple and reliable engine. We have no problems recommending this car. It's good on gas and, for the most part, reliable. We would only advise to get the extended warranty coverage for the CVT transmission if you plan on keeping this vehicle for a long time.
Questions to ask when buying a used Honda HR-V:
What is the vehicle's history, including accidents, repairs, and service records?
Has the used HR-V had major repairs?
Has the the PCM software been updated to reduce the load on the CVT transmission?
Were the oil changes and other services done regularly?
Is there any remaining warranty or extended warranty available for this vehicle?
What is the condition of the tires, brakes, and other critical components?
Are there any outstanding recalls? Check for recalls at the NHTSA website.

What to check when test driving a used Honda HR-V: Check the body panels for signs of paint job or accident repairs, read more: Signs of a collision repair, rust or paint job when buying a used car. Test the air conditioner performance: does it feel really cold? Does the sunroof (if equipped) opens and closes smoothly? Do all seat adjustments work? Watch out for warning lights staying on after the engine is started. Do all parts of the screens work?

During the test drive, see if the steering wheel points precisely forward when driving straight. If not, the wheel alignment will need to be checked. Watch out for abnormal noises (humming, whining, etc.) that may indicate a bad wheel bearing, cupped tires or noisy CVT transmission. Read also: Signs of automatic transmission problems when test driving a used car.

Related reviews:
Honda Fit 2015-2020
Nissan Kicks 2018-2023
Mazda CX-3 2016-2021
Toyota RAV4 2013-2018
Mazda CX-5 2013-2016
Honda Civic 2012-2015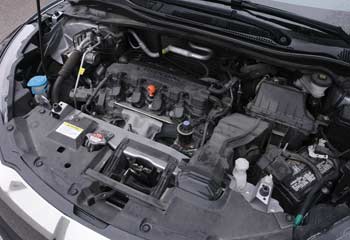 Honda HR-V 1.8-liter engine
Honda HR-V engine:
The only available engine in the North American market is the 141-hp 1.8-liter 16-valve i-VTEC SOHC (model R18), the same engine type as in the 2012-2015 Civic. It's one of the best small engines on the market.
Engine oil:
The owners manuals for the 2016-2022 Honda HR-V list 0W-20 as the recommended oil type. The engine oil capacity is specified at 3.9 US qt or 3.7 liters with oil filter replacement.
When do spark plugs need to be replaced in a Honda HR-V?
Spark plug replacement and valve adjustment will need to be done when the Sub item 4 pops up on the Maintenance Minder display. Typically this will happen at around 100,000 miles or 160,000 km.
Timing belt or chain:
The 1.8-liter R18 engine has a timing chain; there is no timing belt. The timing chain only needs to be replaced if it's stretched or if there is another problem with it.