2003-2007 Nissan Murano: engine, fuel economy, problems, pros and cons
Updated: May 14, 2019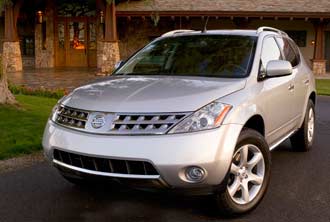 2006 Nissan Murano Photo: Nissan.
Nissan was having financial problems in the late 90's. To prevent bankruptcy, Nissan entered an alliance with French car manufacturer Renault. The Murano was one of the first products of the new company vision. When the 2003 Murano came out in 2002, its large wheels and futuristic styling made it stand out from the crowd. Nissan calls it the "Urban SUV"; its name originates from Murano glass, a famous product of the Venetian island of Murano.

The Murano is a crossover SUV, based on the front-wheel drive Nissan Altima platform. The interior is roomy with upscale touches. Front seats are comfortable and supportive. The instrument panel with orange-backlit gauges is separated from the dashboard. Large doors offer easy access. Front visibility is good; the rear view has blind spots in the corners, but the large mirrors help make up for that.
The 2003-2007 Murano was available with front- or all-wheel drive. Two trims were initially offered: the base SL and sporty SE. The Murano SE included a sport-tuned suspension with firmer front and rear springs, manual shift mode, different alloy wheels, dark silver lower front bumper and HID headlights. The entry-level S trim was added for 2005.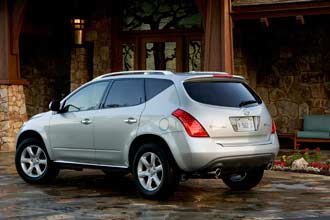 2006 Nissan Murano Photo: Nissan.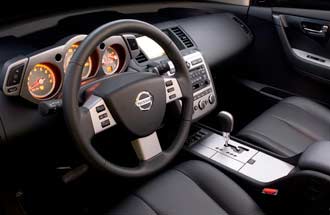 2006 Nissan Murano Photo: Nissan.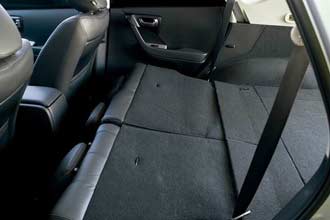 2006 Nissan Murano Photo: Nissan.
Powertain: The only engine choice is a 245-hp 3.5L DOHC V6. It's the same VQ engine as in the V6 Altima, Maxima and Pathfinder. What separates the Murano from other V6 SUVs is a continuously variable transmission, which is the only transmission option. The main component of a CVT is a steel belt running between two pulleys that can vary in size. Driving a vehicle with a CVT is a bit different: it's slower from the start and as you accelerate, gear ratio is changed gradually, without shifts. Read more: Pros and Cons of buying a car with a CVT transmission.

Timing belt or chain? The Murano's 3.5L V6 engine does not have a timing belt; a timing chain is used instead. A timing chain doesn't need to be replaced unless there is a problem with it. However, a noisy or stretched timing chain is not uncommon in this engine at high mileage or due to lack of regular oil changes. The timing chain replacement is expensive.

Fuel Economy: The Murano's fuel economy is not bad for an all-wheel drive V6-powered SUV. The 2003-2005 Murano with AWD gets 18 mpg city and 23 mpg highway on regular gasoline (13.1/10.2 L/100 km). The 2007 AWD Murano is rated at 17/23 mpg city/hwy (13.8/10.2 liters per 100 km) on premium gasoline.

Mechanical: The Murano's electronically controlled AWD system automatically sends the power to the rear wheels for more traction. The AWD "LOCK" function locks the front and rear axles at speeds up to 18 mph (29 km/h). 18-inch wheels are standard.

Safety: Antilock brakes, side and side curtain airbags and stability control are optional. In the NHTSA frontal crash tests, the 2003 and 2005 Murano received four stars for both the driver and the front passenger. The improved 2006 and 2007 Murano earned perfect five stars in the front and side crash tests, as well as 4 stars in rollover tests.

Handling and ride: On the road, the Murano is fun to drive despite its size. Thanks to large wide tires and firm suspension, handling is secure with minimal body roll. The V6 offers plenty of power and is very smooth. The steering is light but precise. On the other hand, the ride is firm and some road noise is noticeable.

Pros: Original styling, sporty handling, reasonable fuel economy, comfortable roomy interior, decent sound system.

Cons: Firm ride, road and engine noise, no seven-seat option, reliability issues, maintenance and repair costs.

Overall: The Murano is not a bad choice for a city SUV. It is roomy, comfortable and fun to drive. However, we expect the maintenance and repair costs to be higher than average. Because of the CVT, the Murano is also not the best choice for towing.

Reliability and common problems: The 2003-2007 Murano's reliability is below average and many problems are costly to repair.
Electrical and CVT issues are fairly common. A leaking transfer case is not uncommon, and the repair is expensive.
Another often mentioned issue is a broken bracket in the driver's seat frame. We found Nissan TSB BT05-012d on this issue. This forum has more information.
Some front suspension components are not very strong too.
A humming noise coming from the wheel area could indicate a bad wheel bearing. One wheel bearing will cost $180-$320 to replace.
A leaking oil cooler gasket can cause an oil leak in the oil filter area; see these YouTube videos for more info.
The HID headlights are reported to have problems; the OEM replacement is expensive.
A number of owners mention problems with a gas tank lid.
Nissan issued several recalls, including the alternator recall P5215. Check the NHTSA website for more info.

You might also be interested:
Maintenance: The Murano CVT transmission requires a special CVT transmission fluid. The owner's manual for 2003 Murano says Using transmission fluid other than Genuine NISSAN CVT Fluid NS-2 will damage the CVT transmission. The same manual warns against driving with the AWD LOCK mode on dry hard surface roads, as it may cause damage to the AWD system. Considering common transfer case leaks, the transfer case oil level and transmission fluid level.

Resources:
Recalls: Safety Recalls - NHTSA or Transport Canada - Motor Vehicle Safety Recalls.
US Nissan Owners website - Check maintenance schedule, download an electronic owner's manual.


Similar cars:
2003 Nissan Murano specifications
Dimensions:
Overall length:
Overall width:
Overall height:
Wheelbase:


187.6 in. (4,767 mm.)
74.0 in. (1,880 mm.)
67.3 in. (1,709 mm.) with roof rack
111.2 in. (2,825 mm.)


Minimum ground clearance:


7 inches


Curb weight:


3,960 lbs. /SL with AWD/


Cargo volume:
with 2nd row seat upright:
with 2nd row seat folded flat:



32.6 cu. ft.
81.6 cu. ft.


Max. towing capacity:


3,500 lbs.


Turning diameter:


37.4 ft. (11.4 m.)


Engine:






V6 3.5L DOHC, 24-valve, with
variable valve timing. Model VQ35DE
245 hp @ 5,800 rpm
246 lb-ft @ 4,400 rpm


EPA Fuel Economy* (US mpg, L/100 km):
Regular Gasoline, 2WD, AWD:



city: 18 mpg (13.1 L/100 km)
hwy: 23 mpg (10.2 L/100 km)


Fuel tank capacity:


21-5/8 gal US gallons (82 liters)


Engine oil drain and refill:
With oil filter change:



4-1/4 US qt (4.0 liters)



By Samarins.com Staff
---