Nissan Murano 2009-2014: problems, engine, fuel economy, pros and cons
May 27, 2019
The Murano is a mid-size premium 5-seater SUV with an upscale interior and many high-end features. It comes with a strong V6 engine and a continuously variable transmission (CVT), with front- or all-wheel drive.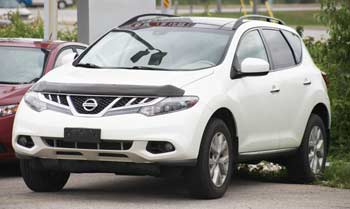 2014 Nissan Murano.
There is even an all-wheel drive Murano CrossCabriolet, although it is rare. The Murano not only looks good, it offers a comfortable, quiet driving experience.

For 2011, the Murano received a minor facelift with a different grille and bumper design, new taillights and a few interior upgrades.
A used Nissan Murano is priced lower than many competitors. At the time we worked on this review, Consumer Reports rated the 2011-2014 Murano above average for reliability, but there are a few issues to be aware of. Is the Murano a good choice for a pre-owned SUV? What are the reported problems?

Problems: A bad oil cooler seal can cause an oil leak in the oil filter/oil pan area. Replacing the seal will cost $230-$350.
There are many reports of oil leaks from a transfer case or a CVT seal between the transmission and a transfer case.
2012 Nissan Murano. Photo: Nissan.
The repair is labor-intensive, and in some cases, the transfer case may need to be replaced. If out of warranty this could cost over $3,000. We found this thread about this issue at NissanMurano.org forum.
There are reports of the CVT transmission being replaced while under warranty, although the number of CVT complaints is smaller than for some other vehicles.
Several Murano owners reported problems with the exhaust, including a rusted flange, flex pipe or a muffler. OEM exhaust parts are expensive. A local muffler shop should be able to do the job and is less expensive.
Bad wheel bearings are not uncommon at higher mileage. Replacing one wheel bearing costs $290-$420. A symptom of a bad wheel bearing is a humming/howling noise that gets louder at higher speed.
A faulty air-fuel ratio sensor or a mass air flow sensor are fairly common to cause the Check Engine light on.
A number of Murano owners mentioned replacing an alternator ($530-$900).

Front-end problems, including bad control arms are not uncommon.
The Nissan service bulletin NTB10-035a for the 2009-2010 Murano describes a problem where the fuel gauge is inaccurate or the trouble code (DTC) P0463 is stored. The bulletin advises replacing the fuel level sensor units – main and sub as a solution.
We found several reports of head gaskets leaking coolant in the 2009 Murano. The repair is expensive, however, for most vehicles, the repairs were done while under warranty.
The NHTSA website has more than two hundred complaints about the brakes in the 2009 Murano. Nissan recalled the 2009 Murano for braking issues; read more in this CR article. Check for details and for other recalls on the NHTSA website.

Engine: The Murano has a 265-horsepower 3.5-liter DOHC V6 VQ35 engine. Nissan has used this engine in many Nissan and Infiniti vehicles for years. It's one of the best V6 engines on the market. We have seen the VQ engine lasted for well over 200K with good maintenance.

Timing belt or chain: The 3.5L VQ engine has a timing chain. There is no timing belt.

Fuel Economy: The 2009-2012 front-wheel drive and 2009-2014 all-wheel drive Murano get 18 mpg city and 23 mpg highway (13.1/10.2 L/100 km) according to EPA estimates. On a long trip, the Murano can drive up to 477 miles on a tank of gas. The 2013 and 2014 Murano FWD is rated at 18/24 mpg (13.1/9.8 L/100km).

Pros: Stylish look, strong engine, upscale interior, pleasant driving experience, available features.

Cons: Restricted rear visibility, limited cargo space, CVT transmission is expensive to replace, other high-end features are expensive to repair, depreciates fast.

Similar vehicles:
Overall: The Murano is one of the most successful Nissan vehicles. A strong VQ engine and a premium interior are the key selling points. Of course, the amount of high-end features and the CVT transmission means that the Murano will be expensive to maintain or repair down the road. For example, a set of new 20-inch well-rated tires will cost over $1,000. A new transfer case (part only) costs over $2,000. This is one of the reasons why simpler SUVs like the Honda CR-V or Toyota RAV4 hold their values better than the Murano. Read also: Pros and cons of the CVT transmission. On the plus side, the Murano is more of a luxury SUV than a people mover. This means that it's more likely to be well cared for by previous owners.
As is often the case, the first model year (2009) received the most complaints. Several reported problems are related to the AWD system and they are expensive to repair. A front-wheel drive model will have fewer potential problems.

What to look for when buying a used Nissan Murano: When test-driving a used Murano, pay attention to the way the CVT transmission operates, since it's expensive to replace. A whining or whirring noise, lack of power or shudder on acceleration or delayed engagement indicate problems. Often, CVT problems show up after driving for some time, when the transmission fluid is fully warmed up.
A low coolant level and smell of coolant under the hood could indicate a coolant leak. Some coolant leaks (e.g. head gaskets) are costly to repair.
Watch out for the Check Engine light staying on; one of the possible problems is a failed catalytic converter, which will cost close to $1,000 to replace.
Test all the power equipment, including a sunroof, power liftgate, power-adjusted steering and power driver's seat. All these features will also cost a lot to repair. Several Murano owners mentioned a failed power tilt adjustment mechanism for the steering and problems with the power liftgate.


Murano AWD system: The Murano has a simple front-biased all-wheel drive system that helps when driving on slippery roads. How the Murano AWD system works: Front wheels are powered at all times. An electric coupling, installed in the front portion of the rear differential, engages the rear axle as needed. The Murano has an AWD LOCK switch that allows you to engage the AWD system manually when driving on rough or muddy roads at slow speeds. The AWD LOCK mode should not be used on dry pavement, see your owner's manual.

AWD system maintenance: According to the Service and Maintenance Guide for the 2014 Murano, the transfer case and rear differential fluids need to be changed every 20,000 miles if towing a trailer, using a camper or a car-top carrier, or driving on rough or muddy roads. In normal driving conditions, the transfer case and rear differential fluid need to be regularly inspected and changed when dirty (typically every 30,000-50,000 miles). The propeller shaft also needs to be regularly inspected.
For the AWD system it's important to have the same-size tires on all 4 wheels. Even the difference in tire pressure or tread wear between the front and rear tires will add strain on the transfer case and other all-wheel drive system components. By Samarins.com Staff
---