Nissan Rogue 2008-2013: problems, fuel economy, engine
Updated: February 11, 2018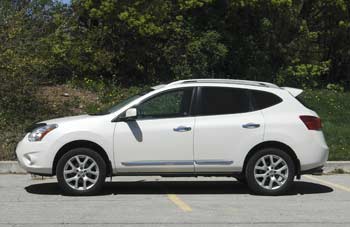 2013 Nissan Rogue.
The first generation Nissan Rogue is a fuel-efficient practical compact 5-seater SUV. After the second-generation 2014 Rogue went on sale in the US, the first-generation Rogue continued to be sold through 2014 and 2015 as Nissan Rogue Select. The Rogue (or Rogue Select) has a 4-cylinder engine and comes with front- or all-wheel drive. The only transmission choice is the continuously variable transmission (CVT). The Rogue is one of the most fuel-efficient all-wheel drive vehicles on the used car market.

Inside, it's simple and functional. Seats are comfortable. The steering tilts but doesn't telescope. Rear seat space is pretty good and the access is easy. Rear seats fold flat for extra cargo space. The Rogue drives like a car and has a comfortable quiet ride. Maintenance costs are on par with other small SUVs like Honda CR-V and Toyota RAV4. Reliability is above average, but there are a few trouble spots to watch out for, read more below.
Engine: The only choice is the 170-hp 2.5L DOHC inline-4. To help with maintenance costs, Nissan equipped this engine with a timing chain instead of a timing belt.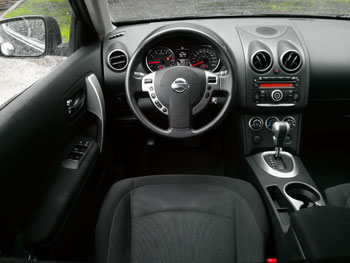 2011 Nissan Rogue interior.
A timing chain doesn't need to be replaced at regular intervals. With proper maintenance, this engine shouldn't have too many problems.

Fuel Economy: The 2008-2010 AWD Rogue is rated at 21/26 mpg city/highway by the EPA. Front-wheel drive 2008-2010 models get 22/27 mpg on regular gasoline. The 2010 FWD Rogue can drive up to 343 miles (553 km) on a 15.9-gallon (60 L) tank.

Continuously Variable Transmission: The CVT design is very simple: a steel belt runs between two pulleys. Gear ratio is changed by varying the size of the pulleys. Nissan has been using this technology for a while, however there were some issues. To address those issues, Nissan has extended the CVT warranty to 10 years/120,000 miles on all 2003-2010 models. Compared to other types of transmissions, the CVT works well in city driving, but is weaker when it comes to towing or driving in hilly terrains. Read more: Pros and cons of buying a car with a CVT transmission.


NHTSA crash tests:
Frontal
Driver
Frontal
Pass.
Side
Driver
Side
Pass.
2008-2009 Rogue
2010 Rogue
New NHTSA tests:
Overall
Frontal
Crash
Side
Crash
Rollover
2011-2013 Rogue
Safety: The Rogue has disk brakes on all four wheels and comes with anti-lock brakes, stability control, front, side and side curtain airbags.

Pros: Practical interior, fuel economy, comfortable seats, car-like handling, compliant ride, rear seat space, five stars side-impact protection.

Cons: The engine is a bit noisy, rear visibility, plain interior styling, cargo space could be better, the liftgate glass doesn't open separately.

Owner reviews: We looked through hundreds of owner reviews on various forums and other websites. Reviews are mixed.
2013 Nissan Rogue with navigation.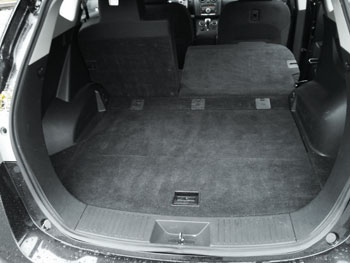 Rear seats fold down.
Many owners like the fuel economy, handling and ride comfort, good front visibility and easy access. Poor rear visibility and blind spots in the rear corners is a commonly-mentioned downside. A number of owners also have experienced issues with keyless entry system and CVT transmission. Motorists from southern states often mention a weak air conditioner.

Common problems: Nissan Rogue common problems include CVT issues, minor emission and electrical faults. Bad wheel bearings causing a humming noise are not uncommon too. Wheel bearing replacement will cost from $320 to $460. Fuel level sensors can fail causing inaccurate fuel gauge reading.
The tire pressure sensors fail often, but they are not very expensive. A bad vent control valve can cause the Check Engine light with the code P0455. An updated vent control valve can be purchased from a Nissan dealer. The repair is not very expensive. Read more about this code.
The TSB AT16-013 for the 2011-2013 Rogue and 2014-2015 Rogue Select (S35) describes a problem where the CVT might enter the fail-safe mode (reduced vehicle speed). Possible solutions include replacing the control valve assembly and (or) installing the external CVT fluid cooler kit.

Overall: A used Nissan Rogue is a practical city crossover, however we would not recommend it for towing or other heavy duty use. The reliability is not flawless, but not too bad. As of 2018, Consumer Reports rated the 2008 Rogue 'below average', the 2009-2012 Rogue 'average' and only the 2013 and 2015 Rogue got 'above average' rating.


Similar vehicles: Toyota RAV4 and Honda CR-V are more reliable, but they are priced higher. Check out Subaru Forester or Outback if you want a good AWD system and better visibility. The front-wheel drive Mazda CX-7 with the 2.5L non-turbo engine is worth considering if you need more space. Nissan Murano is a more upscale V6-powered SUV with more power and excellent driving experience.


What to look for when buying a used Nissan Rogue: First, make sure you can live with rear visibility when backing up and changing lanes. Test all electrical accessories. Does the blower motor work in all speed settings? Does the fuel gauge show different readings when the car is just started and after the test drive?
Test the air conditioner, is it strong enough? During the test drive, pay attention to the way the CVT transmission works. Are there any whining noises, vibrations, jerks or delays? Test drive for as long as you can, as some of the CVT issues may not be present when the transmission is cold. If something doesn't feel right, test drive another Rogue to compare. Does the vehicle accelerate smoothly from a stop? Are there any noises when turning or when driving slow over bumps? Is the vehicle quiet at highway speeds? Read more what to look for when buying a used car. Before buying, have the vehicle properly inspected.

Maintenance: Nissan recommends changing your engine oil and filter every 3,750 miles or 3 months; 5W-30 is the recommended viscosity. You can find the maintenance schedule in the Service and Maintenance Guide, which can be downloaded from the U.S. Nissan Owners website. See the link section below.
To know if the CVT fluid needs to be replaced, ask a dealer to check the fluid deterioration data with a scan tool. According to Nissan Service and Maintenance Guide for the 2010-2013 Rogue, if the deterioration data is more than 210,000, change the CVT fluid. A cabin air filter is recommended to be replaced every 15,000 miles.

You might also be interested:
Resources:
Recalls: Safety Recalls - NHTSA or Transport Canada - Motor Vehicle Safety Recalls.
US Nissan Owners website - Check maintenance schedule, download an electronic owner's manual.
Nissan Assist - read about CVT warranty and other issues.


2012 Nissan Rogue specifications
Dimensions:
Overall length:
Overall width:
Overall height:
Wheelbase:


183.3 in (4,655 mm)
70.9 in (1,800 mm)
66.3 in (1,683 mm) /with roof rails/
105.9 in (2,690 mm)


Seating Capacity:


5


Cargo Volume:

With rear seats up:
With rear seats down:



28.9 cu. ft.
57.9 cu. ft.


Turning circle (curb to curb):


37.4 ft (11.4 m)


Engine:

2.5-Liter, 4-Cylinder, DOHC, 16-Valve,
QR25DE
170 hp @ 6,000 rpm, 175 lb. ft. @ 4,400 rpm


EPA Estimated Fuel Economy:

FWD:


AWD:




city: 23 mpg (10.2 L/100 km)
hwy: 28 mpg (8.4 L/100 km)

city: 22 mpg (10.7 L/100 km)
hwy: 26 mpg (9.0 L/100 km)


Recommended Fuel:
Regular unleaded


Fuel Tank Capacity:


15-7/8 US gal (60 liters)


Oil Capacity:


4-7/8 qt. (4.6 liters) /with oil filter change/


By Samarins.com Staff
---