Ford Focus 2000-2011: pros and cons, common problems
The 2000-2011 Ford Focus is a fuel-efficient compact with a peppy engine. It is available as a sedan, hatchback or a wagon.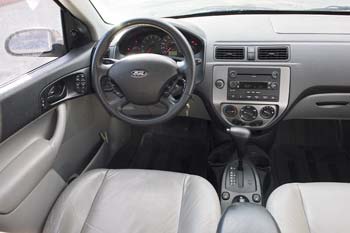 2006 Ford Focus
The
2008 redesign
brought the new look, an upgraded
interior
and SYNC interface, but the platform remained mostly unchanged.
A used Ford Focus is not very expensive. What are the pros and cons and which engine is a better choice? Which model years should be avoided? We'll start with pros and cons:
Pros:
It's a cheap car, which means no car payments.
Good gas mileage.
Peppy, easy to drive.
The wagon offers good cargo space.
Good Mazda-sourced Duratec engines (2005+)
The 2008 and later model years are generally reliable.
Easy to work on.
Cons:
Budget interior materials
Prone to rust, especially in the Salt Belt.
Earlier model years were troublesome.
2005-2011 Ford Focus common problems:
Most of the problems are minor, including a bad ignition switch, a failed thermostat, vibration caused by a bad top engine mount, bad wheel bearings, stabilizer bar links and oil leaks, bad alternator, rust damage. Here are a few examples of common problems:
The most common cause for the trouble code P0128 in the 2.0L or 2.3L Duratec engine is a bad thermostat. A repair shop will charge 1.5-2.0 hours of labor to replace it. The part is not very expensive. The cooling system must be bled properly after the thermostat replacement. One of the signs of air pockets remaining in the cooling system is a lack of heat from the vents at idle.
The engine vibration felt inside the car could be caused by a bad top
engine mount
. Replacing the top engine mount in a repair shop will cost you around 1.0 hours of labor plus the part.
Bad sway (stabilizer) bar links are often reported. A bad link can cause a knocking/clunking noise from the suspension when driving slowly over small bumps. Replacing a bad sway bar link (or both) is not very expensive.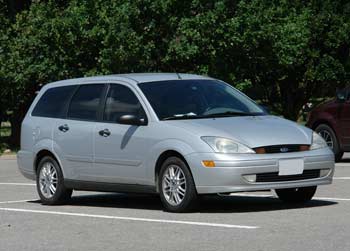 2006 Ford Focus wagon. Click for a
larger photo
There are quite a few complaints about the dropped valve seats in the 2000-2004 2.0L SPI engine (the one with the aluminum valve cover); the repair is expensive.
A squeaking noise from the rear of the vehicle in 2006 and newer models when driving over bumps can be caused by a parking brake cable bracket. The repair is simple and inexpensive; there is a TSB on this issue that recommends installing a plastic insert.
A faulty ignition switch lock cylinder (tumbler) causing the key not to turn in the ignition was very common in earlier models. The repair cost: $300-$430.
Rear tires may get cupped and become noisy. More frequent tire rotations can help avoid this problem. The wheel alignment may also need to be checked.
Summary:
The 2008-2011 Ford Focus is a good option for a cheap commuter car if you find one that is in good mechanical shape and not rusted. It's peppy to drive and good on gas. The parts are not very expensive and even if the engine or transmission will need to be replaced, used units don't cost a lot. Even the next generation 2012+ Focus has a lot more problems.
The 2000-2004 Focus had plenty of mechanical problems and should be avoided. Among similar cars, we recommend
Honda Civic
,
Toyota Corolla
or
Matrix
,
Mazda 3
.
Related reviews:
Mazda 3 2004-2009 review
Chevrolet Cruze 2011-2015 review
Honda Civic 2006-2011 review
Toyota Matrix 2009-2014
Dodge Dart 2013-2016 review
Chevrolet Sonic 2012-2016
Nissan Versa 2007-2011
Ford Focus engines:
The 2000-2004 Focus came with the 2.0L 8-valve SOHC
"Split Port" (SPI) engine
or 2.0L Zetec 16-valve
DOHC
. Both engines have a
timing belt
that needs to be replaced at 120K or earlier.
Although either of these engines can last for over 200K miles, there have been numerous reported problems. The SPI engine is known to drop valve seats, while the leaking thermostat housing, for example, was common in the 2.0L Zetec engine.
The Mazda-sourced 2.3L Duratec DOHC engine is available from 2004 to 2007. A similar 2.0L Duratec DOHC (Mazda L engine) found in the 2005-2011 Focus. Both, the 2.0L and 2.3L Duratec engines are good, reliable engines; both have a timing chain instead of a timing belt.
Fuel economy:
The 2005-2006 Ford Focus 2.0L automatic is rated at
22/29 mpg
city/hwy, which means you can get roughly 350 miles to a tank.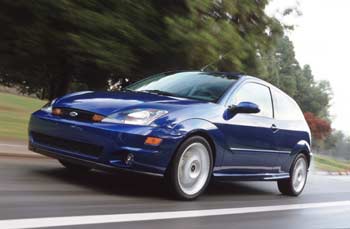 2002 Ford Focus SVT. Photo: Ford
The 2008-2011 Focus is more fuel-efficient. The 2008 Focus 2.0L auto gets
24/33 mpg
city/highway, or up to 378 miles (608 km) on one tank of gas.
Ford Focus SVT:
The high-performance SVT model (Special Vehicle Team) was available as a two or four-door hatchback from 2002 to 2004. The Focus SVT was offered with the 170-hp 2.0L SVT Zetec engine, 6-speed Getrag gearbox, sport suspension, 17" low-profile tires, leather seats and premium Audiophile audio system. The Focus SVT requires 91-octane gasoline.
Handling and ride:
Ford Focus handles very well and is fun to drive on twisty roads. The ride is comfortable too, although you will hear some road noise. The steering is sharp and responsive; the tight turning radius is another plus. Overall, you won't be disappointed in the way the Focus drives.
Safety:
The Focus scored pretty well in the crash tests except for the 2000-2004 hatchback models; see the crash test results in table.
What to look for when buying a used Ford Focus:
During a test drive watch out for a humming or rumbling noise; it could be caused by unevenly-worn (cupped) tires or a bad wheel bearing. Check all the electrical accessories, including the radio, power windows and locks, and the rear window defogger.
Avoid the car if you notice a blue smoke from the exhaust or if the engine makes a rattling noise. Watch out for rust on the doors and rocker panels. The undercarriage needs to be inspected for rust, as crossmembers, brake lines and other parts could be badly rusted if the vehicle came from the Salt Belt.
Maintenance:
The 2004 Ford Focus Scheduled Maintenance Guide recommends changing engine oil and rotate tires every 5,000 miles.
The same guide recommends replacing a timing belt (camshaft belt) in the 2.0L engine at 120,000-miles. The timing belt condition needs to be checked regularly, as it might need to be replaced earlier if the belt shows signs of excessive wear, cracks or if it's soaked with engine oil.
The Focus SVT requires 91-octane gasoline and 5W-30 Super Premium motor oil. The SVT engine oil capacity: 4.25L or 4.5 quarts, including the oil filter change.
For the 2008 Ford Focus, the 2008 Owner's Manual recommend using SAE 5W-20 Premium Synthetic Blend Motor Oil (US) or 5W-20 Super Premium Motor Oil (Canada). The 2008 Scheduled Maintenance Guide recommends changing engine oil and rotating your tires every 7,500 miles for normal operating conditions and every 5,000 miles for special operating conditions. Engine oil capacity with filter: 4.5 US qt. (4.3 liters).